June 7, 2023
Online Events: How to Master Engagement Strategies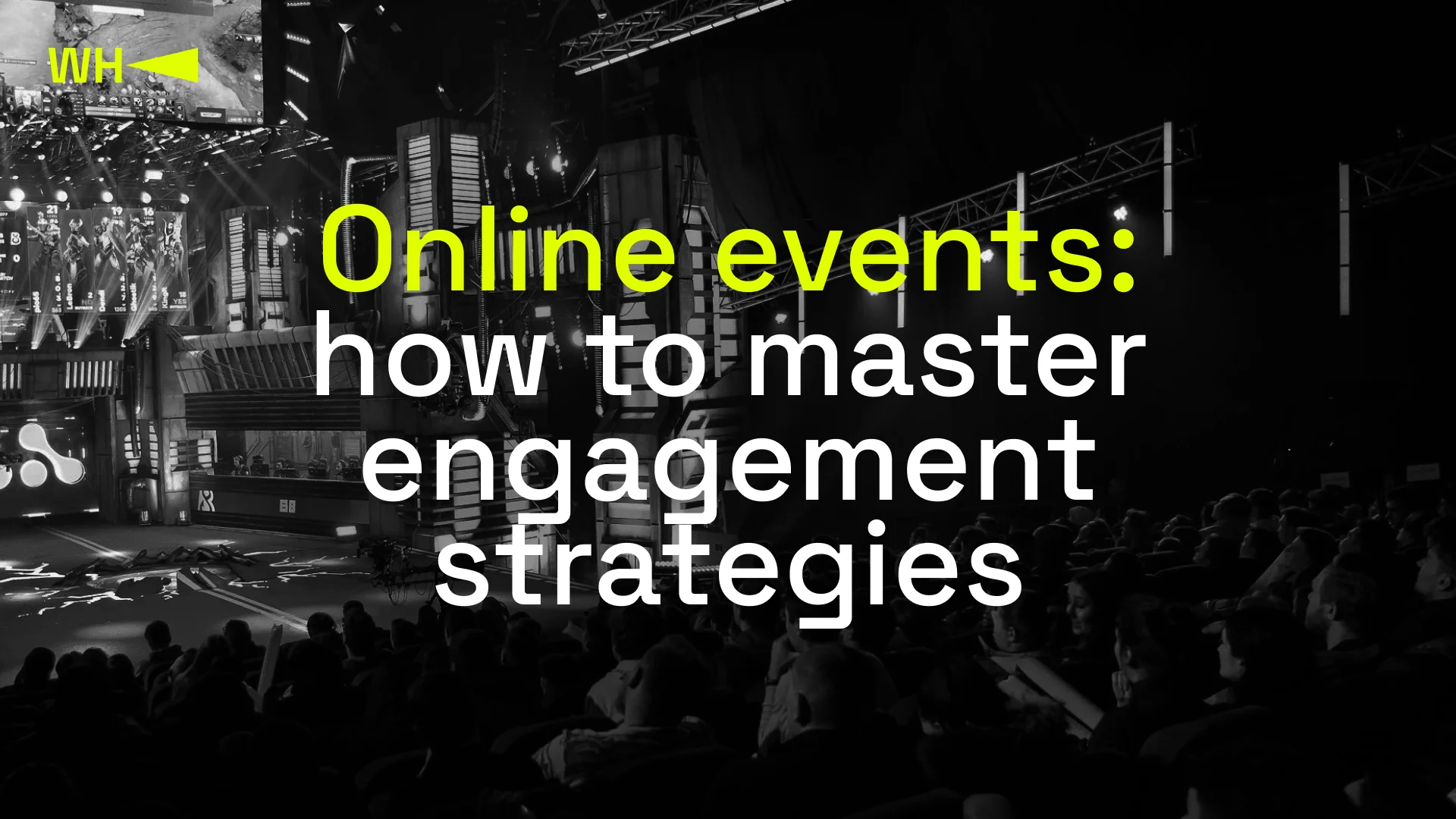 There is a lot of talk about online engagement. Many brands have struggled to engage their fans online during the pandemic, and some have gone a long way in testing different methods to appeal to online audiences. The latter include esports companies. Since esports lies at the intersection of the gaming and entertainment sectors, almost all companies operating in the industry use different online tools, and today we will discuss them in detail.
To be clear, online viewership metrics show that esports has not lost anything during the pandemic. This is not surprising; most esports viewers do follow tournaments from home, while a smaller percentage of fans come to the arena. Most come to see a tournament in person for the unique atmosphere, merch, esports athletes' autographs, memorable photos, and so on.
Unlike traditional sports, esports could continue hosting online tournaments and providing in-demand content for viewers even without person-to-person meetings. In addition, during the pandemic, people needed something to give them a sense of unity, and the gaming community was already used to communicating at a distance. However, attracting viewers and holding their attention are two entirely different things.
The first thing to do before trying to reach an audience is to understand who you are talking to. For this, it's best to rely on analytics and facts. However, in the case of esports, companies mainly use third-party platforms for streaming, which means they depend heavily on the platforms' built-in analytics. But platforms themselves often don't provide the complete picture. In this case, the tournament organizer can buy additional analytics with the help of tools or even create their own OTT platform.
Creating an OTT platform solves many problems except for one — popularity. The leading live streaming services are YouTube and Twitch, and almost all video games and esports fans use them. Therefore, it would be quite difficult to lure viewers to a company's proprietary platform.
Nevertheless, you can still implement a strategy to increase engagement even with partial analytics. You probably know from your own experience that watching in couch potato mode is no fun at all. While watching from the arena you can experience over-the-top emotions just because of the atmosphere around. However, in the case of an online tournament, the host always struggles for viewer's attention and against their desire to jump to another stream, or simply switch to Netflix. This is why you need to keep the fans' attention, especially between matches, and the most reliable way to do so is to turn viewers into participants.
Active participants VS. passive viewers
Suppose you agree that a viewer must become an active event participant. But how? Experts say about half of gaming fans are interested in making content. Some take screenshots; others collect the most epic highlights of the game, and a few are more likely to create art. Such an initiative can be of benefit to the organizers if they can leverage it well.
Personally, I am a big fan of the interactive online format: games, polls, and other participative elements to engage the audience. One such effective method of attracting an audience using Twitch extensions. For example, on Discord channels, we encourage viewers to participate in an online game and influence the future developments of the tournament. On one occasion, during the break, the fans could choose the next thing an animated character would say by voting for the options.
Spread word across platforms
Expanding engagement beyond a single platform is generally a good idea, and social media can help with that. While it's always important to keep an eye on your personal social profiles, during tournaments, this tool will help you get more viewers, which is a key metric for a tournament.
Also, viewers come to a tournament to watch other people play, not just to enjoy your show. So it's worth ensuring that all the teams you invite to the tournament also communicate this event in their social networks. Ideally, you announce the tournament on the official company profile, the teams' official pages repost this announcement or create their own, and the players of the teams also mention the tournament on their personal accounts. People are not naturally drawn to brands — people are drawn to people. You can find this and other useful tips about social media promotion here.
Listen to your fans
Last but not least, work with feedback. Monitoring real-time feedback is important if you want to directly influence key engagement metrics such as comments and likes. It's a good thing that the live chat built into streaming platforms makes it much easier to analyze the audience's mood. If you happen to make a mistake or a problem arises, have no doubt: you will know about it right on the spot. And vice versa, if the audience especially likes something about your show, they will let you know about it. Plus, your active presence in live chats will show that there are real people behind the brand. As I said before, fans don't listen to brands; they listen to people.
In conclusion, to increase online engagement, brands need to make interactivity a priority. No one wants to be a passive viewer, not anymore. By incorporating interactive elements such as games and quizzes, hosts can create a more engaging and immersive experience for their audience. Remember, the key is to connect the audience to the event and humanize your brand, reinforcing a sense of community and unity.