A cookie is a small piece of data (text file) that the browser stores on your device. We use cookies to remember information about you, like your language preference.
Those cookies are set by us and called first-party cookies.
We also use third party cookies for our advertising and marketing efforts. Third party cookies are set by our business partners or service providers.
More specifically, we use cookies and other tracking technologies for the following purposes:
To assist you in navigation;
To analyze how you use our products, services or applications;
To assist in our promotional and marketing efforts including behavioral advertising
Below is a detailed list of the cookies we use on our Website.
We classify cookies in the following categories:
Strictly Necessary Cookies
Performance Cookies
Targeting Cookies
These cookies are necessary for the website to function and we cannot switch them off in our systems. They are usually set in response to your actions, such as a request for service, login, form submission. You can set your browser to block or alert you about these cookies, but some parts of the site may not work then.

These cookies allow us to count visits and traffic sources so we can measure and improve the performance of our site. They help us know which pages are the most and least popular and see how visitors move around the site. All information these cookies collect is aggregated and thus anonymous. If you do not allow these cookies, we will not know when you have visited our site.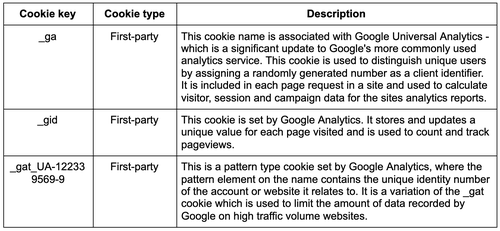 These cookies are set through our site by our advertising partners. They can be used by those companies to build a profile of your interests and show you relevant ads on other sites. They work by uniquely identifying your browser and device. If you do not allow these cookies, you will not experience our targeted advertising across different websites.

Remember that most browsers accept cookies by default. However, if you do not want to accept cookies or store them on your device anymore, there are several ways to do that. Here is how you can control your use of cookies:
Use your browser settings. There you can manage your cookie preferences or delete all the cookies stored. For step-by-step instructions, please visit aboutcookies.org/how-to-control-cookies/.
Use opt-out tools for interest-based advertisements. Some ads may include the AdChoices icon to opt out. You can also go to optout.aboutads.info or optout.networkadvertising.org to learn how to opt out of having your data used for interest-based advertising by Digital Advertising Alliance (DAA) members.