May 29, 2023
NAB Show 2023: a gateway to broadcast innovations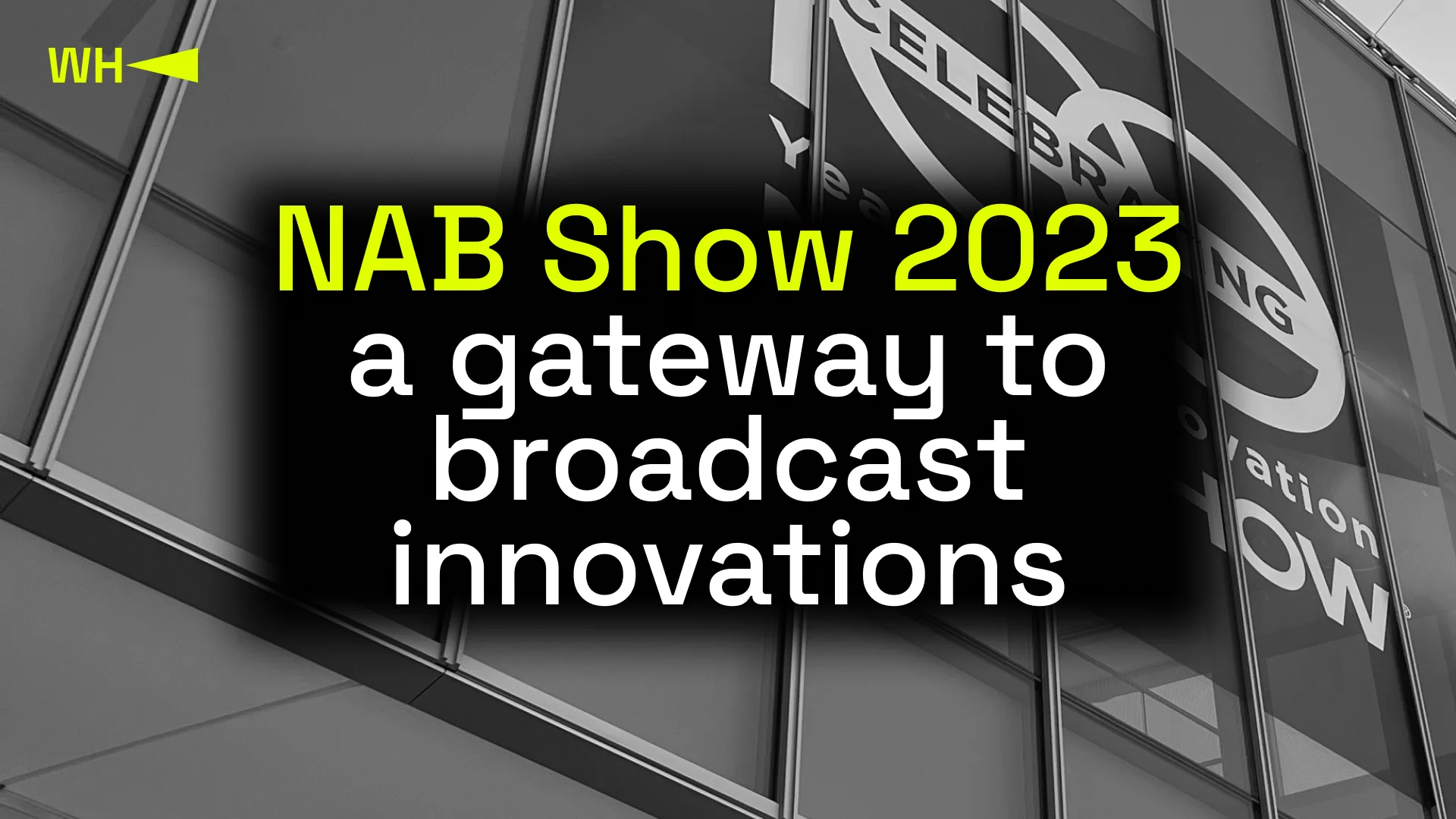 Recently, Las Vegas was the setting for one of the most high-profile events in the broadcasting and media industry — the NAB Show 2023. For anyone interested in creating live content, developing technological innovations, and wishing to keep abreast of the latest trends, attending it is a must. That's why, like so many others, WePlay absolutely had to participate in this key event for broadcasting and media industry professionals.
The NAB Show is organized by the National Association of Broadcasters, a trade association of radio and television broadcasters in the United States. It's a huge annual event that brings together professionals from various industry sectors, including television, radio, film, advertising, and streaming, and offers a comprehensive platform for networking, education, and exploring the latest technological advancements.
The NAB Show is for everyone, and it felt like anyone who had anything to do with broadcasts was there. Broadcasters, content creators, advertisers, and countless others visited this one-of-a-kind event with different goals in mind. The expo is a hub where industry professionals come together to gain valuable insights, forge connections, and discover emerging trends that shape the ever-evolving landscape of broadcasting and media.

In addition to being a great exhibition for showcasing ready-made solutions, it also offers an endless number of conferences and meetings where everything that happens in the field of broadcasting and media is discussed. Speakers from industry-leading organizations gave their thoughts on remote production, how to optimize broadcasting processes, and, most importantly, shared valuable case studies with compelling metrics.
WePlay at NAB 2023
Returning to the expo itself, the WePlay team proudly showcased their captivating content at the booth of their trusted partner, stYpe. As a renowned provider of optical and mechanical camera tracking solutions, stYpe enables real-time augmented reality and virtual studio effects. Their longstanding partnership with WePlay lets our professionals unleash their imagination without any constraints, as stYpe's solutions cater to the diverse requirements of a wide range of content creators.

More specifically, at NAB 2023, stYpe demonstrated some of its solutions, for which it has already received several awards. One of the most popular products is the StypeLand Unreal plugin, stYpe's plugin for Unreal Engine. In addition to Unreal Engine's functions, the plugin has high-precision chroma keyer software called GreenKiller. As the name suggests, this product can turn a green background into any other virtual reality in minutes without needing external chroma keying. So it's no surprise that the GreenKiller chroma keyer by stYpe won the Product of the Year Award. Also, among other exciting products, visitors noted the Follower mocap system technologies that enable artists to create and interact with 3D drawings in an entirely new way. All stYpe products complement each other and create a single workflow that helps implement any virtual experience for any event.
Thanks to the cutting-edge camera solutions, WePlay achieved remarkable feats at various events. We brought Dota 2 characters to life on stage at AniMajor, deployed AR maps at an analytics studio, and implemented real-time statistics that seemed to materialize in the air — the possibilities were endless. WePlay takes immense pride in showcasing the technology of our valued partners inside and out, recognizing how essential is the role of reliable providers that can seamlessly support the production team's ideas from a technical standpoint.

By leveraging innovations, WePlay places content at the forefront, ensuring that every creative vision is realized to its fullest potential. With the stYpe camera tracking solutions as a reliable foundation, WePlay continues to push the boundaries of immersive and captivating content that leaves a lasting impact on the broadcasting and media landscape. After all, WePlay wants to bring only the best experience to fans and viewers — and to do so, we only work with top-notch partners!