Dec. 2, 2021
WePlay Esports talents: who they are and how they built their esports careers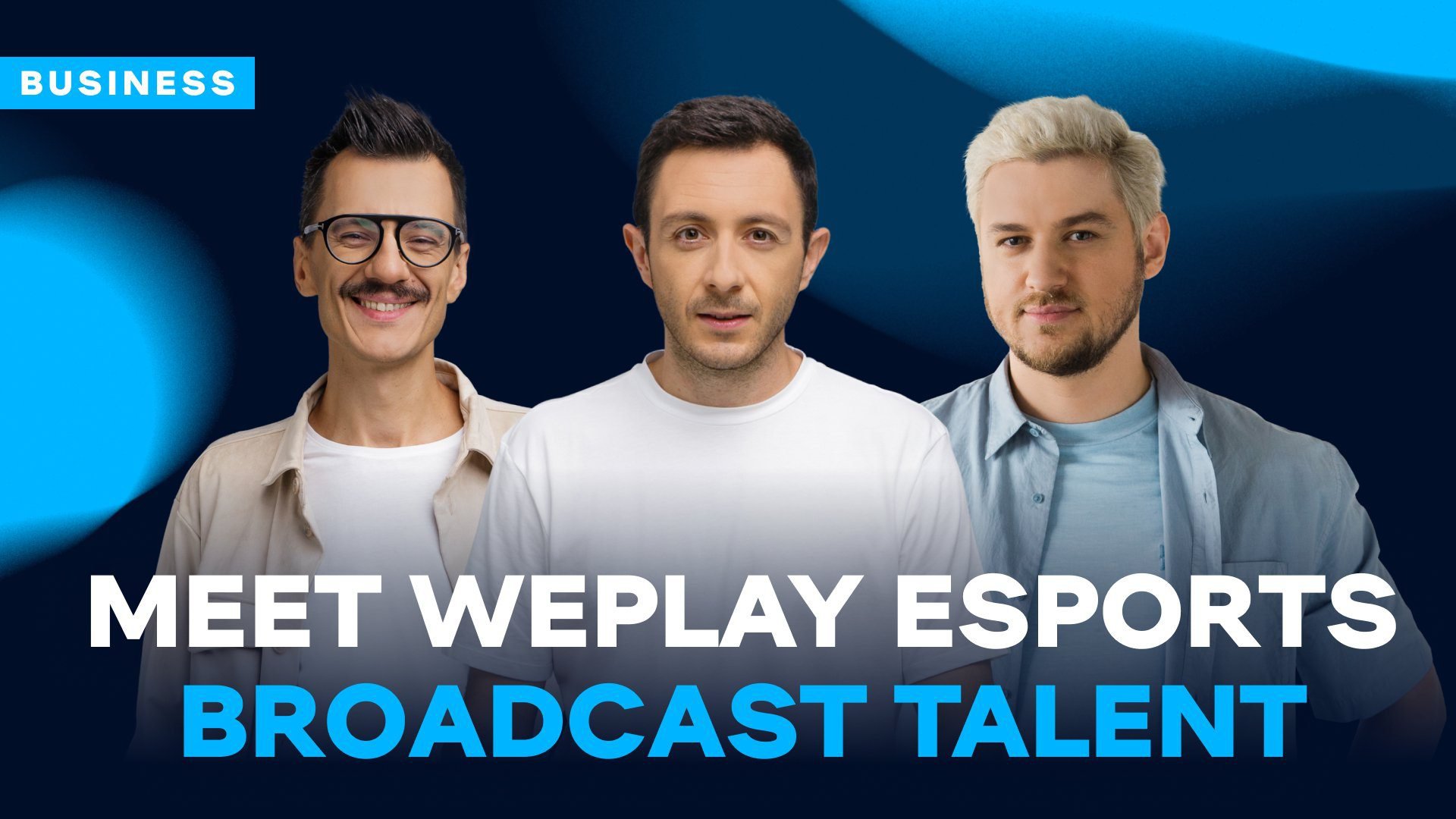 Let's talk about who WePlay Esports broadcast talent team, how they work and how they got into esports.
According to Statista, the esports audience will reach 577.2 million by 2024 (to compare, in 2021, the audience is about 477 million), and meeting spectators' growing expectations will be a pretty tall order. That's why the talents of WePlay Esports do not just commentate on games — they create unforgettable shows.
They can assume a variety of roles suiting each event's unique concept. This article will tell you more about the talents of WePlay Esports — Oleksii "уХо" Maletskyi, Aleksandr "Enkanis" Polishchuk and Yuriy "Strike" Tereshchenko, including how they got into esports and the anecdotes on what happened to them.
How our talents got into esports
In 2001, yXo put together a team that went on to participate in the regional qualifiers for the Ukrainian Nationwide Final of World Cyber Games. They would compete in tournaments organized by enthusiasts, so yXo and his team never knew whether the prize pools would be real or whether the game would take place at all.
Enkanis got into the esports world in the early 2000s. After finding out that video game tournaments were a real thing, he decided to become a professional esports player. He put in a lot of effort, played and practiced for hours on end, and even took part in CS:GO championships. The history of his nickname is a little secret that's actually easy to unravel, according to Enkanis. As a kid, our talent was fond of Jack London's books, so he chose a wolf as his spirit animal.
"Back in time, esports was more of a youth subculture phenomenon than a big business. After putting a lot of time and effort into becoming a player, I wanted to use my experience to contribute as a commentator, analyst, and host," says Enkanis.
For Strike, esports began when he, together with a group of school buddies, started frequenting computer clubs — back then, no one would play from home. After a while, small tournaments started to take place in these clubs.
"After finding out about KCL, the Kyiv esports league, my classmates and I built a roster and came to the tournament. That time, we lost to the women's team Cybercats. From that point on, I dived into esports with training and serious preparation," said Strike.
Family and friends: how they felt about the decision to become a commentator
There are lots of stereotypes attached to esports. The most common one faced by both adults and kids is that all things video games are not a serious occupation. But for anyone who wants to achieve success, the trust of their loved ones is essential. yXo, Enkanis, and Strike all had the support of their parents, friends, and wives throughout their development as esports players and commentators.
"Mom has always been able to find a middle ground in both communication and parenting. And it was her that bought me a computer. My wife has always supported me and never minded me playing and spending time with like-minded buddies," shared yXo.
As to the parents of Enkanis (before his mother attended a LAN tournament) and Strike, at first, they had their reservations. But the fears receded when it became clear what their children were really doing. Since then, the parents have always supported their sons and were proud of them.
A career at WePlay Esports
Each talent came to WePlay Esports already having experience working with various esports projects. yXo has even worked for a non-esports company. All three are CS:GO ex-pros, so they know the ins and outs of the shooter, and their expert opinions can be trusted.
"After six years at the same studio, I wanted to move jobs. I had two offers to consider. At WePlay Esports, I was interviewed by several people, including Maksym Bilonogov. He made me fall in love with the company and believe in the idea. So I chose to become a part of WePlay Esports," says Strike.
On November 19, 2021, Enkanis celebrated his third anniversary at WePlay Esports. He thinks this is one of the best twists in his career.
Broadcast anecdotes
Sometimes funny situations can happen during live broadcasts. Excitement, tiredness, or equipment failure may be the cause.
"There was a time when I had to commentate with the display off for about three minutes, taking cue only from the sounds of the game and letting my imagination run wild. I couldn't really explain what was happening in the match, but the audience appreciated my sense of humor," says Enkanis.
"I commentated on our tournament in 2020 and mixed up the names of the teams that were about to take the stage. I was live, and we had a full house, so I did like the guys in the movie "Men in Black" — there was a device that produced a blinding flash, and the characters would forget everything that happened recently," said yXo
Talents believe that self-irony, a sense of humor, and the ability to tell extraordinary stories help them get out of such situations. It's also important to remain calm. If a commentator starts to panic, the viewers will see it, feel it, and want to leave before the end of the broadcast.
Each tournament — in a new look
Each WePlay Esports tournament has its own style and unique concept. According to the theme, the company creates settings and costumes for the hosts and commentators. For example, in 2019, CS:GO tournament WePlay! Lock and Load was styled as a James Bond movie.
"A change of costume already makes your day-to-day more fun and allows you to be someone else. Today you may be wearing a tux, while tomorrow, you will have to work in a tracksuit. In such situations, I feel like an actor, and that's great! My favorite look is a classic one — at CS:GO tournament WePlay! Lock and Load, styled as a James Bond movie. This was my first time wearing a tuxedo," said Enkanis.
According to the talents, changing the setting doesn't let them fall into a rut and makes every tournament unique and exciting. But it does require acting and building trust with other team members. To look good on camera, implement the director's various tasks and ideas, and be able to improvise here and now, talents practice with Angela Bilonogova, speech and drama coach at WePlay Esports.
"My main rule is to apply an individual approach to each broadcast talent team member. In the classroom, we develop the necessary creative skills: elocution, acting, creativity, stage movements, and we also resolve psychophysical inhibitions," said Angela Bilonogova.
"yXo, Enkanis, and Strike have done a lot of self-improvement. In every broadcast, I see them using techniques that are rarely seen in esports. They each have their own unique style and demeanor," says Angela Bilonogova.
Tips for beginners who dream of becoming broadcast talents
Talents recommend starting small: learn more about the game, follow events, cheer for teams, join the community, shoot content, tell everyone about esports but don't try to emulate the path of commentators who have years of experience working in esports. And if we dive into the technicalities, up-and-coming commentators need to work on their diction, breathe properly, and control the tone of voice.
"The best thing to do if you want to become an esports broadcast talent is to find a tutor with a specialized education who will help you master the necessary skills: speak well and act naturally on camera, develop creativity and your ability to improvise. You need to learn to step out of your comfort zone, overcome any difficulties, and only move forward," said Angela Bilonogova.
Talents are former professional esports athletes who become analysts, commentators, and experts. They know the game inside out and have an impact on the community. yXo, Enkanis, and Strike are all committed to self-improvement: they take acting classes and continue to develop so that viewers can enjoy not just the game but also WePlay Esports' show that surprises spectators every time.
See also: Other live streaming apps, Stream Technology: how to broadcast your favorite esport?, How to start streaming on Twitch