Aug. 6, 2021
Stream Technology: how to broadcast your favorite esport?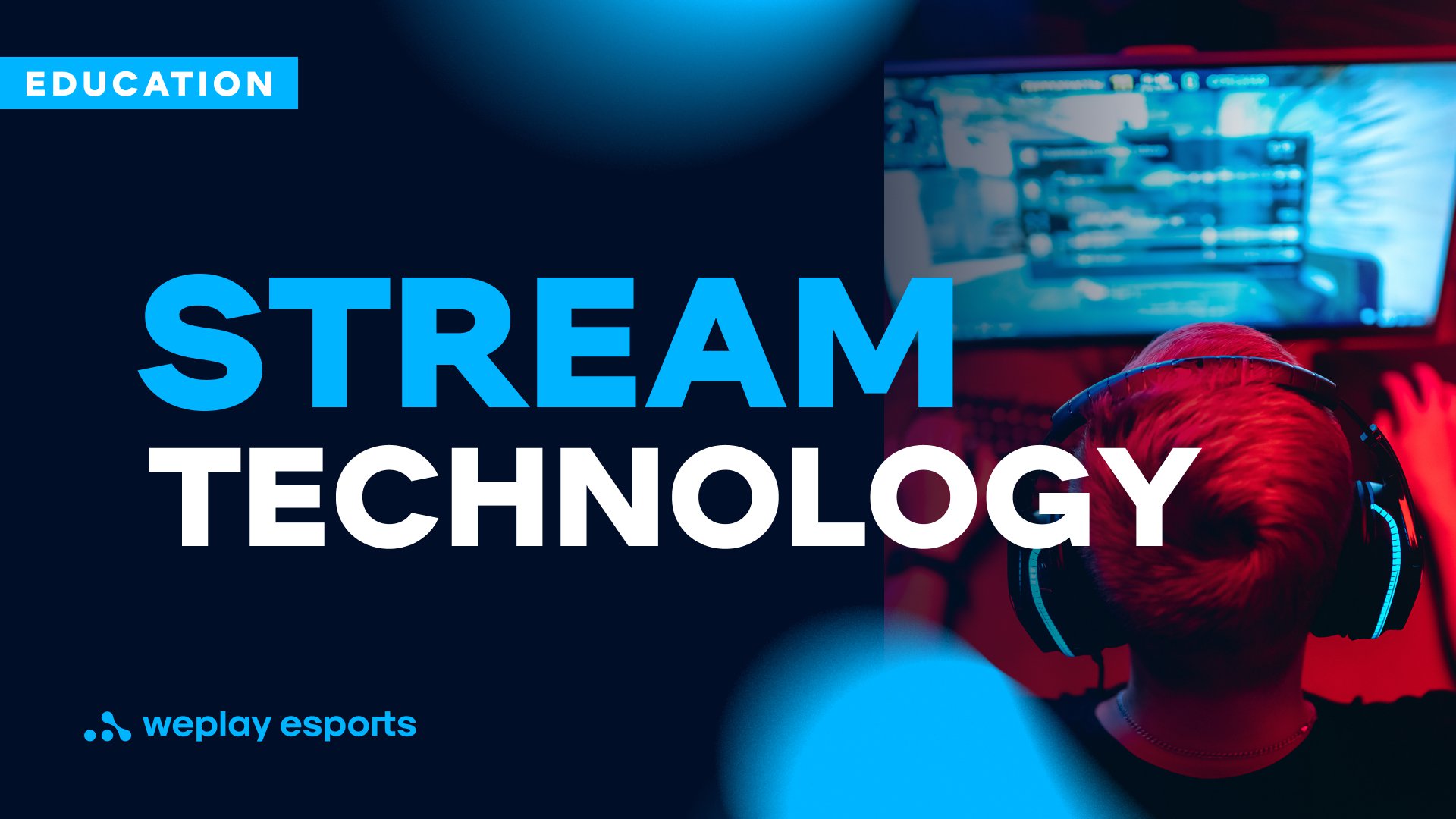 The glamorous side of streaming is the gaming personalities, esports events, and binge-able series people love to watch. However, a vital part of the streaming world is the tech, software, and scientific advancements that make the entire process work.
Whether you're trying to put together your own streaming setup or just interested in the ins and outs of the streaming world, here's a quick low-down of what stream technologies help make the industry tick. Spoilers alert: it's a lot more complicated than you might think.
What is Streaming?
Streaming has quickly become one of the most popular ways to enjoy video games, competitive or not. There, popular entertainers or the top professionals in the gaming world can have thousands or even millions of people watching them play.
Furthermore, streaming has helped make esports even bigger than ever before. When esports events stream, millions of people tune in to watch the top teams in the scene compete, just like any other traditional sports event.
Online esports events have even hit outstanding records, like the 2018 League of Legends MSI competition, where 60 million unique viewers tuned in for the tournament.
Personal Streaming
While the biggest-name streamers come from esports or are huge internet personalities like Ninja or Pewdiepie, anyone can stream. All you need is a functioning computer, a mic, and a camera. Technically you only really need the computer, but the other two are always helpful in connecting with your audience. Viewers tend to like someone to talk to and a face to go along with the voice.
Streaming Software
The essential pieces of software needed for streaming yourself are: a streaming service, a video source/output, a recording tool, and related apps. Many Twitch streamers use applications like StreamLabs, OBS Studio, XSplit, or vMix to help them run their streams. This kind of software helps organize your stream screen. That can range from your face cam placement to your chat notifications, giving you complete control of how you want your stream experience to go.
Streamers also use Voicemeeter, chat mods, and other tools to regulate their mic, chat conversations, and more to improve the experience for them and their streaming community. No one wants a crackly mic or an offensive troll ruining it for everyone.
Even beyond live streams, the software can be so crucial in building a streamer's platform. Using Photoshop Video Editor, Lightworks, or other video editing tools, you can also post highlights of your sessions on YouTube to widen your net and exposure. As much as personality and passion are essential, so are the tools you use and the number of people you can reach. Software is invaluable in that.
Streaming Hardware
As much as personality and a good internet connection matter, so does the physical tech you use for your streams. Even though not all streamers use face cams or microphones, the most popular ones do. Some good early microphones include Blue Yeti and Audio Technica. If you want to make your setup fancy, a microphone arm or mic decrackle module will make your sound much more professional. Also, both tools will give your audio an even sound while keeping your microphone off your keyboard.
As far as cameras go, your best options tend to be ASUS, Logitech, GoPro, Canon, and Sony brands. Just make sure it's a make and model easy to connect to your desktop and set up behind your monitors for easy use.
However, the most critical piece of hardware is your computer itself. It's the core of your entire setup, and if it can't process your camera video or play games very well, you'll run into problems while streaming and fast.
Now, you don't have to have a top-of-the-line computer, but it does help. Some great gaming computers include MSI and Alienware. You also can build one yourself, as a lot of gamers choose to do. Use sites like PC Part Builder, use guides on the internet, or ask a knowledgeable friend. Then, you can have the computer of your dreams while still fitting perfectly in your budget.
Streaming Services
There are quite a few influential streaming services that help support this industry. While YouTube Gaming and Facebook Gaming have their place, the absolute powerhouse of the streaming world is Twitch. Companies have tried to do direct competition with them (like the now-defunct Mixer) and failed. It's hard to compare to Twitch's 15 million active daily users (recorded as of 2020).
There are more unique gaming streaming services out there, though. For example, the esports company, WePlay Esports, has its own WePlay streaming app. There you can watch live events, VODs, and check up on their schedule to see events like their WUFL tournament earlier this year.
For all these services, you can stream on multiple devices. Therefore, you can watch on the go or from the comfort of your home.
Program Streaming
Home computers or esports events aren't the only notable places that stream, though. By now, everyone is intimately familiar with the streaming services that offer a wide variety of movie and TV show content for all your entertainment needs. But, just like the other streaming options, there is a lot of important technology that goes into making your favorite Netflix Originals play on demand.
Streaming Software
When it comes to more corporate streaming, the software needed gets a little more complicated than a simple one-person setup. They have hundreds of servers at their various locations to store their content. From there, they also connect to the internet so that people worldwide have access. Their content uses these office touchpoints worldwide to help content travel from their servers to your home screens. Netflix, Hulu, and all other streaming services have to take excellent care of their systems to reach their customers any time, all the time.
And as a consumer, a piece of software that might improve your experience would be a VPN. Not only can it make your connections to these server touchpoints more secure, but also you can change your location, so you can get more streaming options. For example, Canada Netflix has Inception, but the US version doesn't. So, if you have a craving for dream-bending Leonardo DiCaprio, what other choice do you have?
Streaming Hardware
On the company's end, the servers that hold and organize all their content are absolutely vital to keeping their products running. Of course, the management must keep communications running between every touchpoint, but it's the servers themselves storing all that juicy, riveting content.
On the customer end, though, all you need is a device connected to the internet (computer, phone, smart tv) and a good connection to the internet. Luckily, it's pretty easy to have one of those and enjoy large-scale streaming like this.
Streaming Services
Streaming services have become so popular in the last few years. So much so that many people have dropped cable completely and instead pay for a handful of streaming options. Here are a handful of top streaming services: Netflix, Hulu, Amazon Prime, Disney+, ESPN+, HBO Max, and Paramount+.
Other Live Streaming Services
Not all streaming services are about entertainment, though. While some outliers like TikTok Live or Instagram Live connect content creators to their fans, streaming is useful for business purposes. For example, Skype, Zoom, Google Meets, and the like are commonplace corporate practices for meetings and the like nowadays.
Also, while some calls rely on cell networks, many things like Facetime or Wifi Calling are basically just using your internet to help "stream" a call to your family and friends.
The Future of Streaming
As the world becomes more digital, streaming will undoubtedly bleed into every part of daily life. For example, even things like video game conferences have gone digital to adjust to the world. There's a niche for everything. Streaming lets people connect all across the globe, watching and enjoying the same entertainment in real-time. It only makes it easier for wildly different cultures and people to find something they can agree on (or emphatically hate together). In a few years' time, streaming may become one of the best ways to connect.