July 27, 2021
Live streaming apps that pay you: how to earn money streaming?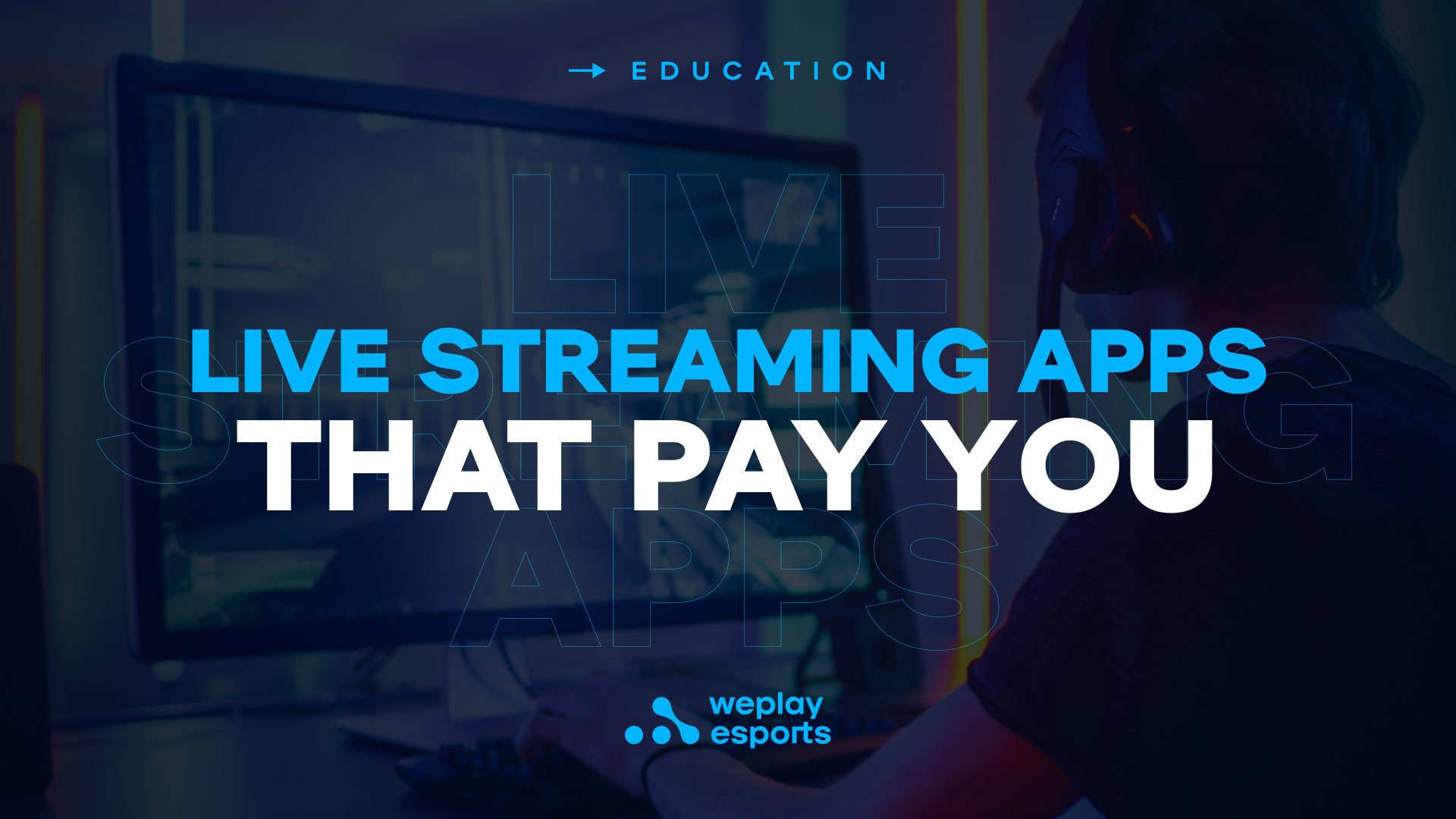 Earning money with live streaming is possible, but requires dedication, knowledge, and talent (doesn't hurt to have good contacts as well!)
Make money when live streaming
Becoming a streamer has entered the popular imagination and, while kids from yore would dream of being sports athletes, astronauts, or such, kids nowadays are dreaming of being a successful digital influencer — whether as a gaming streamer, YouTuber, or TikToker… Not that kids don't dream of the former anymore, but the difference is that preconditions for modern-age success are much more accessible — you just need a computer or a really good smartphone, and you're all set.
There is a myriad of live streaming apps that can help towards that goal. Apart from the already mentioned TikTok and YouTube, there are also lesser-known platforms waiting for someone really talented to skyrocket to fame.
It's not unrealistic to dream about being paid for streaming games. As a matter of fact, a good live streaming app rewards quite well, and it's feasible to make money from it — like, get most of your income. Therefore, while some parents may worry that it's too hard, it's perfectly possible — you just need to take care about over-exposing yourself to the mental stress of dealing with a demanding audience. That said, if you have talent and discipline, that job may be what you've been looking for.
For starters, you can try to make videos for YouTube and/or create accounts on many social media platforms to make yourself known. After succeeding at getting people's attention, you can start live broadcasting — games, comedy, or just chatting. Let's dive into the matter and find out which live streaming platforms you can make money with.
The most well-known game streaming app
If you're thinking about games, there's no way you don't know Twitch.tv, affiliated with the e-commerce and digital powerhouse Amazon.com Inc. For many years, it was considered the best live streaming app for gaming because of how easy it is to set up, how loyal the public is, and other technicalities. Twitch is one of the key websites you need to get used to on your way to make money from live broadcasts.
Making money on Twitch
Twitch has three major ways to make money: through subscriptions, advertising, and donations (with their in-built currency, the "bits"). In order to be able to make money on Twitch, you will need to fulfill several requirements, such as streaming for at least seven days, have at least three average viewers, and stream for a minimum total of 500 minutes in the past 30 days. It's also required that you have at least 50 followers.
These conditions make it clear: Twitch wants you to bring your friends and build your community. Your live stream needs to be innovative, creative, or interesting in some way — otherwise, you probably won't be able to hold the minimum number of viewers on the road to affiliate.
Streaming on Twitch can help you earn money, real money, mostly through subscriptions. The website offers a monthly subscription with 3 different plans ($4.99, $9.99, and $24.99), each giving different advantages to the viewer and the channel itself. However, you can also get paid for setting commercials (designed by Twitch), which will interrupt your live stream in order to show short ad videos. However, on lesser-known streams, using such a tactic can be risky — that little video can drive your watchers away, and retaining them is important for your next step on Twitch.tv (becoming a partner of the platform, which will give you better ratios at the time of payment, the verified badge, and even more emotes).
The advantages of Twitch are full customization of the platform built for gaming, great mobile support, and a lot of people who understand the system willing to hand you some cash. It's also completely free to start streaming and to watch, not being a pay-per-view service: people who subscribe or donate generally want to help the channel and the streamer they like. That means that you will need to create an interactive live stream in order to make money — it can be tough, but it's worth it after all!
Other major video game live-streaming platforms
Recently, several big streamers moved away from Twitch (mostly due to its strict policy about swearing and their interpretation of terms, but there are other reasons) and rebuilt their communities on other platforms that also have their benefits. Facebook Gaming and YouTube are the second and third most important websites to create your live stream, but it's possible to find other live video streaming platforms that are interesting — and may reward not only you but your viewers as well.
Facebook Gaming
The advantages of live streaming on Facebook are pretty straightforward: you get to connect with your friends easier, and Facebook has a nice scheme for targeting people who might be interested in your content. Almost everyone has a Facebook account, unlike Twitch.tv, which is more directed at the gaming community only. Facebook and Instagram may help you to do streams on different subjects — not only gaming. However, their gaming live stream platform is also rewarding, and its system is quite similar to Twitch.
The Facebook audience can subscribe, donate, watch ads, or show their support with Facebook's in-built currency, the Facebook Gaming Stars. Same Twitch, it works mostly as crowdfunding; the real advantage of Facebook in terms of earning money is that you can connect your store to the app itself, creating a powerful marketing tool that goes beyond live streaming. Also, Facebook records VODs (just like Twitch), so entire streams are downloadable
Per se, all the in-built connections on Facebook and Instagram make them easier to use when compared to other services; however, if your live stream is all about games, remember that Facebook Gaming has a much smaller reach than Twitch in general. None is objectively better, but most people usually choose Twitch. Keep in mind that Facebook Gaming also requires exclusiveness, so you can't do simultaneous broadcasts on other streaming platforms.
YouTube
Another interesting platform for live video streaming is YouTube. After the success of TikTok and Kwai, YouTube added a number of features to help streamers go viral, such as "YouTube Shorts" (as the name suggests, it's similar to Instagram Stories and TikTok videos). The gaming part of it is well-known, too, and unlike Facebook Gaming, YouTube allows streaming on two different platforms at the same time.
Monetization rules are unappealing, however. For many years, YouTube's only way of monetizing your content was through ads, and we know they don't pay so well for beginners and small streamers. However, recently, YouTube added the possibility of subscription, which directly supports the channel (like Facebook and Twitch), and online donations through Google Pay (much simplified when compared to the other platforms). Nevertheless, it's still difficult to understand how YouTube expects a streamer to earn money with their live videos, so many of the live streams rely on the donation system instead of subscriptions.
A different way to supplement your paycheck and get paid with YouTube is through videos themselves. You can upload your Twitch or Facebook VODs and create a channel. It wouldn't necessarily be live streaming, but fragments from your live videos done on other platforms. That's a very common tactic to ensure you'll be making money out of YouTube, but as with other platforms, it takes time and dedication. YouTube sets a maximum due date to accomplish the monetization rules, so keep building your community to support you on other social media.
Nimo.tv
Created by the Chinese company HUYA Inc., Nimo.tv grew in popularity recently due to big streamers switching to it from Twitch. With lots of benefits, Nimo distinguishes itself for having an interesting "ranking system" that rewards you not only based on the sheer amount of viewers and people who want to subscribe but also on your dedication and hours streamed.
The platform currently has many mobile gaming streamers — due to their popularity in the esports industry at the moment — and is growing thanks to more and more influential streamers that grew tired of Twitch and/or other big companies' policies.
Theta.tv
Probably not the best live streaming app out there, but Theta.tv is very original in a sense. Not only can the broadcaster earn money, but users also get paid in real time while watching the streams. Of course, it's not a lot in real money, but the concept may be interesting to discover the cryptocurrency token universe.
In short, while watching a broadcast on Theta.tv (whether on PC or Mobile), you're generating TFuel, a crypto token tied to the Theta cryptocurrency and scripted on the Ethereum blockchain. Usually, you will need a couple of months to get any real money out of it, but there's no reason not to capitalize a bit on watching live streams!
You will need to set up a virtual wallet in order to be able to receive your crypto tokens. An app such as Binance or Freewallet is enough. Also, those TFuel tokens can be delivered back to the broadcaster as a way to promote collective support and give the creator even more reasons to use the Theta.tv app. The payment isn't really impressive but might be an opportunity.
As a side note, you can mine your own Theta crypto as well — they have something similar to a TV channel that works as a miner gate. The platform is really investing in this concept.
Other rewarding apps
Earning money through live streams, merch sales, or broadcasting apps is now widespread, and there are a plethora of apps that allow you to get recurring payments in due time. Most of them, however, are much smaller in terms of English-speaking audience than the ones we mentioned, meaning that revenue is lower, and you will need to broadcast much more hours to make the most of their monetization systems.
An example of those is Bigo. While indeed having a lot of users, the platform is not very well-known in the western world, being really popular in Southeast Asia. You can also get paid on Bigo at an even higher ratio than the competitors — they do have tips, gifts, and services much like the other platforms, and Bigo is a platform you might want to try out if you're right for their demographics.
China has its own business as well. YY is a live video platform that has reached 1 billion users with more than 34 million monthly active spectators, but it's also used to create shows and both virtual and real-world sports shows, and Douyu is the most-game oriented platform in China, with impressive numbers as well.
Beyond the gaming universe
As mentioned, Twitch.tv is focused on the gaming universe (but not targeted at it exclusively — you can go live in the "Just Chatting" section, creating art, and much more), but it's possible to go live and earn money on Instagram, Facebook, YouTube, and many other websites, even if you have absolutely zero desire to play any game at all. A live stream is something that can be about a lot of things, and viewers' interest follows the myriad human interests. If you are amazing at something you can do live, just get your favorite app and start building your community right now!
It's interesting to note that all of those platforms are free of charge, and on most, you can earn through streaming, merch, and other viewer-engaging experiences. Therefore, you can broadcast just for fun, while investing in a powerful way to earn an extra or even make a career change and switch to developing your stream full-time. You can run your own show, and your communication skills will help you make the most of it.