Nov. 30, 2021
The Most Popular Game Streaming Sites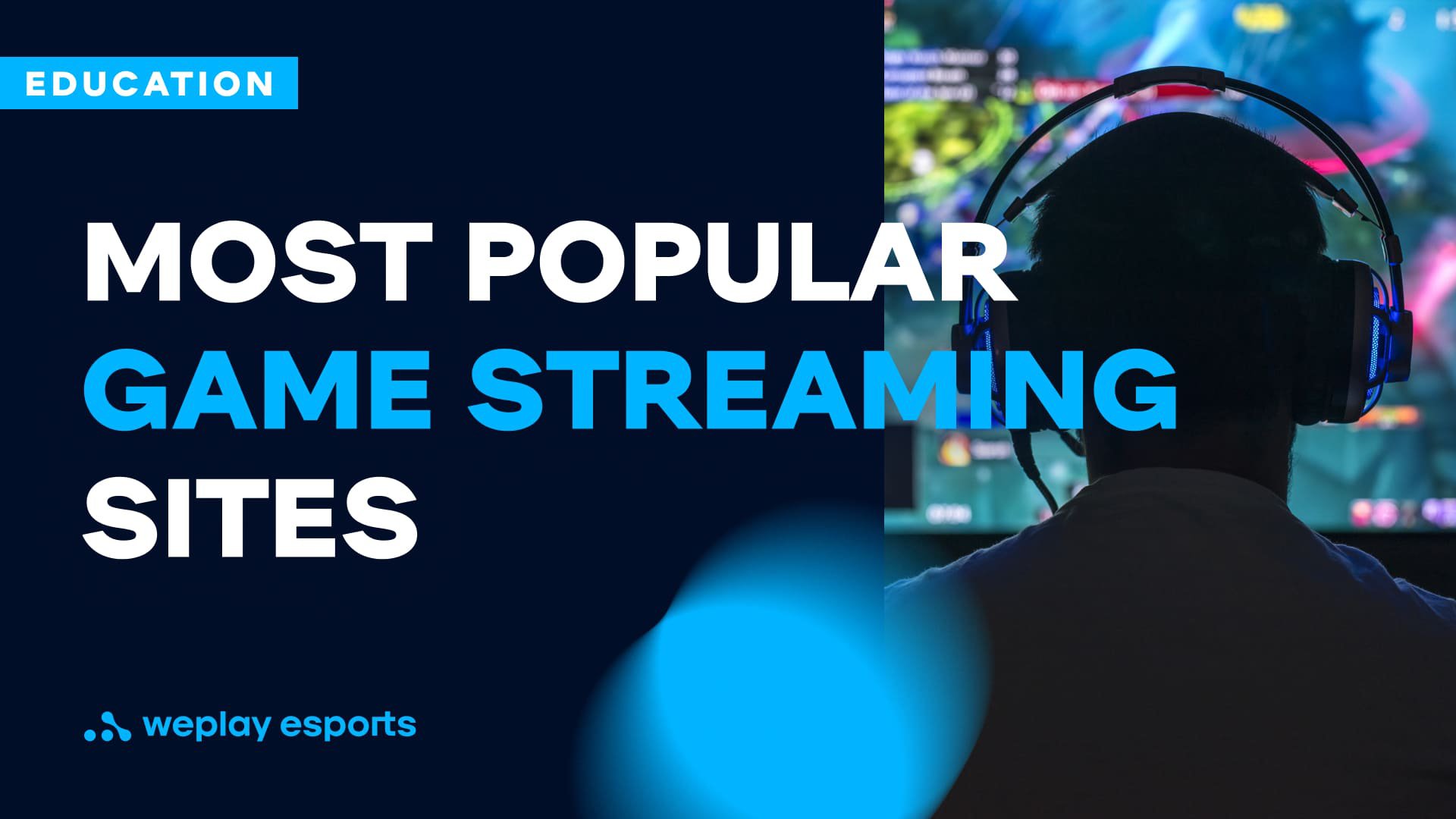 As streaming platforms are growing just as popular, their relationship with esports grows too. Let's take a look at what streaming services can do for you.
The popularity of competitive video gaming has relied heavily on the impressive streaming world of esports. The more people have access to watch esports, the more it spreads. Different streaming sites like Twitch or YouTube have been invaluable in making the esports scene an industry superpower. The popular game streaming platforms are widely well-known, and the king of them - Twitch.tv, the most renowned streaming platform - generates millions of dollars to Amazon, a giant company.
As streaming platforms are growing just as popular, their relationship with esports grows, too, so let's take a look at what those streaming services can do for you, an esports fan. Each game streaming platform have their own perks and benefits, therefore you can choose based on what kind of entertainment you like: most interactive, easier to use, etc.
Video Games and Live Streaming
Unlike traditional sports, video games haven't had the same cable connections. Since there were few conventional broadcasting choices as the scene grew, esports integrated online. Between the popularity of YouTube gamers and the already online nature of competitive gaming, it was a natural progression that really turned esports from a fun diversion to a business superpower.
Live streams on Twitch, AfreecaTV, YouTube, Facebook, and other top platforms have become important places to build esports communities. For example, in 2018 alone, China's video game live-streaming options had over 425 million users. That's 30% of the country's population coming together to enjoy video games and esports.
Streaming's accessibility on external devices like Xbox, PlayStation, Android, Apple, and more have only made the esports streaming revolution more seamless. If anyone can easily watch esports from anywhere, it's a game-changer.
Similarly, social media has been vital in esports' rise, with mobile devices connecting social media to live streams directly. These social sites are essential for connecting the esports audience, from following pro-players on Instagram to sharing highlight reels on YouTube to linking live streams through Twitter Live's Periscope feature.
Best Video Game Streaming Platforms
There are countless streaming options across the internet, and they all have their own differing charms. Let's look into a handful of the best ones from across the globe:
Twitch
An American live-streaming service (and its best one at that), it's almost impossible for anyone to talk about online esports without mentioning Twitch. While competitive gaming and gaming streamers dominate the popular site, it also offers other creative content like music, art, and social commentary.
Amazon introduced this streaming site in 2011, and by 2013 had 45 million regular viewers. In February 2014, it was the fourth-largest source of internet traffic in the US. By 2020, those numbers had gotten even more impressive, with 3 million broadcasters monthly, 15 million daily users, and 1.4 million concurrent users. With dozens of partners, Twitch has been game-changing for the esports scene.
Twitch excels in interaction, being a very prominent video game streaming platform mostly due to that: creating a community. Their reward system, with ads, bits, subscription and other broadcast help, is one of the most well-known features for any aspiring streamer.
Twitch's problems as a game streaming platform are towards its use on a mobile device. It's not a great streaming platform due to its heavy battery consumption and the app being slightly different, including regarding money to streamers. Nevertheless, Twitch stands on top of the game streaming platforms, with a wide variety of titles and broadcast options.
AfreecaTV
You can't talk about world-changing streaming services without talking about AfreecaTV. Originating in South Korea, AfreecaTV is one of the premier services that helps bring esports to its fans (and the company is very profitable while doing it). In 2019, Forbes listed AfreecaTV as 4th on the "Asia's 200 Best under a Billion" list.
AfreecaTV also sponsors a professional League of Legends team, the Afreeca Freecs. They are similarly heavily involved in several esports leagues, like StarCraft, etc. It's a live-streaming platform much more prominent in Asia, but still a market's giant.
Disco Melee
With a focus on social features, Disco Melee is a unique streaming service that really wants its audience to connect. The platform lets viewers add friends, share content, build clan groups, and buy merchandise. It integrates the communal aspects of Discord and the quality streaming fans crave.
Also, with Disco Melee, streamers are given detailed metrics on what their viewers are like, what they want, and how to cater to them.
Caffeine.TV
Caffeine.TV offers a hybrid of gaming, sports, and generalized entertainment on its platform. With a host of famed sponsors (21st Century Fox, Greylock Partners, Andreessen Horowitz), it secured millions of dollars and made significant moves towards making its mark on streaming.
While Caffeine.TV is relatively new, it's deals behind the scenes have given it some outstanding opportunities to show off its platform. For example, Like Twitch, Caffeine.TV also secured a partnership with the Super Bowl to host pre-game celebrations on its site.
Caffeine.TV is making waves on the scene by building stellar partnerships, making it a site with a lot of potential.
Omlet Arcade
While many streaming communities focus on PC, PlayStation, or Xbox players, Omlet Arcade focuses on mobile gaming. Here, streamers and audience members play their favorite games together.
Some of Omlet Arcade's top games include PUBG Mobile, Fortnite Mobile, and many others.
YouTube Gaming
YouTube was the wonderful birthplace of content creators specializing in gaming, entertaining folks through their humor and commentary. However, as the esports industry grew and live-streaming became the hot way to enjoy video games, YouTube quickly joined the bandwagon. In 2015, YouTube launched YouTube Gaming, its app for esports, gamers, and live-streaming.
As YouTube accumulated almost 20 billion in revenues in 2020, it's in a prime position to fund its venture and go far with it. YouTube most notable feature as a game streaming platform is its easiness to use, being brought together with the biggest video platform to ever exist.
YouTube has also made its platform stronger by offering live-streaming for all creators, including non-gamers. They can use the feature to let fans live-watch videos together or conduct traditional streams.
GosuGamers
GosuGamers mainly focuses on esports, and not just in one region but around the globe. Where Twitch and other streaming platforms offer various creators, Gosu Gamers wants to give a specified view into the esports world. This site also provide news, analysis, and more.
Facebook Gaming / Live
Much like YouTube Gaming, Facebook offers something similar. However, Facebook does lean more on the social aspect, connecting its Facebook tools, groups, etc., into the gaming platform.
To make Facebook Gaming happen, the company has created thousands of new jobs within and outside the company. Economists estimate the added jobs were worth roughly $12 billion. So while Facebook Gaming may not be your go-to streaming option, it has made an impact on your favorite industry. It's low-key, the most underrated from streaming platforms, for sure.
See also:Other live streaming apps, Stream Technology: how to broadcast your favorite esport?, How to start streaming on Twitch
Event Streaming vs. Personal Streaming
Video game streaming is powerful because it intermixes event streaming and personalized streaming. As a result, game-lovers not only got to see professionals enjoying the game, but also casual, regular fans. The communities interact and form this lovely bubble of video game enjoyment for fun and sport.
Video game streaming has conquered the hearts of the fans, becoming a huge asset in the daily entertainment options. Streamers can make a wide variety of live-streaming options, from real-life to training, and game streaming is just a part of this recently new, emerging entertainment option.
Now, you personally may prefer one over the other, but both have been vital in making the esports/gaming streaming industry the powerhouse it is today.
Are Game Streaming Services Worth It?
The easy answer is yes. Gaming streaming is free and easy for most fans to access (assuming they have an internet connection and an applicable device). Furthermore, these streams are fun and let fans catch every moment of the action with fellow esports enthusiasts.
There are some cons, though. First, streaming chats have a habit of being toxic. As stream chats mix the anonymity of the internet and the high emotions of fandom, it can make the situation uncomfortable at times. Also, unlike highlight reels, live esports games can have some pretty dull moments. Timeouts, slow periods, etc., and fans are stuck watching, waiting for the next exciting moment. So, if you're easily bored or chats stress you out, a highlight video might be better for you.
Note, though, that many of these streaming services offer to let you minimize the chat, so you don't have to see it. Also, if you watch streams while doing something else like cooking or playing the game yourself, the stream's slow points will be easier to ignore. But it's up to you to choose the esports experience that's right for you.