May 13, 2022
How to put together the best gaming setups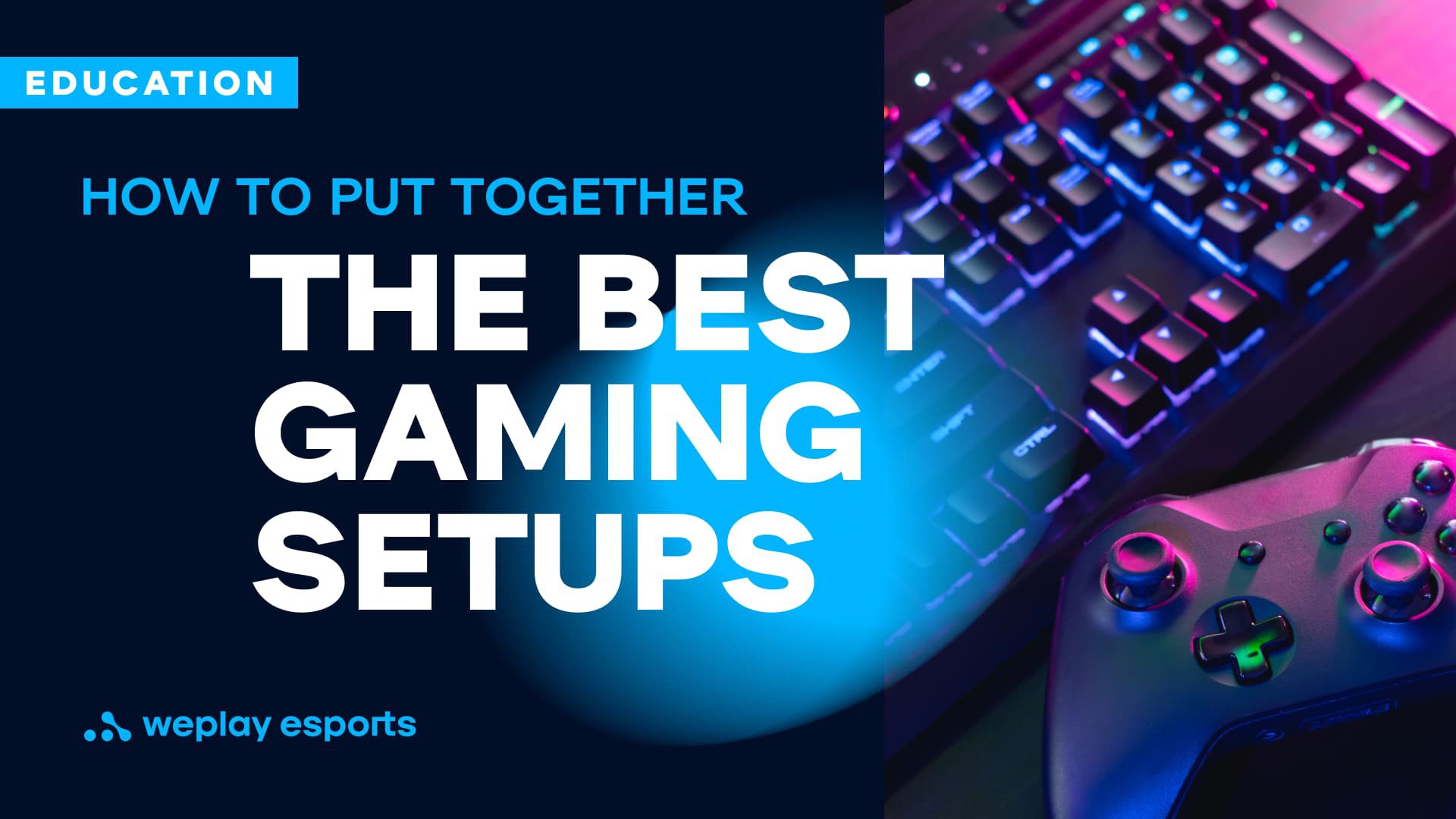 Find everything you need, from a gaming chair to a monitor, to play to your heart's content. Suitable for console, PC, and mobile gaming fans.
Games help a lot of people relax. However, focusing on your hobby in a cluttered room is almost impossible. You can learn a thing or two about organizing your gaming space from the article Mastering your video game organization skills: a guide, which contains the most easily implemented tips for keeping the gaming room in order, and find out more about cable management. Meanwhile, this article provides a brief overview of famous players' setups.
Top gaming setups
It's normal to look for a gadget that fits your needs to a T. But when you don't know where to start, you can check out what world-famous esports athletes use.
Oleksandr "s1mple" Kostyliev
In terms of gaming gear, s1mple prefers Logitech. He has a Logitech G Pro X Superlight mouse, Logitech G915 keyboard, Logitech C920 webcam, and Logitech G Pro X Gaming headset. Of course, being part of NAVI, s1mple competes in CS:GO matches sitting on a DXRacer RACING OH/RF21/NY/NAVI Limited Edition. You can also see a Benq Zowie XL2546K monitor and an AMD RYZEN 9 5950X CPU among his other equipment.
Christoffer "Jarl" Snejbjerg Jensen
Jarl is an ex-Fnatic player and now Fortnite Captain of team Tricked Esport. He uses a G Pro Wireless mouse by Logitech. Little is known about the rest of his equipment. For example, his CPU is Intel Core I9-9900K and his GPU is Nvidia Geforce RTX 2080 T, while his gaming chair is the same brand as the one s1mple uses.
Tyson "TenZ" Ngo
TenZ plays for Sentinels in VALORANT tournaments. Like s1mple, he uses a Benq Zowie XL2546 monitor and an AMD RYZEN 9 5950X CPU, but it cannot be said that these two have identical setups. From gaming gear to PC configuration, there are quite a few differences. TenZ has a Hyperx Alloy Origins 60 keyboard, and XTRFY H1 headset.
PC gaming setup
When you start organizing the space around your gaming PC, you should have a checklist of must-have items. Of course, you probably want the best gaming setup and the most expensive gaming rig, gaming mouse, or monitor. However, do you really need them? Triple monitor setup is much better than a standard monitor, but you can play without it. If you play just for fun, you can just pick a good gaming laptop. Manufacturers such as Razer, Dell, and Asus are always at the top, and you can select the most suitable gadget.
The most important thing when choosing accessories or gaming chairs is ergonomics. A gaming mouse should fit comfortably in your hand. If you feel that your wrist is starting to hurt or the mouse is heavy, it is better to look for another option. When deciding on a gaming chair, check out brands such as Cougar, Respawn, or DXRacer AIR.
The ultimate gaming setup is one that fits you best. You can browse dozens of lists and recommendations, but it's always better to try before deciding to spend money. And one more thing: if you are going to make a living out of playing games, then the equipment must be appropriate. Enthusiasts can read more about The Most Popular Game Streaming Sites where they can earn some money by running streams.
Consoles setup
The choice of consoles is less variegated compared to PC games — you basically get to choose between the Xbox, PlayStation, and Nintendo consoles. The real challenge will come when it's time to decide on a gaming TV. Most of the games are based on cutting-edge technology with bright graphic effects, so find a TV that provides you with 4K images and offers 120Hz. LG, Sony, and Samsung TVs guarantee perfect quality that you would like to try. The high-tech gaming setup can expand your gaming experience, that's for sure.
There are not that many VR devices on the market. Usually, console manufacturers create different accessories that provide the player with complete immersion. Therefore, most often, the choice of VR glasses, for example, depends on the brand of the console you use.
Neither a headset nor a chair will affect your gaming skills. Therefore, when choosing gear, decide only based on whether they are convenient for you. Many console gamers don't use chairs at all and prefer to play on the couch. The main thing is to check out the controllers from time to time — otherwise, the buttons may stick, which will give your opponent an unfair advantage.
Mobile gaming setup
Mobile games are available from anywhere in the world — all you need is your phone or tablet. At the same time, this is their main problem. Players forget about their own setup and start playing carelessly, and that, over time, can lead to neck and back pain. So if you want your hobby to only bring you pleasure, think about your health. Play seated at your desk and try to keep your back straight.
While PC gaming primarily requires a stable internet connection, hardware and gaming setup are essential for mobile gaming. As a user, you should take care of your device screen resolution, check if your tablet is overheating, and so on. This is especially critical if you want to become a mobile esports athlete. Read What Are Esports Games to find out how to distinguish gaming from esports.
The mobile gaming industry is growing in popularity, offering you a chance to join the wider community. For example, you can run a mobile game stream. Don't forget that fans love to watch the overall content of your videos, besides just your gaming skills. Choose your desk setup and interior decoration like Funko Pops to please your viewers.
Before you start building your setup, think about your budget. How much are you willing to shell out on each accessory? Decide if you need AMD Ryzen or CORSAIR Dominator Platinum RGB. Perhaps you will have enough with a regular gaming laptop, Alex drawers from IKEA, and other peripherals that you can further develop, upgrade, and customize.
Putting together the best gaming setups depends on your goals. If you want to grow as a game developer, read Technological Games. In this case, you will need gadgets with advanced features, which can cost a pretty penny, so start small and buy the rest when you need it. You can also buy used items, but keep in mind that you won't get warranty repairs if a problem appears. If you don't want to end up paying more, weigh your decision carefully with every purchase.