July 20, 2023
Gamification in Virtual Events: Engaging and Motivating Attendees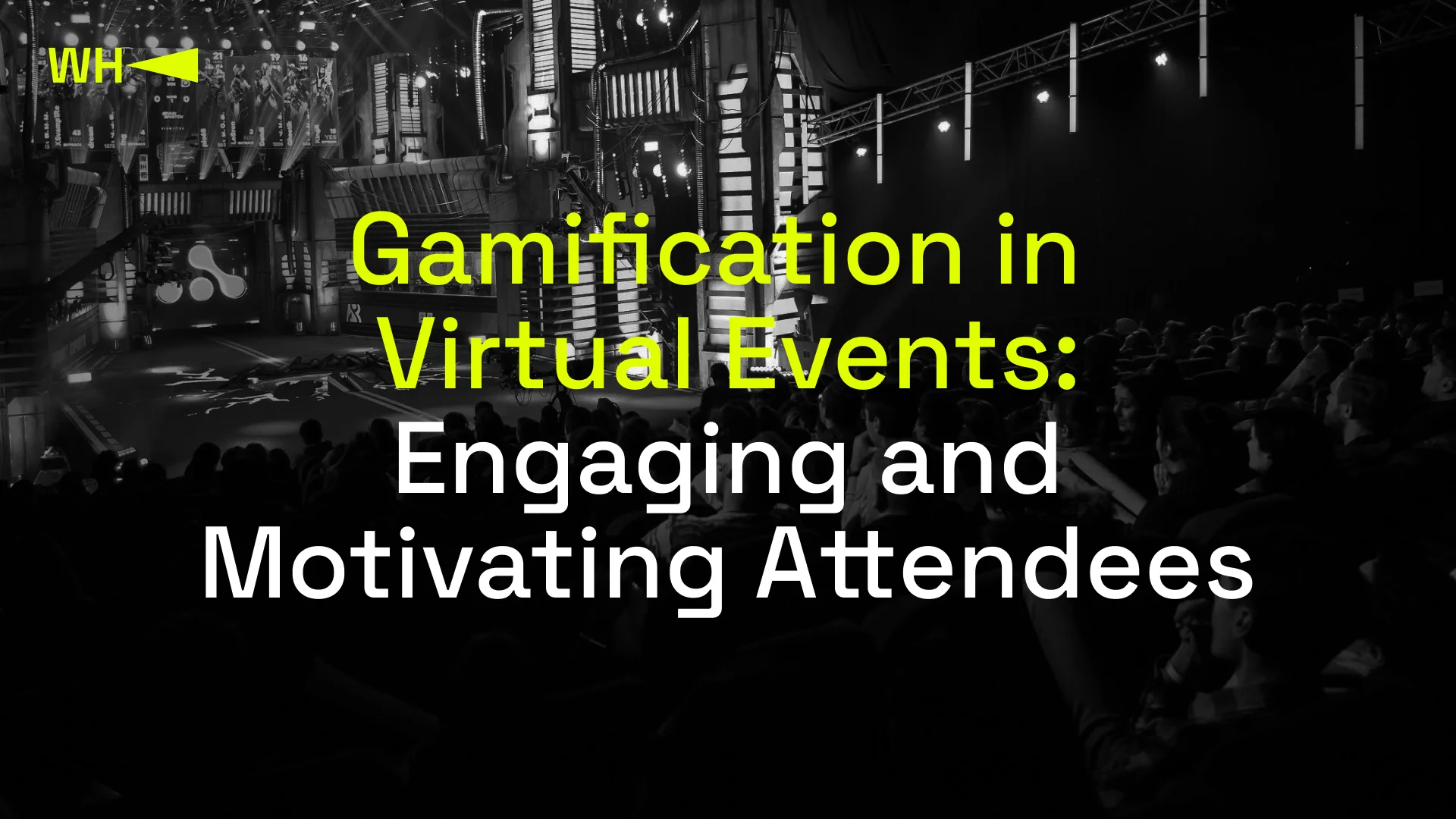 How do you make sure that your audience stays with you during a show? This question may well keep the organizers of events and shows up at night. Fans obviously have a ton of content to choose from, and most of it is pretty great, so competition for the viewer is fierce. High-quality visuals are industry standard; the same applies to sound, color correction, and other technical details. Of course, any technical hitch is sure to take a toll on viewership metrics, but top quality is no longer enough to keep the viewers watching.
If you hope to find a surefire recipe for success in this article, there is no single answer. The key to the audience's heart lies in the content you provide. Since all people are different, the content varies too, and there is no one right way to create it. So before you rush headlong into creating an event, think about who your viewer is first. This article focuses on gamification as one of the tools to entice your viewers.
Gamification is a mechanic that helps turn any non-game event into an engaging environment. What do people like about a game, any game? How they can influence the plot, the active part that engages, the excitement of winning. You can implement it all in your show. Now, let's discuss a few options for making even non-gaming shows engaging.
Examples of Gamification
Let's start with options that are easiest to organize.
Quizzes or trivia are a way for people to boast their knowledge while feeling surrounded by like-minded fans. Therefore, this way of entertainment is very involving. Many educational institutions use this as a method of teaching.
A contest is a lovely way to inject some challenge into your show. Ask your fans to write the funniest comment, post a photo related to your show theme, or use your ingenuity to invent another task. Then you can choose the best one and, of course, reward your fan.
A trophy is a detail that will remind fans of your show for a long time. For example, some people have a knack for keeping passes or tickets from in-person shows as souvenirs. In an online show, delivering such small surprises is a complex and expensive process, but you can offer digital assets instead of material things. For example, invite viewers to share their email addresses with you and send them a personalized email with a photo signed by the participants.
Turn Your Viewers Into Participants
Participants are those who are directly involved in the show. The participants are up there on the stage with the spotlights trained on them — everyone sees their faces, which makes them part of a select group in the eyes of society. Why don't you show the faces of your fans? You have probably seen it during in-person events, for example, at basketball matches, when the camera sometimes focuses on the faces of spectators in the stands. For online events, the implementation can be more complicated.
At one of our One True Genshinologist events, we invited ordinary students and graduates along with influencers. In this trivia game, students could answer questions and join the game via video link so that every spectator could see their faces.
Let Them Influence the Show
Sometimes people like to be a part of something big, like a show. The best way to do it is to put them in control. It shouldn't be a big thing, but it has to be a visible part. Consider something like changing the color of the lights, or try more complicated options.
I will give you an example from another of our events. Preparing for WePlay AniMajor, our specialists created a mini-movie about the characters, where the turning points of the plot depended on the audience. In a Twitch chat, we created a voting poll where viewers could choose a line for the characters and influence the story. In general, preparing such a relatively small piece of the show is quite laborious. Specialists have created several versions of each scene so that people could immediately see the outcome after voting. In addition, the poll and video projection took place in real time, so avoiding video lags was a challenge. But having a say about the course of the story engaged viewers and had a beneficial effect on viewership metrics overall.
Help Them To Help You
Being in the middle of a creator-based economy at its dawn, it is impossible to deny the impact of influencers on an event's overall rating. If you think more globally, then, in fact, each of your fans has their own field of influence with which they can share their experience of your show. As the organizer, you have to give them the right tools so that the fans can get the message across.
Here, you have several options. Either give them content that inspires creativity or come up with an activity with rewards. For example, at WePlay AniMajor, where the main theme was anime, the audience began to create anime-stylized fan art featuring the event participants. Of course, such a result depends on many things, such as the event's theme, guest stars, etc.
Another way is a tried and tested one. You can create a hashtag and ask your fans to share their favorite moment of the show or come up with a parody of one of the hosts or any other activity. It all depends on the loyalty of your audience and what you offer them in return.
As you can see, there are many ways to interest your audience. The main thing to remember is that the content you offer must resonate with them. Then you can easily understand what can cheer them up, make them write reviews, take photos, etc.