July 27, 2023
Remote production: a simple way to juggle projects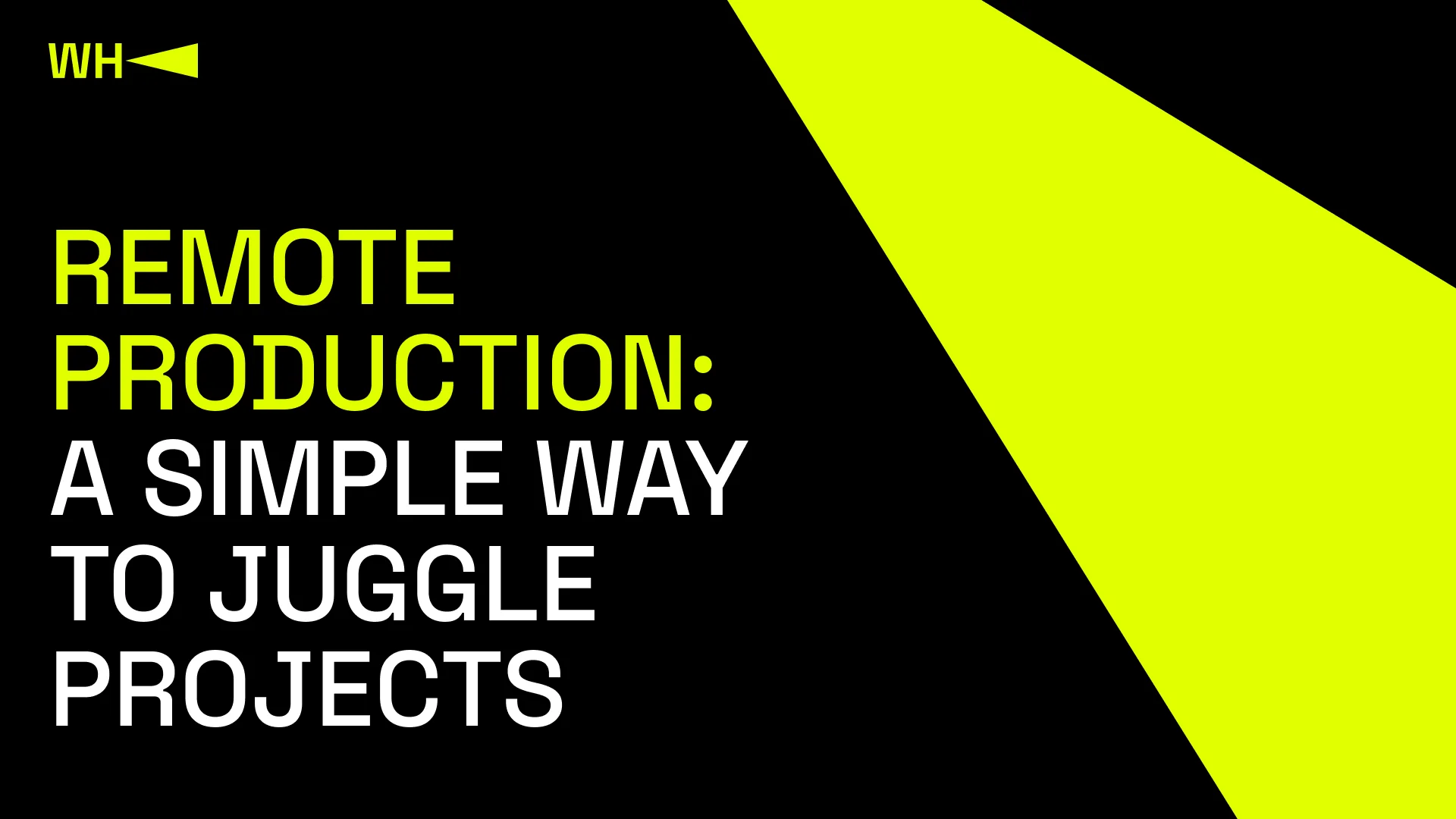 Remote production (REMI production) is far from being a new technology buzzword. In part, this model was used for news broadcasts to let correspondents from all over the world check in with a single studio. This way, viewers feel they get the news almost firsthand and have the full picture of a given situation, even if they are far away. But news broadcasts aside, remote production is becoming not just a handy feature but an indispensable tool for any type of live production in the future. This article takes a closer look at why this is happening.
For obvious reasons, remote production has seen demand soar in recent pandemic years. To create a show, an event, etc., you need a lot of specialists, and gathering them all in one place under sanitary restrictions can be a challenge. Therefore, content producers began to link up with specialists remotely. For pre-recorded content, it was the best option, but in the case of live events, the remote production model required certain knowledge.
Going remote: how hard is the transition?
As the name suggests, remote production is the process of creating content outside a centralized studio. The process includes all the steps of creating a show, just like in-studio production, plus additional steps to set up a remote workflow.
Virtual production is described in more detail here. In a nutshell, it's about developing concepts, preparing formats, and building event teams for the creative, production, and technical sides. Plus, finding equipment to buy or rent in order to follow through with all the creative ideas takes additional effort.
Remote production adds another level of complexity to all these tasks. For example, a remote workflow setup specialist must make sure that the production solutions don't affect the quality of the live broadcasts. That is, they need to ensure lower latency, make sure that all specialists, wherever they are, know the show schedule and their area of responsibility at video streams, and check security and encryption when connecting all working channels into one broadcast production system.
So yes, switching to remote requires some resources, especially money and time. However, it's the only way to stay competitive today.
Clients don't need to google "content production staff near me"; instead, they can hire any production company that's good at remote broadcasting, even if they work in different time zones. As vendors, such companies offer great benefits since they don't limit themselves to one place. They can attract talented specialists from abroad to deliver high-quality content, rent new venues, and much more.
Why look for remote production companies?
No borders
Production companies that know how to set up a remote workflow can organize an event almost anywhere. Naturally, to set up remote production workflows, there are special requirements for the technical infrastructure. Otherwise, conditions can be created on purpose, given sufficient budget and time. It can be a stadium or an ocean coast — it all depends on the creative imagination and available resources.
Thus, companies are not tied to a particular city or country, which makes it easy for them to adapt to the customer's requirements. Moreover, content production companies may not even be limited to one production studio — broadcasting can be carried out simultaneously from any number of remote locations that are literally anywhere.
Cost-effective
It takes a staff of specialists to put on a show. Even the smallest events involve several camera operators, event managers, set decorators, lighting specialists, CG specialists, and AR specialists, and that's just for starters. The work of each team member is important for live streaming. So you can imagine how many professionals companies need to create such big live sporting events like NFL TNG or OTK Games Expo. Now, let's imagine that a company needs to bring all of these specialists together in one place. Travel costs, equipment delivery, accommodation, and other expenses would just keep piling up. Plus, some fragile equipment can't be transported at all.
On the other hand, remote video production can offer clients a small yet skilled skeleton production crew that works directly at the venue while the rest of the pro team contributes to the grand goal from all over the world. No need to cover logistics expenses for everyone when you can only pay production costs and reap economic benefits.
Time flexibility
You've just read a description of how one mobile group might work, but what if there were several more? One team could be working in China, another one in the U.S., and the third one somewhere in Europe. The company could basically be churning out live content non-stop! Of course, it's a bit of a utopian picture, but it has some truth to it. Even with a busy schedule, there is always room for the client's ideas. Unlike local content production companies, which are quite strongly tied to one place, remote production can switch between different productions and channels really quickly.
The main directing team can continue to work from the central control room while various mobile remote production teams link to them. And this is not only about remote camera operators but also about specialists in other areas. For example, let's imagine that the computer graphics expert for your event is based in Japan, and the event itself is taking place somewhere in Los Angeles. Instead of wasting the specialist's time on travel or looking for someone else who is nearby, a remote production team can set you up with a professional from any country to work online, regardless of distance and time zone differences.
Where to find the perfect team?
More and more production companies are going remote, and WePlay Studios is no exception. For quite a long time, the company has been attracting specialists to work remotely. Over the past year, the company has held many memorable events at its WePlay Esports Arena Los Angeles, while a significant part of the team works from Europe. They use remote production technologies for almost every event that the company streams from the WePlay Esports Arena LA. The observers, replay operators, and even the lighting designer are based in Europe, while the broadcast takes place in the U.S.
If you are looking for someone to produce your idea, then you just need to check the portfolio of companies you like and see if they can produce content remotely. This way, you get much more choice than if you were to opt for local teams only.