July 24, 2021
Esports Teams Recruiting: can anyone really join the esports scene?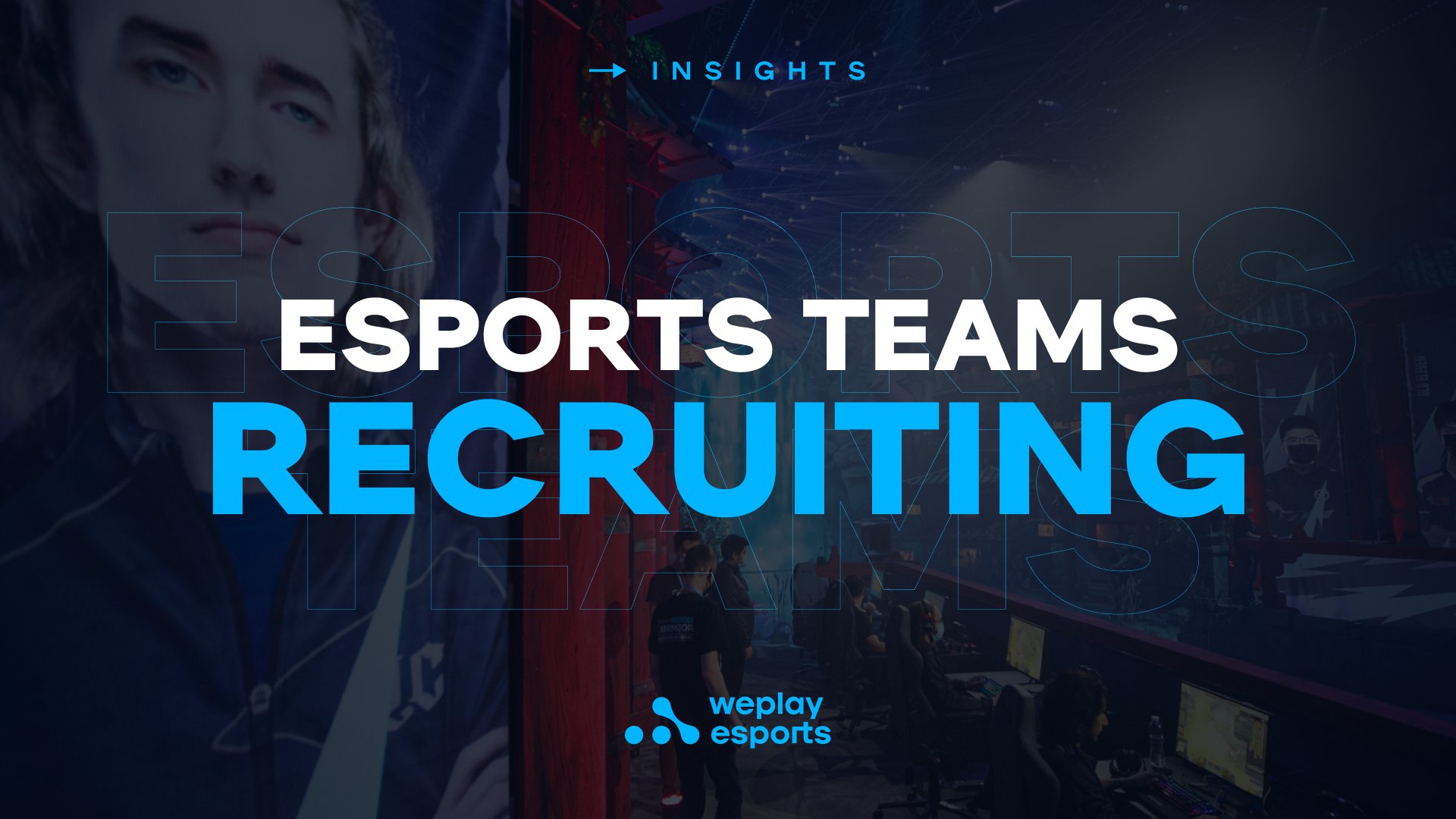 One of the most exciting and game-changing professions in the world right now is being an esports player. That, or being a Twitch streamer, but sometimes those go hand in hand.
But how does one join the world of esports? Sure, you can play games every day with your friends, maybe even make a minor-league team of your own. However, how do you join the big leagues?
Well, lucky for you, there are professional teams with open spots ready for you.
Professional Esports Teams That Are Recruiting
Esports' popularity has only grown over the years and with it the number of people who want to join.
It's not just high-profile teams that are recruiting people, though. Recruiting may seem really professional and serious, but teams come together that pull from as low as the mid-tier of competitive players. As long as you want to work hard, play a lot, and get better, there could be a place for you. And, conveniently, many of them are recruiting online.
There are entire sites that help players find a team, like Seek Team or GYO Score.
Despite what you might assume about esports, you don't have to have connections to be a player. The esports world is open and ready. Below, we'll name some pro and high-level teams looking for a perfect gamer to fill out their roster.
Valorant
As the Valorant scene grows, there are more and more openings for fresh players to join in. It doesn't just need to be young gamers, either. As the game is reminiscent of CS:GO and Overwatch, it also has excellent opportunities for older, seasoned players.
Here are some teams from pro/upper Elo looking for new members:
Team 300 FPS, Aftermath eSports, Rekreational Esports, Mud Dog Esports, Netplay
Fortnite
Fortnite is one of those games that attracts fresh, young gamers more than other scenes. After all, the top player who won a Fortnite championship was a 16-year-old boy. With their demographic slanted particularly young, it's a great game for young gamers to join.
Here are some teams from pro/upper Elo looking for new members:
Hate, Blitz Gaming Fortnite, Plastic, Team FRKN, Sky, Sounary, Triforza, Saints Uprising, Rise in Power, Unity, HBL
There are also Fortnite clans recruiting players, like TeamCraven and Hard Style Assassins.
Call of Duty
There are a bunch of different CoD games that are still holding regular tournaments with the best of the best players. This includes the CoD: Warzone to the still-popular Modern Warfare 2.
If you love CoD and love to fight for the highest kill count in every game, it might be time for you to look for a team of your own.
Here are some teams from pro/upper Elo looking for new members:
Viper clan, Aftermath Esports, FPS Mayhem, Team Laolo, SXEdge, Rekreational Esports, Ready Roulette
Apex Legends
Battle royale games have become quite popular in the last few years, and Apex Legends is a unique free-to-play version that has done the impossible- stayed popular past the initial trend. Only Fortnite, PUBG, and Apex best survived all that well beyond the initial craze.
Apex Legends is pushing to keep itself relevant and fresh between its PC and mobile versions, all being involved in competitive play.
Here are some teams from pro/upper Elo looking for new members:
Lofi Gaming, Above the Rest esports, Team Aviate
Rainbow Six Siege
This Tom Clancy classic blows up a lot of hostages, but the professionals are a group of very precise and tactical gamers. As the game keeps adding new operators, the competitive scene also needs fresh players to spice up its esports scene.
Here are some teams from pro/upper Elo looking for new members:
Equinox Uprising, AS, Dynasty Quebec, Identity Disorder esports
League of Legends
As one of the most popular games around the globe, LoL always has options for new players. This MOBA has such a diverse range of champions that so many people can find their own specific niche in the game. Whether you're a Blitzcrank main or a Zed powerhouse, there are some teams with an open position that could be the perfect place for you.
Here are some teams from pro/upper Elo looking for new members:
Mud Dog Esports, Level 1
Other Games and Elo Recruiting
It isn't just pro and upper Elo teams that are looking for players, though. Your perfect mid-to-low tier esports team is also seeking gamers to fill their roster. They are all over sites like Seek Team or GYO Score. So, even if the exact team or Elo you're looking for may not have been listed here, still go check it out! Your perfect team could be out there.
Make Your Own Team!
If you can't find the perfect team out there for you in your chosen game, there's always the option to make your own team! Between the accessibility of the internet and all the logo-maker tools out there, it's easier than ever to create your own esports group. Whether you collect your friends and play or find other enthusiasts online, it's perfectly viable to build a team by yourself and play.
So, if you really want to play esports, all the options are there for you.