Aug. 10, 2022
A Brief History of Esports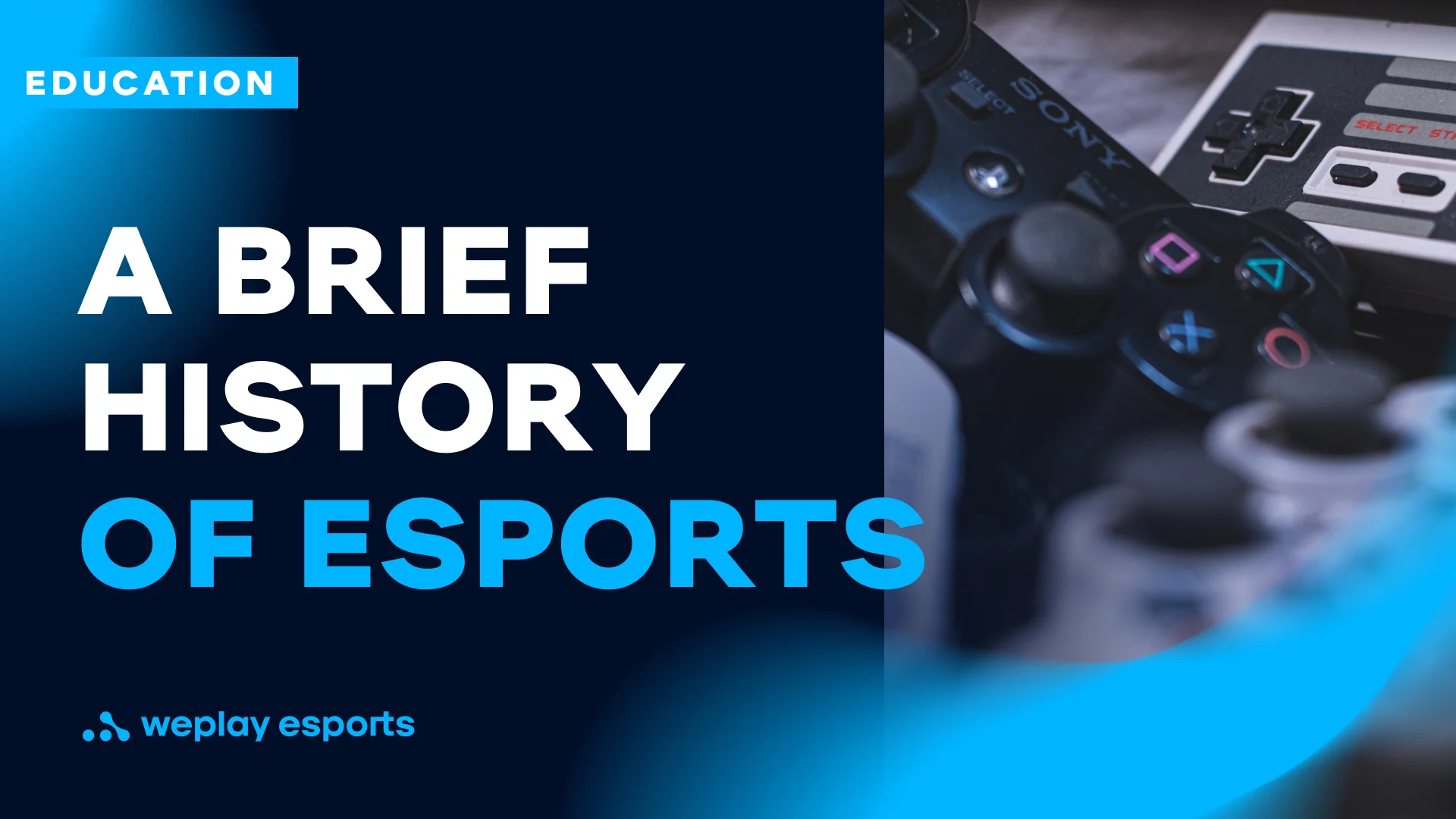 Today, esports is an industry in its own right. Its history started a while ago: the first signs of esports appeared in the '80s.
The early days: tournaments as a new opportunity
When in 1980, Walter Day created Twin Galaxies, a company responsible for keeping track of the records and highest scores of many arcade games, he had no way of knowing what would happen in the future. However, with prizes evolving from a Rolling Stone subscription to over $40 million, esports tournaments were always about the same thing: opportunity.
Space Invaders Championship: where it all began
If we talk about the first esports tournament ever recorded, we should mention Spacewar! The event, called the "Intergalactic Spacewar Olympics," was held at Stanford University in 1972. The space combat game tournament featured a year of subscription to the popular Rolling Stone Magazine as a grand prize. It's considered the first-ever esports tournament — the first sign of esports becoming a real thing.
The year was 1980. Video games had just started to capture the popular imagination, making Atari a big hit. Wishing to catch the wave of its success, the company decided to hold a video game competition: players would test their skills playing Space Invaders, a classic game where an 8-bit spaceship had to destroy aliens as fast as possible.
The Space Invaders Championship was the first big esports event ever, and qualifiers were held all over the United States. Attendance was incredible, with over 1,000 players competing in some of those stages for the right to play in the grand finals held in New York. Altogether, more than 10,000 video game players disputed the grand prize in the qualifiers, and the final event had an audience of over 4,000 spectators — an impressive and unusual figure in those times. The arcade game tournament was simple: the higher your best score, the higher your position in the ranking.
The tournament winner was a 16-years-old gamer named Rebecca Ann Heineman. The prize pool? A copy of the game "Missile Command." Despite not earning millions of dollars, Rebecca's victory was glorious, as that was an important step for the esports scene towards becoming what it is now: companies discovered that tournaments could be incredibly profitable, and the public felt curiosity and interest in watching those events. This discovery would become a magnet for investment in the industry. After a while, in 1982, the Atari VCS Bundesliga was formed by the German Armin Stürmer. Following the success of Space Invaders, Atari realized there should be an entire league for competitive gamers. It managed to last for only three years, but it was a prototype of what would later become known as an esports league.
The '90s: new consoles, new technology, video game competitions
After the triumph of some tournaments in the previous decade, the '90s are when video games become really popular worldwide. With the major success of Super Nintendo and SEGA and in the early days of widespread Internet use, gaming competitions were starting to become an important influence in the video game industry. On consoles, games like Marvel vs. Capcom and Street Fighter consolidated a new method for disputing the championship: face-to-face duels (not a high-profile competition, but a more personal encounter, where abilities could be checked directly). Arcades began to sink since gaming at home was at its prime. It was PC gaming that obliterated them since PCs had access to the Internet, which meant that there was a dream when the competitions themselves could be held at home.
The '90s were a glorious era for esports, and we may argue that it's in this decade that its conception was fully finished. Several titles that would define the gaming multiverse for many years to come were released, such as Sonic, Super Mario Bros., and others. More importantly, computer games became a thing. At the end of the decade, games such as Quake, Doom, StarCraft, and Age of Empires were already available to the wide public.
Nintendo World Championships were held in 1990 in 29 cities across the United States, with great success (so much so that they would return in 2015). The prize was a copy of a cartridge of the same name; only 90 of them were ever produced and given to the finalists. One of these cartridges can cost up to $15,000 nowadays!
All of this combined meant esports was becoming much more accessible. Back in the '80s, the only way to play games was to buy an expensive console or hit the arcade game machines. Now, everyone with a personal computer could play alone or with friends through the Internet, and computers had many other uses — versatility was key. While gaming culture wasn't still a mass phenomenon, it was how many professional players started out. Important esports tournaments like the Cyberathlete Professional League, the Professional Gamers League, and QuakeCon would appear soon. Partnerships with cable TV game channels were established, and throughout the decade, gamers could watch their favorite players and disciplines live on television — something the Internet would help make the new normal.
In 1995, the first-ever Electronic Entertainment Expo, or E3, was held at the Los Angeles Convention Center. Gamers who attended it found out that something called PlayStation was to be released, among other news. This gaming fair still keeps its status as the most important gaming convention worldwide. Fun fact: there have been over 20 E3 events, and it has witnessed the releases of a number of impactful esports titles, from Overwatch to VALORANT.
Gradually, video game companies such as Blizzard Entertainment started to appear and shape the path esports took to become such a major industry. Competitive gaming was starting to hold more and more weight. But it was only in the '00s that everything converged to produce esports as we know it today.
The '00s: esports start to become mainstream
Esports was smashing it already. Games such as Counter-Strike and StarCraft were incredibly popular, fighting games kept their public, and gaming in general was taken to a whole new level. In 2002, Major League Gaming, now one of the largest esports tournament organizers in the world, was established.
The '00s were an important decade for esports. Two major things happened: South Korea decided to institutionalize gaming, and betting (although initially illegal) came to esports. That set a new standard in the esports scene: people across the world would eventually be able to bet on their favorite teams.
LAN esports tournaments also became popular, thanks to South Korea taking the lead on this subject and institutionalizing professional gaming through the Korea Esports Association. So, competitive gaming had reached popularity unheard-of before, and the Korea Esports Association was promoting a gaming league as a whole alongside tournaments held in the country.
Defense of the Ancients (DotA) and Counter-Strike, originally community-made customized modifications (mods) of Warcraft 3 and Half-Life respectively, became incredible hits. Many kids born in the '90s enjoyed entire afternoons of gaming, and some visionaries started to see potential in competitive gaming as a way to transform the entertainment industry. PC games, even not esports ones — such as World of Warcraft — were among the top five activities preferred by the youth, and the console scene was consolidated, too, with the advent of PlayStation 2, and its LAN capability made each video game tournament outperform its predecessors by miles.
Relevant tournaments included the 2006 Worldwide Webgames Championship, held by FUN Technologies. 71 players tried their best to get a slice of the $1 million prize pool. Games that required internet connectivity became mainstream around the world, and the interest in video games started to seriously compete with traditional sports.
When all was said and done, a technical difficulty remained: how to broadcast competitive gaming or esports to the non-endemic public? Social media was nowhere near the point it is today, and despite the competitive scene being a hit in a niche of its own, people would still consider it as a hobby for the most part. That would dramatically change in the next decade.
Recent history of esports
In 2011, MOBAs (Multiplayer Online Battle Arena games) were starting to become worldwide hits due, among other reasons, to The International 2010, whose prize pool reached $1.6 million. Valve Corporation had an important part in this reshaping, and in 2010, they released the beta version of Dota 2, created by hiring the original designers of Defense of the Ancients and launching a standalone game — the same thing that happened earlier with Counter-Strike, the first-person shooter that kept its relevance in the esports scene by upgrading many times without losing perspective of the game's objectives. RTS games such as StarCraft 2 that had their own ranking systems were also at the top of the list, and required almost the same skills: high action-per-minute rate, good control of the map and one's units. That led to the pro-scene community dividing their attention between MOBA and RTS games, which helps explain why these categories were so successful. Following this success, a yet-to-be-known company called Riot Games released one of the biggest esports titles to date: League of Legends. With low system requirements, League of Legends changed competitive gaming for good, shaping esports into what it is today.
The '10s: gaming is taken to a new level
A way to reach a wider audience came in the form of a website that would go on to become an authority in broadcasting: Twitch.tv. Twitch was introduced in 2011, hitting the charts, and really went viral in 2014 with far-reaching projects (remember "Twitch Plays Pokémon"?). The platform has since allowed direct payments to the broadcasters and that's when "being a streamer" seriously became a profession. Twitch has reached the masses: esports became much more widespread since it was now possible to both play and watch on a single device — the smartphone, whose technology and accessibility also helped the task of reaching much more public.
With the incredible popularity of League of Legends, Dota 2, and Counter-Strike, among other titles, publishers from Riot Games and Valve Corporation, as well as the partners selected to hold Major tournaments, broadcasting began to explode; not only was the revenue high, but the number of people watching and playing went through the roof. That attracted non-endemic brands such as Red Bull to competitive gaming, and esports became a successful mix of entertainment, tension, and brand activation. Even games that were originally designed as single-player massive online competitive games moved into the esports scene.
Tournaments with over $100,000 as prize pool became commonplace and even the norm. The last five years of the decade produced some memorable tournaments, specifically the 2019 Dota 2 The International and the 2018 League of Legends World Championship.
Asides from that, there are gamers in many disciplines. From a fighting game to a sports simulator, many fans would watch, play, and interact. However, nothing can explain better what esports is today than our top four picks:
The International: the highest prize pool
Dota 2 The International 2019 was the event with the highest prize pool to date. More than $30 million in prize money were distributed to professional teams — something beyond imagining if you have been playing video games since the '80s; that tournament made history, with the gaming organization OG taking home the first prize. Dota 2 tournaments are still topping the highest prize pool rankings, with some making it to the book of world records.
LoL World Championship
League of Legends kept stirring the general audience's interest in esports, and it all reached a peak in 2018. The League of Legends World Championship, previously dominated by South Korea, had a European team in the finals for the first time in a very long while: Fnatic played against the Chinese mega organization Invictus Gaming for the grand prize. They were defeated, but it was an important milestone: both teams proved that South Korea was not undefeatable in League of Legends, which was true for over five consecutive years.
The arrival of Fortnite
The video game industry is churning out new games pretty quickly — faster than ever, in fact, due to how technology keeps improving. However, few are as successful as Fortnite: while being a newcomer with a different genre, the esport took wing and firmly took its place among the most-watched esports. A success with both audiences and critics, it has moved over $10 million in prize money since its release.
Counter-Strike: Global Offensive
The game never changed much, but the Majors, especially IEM Katowice, kept drawing millions in audiences and prize money. CS:GO stands strong among the biggest esports in terms of prize money, and while the competition is tough in the first-person shooter genre, the video game successfully managed to go on shining until today. Many people who played Counter-Strike 1.6 at the start of the computer game boom are still enthusiasts and follow the latest releases closely.
The '20s, nowadays and prospectives for the future
Even in the face of the COVID-19 pandemic, esports kept growing, and in 2021, competitive gaming was still very relevant, despite the lack of LAN tournaments, travel constraints, and other restrictive measures. Tournaments were postponed, releases of PC games were put off to later dates, but the esports industry didn't suffer as much as traditional sports or other entertainment sectors. That can be explained by the fact that esports doesn't need to be played in person onstage, whereas other sports have had to take more drastic steps to protect their athletes. Most notably, the releases of VALORANT and Call of Duty: Black Ops Cold War were extremely successful, even though they happened to be released into this pandemic context. Furthermore, 2022 has seen even more growth of the esports industry, with a Newzoo report stating that the global esports audience will grow by 8.7% in 2022 to reach 532 million. It is believed that about half of this number will be casual viewers (defined as those who consume esports content less than once a month). This is significant because it shows how the pandemic played a role in the growth of esports and how the online space will continue to find involvement in esports. Now that people are able to go out again, LAN tournaments are coming back, but, due to the popularity of online tournaments between 2020 and 2021, they have continued to grow, meaning that the audience is now larger than ever. Now we have several online tournaments along with a commensurate number of in-person tournaments.
Even more encouraging is the fact that the growth the esports space has experienced is not a fluke and isn't projected to be going down anytime soon. The Newzoo report referenced earlier also states that the global esports audience will grow to over 640 million by 2025.
2022 has seen the return of beloved offline tournaments in just about every gaming niche, including the fighting game community, which will see the Evolution Championship Series after almost three years. This, along with other great developments within the industry, means that esports is here to stay.
Competition inside the broadcasting industry
Twitch.tv is a very well-established platform, but in the past decade — and even more strongly in the '20s — Facebook Gaming and YouTube "stole" some of the most successful streamers from Amazon's platform. That made the competition fiercer; many players started looking into expanding to other gaming spots, and this helped esports to grow even further — the more big places you are, the more people you reach.
While some gaming content is casual on every platform, there is still a lot of professional activity going on — and most professional video game competition broadcasts are shared across different platforms.
Furthermore, we are seeing a scramble of big companies looking to invest heavily in esports and buying up platforms wherever they can. For instance, Sony recently announced the acquisition of The Evolution Championship Series, which came hot on the heels of Microsoft's purchase of Smash.gg, a tournament platform website for fighting games. Even entire countries are getting in on the action, as evidenced by another recent purchase, this time of the German tournament outfit, ESL by Savvy Gaming Group, an organization backed by the Saudi Arabia Public Investment Fund.
Mobile gaming: PUBG, Honor of Kings, and China
Mobile gaming also seems to be a hot topic in the '20s. Everyone has a smartphone, and their computing power grows stronger by the day; therefore, it's only natural that mobile video games are breaking the "casual gaming" barrier and becoming established as esports. The Honor of Kings tournament held in China in 2020 was the second-largest esports competition in the world history, and there are no plans to slow down.
League of Legends recently announced Wild Rift, and many other games have cross-play opportunities (where you can play a game designed for computers from your mobile — for instance, that happens a lot with card games). Mobile gaming is now taken seriously, which opens up exciting opportunities, helping us understand where the future lies.
Esportainment: a mix of esports and entertainment
Dissecting the esports industry, we can find many similarities to the traditional sports scene. Competitive gaming and competitive sports are fueled by the entertainment the audience can experience, which means that brands can really have their spot in both. Streaming has become so popular in esports that most pro players have their own streams. Esports organizations also generally have their own content as well. This means that as long as the public is interested in gaming, the possibilities for esports are virtually limitless — be it on console, mobile, or PC, gamers can choose whichever suits them best, and esports will follow.
WePlay Holding: We make the show!
From the first major tournament in history to the latest WePlay Esports event, esports is about multitudes enjoying their favorite games. Here at WePlay Holding, we take each opportunity to make your tournament special and history, real. Tune in to watch our content and stay on top of all important developments in esports — a dynamic and unstoppable industry!