Dec. 29, 2022
2022 to resist, 2023 to win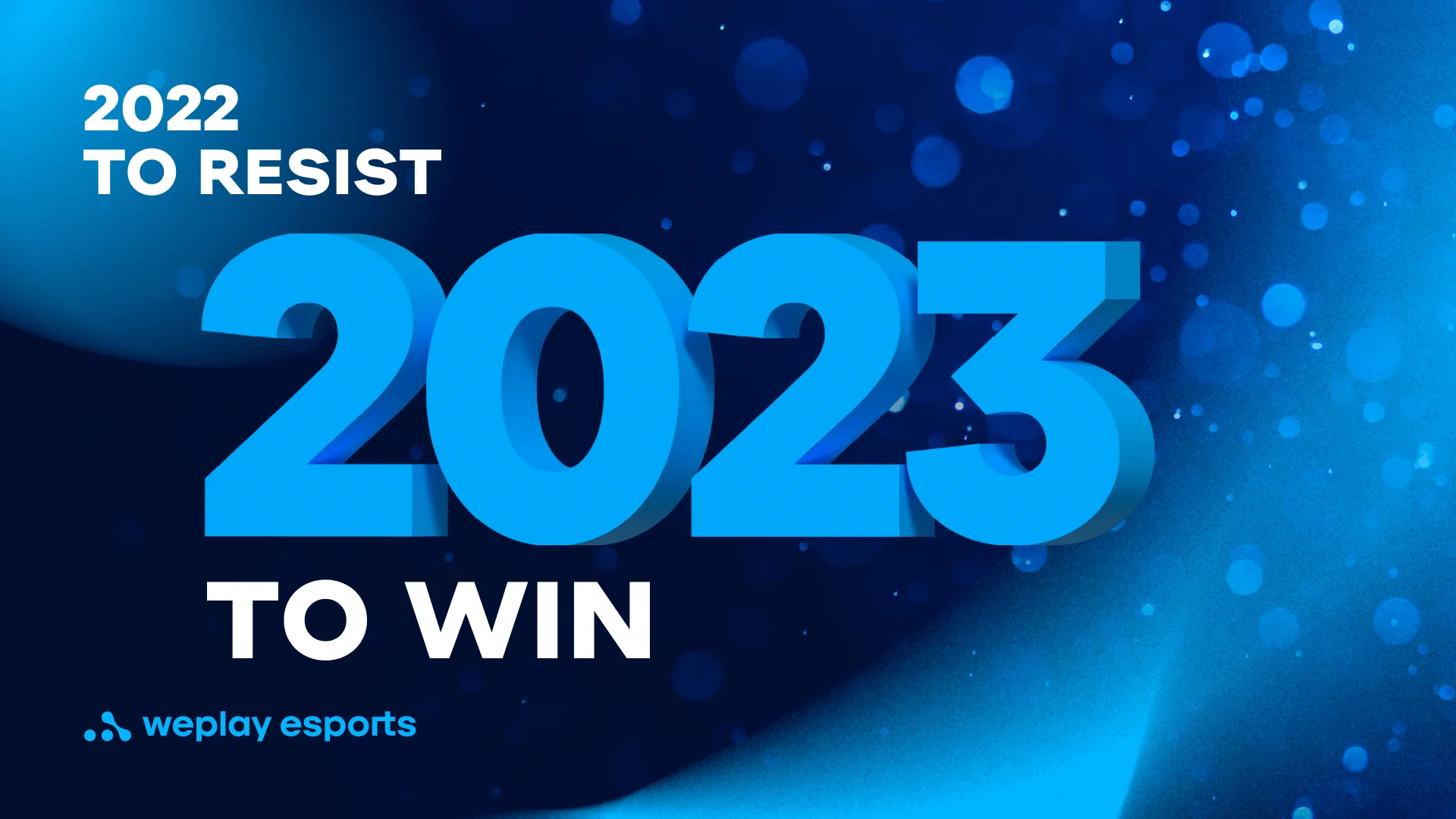 WePlay Holding started this year with ambitious goals and clear-cut ways to achieve them. New projects, new partnerships, new markets — this was how our team was going to spend the upcoming 365 days. January has become one of the busiest months in recent years in terms of the effort and resources we have spent on company development. However, history has made its own adjustments.
February 24 yanked the floor from beneath our feet and presented millions of Ukrainians and businesses with the new reality — the Russian Federation has started a full-scale invasion of Ukraine, our mother country. What should have been the best year turned out to be one of the hardest. The holding team has been and still is adapting to the new circumstances and overcoming obstacles.
In 2022, WePlay Esports became the winner in the Livestream Event category of the Ragan's Video, Visual, and Virtual Awards, got bronze at the Digital Impact Awards for its use of AR, and silver at the DataComms Awards, competing in the Best Corporate Storytelling Through Data Category. The company's most notable project, AniMajor, was shortlisted for the Sports Emmy Awards. Despite all the hardships, there are still some good enough memories to remember, so let's go through 2022 in detail.
#StandWithUkraine
WePlay Holding was founded in Ukraine. It is in this country that the WePlay team has worked on the launch of new projects, held esports tournaments and events, grew, and changed. Therefore, we could not stand by without taking any action. So, WePlay Holding became one of the first to end all relations with partners and suppliers from the Russian Federation and the Republic of Belarus. Since February 24, none of their brands got into our broadcasts or had anything to do with our activities.
On a voluntary basis, the holding founders, Oleg Krot and Yura Lazebnikov, donated more than UAH 100 million to support the Armed Forces of Ukraine. The companies of the holding also took part and even founded their own charitable initiatives supporting the Ukrainian army and people affected by the hostilities. Tournament platform WePlay Compete held a series of Dota 2 and League of Legends tournaments called Play for Ukraine, with the prize pools transferred to support charitable foundations. WePlay Esports also partnered with the #StreamersWithUkraine Marathon and the charitable Gramy dla Ukraine match initiated by Marcin Gortat.
Besides fundraising projects, WePlay Holding also tried to help Ukrainians who have had to leave their homes. Together with Polish gaming studio FPS Center, AMD, and other organizations, WePlay launched a non-profit initiative in Warsaw — the Day Center by AMD — to help young people and their parents adapt to the new environment.
All the holding companies took a stand to support Ukraine. Promoting esports in Ukrainian, WePlay Esports worked on the first-ever official Ukrainian-language coverage of the BLAST Premier tournament series. CS:GO tournament broadcasts in Ukrainian got 33,000 concurrent viewers at their peak, which is a great result among Ukrainian-language broadcasts. In total, WePlay Esports' Twitch channel got 2.78 million hours watched over the year.

DashFight launched a Help Ukraine campaign, where they brought the FGC audience's attention to pressing issues, highlighted trusted fundraising initiatives, and encouraged their readers to spread the word and help those affected by the war.
Esports prodigies shine bright
Contributing to the future of esports, WePlay Esports led the WePlay Academy League, an esports CS:GO tournament series for leading esports organizations' academy rosters. Over the past years, the company held six seasons of the WePlay Academy League. This year, to not endanger the players, WePlay Holding has thrown four seasons in an online format.
However, despite the war, WePlay Esports has worked hard on the project, enhancing its format and engaging new organizations. Viewers got high-level competition vibes and unexpected championship twists, while young esports stars were able to hone their skills and pave their way to the Tier-1 scene.
The fighting game community is on the rise
In 2022, DashFight, one of WePlay Holding's companies, continued to thrive and work hard on improving in every possible way. The company had its first media partnership with Red Bull's Golden Letters event. It resulted in exclusive player interviews that shed light on their personal opinions and raised rarely discussed topics. Creating catchy, unconventional content for the entire fighting game community, DashFight showed an outstanding performance. Over the year, DashFight's YouTube channel got 21 million impressions, over 2 million views, 180,000+ hours watched, and gained 15,000 subscribers. Plus, the company covered 126 tournaments and added over 5,000 player profiles to its already extensive database.
At the end of the year, DashFight decided to cap things off with a special event, hosting DashFight's own award ceremony where the company spotlighted various competitors, tournaments, fighting games, and other elements of the FGC. To make it truly special, DashFight collaborated with the Hit Box Arcade for a special giveaway and brought over major community members to announce the winners.
And the effort paid off: the company website has welcomed an immense amount of viewers, with over 10,000 daily readers and over 1.7 million visits throughout the year.
New disciplines, new partnerships, new milestones
Colorful memories of WePlay AniMajor and the WePlay Ultimate Fighting League at the WePlay Esports Arena Kyiv will forever remain in the fans' hearts. It's time for the new stage, the WePlay Esports Arena Los Angeles, to start creating new events and experiences.
WePlay Esports has invested in the OTK (One True King) influencer network and media company. Together, the companies are already creating more unique content and giving fans a breathtaking experience. The first collaboration took place at the newly opened WePlay Esports Arena in Los Angeles, with superb augmented reality elements and lighting.

In September, the One True Genshinologist quiz show found a true Genshin Impact fan. The event brought together U.S. university students and influencers to test their knowledge of a shared passion. For WePlay Esports, it was the first experience working with Genshin Impact.
As WePlay Esports Arena Los Angeles started working at full capacity, it became clear that the company would not limit its impact to esports. WePlay Esports has partnered with Enthusiast Gaming to serve as a production partner for NFL Tuesday Night Gaming. NFL Tuesday Night Gaming pits eight NFL (National Football League) stars and four major gaming influencers against each other in the most popular gaming disciplines — Rocket League, Fortnite, Fall Guys, and Madden NFL. The show airs every Tuesday on YouTube in the U.S. and Canada. Working both in Ukraine and at the Los Angeles location, the team put a lot of effort into the show, from creating scripts and subtitles to designing CG and AR style.
Going on with sports events, WePlay Esports and MEGOGO agreed to cooperate for the Ukrainian-language broadcast of the FIFA World Cup 2022. WePlay Esports became a partner for broadcasting the Championship in Ukrainian from its studios in Kyiv.
This is what the year 2022 was like for WePlay Holding companies. Our team enters 2023 with new ideas, partnerships, and projects. Each of us already knows what they will ask for as the clock strikes twelve — like millions, our only wish today is peace and the victory of Ukraine. Stand with Ukraine, believe in Ukraine, and support Ukraine. See you in 2023.