Jan. 27, 2021
Yura Lazebnikov: We're Not Just Doing Business, "We Play" It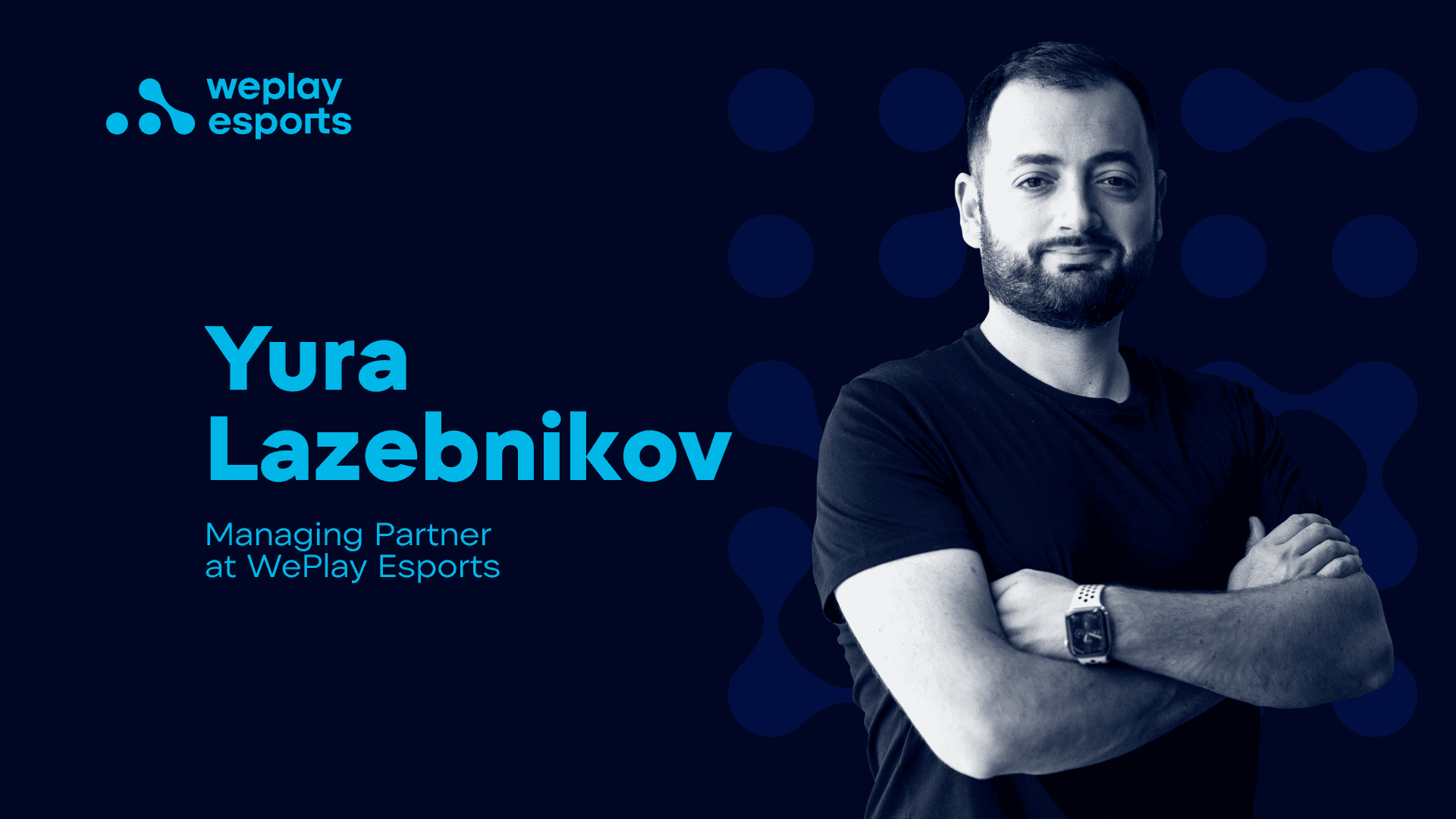 One of the WePlay Esports founders talks about himself, esports as an industry, business, and the passion of his life.
WePlay Esports Managing Partner Yura Lazebnikov appeared in an episode of Mayak Innovatsiy, the podcast of UNIT.City. In this interview, Yura speaks about the origins of WePlay Esports, developing a business in Ukraine, how he got started in esports, and his views on the industry's future.
First I would like to know a little bit more about you. What's your story? How did you become an entrepreneur, and what is it like to be an entrepreneur in Ukraine?
It doesn't have a specific starting point where I woke up one morning and decided, "Oh, I want to be an entrepreneur now." It happened organically, and, step by step, I understood that if I wanted to create something great and earn more money than just a salary, I had to gather people around me and create a cool product. I had my first go at it when I was 14, in the advertising business. I've not always succeeded in my activities, but I had a very clear understanding that if you want to do something amazing, you can't do it alone. You always have to gather a team of talented and skilled professionals who have the same mindset as you. Maybe it's this knowledge that makes me an entrepreneur. And, of course, money is a pretty fine goal when you understand why you have to earn money and have a great desire, vision, and when you try to create more products, more services for your customers or potential clients. It's how it happened. I don't know the exact time when I got these thoughts in my mind, but I think it happened when I was maybe 18 or 19, during my first year at university. I tried to create my own businesses.
You're also passionate about esports, which is a really cool subject. How did this passion come to be?
I have always been a bit lazy, and rather than work, I would spend a lot of time playing games. I remember when my mom and dad gave me my first computer when I was six. It was a Spectrum, which had tapes instead of discs. Of course, like any other parents, they thought that I would use the computer to learn programming or teach myself new skills. But, like anyone who got a computer or a console at that time, I would use it for video gaming. Now, I'm watching my kids do the same. When they're in front of a computer, they use it for gaming rather than for learning. Though in my case, playing video games was a skill. No matter the point in my life, there was always a parallel with gaming. I played games when I got my first job, when I created my first business, etc. I've always played games. I've spent so many nights at the first computer clubs in Kyiv. I even remember that it cost 10 UAH per night. I have spent countless nights with my mates from uni playing Counter-Strike. It was a hobby, and it didn't matter how much money you earned in your parallel life because if you love games, you will always find the time to include them in your life. So, in the early 2000s, it was just a hobby. But, in 2012, after we organized our first tournament, my partner and I realized that it could be a serious business. We realized that there could be a serious cash flow once more people got involved in the esports industry, and now we are where we are.
I think that WePlay Esports is a really cool company name. How did you come up with it?
It's all thanks to Oleg. It was his idea to create the WePlay Esports company. I'm really happy that we have this name. It absolutely, 100 percent, reflects what we do. Beyond the industry and the business, well, we're not just doing business, "we play" it. It's not just about the money for us. It's a part of our life. When we come up with new ideas, it's really like a game for us to give life to these ideas. It's a game we play in our lives, and I love it.
And why do you think esports is becoming so popular in our time?
I don't think competitive gaming is that popular yet. When you compare it to the figures from classic sports like soccer, baseball, or basketball, they're all much bigger than esports. But you can definitely see the speed at which esports is growing and how bright the future is for this industry. I always say that esports is just a kind of traditional sport. From soccer to Formula One, to Counter-Strike, it's all about the competition, the teams, the players, the prize pools, the emotions after winning or after defeats. I'm confident that there'll be an esport that can match the figures of any other popular sport on the planet in a few years.
How would you describe the reputation of Ukrainian esports and Ukrainian esports athletes?
Ukraine has a pretty good reputation in the esports community because there are a lot of big names and esports brands here. Unlike traditional sports, esports doesn't have very strong links to countries; it's international. From the industry's point of view, it doesn't matter if a company is Ukrainian,  German, or American. A team from Sweden or Great Britain could have Ukrainian players, but it's not about the flag. It's just about the teams. Maybe in the future, there will be tournaments between countries like national soccer or basketball leagues, but that's not the case right now. However, the core esports audience knows Ukraine well because many important companies have their roots in this country. There are many talented gamers that come from Ukraine, there are a lot of talented Ukrainian commentators, etc.
So, you created your company in Ukraine. I believe you have around 400 employees in your office in Kyiv. Then, you decided to expand, so you have representative offices in Los Angeles, in Beijing, in Hong Kong, in São Paulo. Why did you feel like international expansion was important for you and for the development of your company?
First of all, if you want to grow your business, you have to expand it. It's almost like a war, where you have to seize new territories if you want to survive. For us, Ukraine is an amazing base from which to expand our business, as we have strong roots here. We understand how to grow a company, draw new employees to esports, and train them. We also understand the pros and cons of Ukraine. It's a country of very talented people, but it's not a very rich country. We decided to create as much as possible in Ukraine and then sell it to a market with more money. Maybe that sounds a little bit egotistic, but it's almost like we use Ukraine as a production facility for our products, which we sell to the United States, Great Britain, Germany, Brazil, and other countries with a stronger economy than ours. We aim for markets that can spend more money on content, merchandise, and any other goods.
You decided to build an esports arena in Los Angeles, but you also chose to build one in Kyiv. You really decided to invest in bringing people from abroad to Kyiv to play and to perform. As the first in the market here, when did you have that idea?
Yeah, we got the idea a few years ago, but we never hesitated about picking the right place. We decided that it should definitely be in Kyiv because Ukraine is a genius location from a geopolitical perspective. It's located between Asia and Europe, and it's very easy to gather players and talents from various parts of the planet in Ukraine without any issues. Ukraine has flexible visa politics. No one from the European Union needs a visa to enter Ukraine, and it's the same for people from the United States and many other countries, from the Middle East to Asia. Of course, we also have good experience with building and developing a business in Ukraine. That's why everything happens a bit faster here compared to the United States, which is also why we finished the Ukrainian arena first before the U.S. arena. We understand how everything works here. It's very convenient to develop infrastructure around the arena because it's much easier for us to get employees here than any other place on the planet.
What's your wildest dream in terms of esports tournaments?
It's very simple: I just want them to be the esports Super Bowl equivalent in terms of figures and budgets. I also want the same sponsors — from Amazon to Porsche and Pepsi.
Among all these big brands, who are supporting esports tournaments right now?
Many big brands are already in esports. Of course, it's mostly endemic brands, like Intel, ASUS, Acer, HyperX, and Logitech, but there are more and more FMCG brands, like Pepsi, McDonald's, and global brands, like Armani. I know that Louis Vuitton has already dabbled in esports. It's already comparable with the classic sports in terms of car brands, with the likes of Audi, Ford, or Chevrolet already in. I think that by next year, we'll see a lot more big names within the esports industry.
Interestingly, we see more and more brands interested in gaming in general. Balenciaga just made a game to unveil their new prêt-à-porter show, and they developed the game from A to Z. Do you think that more and more brands are going to move into what's almost a mixed reality, with some things happening online and others offline?
Absolutely. We can compare it with the early 20th century and the invention of cars. It would be hilarious to go back in time and tell people that it will be a big sport and that we will watch huge car tournaments with very speedy vehicles. People would be rolling with laughter because back then, cars could never even beat horses. Now we have computers around us, and it's our new reality. Mixed reality, virtual reality, augmented reality, and computer games. They're not part of a parallel universe; it's our life on a daily basis. They're not just isolated tools for brands to promote goods. It's what customers use every day.
So, what is your vision of what's next for esports? There will be more and more brands coming in, but what will the new challenges be?
I'm sure that the next big thing in competitive gaming is tearing down the walls which currently divide the endemic and non-endemic audiences. Currently, the esports community is composed of people who usually play games. But when it comes to classic sports audiences, like soccer, for example, you don't have to play it to be part of that community. We need to achieve the same situation in esports, and we have to multiply the figures ten times over. We have to dispel the myth that esports is a marginal phenomenon or something that's not real. Once we succeed in this, we will get audiences of billions, and we will have huge budgets and names in the industry.
What's the biggest bill for professional gamers, whether in terms of transfers or prize money?
The biggest prize pool comes from The International (TI), a Dota 2 tournament. At the last TI, it was $42 million, so with five players in an esports team, you can calculate how much money each player won. When you take first place, you get half of the prize pool, so it's around $20 million divided by five, that's about $4 million per player.
So, money is a great motivation for the esports players, but what's the motivation for the audience, aside from the emotions? How do you get an audience involved in these tournaments?
It's an organic process for people to become fans of someone. It's very easy to engage someone to become a team fan. People write comments, place bets, etc. It's the same as what you see in basketball or any other regular sport. You have two teams, with five players in each team, and they play in a virtual field. Sure, it's a little bit different, but they have a goal to defeat their opponent and get the first prize. You can describe any game on the planet this way.
What's the most popular game in the world at the moment, in 2021?
I think that there are a few of them. There's Dota 2, League of Legends, and Counter-Strike.
It's crazy to think that games like Counter-Strike, which you played 20 years ago, are still there. They've evolved, but people are still passionate about them. How do you explain that?
It's very interesting because now there's already a generation that grew up with games. My parents and the previous generations have their own opinion about games: they're something weird, it's a waste of time. Now I have kids myself, but my own views have remained unchanged. I grew up playing the same games as they do at their age. That's why esports has grown very fast. It's because the audience has changed in an organic way. There are plenty of adult men and women who play games because it's fun content for them. They grew up playing these games, and for them, it's like any other kind of sports content on the planet. It doesn't matter if it's a boxing match or a Counter-Strike match. They're both competitive.
A bit more personal question on the topic of kids: there's a big trend with tech people in Silicon Valley telling their kids not to spend too much time looking at screens. How is it with your kids? Are there rules?
It may seem like they spend a lot of time around screens, but I remember my childhood, and I understand that there's no point in trying to forbid kids to do it. They are smart enough to find another way to consume the content they want. For parents who get angry about the subject, it would be good to have a dialogue regarding screen time, to play games with their kids, and explore these parts of their lives. Don't just try to forbid something. Try to be a friend, and this way, you'll be able to explain, "Okay, there's time for games, and there's time for education." That's my approach anyway.
I know there were some experiments, but what do you think about inserting game elements into education to teach kids maths, literature, English, and so on?
I think it's an absolutely great idea, having things like maths games in school: their minds are working hard trying to win these games and learning new skills. Don't try to create obstacles for kids playing games when it's what they really have a passion for. They develop new skills, and their brains develop, too. I don't think that's a problem. You just have to control the amount of time spent playing games because, as parents, we need to make sure that they're still doing sports or going outside. But gaming, in general, is not a bad thing. It's just a new way for us to spend time with our kids. It's much better to understand how to be a part of it than to try to avoid it.
So, here we are at the beginning of 2021. 2020 was a pretty interesting year, especially for you guys, because you were still holding tournaments — you even held them in Kyiv. So how has the crisis been for you so far?
You know, wisdom is something you usually get with a lot of experience, and all of us got a lot of experience over the past year. We taught ourselves new skills, tried to sort out new problems, and find new ways to do business and earn money. For WePlay Esports and the esports industry, it wasn't the worst situation because with so many people locked down at home, they were starved for new content, and we were ready to provide it. We multiplied our broadcast hours by four in 2020. 
In 2021, the situation on the esports market will change. I don't know what will happen with vaccinations worldwide, but we will continue gaining experience in these unfamiliar times. I hope that by the second half of the year, we will return to normal, but if not, then we will do something else and continue to grow our business. Of course, I want more offline LAN events where we can easily gather players and teams from around the world. I want full stadiums for our esports events, we're ready for it, and we have a lot to show our followers, but the one thing we need is a normal world.
I want to talk a little bit more about Ukraine. What are the main strengths and weaknesses of Ukraine in terms of IT?
The main strength of Ukraine is the affordable cost of a highly talented and professional workforce. The main weakness is that the local market isn't ready to buy the products created here and we need to find a way to sell them abroad. If you have a business approach that isn't limited by a geographical border, that's not a problem for you. We live in the 21st century, and it's stupid to look at the map like Christopher Columbus. You have to create a cool product cheaper than in other places and sell it at a higher price. For us, Ukraine is the best place on the planet to develop our products, and we can't think of a better place to use as a base for our production. 
Ukraine is well known for its outsourcing capabilities, but why do you think that so few people know about the esports side?
In Eastern Europe, people know Ukraine as a strong competitor, but within the Western world, most people only know it as the homeland of Usyk or Lomachenko, some of our top athletes. But it's also an excellent place to invest in. Sure, it can be risky, but if you have money and strong business partners in Ukraine, many people in the United States and Europe will choose Ukraine as the main investment destination.
Do you have any special programs for supporting startups and technologies? Grants maybe?
We've worked with and invested in startups. We have many specialists in the internal WePlay Esports team who come up with ideas related to esports and invest in them. Of course, we're always looking to find interesting projects which can be linked to our current infrastructure. I can't tell you that we have a clear strategy about investing in startups, but I'm sure that in 2021, we'll have secured a budget to invest in new projects. I'm confident that it will be more than $1 million, but I don't have any exact figures for now. But yes, we do invest in startups, especially those related to esports, and we're always open to working with talented people and companies who are looking for a strong partner.
So people can pitch you ideas? Well, maybe not you directly, but WePlay Esports?
Yeah, we have a department where they look at new ideas and can recommend Oleg Krot and me that we invest in new projects.
Do you have a song that puts a smile on your face any time you hear it? Does WePlay Esports have an anthem?
You know, during this cold winter, it's definitely Californication.