Jan. 25, 2021
The WePlay Esports Design Team: Who Creates the Wow Effect and Why You Should Keep Initiative in Check Within Big Design Team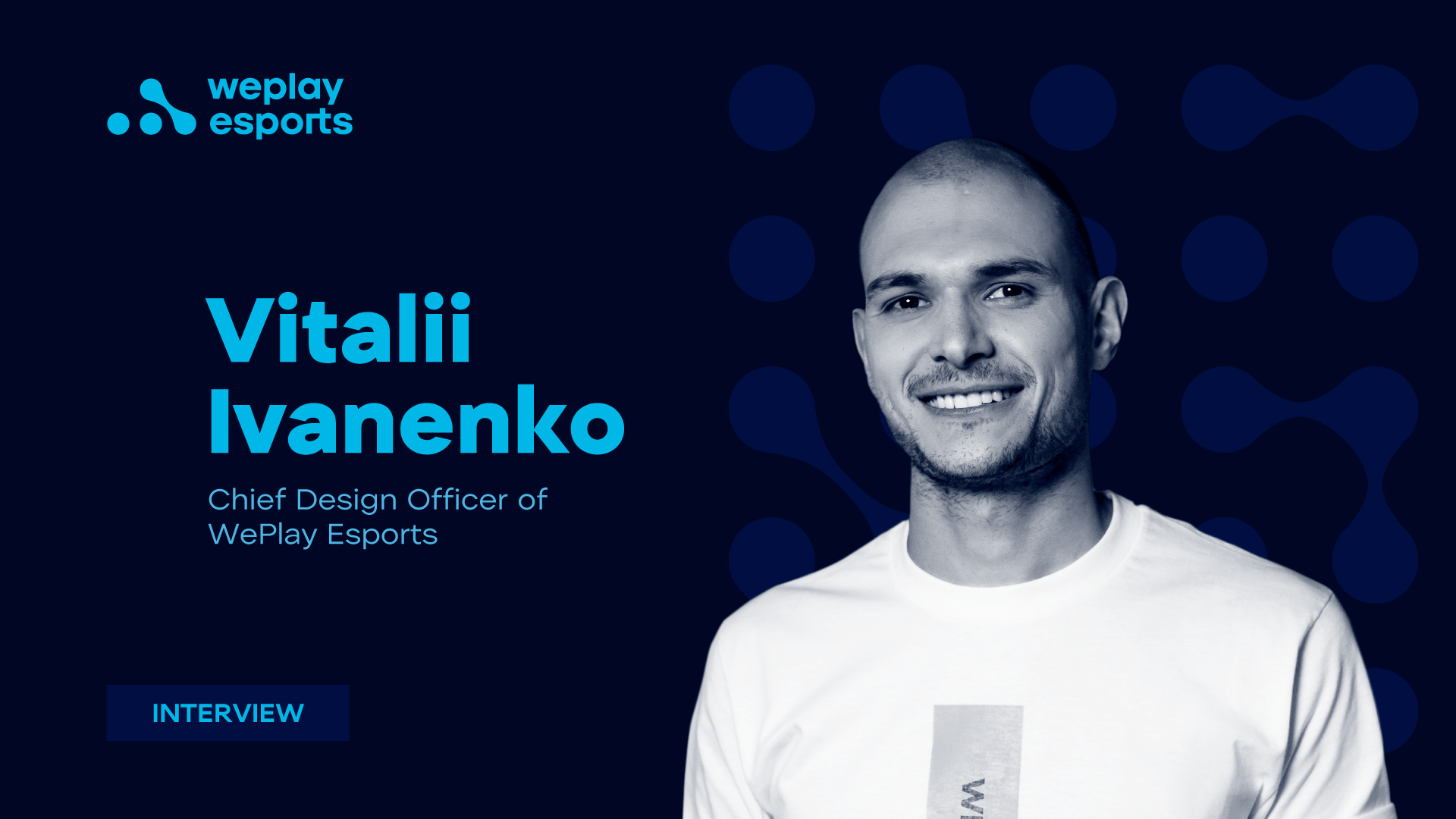 The specialist gives insights into working on WePlay Esports' design team.
In October 2020, Vitaliy Ivanenko became the Chief Design Officer of WePlay Esports. His path from a designer on the tournament platform team to the topmost position in the design team took two years. In this interview, Vitaliy talks about the design team and dispels myths about working in the field of esports, especially as a design professional.
Please explain how WePlay Esports' division of design into visual communications and interaction design reflects the holding company's operations, and services and products it provides.
This division is not exactly a causal one, but rather, a correlation. Sure, most organizations that have already experienced the importance of design have a division into graphic and interface design vectors. But not in their pure form: the functions usually overlap. A designer, along with his or her peers from their respective teams, serves the needs of the same products or services of the company. We are no exception. For example, let's take the broadcasts of our tournaments: a team of graphic designers develops their visual identity and other visual promotion materials.
At the same time, a UX designer from the interface team is working on the website section that covers the tournament and its broadcast.
Sometimes it may seem that we have a separate concept team that creates visual identity for tournaments only. But it also multitasks. My peers also create visual identities for other WePlay Esports projects, such as WePlay Esports Arena Kyiv, and other companies of the media holding company, such as fighting game portal DashFight.
We also tried creating cross-functional teams with graphic designers, similar to product teams. For instance, we had the designers involved in the company's SMM and marketing departments' tasks. That experiment didn't work out. The workload of specialists in these areas is non-linear, so designers often have to help each other out.
It is pointless to try to ensure that the design mimics the company's entire structure and operations. As a design leader familiar with our design team structure, I can say that it must all be need-based — always.
So what are the tasks of the Design Department at the company?
The task of design departments within most organizations is to solve both the businesses' and audience's problems. A design team must create lasting solutions. We at WePlay Esports follow this principle. For example, product designers work to reduce the cost of development, to provide users with a simple and convenient way to achieve their goals. At the same time, they never lose track of the emotional component, which is as important for esports as it is for any other sport. Of course, specialists rely on feedback instead of just gut feeling. They do user research to learn about their pain points and user interviews to find out what people think about a solution's design.
Graphic designers work on creating a wow effect for broadcast viewers and also on brand consistency. It is vital that a brand's design is recognizable to the audience, looks stable, and is understandable for sponsors, partners, and investors.
So, WePlay Esports design team tasks are the following:
Brand communication with the audience, sponsors, and partners
Internal communication between teams, departments, and the organization as a whole
Brand consistency
Cost optimization
Providing a positive user experience at all touchpoints
Creating a wow effect no matter the medium
When did the functional division of design into graphic design and interface design occur?
The graphic design and interface design vectors came along with the relaunch of WePlay Esports in 2018 — it was what was needed at the time. There are designers on the market who can both design interfaces and create high-quality graphic materials. We could have hired someone like that, but former design lead, Ivan Rogovchenko [WePlay Esports Chief Design Officer until September 2020, Group Chief Design Officer of the TECHIIA holding company — Ed.] decided to separate these two roles and start developing two vectors. This decision shaped our design team structure. Otherwise, the company would lose speed, which would have been unacceptable then, and remains so now. In companies like ours, speed is critical. When it comes to esports, quick responses to audience requests and market trends is the key to success.
What are the teams that are currently working in the Design Department?
The Design Department comprises:
Product Design
Concept
Caption (captions are a type of broadcast-related graphics — Ed.)
Marketing Design (SMM/Promo)
Brand Design
Page Making teams
There is also a 3D and motion design team, but it is part of the Studio Department since it's more broadcast-focused and works more closely with the Studio creative team.
Here, I should probably tell more about each team's design culture or best practices, but on Telegraf.design, there is an article where Ivan Rogovchenko and I talk in great detail about how the WePlay Esports design team works and what functions these teams perform [available in Ukrainian]. You can also get to know the team members as if you met them in person. Highly recommended!
How do you ensure that such a large department works efficiently in a fast-paced working environment typical for WePlay Esports?
Let me be honest with you: we are still working on structuring the processes (communication included) at the team and department levels. as well as across departments. Yes, some designers still do receive tasks in Slack, even from me, so I'm guilty as charged. The speed at which we move forward makes some processes quickly obsolete and gives rise to new ones: we test them out and either discard or accept them.
In many companies, ours included, initiative and proactivity are considered basic values. It's a fact. But I have seen from real-life examples that initiative, unconstrained by regulations and processes, can often lead to chaos. Especially in a team of 300+ people, as we have at the WePlay Esports. Therefore, we do try to fine-tune processes and follow them, even when it is slow and painful. We must think about the future of the organization, even if some rules have to be ignored when there is a rush to complete a task.
What helps us to be so fast? The most important factor is an adequately selected design team, with communication running smoothly. That's when people understand each other at a glance, always ready to lend their teammates a hand, are passionate about what they do, and have enough experience to solve complex problems. This makes the process a lot easier.
How is working as a designer for an esports media holding company different from working for other employers, such as advertising agencies or software providers?
The main issue is not the industry, it's the business model. Outsourcing companies and studios create products for external customers. They often do not support the products they developed throughout their life cycle. Advertising agencies do product promotion.
What we are doing is creating an internal product, so the difference in goals is enormous. For example, most outsourcers are interested in taking as long as possible to develop a product: they earn more money while the contract lasts. We, on the contrary, try to develop and iterate products as fast as possible to understand and meet the audience's needs.
The environment is also important. Technological intensity, the relatively young age of the industry, and the spirit of competition make esports a particularly ripe ground for creativity and experimentation. This attracts the right people: creative, straightforward, open to communication, ready to share their experience and knowledge, and also create products and projects together, the likes of which have never been seen on the market before.
I would also like to dispel the myth that all who work in esports are either experts or play different titles. Of course, being in the context is definitely a plus because it's easier for you. But first and foremost, you must be an expert in your craft. After all, you can always come to the Esports Department for the information and ideas you need. These specialists know everything there is to know about esports. They will always help you out and bring you up to speed. All you need are communication skills!
The distinctive feature of those working in design teams in esports, and I can't emphasize this enough, is their ability to work fast. Let me be honest with you — sometimes the work pace feels like working at an advertising agency during a tender. Anyone who has been through this will understand.
It's a shame that sometimes, a design project may never see the world due to last-minute changes. But we have a very mature team, and everyone understands what their priorities are. Such good sense in a creative environment is very encouraging to witness. Designers understand that the output of their work is a solution to a problem. So if this output doesn't have the desired effect or the design needs to be redone, they are very understanding. Designers don't fall in love with their work. They are extremely goal-oriented. As a design leader/chief design officer, in moments like these, I once again realize the caliber of people that I work with, which for me is a source of even more even external motivation to add to the internal one.