Feb. 11, 2022
Will Savvy Gaming Group's ESL and FACEIT purchase make a difference in esports?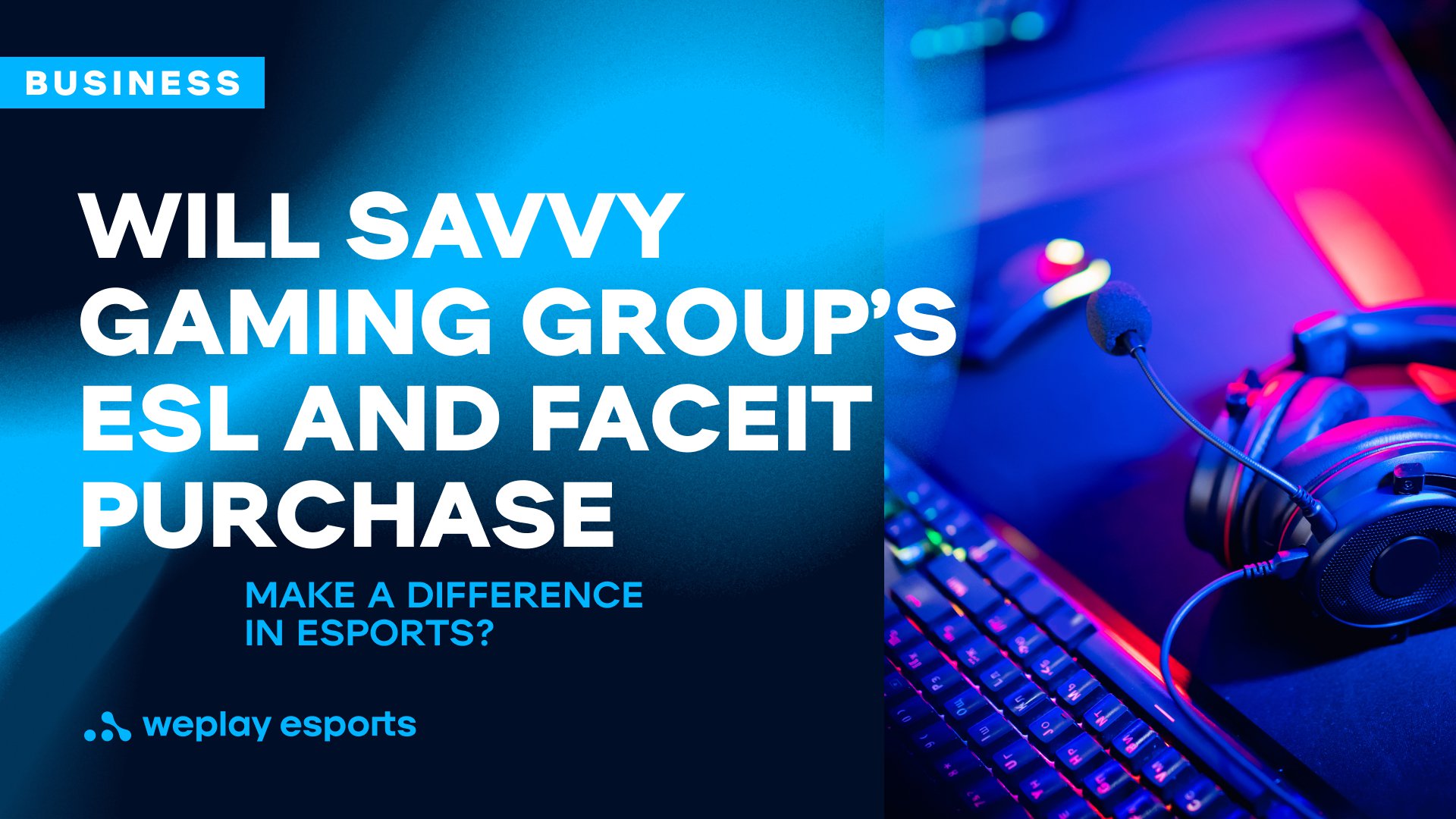 Savvy Gaming Group acquired two esports tournament organizers, ESL Gaming and FACEIT, for $1.5 billion. The two companies are merging into ESL FACEIT Group to create the ultimate platform for competitive gaming.
The deal is expected to close in Q2 of 2022. This investment from the Saudi government-backed company will strengthen the esports community, especially if, as planned, Savvy Gaming Group keeps developing ESL FACEIT Group.
Savvy Gaming Group is wholly owned by the PIF, Saudi Arabia's Public Investment Fund. The PIF keeps investing in and supporting diverse industries. In 2020, the fund bought $10 billion worth of shares from Boeing, Citigroup, Facebook, Disney, and Bank of America. Among other things, the fund is interested in the gaming industry. In the same year, the PIF spent over $3 billion additionally on Electronic Arts Inc., Take-Two Interactive Software Inc., and Activision Blizzard. By the way, Activision Blizzard will soon become part of Microsoft, so the investment is likely to pay off.
What's next for the esports scene?
"New esports deals usually only benefit the industry, giving life to new ideas that companies couldn't implement before. We probably won't see significant changes in the Tier-1 scene, except for possible offline events in the Arab countries. MENA is a growing esports market, so it needs to develop the Tier-2 and Tier-3 scenes, find new talents, and build competitive infrastructure. Maybe this deal will add more qualifiers for the Arab countries in the ESL structure," supposes Artyom Odintsov, Esports Charts CEO.
This deal proves once again that esports is an industry that piques investors' interest, providing an audience of 474 million and a billion-dollar revenue. In addition, local and world-famous brands are reaching out to this industry. For example, WePlay Holding tournaments involve partners such as McDonald's, Monster Energy, and PepsiCo while esports teams sign agreements with apparel brands, car manufacturers, and so on.
ESL holds a series of tournaments of various sizes: ESL One, Intel Extreme Masters, and ESL Pro Tour. The company arranges events that inspire the StarCraft 2, CS:GO, and Dota 2 communities, not to mention the well-known esports and non-esports brands acting as events sponsors and partners. As an esports platform, FACEIT sets up leagues for games such as CS:GO, League of Legends, Rocket League, and Rainbow Six Siege. Plus, the company launched the Esports Championship Series, one of the two premier Counter-Strike leagues. But the main question is: will this time-tested system change after the merger of FACEIT and ESL?
"ESL is one of the most famous and strongest tournament organizers globally. FACEIT is considered the most user-friendly and sought-after tournament platform, especially in the CS:GO community. These two companies have achieved a lot by choosing the right development path. It makes no sense to combine them into one product. Most likely, the company will work on both products' strengths instead of combining them," assumes Eugene Luchianenco.
The future of women's esports
This acquisition brings to the fore another burning topic: what will happen to women's esports? ESL promotes esports as an inclusive trend. According to ESL FACEIT Group co-CEO Craig Levine's statement, the company plans to support the CS:GO Women's League and expand it to South Africa.
"Women's esports is growing and has the potential to attract fashion brands. Women's mobile esports in particular showcase great results. So we will probably see the development of this direction in European/Arab countries. As for hosting women's leagues in MENA, we have been following the GIRLGAMER Esports Festival for several years, which was held a few times in Dubai, and international women's teams would come there to show their skills," replies Artyom Odintsov.
Perhaps this deal will take esports and gaming in the Arab countries to the next level, and Saudi Arabia will become a more prominent player on this scene. Having acquired a new esports company, Savvy Gaming Group can now hold many well-known tournaments in their country. The final decision is up to the company. However, many experts will agree that this is unlikely to happen.
"I don't think we are likely to see any CS:GO Majors or The International in the Arab countries since these games don't have a big audience there. However, holding the finals of any league like the ESL PRO League is quite possible. The company can arrange annual events like IEM Katowice/Cologne and name it IEM Riyadh. By the way, Riyadh has already hosted the PUBG Mobile Global Esports Tour organized by FACEIT. So ESL and FACEIT have already worked on the region's competitive scene," reflects Artyom Odintsov.