Feb. 11, 2022
How to invest in gaming: Publicly traded video game companies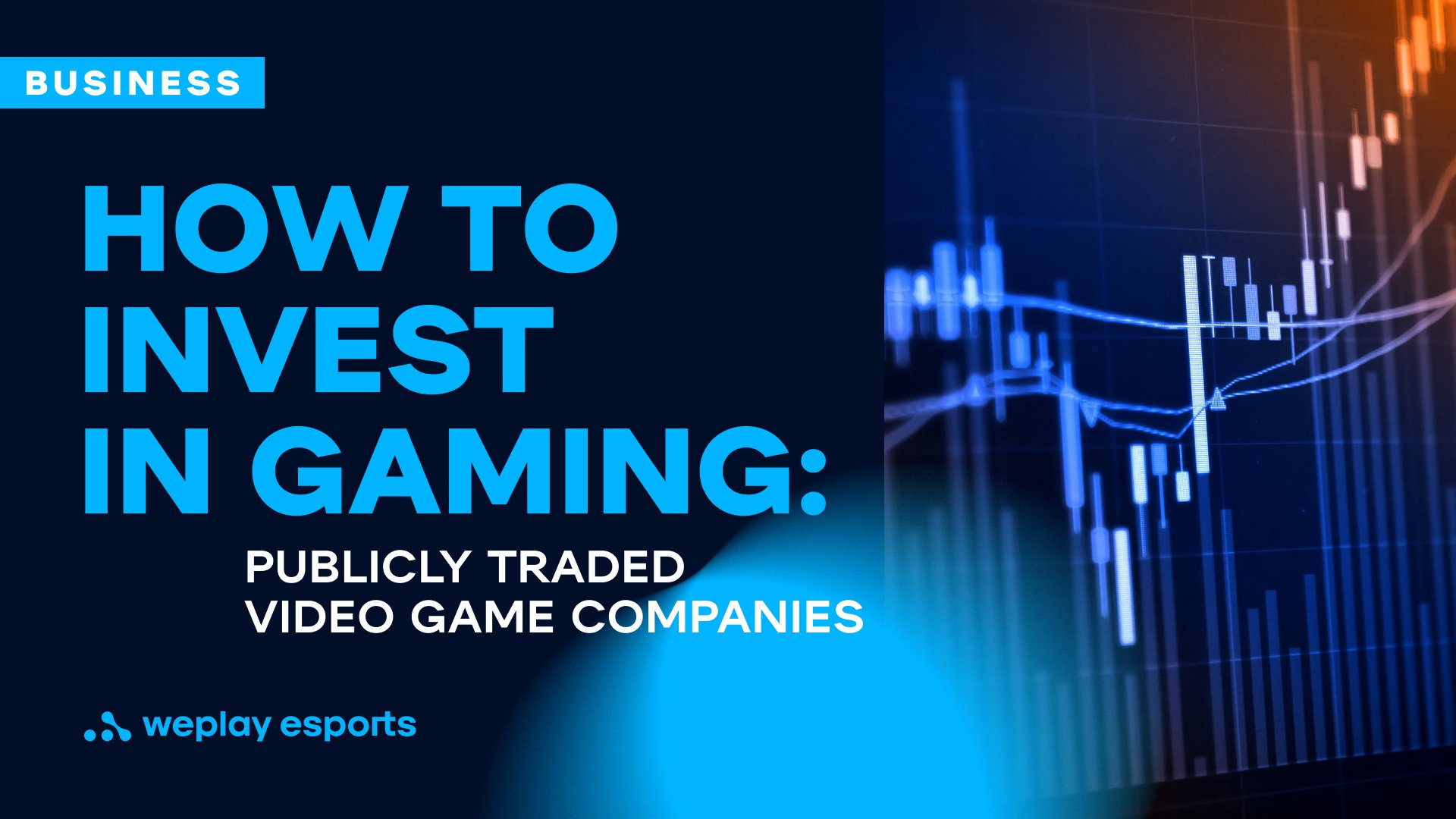 Video games are not only for fun. They can also be a source of passive income. Find out how to invest in video game stocks.
The Covid-19 pandemic has kept people in their homes, narrowing down the selection of entertainment options. In fact, video games became the most accessible way to hang out with friends and just relax without violating social distancing measures. While games have grown in popularity, interest in video game stocks has also increased.
The global video game market has already reached $178 billion in 2021 and continues to grow. In addition, games are tied to streaming and esports. The growth of the video game industry affects the development of other sectors. Such an infrastructure makes investment in the gaming industry reliable. Therefore, many video game companies go public and start raising funds.
Investing in video game stocks
Getting a share of the fast-growing sector is simple: all you have to do is buy the best video game stocks. If you have been investing for a long time, you know what numbers to look out for when buying shares. Price to earnings ratio, market capitalization, and the gaming company share price are all important. Still, before investing in any video game company, you should also pay attention to new game releases and company-related news. For example, you can look at how the stock price and revenue growth of Activision Blizzard have been changing, and then compare the data with news about the company over several years. Still, the company has a lot of well-known games like Candy Crush Saga, World of Warcraft, Call of Duty, etc.
Note that we won't tell you which company is worth your investment, and we don't provide any guarantees, but below, you will find examples of top companies that sell their shares, allowing investors to invest in them.
Nintendo (NTDOY)
Nintendo released one of the first game consoles to accept different game cartridges. The gaming market developed, and the popularity of the Nintendo consoles grew. The company released many products that took off, like Nintendo Wii, Nintendo DS, and Nintendo 3DS, and the Nintendo Switch console sold over 100 million units. We can safely say that Nintendo stocks are one of today's most stable investment options. Its P/E ratio is 14.53%, and its market cap is $55 billion.
Take-Two Interactive Software (TTWO)
Take-Two Interactive is a giant among game publishers. The company owns several game-development companies like Rockstar Games and Ghost Story Games, and distributor companies. So, Take-Two Interactive owns various iconic video games for consoles and personal computers such as Grand Theft Auto, Red Dead Redemption, Max Payne, and Civilization. While its market cap is smaller than that of Nintendo, its P/E ratio is about 33%, and the share price is roughly $160.
Electronic Arts (EA)
Electronic Arts Inc. is best known for its key franchises, including Madden NFL and FIFA. It develops and publishes games such as Battlefield, The Sims, Apex Legends, Need for Speed. Different genres like sports, racing, first-person shooters help attract more gamers. Its market capitalization is over $39 billion, while the P/E ratio is about 50%.
Sea (SE)
Sea Ltd. includes various companies like online gaming services that give access to mobile and PC games and payment services. The market capitalization is even more impressive than Nintendo's — over 80 billion. The company's revenue grows every year. 2020 is considered a particularly successful year, when shares gained 368% year-over-year.
VanEck Vectors Video Gaming and eSports ETF (ESPO)
For those who want to invest in several companies at once, there are ETF options like VanEck Vectors Video Gaming ETF. As an investor, you get shares of large companies that release games, contribute to esports, mobile and PC gaming, develop payment services, and so on.
Mobile gaming: a promising sector of video game industry?
Mobile gaming accounts for over half of the annual profits of the entire gaming industry. With such statistics, investments in mobile game development seem to be profitable. At large, many gaming companies release games for Android and iOS. Therefore, by investing in one of these companies, you support mobile gaming. If you're looking for a narrowly-focused company, you've probably already noticed companies such as Glu Mobile (GLUU) and Zynga (ZNGA).
Unfortunately, mobile game development companies don't show stable growth, and in some cases, don't even turn a profit. Moreover, there are still few mobile game developers on the exchange. Therefore, although the sector is likely to develop further, investments still remain quite risky.
If you decide to invest in gaming companies, you need to understand this domain. For example, a game's popularity depends on whether it is an esports discipline or not. In addition to investing in games and esports, there are other ways to make money from gaming, like holding tournaments or buying broadcasting media rights. You can learn more about how to do it here: https://go.weplayholding.com/iFJVU.