June 26, 2023
What is WePlay Holding?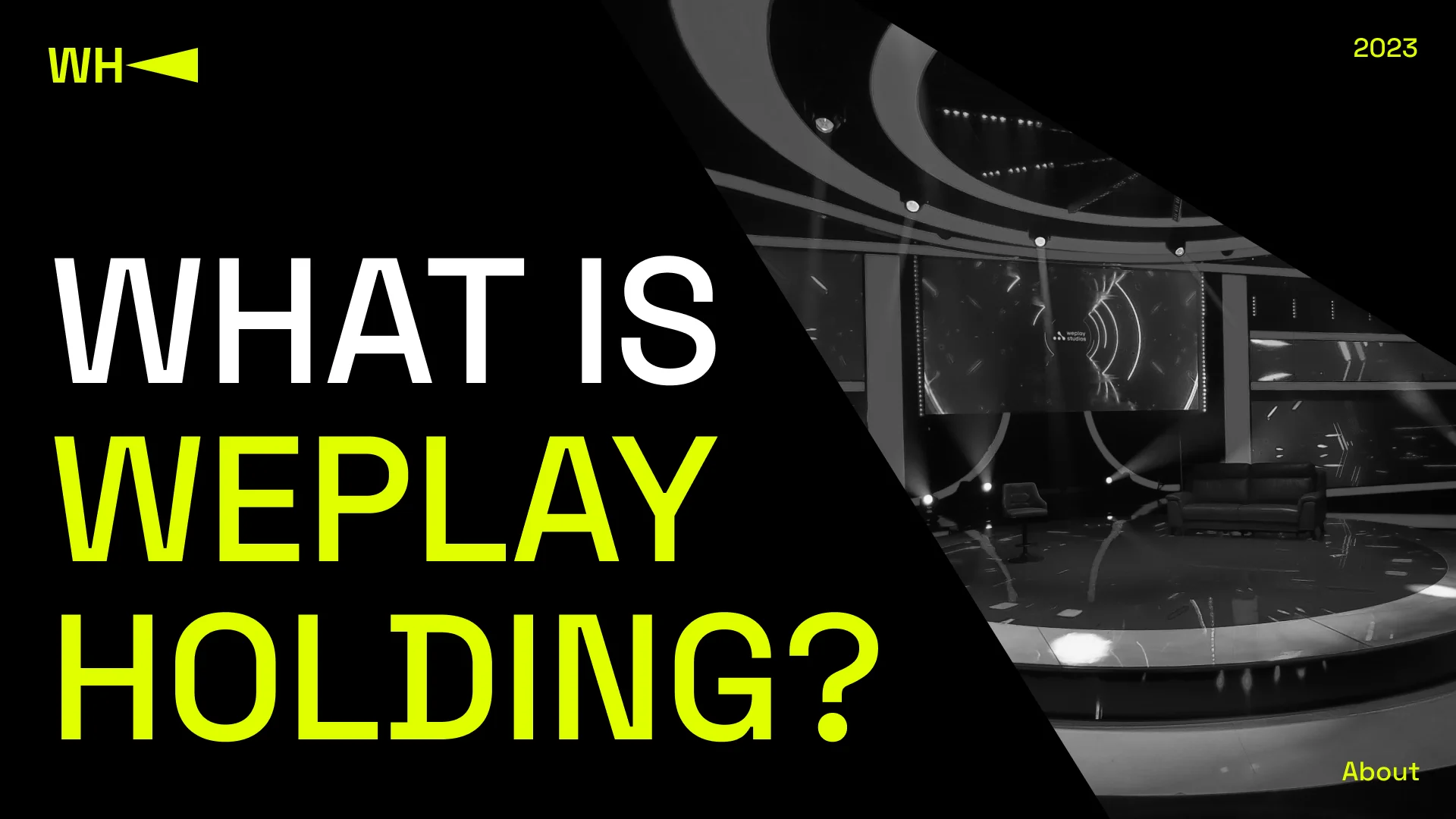 WePlay Holding is a holding company that encompasses content production company WePlay Studios, fighting games platform DashFight, and data-driven analytical platform Esports Transfers. The holding company serves as an umbrella that unites the three companies making their way to success, each in its own niche. Together, the subsidiary companies build a dynamic ecosystem that propels the holding to new milestones.
WePlay Holding bridges the gaps between entertainment, esports, and technology through its innovation strategy. Each subsidiary company has its own values, ideas, and clients whose requests it has to meet. Considering the principles and founding pillars of all companies, WePlay Holding as the supervisor contributes to their development and helps them grow without interfering with their internal ecosystem. The centralized approach helps each company to visualize its path to success, while WePlay Holding continues to carry through its mission.
By bringing together and coordinating the different companies, WePlay Holding stays in the loop of their development strategies to chart a clearer vista for each. Plus, the vision of the holding company is transmitted to all subsidiaries to facilitate collaboration and exchange of ideas between all the companies.
The next benefit of being united under the umbrella of a holding is the economic aspect. The holding and its subsidiary companies run as an interconnected mechanism or as a body where WePlay Holding is the head and DashFight, WePlay Studios, and Esports Transfers are vital organs. So the head, WePlay Holding, analyzes the available resources and distributes them across companies. It's cost-effective and saves subsidiaries the effort required for duplicating functions and operations.
WePlay Studios: Delivering iconic experiences
WePlay Studios is the flagship company of WePlay Holding. The company is a content production powerhouse, creating offline and online events in gaming, esports, and other spheres. WePlay Studios redefines the entertainment experience and provides in-demand content, expanding the industry vision.
One of WePlay Studios' recent notable projects is NFL Tuesday Night Gaming, a groundbreaking livestream entertainment event that combines sports and gaming into a family show. Collaborating with Enthusiast Gaming, the company created an amusing event showing everyone's favorite athletes as normal people with their hobbies and passions.
WePlay Studios blurs the lines between the virtual and physical worlds by incorporating AR, XR, and other innovative technologies. The company's specialists can embed digital elements into a livestreamed event, expand the environment's boundaries, and enhance live performances overall using a plethora of visual effects.
DashFight: Bringing together the fighting game community
DashFight is an all-in-one fighting game hub. However, it's more than just a thriving game platform; it's a community and ecosystem around the fighting games world.
The platform accumulates a wealth of content, including tutorials, guides, and tournament coverage. In a nutshell, DashFight is a place where players, organizers, and fans can get together united by a passion for games. The company shapes the world of fighting as an industry and esports discipline.
Esports Transfers: Getting to the bottom of esports' financial aspect
Esports Transfers stands for data analysis within WePlay Holding. The company gathers information from open sources and provides comprehensive insights into the esports market. Esports Transfers doesn't just guess transfer cost; it uses its proprietary algorithm to conduct a trustworthy assessment of the market and each individual player. The platform is growing and enhancing algorithms, further expanding it to new disciplines and industry roles.
Summarizing, WePlay Holding's structure helps different companies to leverage and promote their strengths while avoiding pain points using shared resources. This system creates a competitive advantage, allowing each company within it to keep growing.