June 20, 2022
What are the biggest esports games?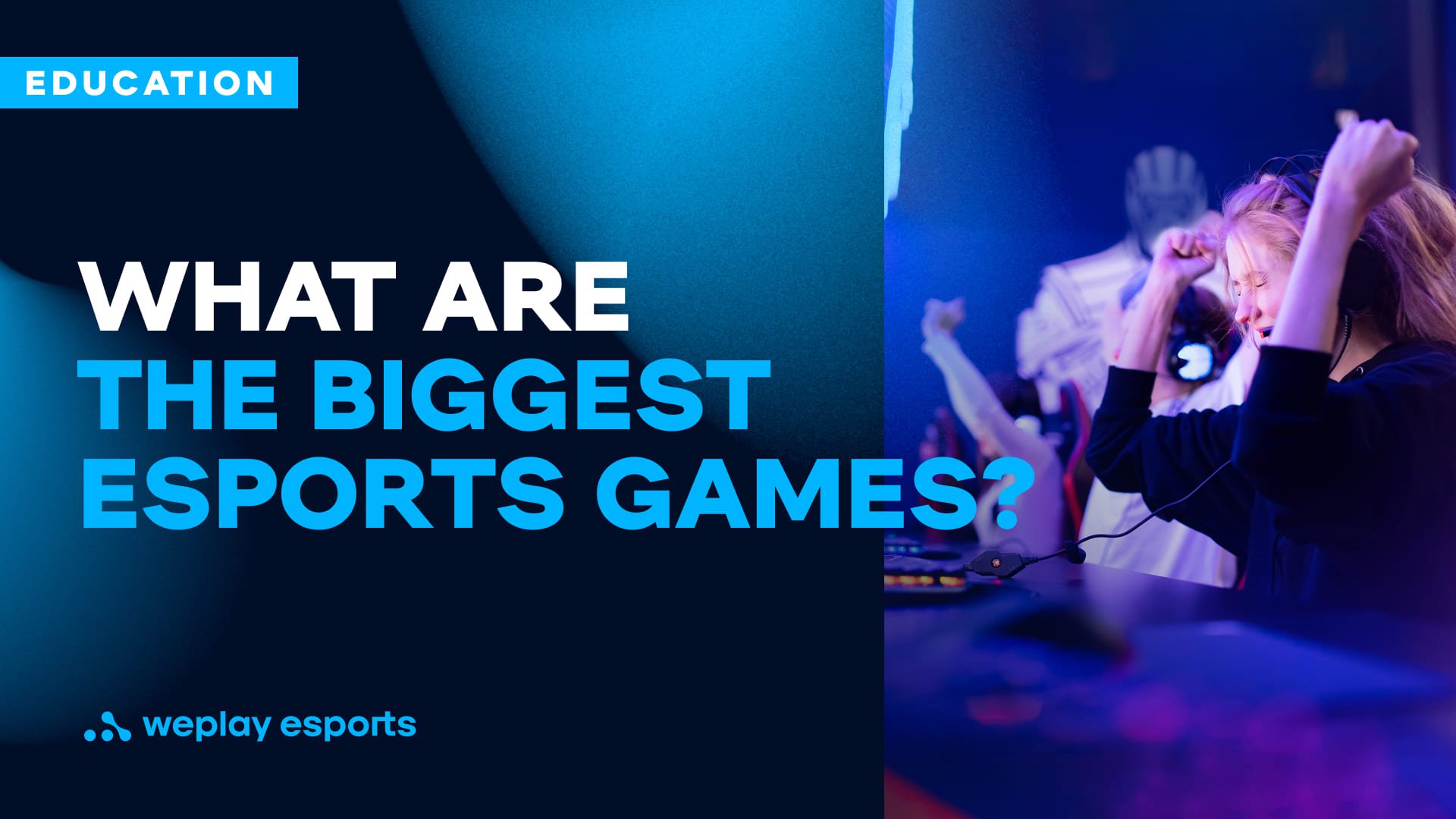 Every year, the virtual world expands with numerous games that attract millions of people.
According to Statista, the video gaming sector outperforms the music recording industry in revenue. But while most people use popular games to have fun and relax, some players are making their way into professional esports.
Esports is a way for professional gamers to compete against one another for large sums of money. There are a lot of esports disciplines for solo players and team competitions. But this article will help you discover the most popular esports games with the largest prize money. It's hard to name any one game, so we'll start with genres.
Multiplayer online battle arena: the most popular genre
Talking about genres, the most popular are MOBA games. This genre has the largest number of tournaments, record-breaking viewership, the biggest prize pools, and the most famous esports players. Here you can read more about them as well as about an entire sub-genre of real-time strategy games and game modes. In general, this is a confrontation between two teams in the same arena, where one team tries to demolish the opposing team.
Usually, MOBA games take five players on each team to compete, like in Dota 2 or League of Legends. Both games, by the way, can claim the title of the biggest and the most popular esports game.
Dota 2 by Valve has the largest prize pool for The International. League of Legends by Riot Games is the most-watched esports title in the world.
The biggest prize money goes to the winners of The International
The International first took place in 2011. It was mind-blowing for the entire esports world that was just taking shape. Local tournaments with a total prize pool of several thousand dollars were the norm then, so the world championship from Valve with a prize pool of $1 million marked the beginning of a new era in esports. Since then, the prize pool of the championship has increased with each passing year, and already in 2021, 16 teams fought for $40 million. Of course, to get to The International, gamers have to go through other tournaments of the Dota Pro Circuit. Only then, when a large number of tournaments are played, your team may get a chance to get to the next round of competition and get a slice of one of the most wanted prize pools.
Although the prize fund of The International is record-breaking and, let's say, a worldwide phenomenon, this doesn't mean that you can't make money in other disciplines. The PGL Major Stockholm 2021 prize pool was $2 million. But Counter-Strike: Global Offensive, like other first-person shooter game titles, has more tournaments in a year, which means more chances to win.
Speaking about other MOBA games, we should once again mention League of Legends. Once upon a time, the publisher also tried to make its tournaments popular offering huge prize funds. For example, the annual League of Legends Worlds Championship in 2016 offered more than $6 million in prize money. But now, the prize pools in the discipline are $2–3 million for the largest competitions. On the other hand, esports organizations can make money from the esports tournament itself because Riot Games holds more than enough opportunities for this, like the sale of merchandise and a bonus for participation.
Find out more about how much do professional gamers earn.
What about other disciplines?
When talking about esports, the first three popular esports games that pop to mind are Dota 2, League of Legends, and Counter-Strike: Global Offensive. Without a doubt, they are the biggest esports games. Still, the esports world is bigger than the average hobbyist can expect. So, let's look at rarer but still popular genres and disciplines.
Fortnite by Epic Games
It's a battle royale-style game that is gaining momentum pretty fast. To explain the essence of what happens in Fortnite in a nutshell — a vast number of players enter, and only one leaves as the winner.
The game has over 80 million monthly active users. There are not so many well-known tournaments in this discipline yet. However, it is worth remembering that in the esports vision, Fortnite is a young game and who knows, a Fortnite Champion Series or Fortnite World Cup event may eventually turn out to be your opportunity to become an esports star.
Rocket League by Psyonix
This is not your standard esports game, and it's unlikely that you have seen anything like it in other disciplines. Imagine you are playing football and driving cars at the same time. If you can't think of how it's even possible, download the game (like almost all esports games, Rocket League is free to play) and try to play it yourself. You can also read the blog post on why Rocket League is the unicorn of esports.
This list of the biggest esports games includes Rocket League as one of the fastest-growing games.
In July 2020, the average number of viewers for this game on Twitch was about 8,000 per month, and already in April 2021, the figure increased four times. Due to its simplicity and relaxing vibe, the game appeals to both children and adults. Nevertheless, it's still a competitive game, which means that the best of the best can participate in tournaments and win very real prize money.
For example, at the Rocket League Championship Series 2021–22 Fall Split Major, the prize pool was $300,000.
The esports industry is all about competition and entertainment, ups and downs. So if you think it's the way you want to live and grow, just pick your discipline and enter the esports scene. You can also try mobile esports such as Mobile Legends or aim for the time-tested games by Valve Corporation, Riot Games, and Blizzard Entertainment, even though nobody can guarantee that you will succeed one day.