Dec. 24, 2021
Esports salary: how much do professional gamers earn?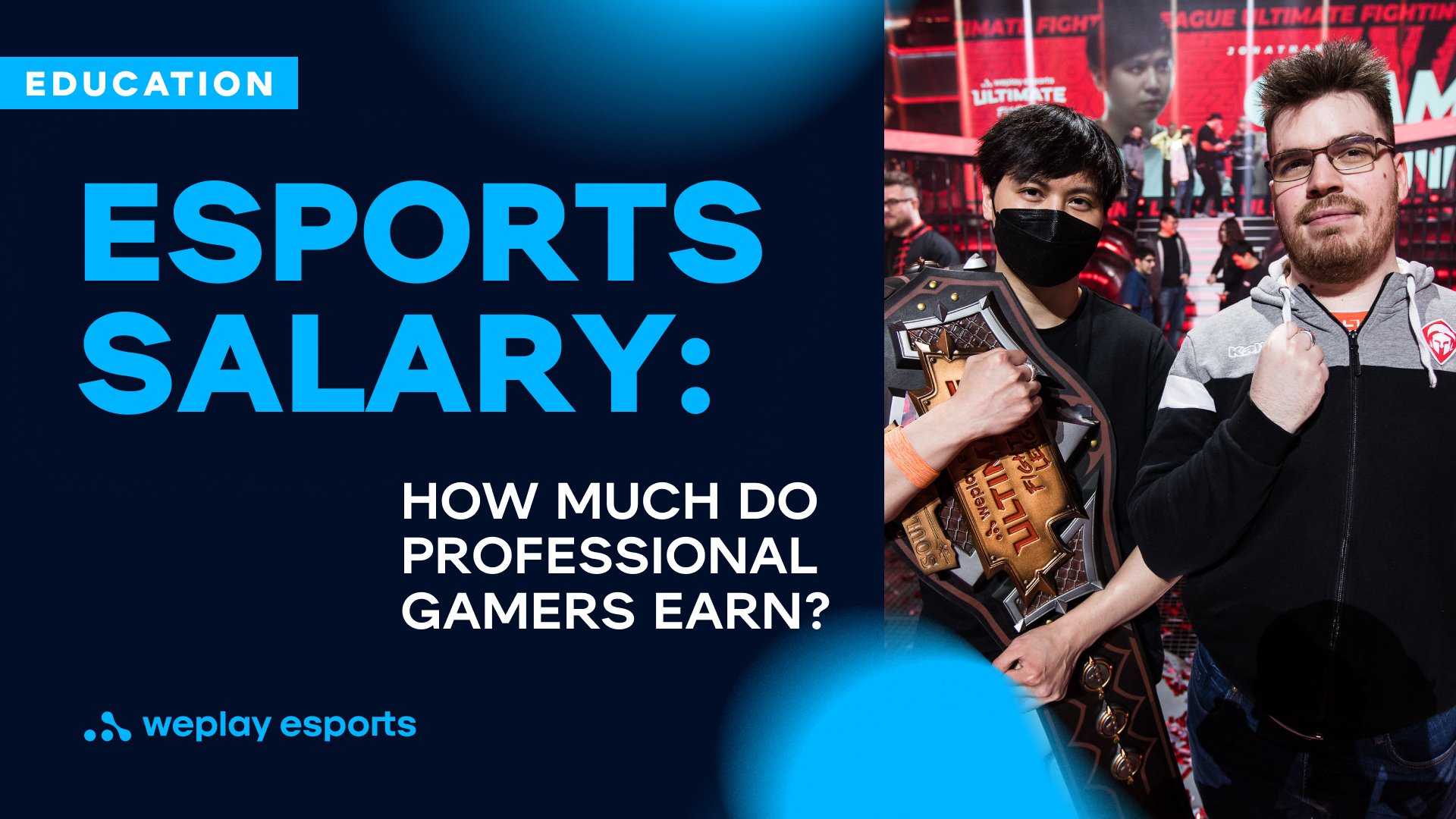 Let's look at some examples and statistics to figure that out.
One of the hottest careers in the esports competitions and gaming scene is to become a pro gamer. Pro gaming can mean any job that involves playing video games for money, from streaming on Twitch to professionally competing in esports tournaments and winning a part of prize money.
However, even if gaming enthusiasts want to have their shot at the pro gaming scene, is it really a viable way of living? How much do average pro gamers make in a month? Let's look at some examples and statistics to figure that out.
Is esports a good career?
Historically, careers in esports haven't been taken very seriously in mainstream culture. Even more "traditional" professionals who work in marketing or develop video games themselves might not get the same respect from their peers. People tend to disregard professional gamers even more, especially if they're just starting out. Too many people see video games as a waste of time that teens do in their parent's basements. And as far as pro gaming goes, it's a difficult gig to secure, after all, whether you focus on entertainment streaming or competitions. So, the nature of the job doesn't really help with all the bad press.
However, despite all these obstacles and assumptions, competitive gaming is a real option for some people. Between Twitch and the growing esports industry, there are constantly evolving positions and opportunities for fresh talent. A professional gamer can earn money from different sources, such as prize pool, sponsorships from their played games, content creation, and more, besides regular salaries.
One vital factor affecting work in the pro gaming scene is that the esports industry is growing rapidly. Statista has valued the global esports market at $1.08 billion, which is roughly a 50% increase from the year before. They also estimate that the industry could be worth around $1.62 billion by 2024. With this exponential monetary growth, there are more and more tournaments each year, meaning the industry can support even more professional players.
Esports history tells us that when esports tournaments started, these competitions were just for fun. The earliest matches gave prizes like Rolling Stone subscriptions or Mario trophies; monetary prize winnings started becoming a reality only recently, with the global revenue from esports growing. It would have been challenging to build a career out of participating. Nowadays, the top esports teams can earn millions in a single tournament, and impressive esports earnings are much more commonplace in the gaming community.
Professional gaming can be a real, viable career for people with gaming talent and the dedication to stay on the top of their game. Stereotypes and mainstream expectations should never discredit that.
Prize money figures in esports: how big tournaments affect esports earnings
To expand on the short earlier discussion about current prize pools, let's talk about the top-paying tournaments.
Now, the amount a pro gamer earns does depend on what game they play. Many of the top esports have prize pools in the millions, sure, but there are still significant pay gaps depending on the scene. For example, Dota 2 historically has the most impressive championship prizes, with their 2019 pool at $34 million. This year was off-the-charts and witnessed the highest payment ever from a single esports tournament when their 2021 The International distributed $40 million in prize money. By comparison, the next highest total prize pool is the Fortnite World Cup, at $15 million. And past that, League of Legends tends to dominate tournament offerings. So, if you want to earn money, you'll do better in a MOBA or FPS than something like Hearthstone (which can have doors for a professional gamer as well but is not as lucrative in terms of prize money).
Another essential thing to pay attention to is how much each particular esports organization earns. They have become the go-to business model for esports, so the amount they make across tournaments really helps give their pro players consistent salaries or pay boosts.
If you find that hard to believe, let's give an example. Team Liquid has earned over $37 million as an organization, spreading throughout their many teams. This is the most prize money that any organization has won. Since they have the highest esports earnings, they get many brand deals and titles, which means they can pay their players better than a lot of lower-tier esports companies.
Granted, most organizations do not participate in as many tournaments (Liquid earned this money from 1968 different tournaments. For comparison, the next highest-paid organization, Team OG, has only participated in 115.) But that doesn't diminish their accomplishments and the name they've made for themselves as an esports org. Esports earnings are beyond just the total prize pool, and a League of Legends team, for instance, has their esports earnings in other deals.
Average esports pro salary
The average earnings of an esports player can vary wildly depending on their video game and their team. While there are different accounts from different sources, the pay range for esports players roughly goes from $12,000 to $60,000 a year. This helps prove how different the pay can be depending on their situation.
Indeed, a team's pay depends a lot on how many tournaments they win. So while they could be paid a certain amount in their contracts, that number can never go up unless their managers or organization investors see results. It's worth noting that the overall winnings for esports gamers can go beyond the salary and tournament prize money, depending on how their contract is made. Top players earn much more than that!
Pro gamers can enjoy playing video games for a living, but some do it for less than the minimum wage and others end up millionaires.
Esports coaching salary
Unlike players, esports coaches have a bit more consistent salary numbers. According to ZipRecruiter, the average salary for coaches is roughly around $62,000. However, the top earners can come home with upwards of $100,000.
Getting a job as an esports coach is the hard part, though. Most of the time, esports coaches aren't just any adequately trained folks. While college degrees in sports coaching help get jobs, esports experience and coming from a pro team is all but a requisite for the job.
Esports manager salary
When it comes to the core professional gaming staff, esports managers (understandably) have the best and most consistent pay. Even an entry-level manager tends to get over $60,000 a year, but the average is more like $97,500. Looking at Talent.com's stats, it's surprising more people don't want to become esports managers.
But much like esports coaching, it's a niche job requiring a unique set of skills. First, you need experience in the esport in question. Then, you require connections in the industry. Finally, it's essential to have management, organization, and video game experience. And those are just the basics.
It seems that nowadays, the esports career pipeline goes from pro player to pro coach and then, eventually, pro manager. It's basically how an esports competitor stays in the game even when their skills aren't as sharp anymore.
Future of money in esports
While the esports world used to be a lot more flexible, since the industry was like a wild west of new ideas, it's starting to settle into an understandable system. Fewer unconnected people will be able to make esports organizations or lead teams. Much like the NFL or NBA, the broadcasters, coaching, and managerial staff will profit from nepotism, saturating the roles with retired professional players.
However, with the exponential rise in esports revenue and the expanding option of media rights, the industry is growing larger every day. In a few years, esports players could be paid like more traditional sports professionals, earning millions each year.
Esports earnings are on the growth! Keep up with the trends.