July 1, 2022
Fighting games: party king move or professional esports?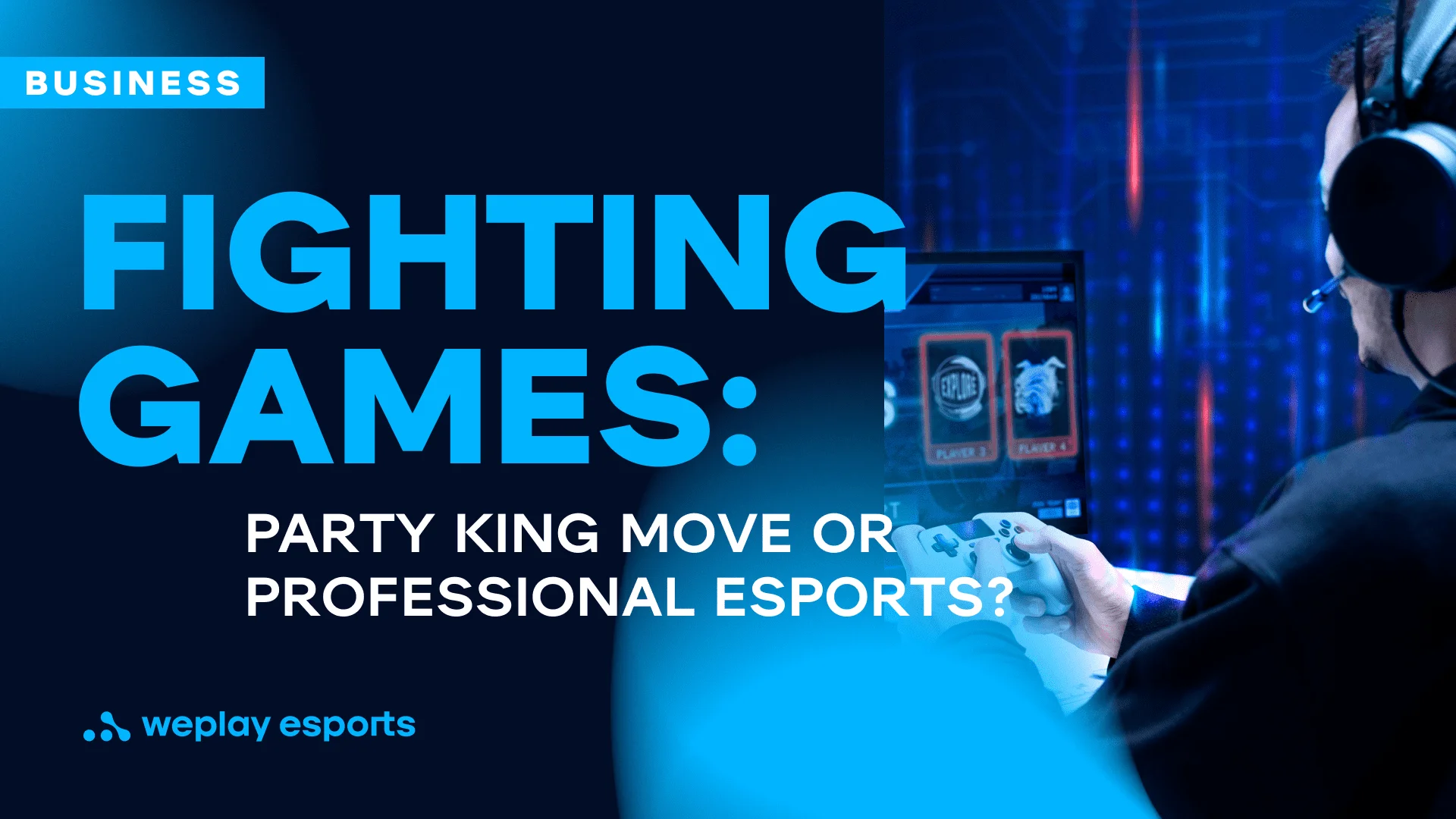 DashFight celebrates second anniversary!
Recently, the DashFight media platform, which promotes fighting games around the world, helps players upgrade their gaming skills, and brings fighting game fans together, has celebrated its second anniversary. Darina Briukhovetska, head of DashFight, tells how the fighting game industry is developing right now and what the prospects are in the niche, mentions the incredible WePlay Ultimate Fighting League, and talks about working in the middle of a war.
— First and foremost, congratulations to DashFight on its little big date. How does the story of the media platform begin, and what has been achieved over these two years? What records would you like to share?
— In 2020, the team consisted of three people who created the website from scratch. In 2021, the small team got an investment from WePlay Holding and grew to 40 people.
DashFight was created with all the user "pains" in mind. We asked their opinion when launching the beta version of the hub. Many of those surveyed praised the website's usability. Indeed, in a few seconds, you can find all the necessary information: guides, tier lists, rankings, tournaments, and more.
We always consider what the user needs, and what our main audience, the FGC (fighting game community - ed.), expects. Thanks to this approach, the number of users is growing. When launching the app, not only did we collect feedback, but they also allowed users to name any missing feature and vote for it. After voting, we chose the feature that received the most votes.
Speaking of records, I would love to mention last year's EVO Championship Series — the largest annual fighting game tournament that we covered, and we would do it faster than the main operator. As a result, in as little as three days we got two million views on Twitter thanks to our content team's efficient work. DashFight staff didn't sleep, watched the tournament 24/7, and updated information before EVO did. In August last year, we had 2,000–3,000 users a day on average, and this tournament made it 7,000–8,000.
— Who is your user? Could you describe the DashFight community (geography, age, occupation)?
— There are very different people in the community. We are not your average esports media talking about Dota 2 or CS:GO. We have nine different fighting games. And although they are united under the FGC and fighting game umbrella, each of the games still has completely different users.
It may be a father of four who used to play a video game in the '90s and is now coming back to read the news about it and the guides to compete with his friends at Mortal Kombat on weekends. It may be an 18-year-old gamer who has decided to develop as an e-athlete and is therefore interested in industry news and looking to improve their skills. By the way, we have 118,000 people registered as gamers. They use the DashFight platform as their business card in the fighting game world.
The audience is very different overall, but there are some general figures: 80% are men, 20% are women, their average age is 25, and their main interests include games, music, cinema, esports, and sports. The largest number of DashFight users, namely 64% of them, comes from North America.

— What interesting collaborations and sponsorship integrations with DashFight do you remember?
— We have recently started working with sponsors and go very carefully about choosing business partners. The product must be relevant to our user. If you try to sell something to the FGC and it doesn't feel native, it may alienate the user, and they will never come back to you. Loyal DashFight fans are already used to reading us without advertising and native promos. For example, when working on an article with a sponsored NordVPN integration, we openly told our partners that it would be unfair if we only mentioned them in the material, so we wrote about eight other services.
Now we are also working with a large marketplace selling Mortal Kombat and Tekken merch, which includes large character figures. The articles in which the sponsor is integrated are exciting materials on Mortal Kombat characters that will be interesting even to those who don't play fighting games.
For paid collaborations, we focused on major game publishers we cover — Ubisoft, NetherRealm Studios, Bandai Namco Entertainment — to provide unique content to users, and collaborated with tournament operators. Once, we partners with a big tournament from Red Bull, where we did a series of exclusive interviews with the winners: we discussed what the issues were with these tournaments, how does one get in, and so on.

We develop external collaborations with business prospects in mind: we talk about fighting games to both potential partners and those who know nothing about them. Examples of such collaborations are reviews for the Esports Insider business niche, an article for Forbes, and so on.

—Which product would you never advertise?
— There is a list of recommended topics for every potential business partner who wants to work with us, for example, the esports industry, computer hardware, gaming software, gaming accessories, mobile gaming, comics, anime, music, offline events like Comic-Con, and gaming fashion or outfits.
There were cases when advertisers would come to us from religious communities or offer to advertise an unconventional product. For example, there was this energy drink for gamers that would allow you to have to answer nature's call — or, simply put, go to the bathroom — less often (laughs). We refused because we are not ready to advertise something like that just yet.

Also, we will never advertise weapons, politics, pharma, or sex shops, because we have an audience of under-18s. We are also not going into gambling and betting yet, because it's not that easy to get a license in North America, our focus market.

— Fighting games are called a party trick. In the world of esports, there is even an opinion that they are lacking as an esports discipline. At the same time, according to analysts, by 2027, the global fighting game market will grow to $1.8 billion compared to $1.3 billion in 2020. What are the trends in this niche development?
— Because fighting games are so easy to play, they get called "party games." But if we talk about fighting games as part of professional esports, it is a huge industry that in addition to Mortal Kombat, Tekken, and Street Fighter embraces many more complex and interesting games that have a lot of strategy and tactics options when it comes to defeating a character.
Fighting games are the easiest point of entry into esports. All a player needs is a controller and a character, and another character to defeat. This is much easier than playing Dota 2, where you first need to understand and learn the strategy. Although fighting games do have their own strategy and technique, they take less to master. Many publishers use this to turn a non-endemic audience into an endemic one — by grasping the interest of those who don't watch tournaments and don't follow esports. Now, for example, Warner Bros. announced the game MultiVersus, which will feature characters from the worlds of Marvel and DC. It can also attract a non-endemic audience.
The fighting game market is actively developing, new releases appear, and new installments of Tekken and Street Fighter are expected soon... The Skullgirls game, which we recently added to the platform, is also actively developing.
Besides, Project L from Riot Games is about to be released. It will feature characters from League of Legends in a fighting game setting. Publishers have a very interesting marketing tactic: every six months, they post videos on Twitter showcasing the work done and the characters. We are sure that after the game is released, the market will change — new advertisers will be interested in the niche.

Taking into account all these factors, we can say that fighting games will soon leave the "party games" category to compete with the "classic" esports disciplines. By the way, in Japan and Korea, world automotive brands cooperate with fighting game league players — they shoot commercials featuring them, buy promos on their channels. Therefore, we can confidently say that the market will grow.

— Tell us about the biggest fighting game tournaments. Can esports competitions in fighting disciplines boast high prizes?
— The first thing I would like to mention is the WePlay Ultimate Fighting League. This event was greeted enthusiastically by the fighting game community because there has never been anything like it in fighting games. It's hard to argue with the fact that the WUFL was the best event in terms of event management. If there are more such tournaments, the niche will develop much faster.

WePlay Ultimate Fighting League. Video: WePlay Holding
Currently, the biggest fighting game tournament is EVO, which takes place in August each year. It was initially made by enthusiasts who loved fighting games. In 2019, the tournament was bought by Sony and the company made the ambitious announcement that it will completely change the way we see the world of fighting games. But it didn't happen, because in 2020 the tournament was canceled due to the pandemic, and in 2021 it failed to meet the audience's expectation due to poor organization.
Combo Breaker is seen as a stylish hipster tournament if compared to EVO. This year, the tournament was a success. It features 100 fighting games: in addition to the nine big ones we write about, there are many other, less notable games. There is also the CEO Fighting Game Championship. These are the three main tournaments any gamer from the world of fighting games keeps in mind.
In addition, there are a lot of competitions held by advertisers. For example, Red Bull quickly joined in the development of the niche. The company engages teams and makes interesting, vibrant tournaments. There is also a new trend of tournaments from game publishers. In order to encourage people to play Brawlhalla, Ubisoft created an online tournament and offered $150,000 as prize pool. In the world of fighting games, this is a lot.
— Let's talk about business in times of war. The life of the DashFight team, like all Ukrainians, changed on February 24. What difficulties did you face? Did you change your approach to work? Did the war affect DashFight's development plans?
— The pandemic has helped us a lot. We set up remote work and have worked this way ever since. During the lockdown, we might meet once a week in the office at the best of times, and the rest of the time, we would work remotely and have frequent online meetings: stand-ups, retrospectives, and just discuss our daily plans.

On the first day of the full-scale war, I called my colleagues from Georgia, the U.S., Argentina, and Africa and I told them — until we evacuate or in case something happens — to not stop writing, to go on working according to plan. There was this feeling of confusion, no one knew how things would pan out, so it seemed right to pass all the credentials to colleagues. Most of the staff evacuated and we just kept working. The war did not affect our communication with the audience, because it is mostly American.
We wrote a statement about Ukraine for the website and created a dedicated page so our readers could help the army or humanitarian centers. Somewhere by mid-March, the budget was adjusted to reduce marketing costs.

—What projects should we expect? What are your development plans?
— It is still too early to talk about future events. However, in all other respects, our work does not stop. Moreover, during the first months of the war, we even exceeded the plan and wrote a lot more articles than we were going to (smiles). But as soon as we plan any event, our readers will be the first to know.