Jan. 17, 2022
What are multiplayer online battle arena games?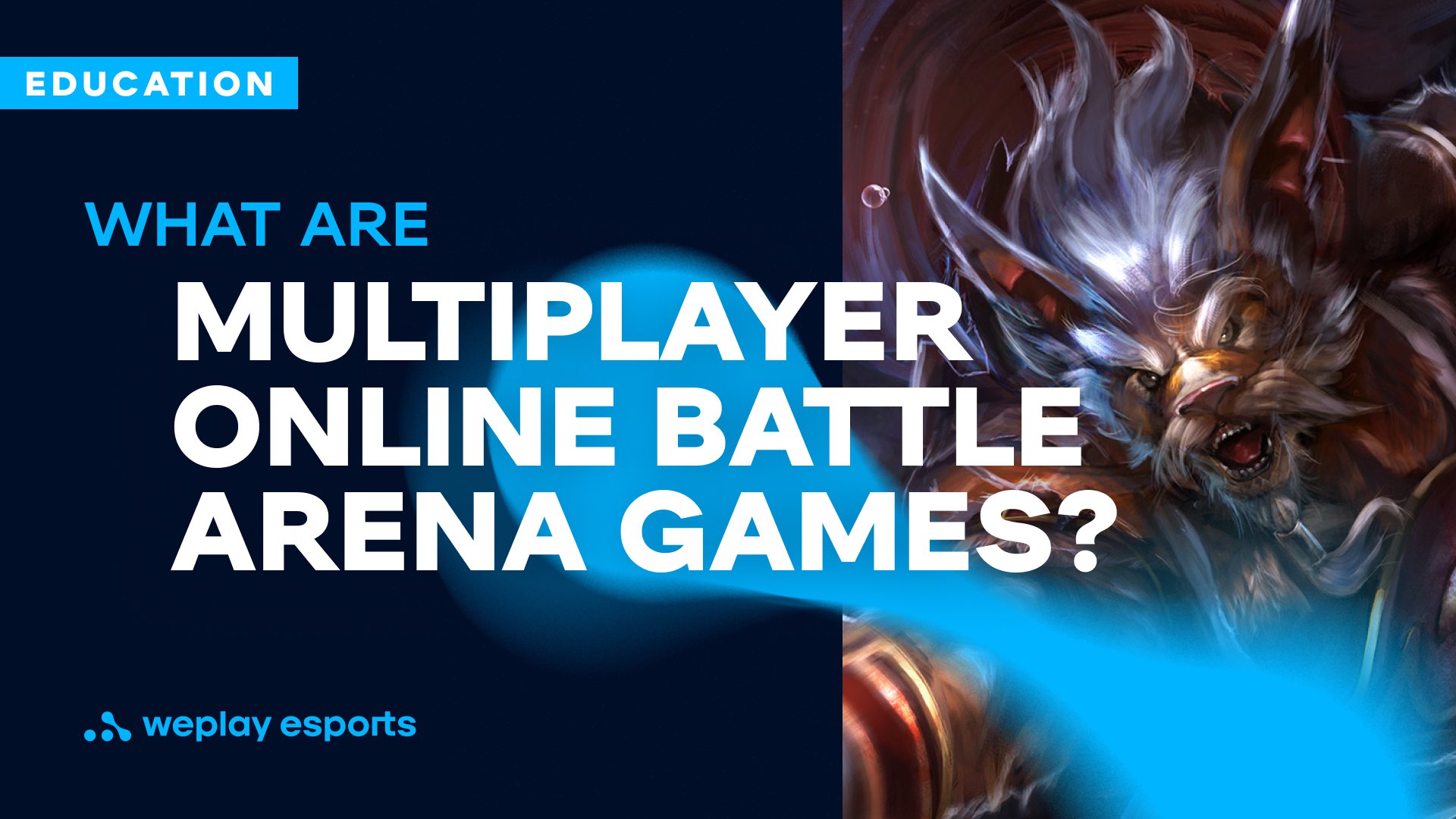 Don't know which MOBA game to choose? Learn about the most popular esports disciplines in the MOBA genre and the highest prize pools.
Multiplayer online battle arena, or MOBA, is a type of strategy role-playing game with a simple goal — to defeat opponents in a battle. Unlike the strategy genre, in MOBA games each player only controls one hero and contributes to the team's overall strategy.
Simply put, two opposing teams of 4–5 players meet at the online battle arena. Each player controls only one character. The goal of each team is to guard its own building and destroy the opposing team's main structure.
Key elements of any MOBA game
Maps
The map is an online battle arena where teams meet to fight. It's where the teams' bases and additional objects that can help the team win are located. For example, in Dota 2, the map is unchangeable and divided into two parts. There is a fountain (team base) and towers in each part. In the center of the map is Roshan, which is difficult to destroy on one's own. There are also shops on the map where players can buy items for their heroes.
Characters
One could think that always playing on one map is boring, but don't forget that typically, MOBA games offer many hero characters. Each hero is unique. Someone has more powers, is suited to ranged combat, or moves around the map quickly. Heroes typically fall into one of several roles: damage-dealing, healing, supporting, and so on. For example, Io, a character from Dota 2, can transfer itself and its ally to any place on the map, while the Enchantress can heal any team member. But no matter how solid or agile the character you choose to play, none of them can destroy the base alone. The MOBA genre focuses on team strategy instead of encouraging skillful but solitary professionals.
Base
A base is a special place for the team where the game starts. If a character is killed, it will respawn here. To defeat an enemy team, you have to move from your own base to the opposing team's main structure and destroy it.
Bots
Besides killing enemy heroes, you have to deal with the bots, weak computer-controlled units. They play against the two teams at once. Moving towards the opposing base, you are sure to run into one of them. The good news is that killing a unit will give you a bounty that will help you upgrade your hero. Weak computer-controlled units are also used to teach beginners.
How did the MOBA games come about?
Essentially, the MOBA genre emerged as a subgenre of real-time strategy (RTS) games. Strategy video games like StarCraft, Herzog Zwei, and Warcraft III won many fans looking for something unusual among numerous other games. Strategy games value managing resources and analyzing the enemy skills rather than the player's reaction speed.
To maintain interest in real-time strategy games, publishers released additional game editing tools. Using editors, players and other enthusiasts would create their mods (custom maps). Thus, Eul, a Warcraft III modder, created a custom map, naming it Defense of the Ancients (DotA). However, instead of developing and enhancing the DotA map, Eul left the modding scene. Other Warcraft III modders created new mods using the DotA map as the base. They added many new heroes and further details. In 2003, Blizzard released the next version of Warcraft III, endorsing modders to create new maps. Meian, a map creator, recreated Eul's map again and added heroes from the many other versions of DotA. His map "DotA: Allstars" became the dominant map of the genre. Their successors initiated other changes, making the gameplay more complex and interesting. This map inspired the creation of MOBA games such as League of Legends, Heroes of Newerth, Dota 2, and Heroes of the Storm.
The most popular MOBA games
Multiplayer Online Battle Arena is a prevalent genre. According to NewZoo, MOBA games are among the most popular esports disciplines. Valve, Riot Games, S2 Games, Blizzard, and many other publishers have their own MOBA titles. Most of them adopted a custom DotA map to create their own online battle arena and hundreds of brand-new playable characters. Learn more about how those games achieved such popularity: https://go.weplayholding.com/FRUaR.
Dota 2
If you are looking for an interface similar to the original DotA mod, then the Dota 2 game as a standalone sequel will suit you. Valve began developing the game back in 2009, involving one of the famous modders, IceFrog. However, after long beta testing, this computer game company released its creation only in 2013. Like many MOBA games, Dota 2 is free-to-play.
The online battle arena by Valve is quite complicated. Although the developers offer educational gameplay, in order to understand how to play Dota 2 and become a worthy player, you need to spend more than a dozen hours. On the other hand, due to the high entry threshold, fans appreciate Dota 2. After all, the more nuanced a MOBA game is, the more complex a strategy the players can develop.
League of Legends
Although, according to some sources, Aeon of Strife (one of the StarCraft mods) is considered the first MOBA game, League of Legends (LoL) became the first widely accepted game of this genre. The game was released in 2009 and quickly attracted a lot of fans. According to Cult of Gamer, League of Legends amassed 115 million players monthly and became one of the most popular PC games.
Like numerous other games, the game is inspired by the Defense of the Ancients custom map. At the same time, League of Legends provides a unique experience. As a multiplayer battle, League of Legends games include two teams of five players each. League of Legends has over 100 playable heroes (champions) with different abilities that make each gameplay style unique.
Heroes of the Storm
The Warcraft battle arena has become the starting point for many MOBA games. Therefore, it seems logical that Blizzard, Warcraft III publisher, released their own MOBA game, Heroes of the Storm.
Blizzard game is different from other multiplayer online battle arena games. Firstly, Heroes of the Storm offers several maps to choose from, making the game more interesting. Secondly, the developers removed a few specialized units, which allowed players to play MOBA matches quickly. For example, one game can take about 20 minutes, while Dota 2 and League of Legends games can last 40 minutes or even an hour. Still, Heroes of the Storm meets the criteria of an online arena video game. Each player controls one character, although the choice of characters is less than in other games of the multiplayer online battle arena genre.
MOBA games as esports
DotA map-based games have gained popularity among gamers and have taken their place in esports. Multiplayer online games are among the most popular esports disciplines, with the biggest prize pools and highest peaks of concurrent viewers. By the way, you can learn more about top esports games here.
DPC Majors, Valve-sponsored tournaments, annually attract players from all over the world. The most popular Major in terms of hours watched was WePlay AniMajor 2021, which broke the record among similar tournaments with 37.3 million hours. A victory in a Major esports professional tournament allows the teams to participate in The International, the largest tournament in the Dota 2 discipline. Its prize pool is growing every year: in 2020 it was $34 million, while in 2021 — $40 million.
Other MOBA tournaments don't offer such significant prizes, but they are not inferior in terms of popularity. The 2021 League of Legends World Championship peaked at four million concurrent viewers and amassed over 170 million hours watched.
MOBA games have innovative gameplay that makes each game unique and one of a kind. Due to the gameplay, predicting match outcomes is hard — almost impossible. Hundreds of different characters, various strategies, original maps fuel interest in MOBA games, and the popularity will not subside. Plus, most multiplayer battle arena games offer free online competitive play, allowing everyone to test themselves like professional players or even become an e-athlete.