Sept. 10, 2021
The World's Top Esports Games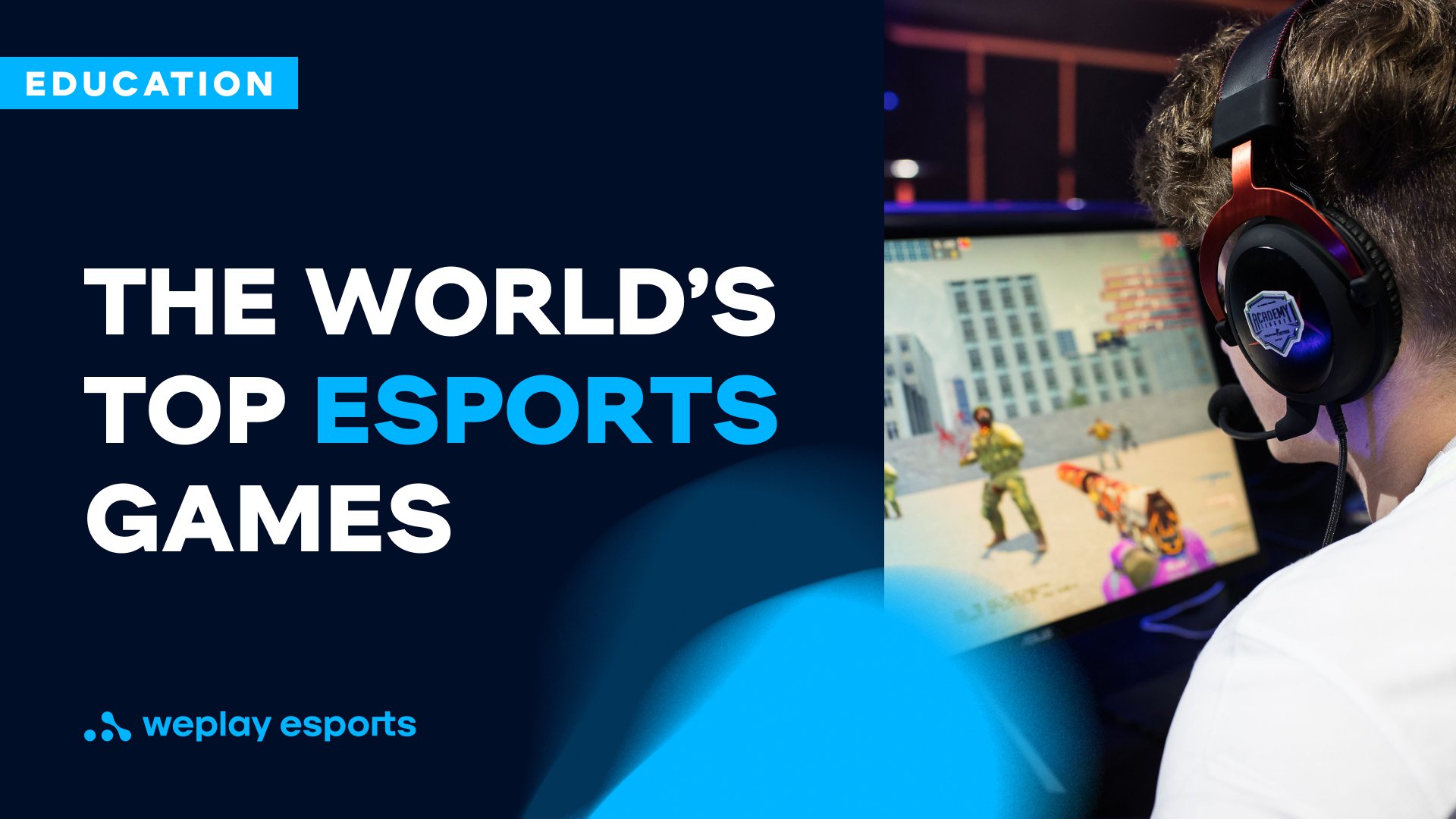 One might say that humanity is competitive by nature. Be it academics, sports, innovation, living standards and more, we find ourselves ranking everything and everyone in order of best or worst. So it makes sense that in the very competitive world of esports, we always want to know which games, players and teams are at the top.
For this article we will be sticking to only the top esports games that have fans going wild right now. Whether you're a gamer looking to brag to family and friends about how big their favorite esport is, or an entrepreneur looking to create your own organisation, this list is for you.
What are the top esports games?
Here are the top esports games of summer 2021, grouped by genre to get a better picture of just how varied the industry is.
Battle royale
First on our list is battle royale, a genre that became a cultural phenomenon in 2017 with the release of PlayerUnknown's Battlegrounds and Fortnite's free-to-play addition. However, the genre came to life earlier on in the early 2010s as mods to multiplayer online survival games like ARMA 2.
This game play mode consists of last man standing matches between solo players and teams of varying sizes. Several players are dropped in an arena that shrinks over time, in which they must scavenge for weapons, armor and sometimes vehicles that will help them survive the assault of rival teams and players.
Playerunknown's Battlegrounds
Developed by Korean developer Bluhole, it is the father of modern day battle royale games, based on mods created by Brendan "PlayerUnknown" Greene for a variety of other games. Taking inspiration from the Japanese movie adaptation (2000) of the novel Battle Royale by Koushun Takami (1999), Playerunknown's Battlegrounds (PUBG) single handedly created a new genre that provided fresh new gameplay modes, eventually ushering new esports titles across mobile, console and PC.
What originally set it apart from its competitors was the realistic character design, militaristic theme, and the availability of vehicles. Even now with many similar games entering the scene, PUBG is still among the biggest games in the genre, particularly its spinoff, PUBG Mobile which has become a staple of mobile esports.
Numerous tournaments are held every year in both games by several tournament organizers, such as the PUBG Global Invitational.S 2021 (with a prize pool of $7,056,789), the Peacekeeper Elite Championship 2021 (total prize pool of $1,859,570), and the PUBG Mobile Global Championship Season 0: Finals (total prize money of $1,200,000.
The final events of the 2021 PUBG Competitive Season and 2021 PUBG Mobile Season are PUBG Global Championship 2021 (organized by PUBG Corporation) and PUBG Mobile Global Championship Season 1 (organized by PUBG Corporation, Tencent Games, VSPN) respectively. Both will take place at the end of the year with prize pools yet to be announced.
Fortnite
Fortnite became a video game sensation after it saw the popularity of PUBG's battle royale gameplay and quickly adopted a similar game mode of its own. However, Epic Games did so while implementing mechanics that were unique to Fortnite, such as rapid building construction, demolition, and its playful cartoony aesthetic.
Originally a survival game (Fortnite: Save The World) that tasked four players with beating back hordes of zombie-like enemies, the game had the right basic ingredients to make the leap into a new genre and carve its own niche. Its matches of up to 100 players even saw the rise of many prominent streamers, like Richard Tyler "Ninja" Blevins, the most-followed twitch streamer as of 2021 (16,766,513 followers and 541,717,611 channel views). Fortnite Creative, the game's sandbox mode was launched in 2018, which gave players access to a private, persistent island on which they build, demolish, and manipulate objects at will.
Epic Games' masterpiece has gone on to host virtual concerts with superstars like Travis Scott and Marshmello. It has run numerous collaborations with popular IPs like the Marvel cinematic universe and continues to do so even to this day.
In competitive Fortnite, the most prestigious event to date is the Fortnite World Cup 2019 Finals, in which players from several geographic regions had the opportunity to compete on the grand stage in both duo and solo events across two game modes. The $30 million prize pool event gained 2,334,826 peak viewers and 22,599,478 hours watched on Twitch. Unfortunately, the 2020 edition was cancelled due to the pandemic while the 2021 edition was replaced with a series of online events under the umbrella of Fortnite Champion Series (FNCS).
Apex legends
Developed by Respawn Entertainment and published by EA (Electronic Arts), Apex Legends took the world of gaming by surprise, stealthily launching to achieve great success. Set in the world of Titanfall (2014) and its sequel Titanfall 2 (2016), the game adapted mechanics from its predecessors to make its own unique contribution to the genre.
Teams of up to three players compete in 2v2 and 3v3 matches in which characters (Legends) with distinct abilities and personalities answer the competitive call to earn the title of Apex Legend. Since launch the game has released several new modes and continues to release new Legends as well. Similar to Blizzard Entertainments' Overwatch, the game also weaves tales about the Legends themselves, making it one of the few games in the genre to focus characterisation and narrative.
EA and Respawn Entertainment announced the Apex Legends Global Series in 2019
to nurture the game's competitive scene. A combination of online and in-person events were supposed to take place in 2020, but the pandemic forced the tournaments series' cancellation and smaller online events were held instead. However, these smaller events served as qualifiers for ALGS Championship 2021 and ran for about a year and a half. Was played across five regions and featured a partly crowdfunded prize pool of $2,580,590.
Collectible card games (CCG)
Unlike other esports genres on this list, collectible card games or CCGs can trace their origins back to physical trading card games (TCG), with the first among them being Magic: The Gathering. Just like with physical sports, CCGs made the jump to the digital world with esports. Fans wanted to be able to play against opponents around the world from the comfort of their homes, reduce the physical storage space their card collections were accumulating and bring down the barrier of entry so that anyone can pick up the games and play.
Hearthstone
Taking art and concepts from the now discontinued World of Warcraft Trading Card Game, Blizzard Entertainment was able to bring the characters, lore, and artifacts from their highly successful MMORPG (massive multiplayer online role playing game) to digital collectible card games. Released on March 11, 2014, Hearthstone gained over 10 million registered players by the end of the month. By April the PC game was available on iOS and in December, Android.
Even before the game's official release, Hearthstone became an esport thanks to a series of tournaments that were held during its closed beta. This led to the first Hearthstone World Championship being held at Blizzcon (the publisher's video game convention) from November 7-8, 2014. The event's total prize money was $250,000, a sum that has
Magic: The Gathering
The CCG list would not be complete without the father of the genre, Wizards of the Coasts Magic: The Gathering Arena. Arguably the best CCG in the world, the latest digital iteration is currently the easiest way to get into the physical card game as well.
The original MTG is a TCG with a loyal fanbase of players that began growing way back in 1993. As of December 2018, the game had thirty-five million players, many of whom made the jump to MTG Arena.
In 2019, the Mythic Championship events offered hundreds of thousands of dollars each, with Mythic Invitational 2019 and 2020's Magic World Championship XXVI offering $1,000,000 of prize money each. Despite its similarities to the TCG, MTG: Arena has multiple game modes, some of which are unique to the digital offering.
Legends of Runeterra
The second CCG is from Riot Games, a developer we will be seeing again on this list. Based on characters from their widely popular moba (multiplayer online battle arena) League of Legends and its fictional world, Runterra, the game was released in April 2020 to critical acclaim and has risen to the top of the genre.
As a free-to-play game, it uses the same monetisation practice as League of Legends with the sale of in-game cosmetic items that do not affect the outcome of matches. This, coupled with its high-quality visuals, distinct game systems and generous progression system has allowed it to contend with other heavyweights in the genre like Hearthstone.
As far as new games go on the list, Legends of Runeterra stands alone. However, if the success of League of Legends' esports scene is anything to go by, Legends of Runeterra is fully equipped to become the best digital CCG around. This is definitely one to keep an eye on.
Fighting games
One of the oldest video game genres in existence, fighting games have always been competitive since the arcade days. As they made the move to consoles and PC years later, they took with them the distinctive controls in the form of fight sticks. These bulky boxes with their single joystick and buttons were the preferred peripheral of players all over the world, especially the professionals.
Street Fighter V
Of all the esports games played in the genre, this is the oldest most successful franchise in the fighting game community. Capcom's best-selling Street Fighter II (1991) defined the genre, from interface to playstyle and systems.
The most recent release, Street Fighter V (2016) and all its iterations was released exclusively on PlayStation 4 and PC, inheriting the competitive scene from its predecessor. Capcom Pro Tour is a series of sanctioned tournaments by Capcom and other tournament organisers in which competitors are able to attend several events to secure a spot at the prestigious Capcom Cup.
Early this year, the 2020 Capcom Pro Tour season ended with an online event instead of the usual offline tournament, proving that even the pandemic and less than stellar online play between regions could not deny fans their fix.
Mortal Kombat 11
Released in the wake of SFII, the Mortal Kombat franchise was born, putting a spin on the fighting game genre that set it apart from all the clones being released. Not only was Mortal Kombat known for its photorealistic graphics but also hyper violence that carved a spot for it among the greats.
While the game's graphical style has changed and evolved, Mortal Kombat is still known for all its blood, gore and dark humor. Following a steady stream of releases and even reboots to the game's long-running story, Mortal Kombat is one of the most iconic fighting game out there and like the game that started it all, became a multimedia franchise extending to toys, movies, cartoons and more.
On the competitive side, Netherrealm Studios, the game's developers run a tournament series similar to Capcom Pro Tour, called Mortal Kombat Pro Kompetition. One of the biggest Mortal Kombat tournaments of the year was held in March by WePlay Esports, named WePlay Ultimate Fighting League Season 1, featuring a $50,000 prize pool.
Super Smash Bros. Ultimate
This fighting game from Nintendo features numerous characters from several of their IPs and that from other companies like Capcom, Sega, Konami, and SNK. It's playful graphics and style hide behind its exterior a deep fighting game with complex mechanics for those that choose to delve deep.
While the game has a very active community with tournament participation in the hundreds, its relatively low prize money when compared to other disciplines (even other fighting games) and little support from the publisher are responsible for Super Smash Bros. Ultimate not reaching its true potential as an esport.
First-person shooter (FPS)
Counter-Strike: Global Offensive
Counter-Strike: Global Offensive or more commonly known as CS:GO, is the oldest first-person shooter (FPS) in esports. Developed and published by Valve, the discipline is a team based affair that pits two teams (terrorists and counter-terrorists) against one another across a series of rounds.
Gameplay hinges on the acquisition and effective use of resources in addition to good gunplay and team work. According to Esports Earnings, the game has awarded $115,878,706.51 in prize money since 2012. In terms of gameplay style, Ubisoft's Rainbow Six Siege is CS:GO's closest competitor with its professional league named Six Major and its informal world cup, Six Invitational. Rainbow Six Siege is also current in the top 12 of highest total prize money awarded in esports history ($17,378,920.14).
Overwatch
Blizzard Entertainment's team based FPS adopted the franchise model seen in the NBA and NFL when it made the move to professional esports. The Overwatch League (OWL) for its inaugural season in January 2018, it launched with 12 teams, but by the 2019 season that had risen to 20, with each team representing different cities around the world.
Unlike many of the other large esports from big developers, the grassroots Overwatch scene is still a bit lacking, but Blizzard Entertainment hasn't lost sight of it. Besides OWL there is also the annual World Cup and a series of collegiate events that keep the community active all year round.
Activision's decision to revamp competitive Call of Duty into a franchised league (Call of Duty League) is believed to be as a result of Overwatch League's success. That franchise has put the Call of Duty League's focus on its most recent title, Call of Duty Modern Warfare. It makes sense considering both studios are owned by Activision Blizzard.
Multiplayer online battle arena (MOBA)
The multiplayer online battle arena genre, better known as MOBA, is the most successful in esports, bagging some of the biggest esports titles in history. They are team based games that have attracted many of the world's biggest multi esports organisations.
League of Legends
Few titles in the esports world have a pedigree like League of Legends. The game took competitive gaming to new heights, particularly after Riot Games put its focus on high production value and spread its reach to various forms of media.
All the top teams in the world compete each year across multiple regions to compete in League of Legends Worlds, the pinnacle of the discipline's competitive scene. The prize money awarded is right up there, making it one of the one of the biggest esports around.
Dota 2
Valve's Dota 2 had its humble beginnings in a fan-made mod that came to be so popular that it not only became a game of its own but also spawned another mod which led to the birth of another genre, autochess.
Dota 2 tops Esports Earning's chart for highest prize money awarded in esports at $234,775,181.17, defeating heavy weights like CS:GO and League of Legends by a hefty margin. As one of a few top tier esports, many games dream of its success.
The International, the final event of the Dota Pro Circuit and one of the biggest tournament series in the world, has consistently offered increasingly growing prize pools that have swelled thanks to ingame purchases from fans. Also like the games mentioned above, the top teams in the world compete for the discipline's highest glory annually.
Real-Time Strategy
The real-time strategy genre laid the foundation for modern day esports' popularity. Players take control of an army or nation which must all gather the resources needed to grow their forces and trample the other team's base.
StarCraft II
Unlike other genres with a handful of disciplines that would make anyone's "biggest esports games" list, real-time strategy (RTS) has only one name that has truly shone through the ages, and that is StarCraft. There are truly few esports like it.
Blizzard Entertainment's game gained popularity in South Korea thanks to the government's focus on infrastructure and the provision of the fastest internet in the world. The game's sci-fi world has a number of races all vying for control of outer space.
The first game in the franchise was released in 1998, which led to 2010's sequel StarCraft II, a multimedia franchise that grows as the game thrives. The total prize money awarded has it ranked fifth on Esports Earnings at $35,151,949.78.
Sports
FIFA
Video games give players the opportunity to play out their fantasies and do things impossible in the real world. So when popular sports started appearing as video games, it made sense that fans would make the jump. Following the birth of esports, fans are able to take their fantasies even further, competing digitally in their favorite leagues and world cups as their favorite teams.
While nowhere near the biggest esport, EA's FIFA competitive scene is one of the most successful disciplines to have descended from a physical sport. Its publishers hold annual World Cup events with growing prize pools and so does their biggest competitor, Konami's ePES (Pro Evolution Soccer).
Rocket League
Rocket League is one of the most unique games on the list, even though its original gameplay mode was adapted from a real life sport. Football to be exact.
Rocket League began in 2015 as ball chasing cars in a game of soccer, but with the inclusion of new modes, even that doesn't completely define it anymore. Players wina match by scoring the most goals with their vehicles.
In Spring 2016, Psyonix, the game's developers and publishers created the Rocket League Championship Series, the game's professional league. In 2019 they were further acquired by Epic Games to help take their esports discipline to greater heights.
What esports games make the most money?
In professional video gaming, one thing fans and players use to measure an esports success and prestige is the total prize money awarded by the game developer, publisher, or both. While it isn't the only factor, a good measure of how great an esport is is by the amount in prize money awarded. So here we will be using the total prize money awarded to determine the best esports games.
Dota 2
Counter-Strike: Global Offensive
Fortnite
League of Legends
StarCraft II
What is the biggest game in esports?
We come full circle, trying to answer a question that plagues many esports fans, enthusiasts and organisations. With so many factors to consider and differing parameters like regions in the world they're played, I'm going to combine a few stats for you before I reveal what I presume to be the king.
One common theme among the most popular games mentioned above isn't just the prize payout though, but also the number of concurrent players they have and what sort of viewership they command.
According to Escharts, League of Legends was the most popular esport discipline in 2020 with 580,847,076 million hours watched (21% increase from 2019) and 3,882,252 million peak viewers from 12,007 hours air time. However, Esportsearnings puts the game in fourth place in terms of total prize money offered at $84,141,016.98.
Top esports games in 2021
Esports games thriving during the coronavirus pandemic displayed the resilience of the esports industry. In some disciplines their official competitive scenes moved completely online, while others adopted occasional live events with controlled movement and no live audiences.
As these games have continued into 2021 with numerous upcoming events and many already concluded, they deserve more than others, to be called the top esports games. They are;
Dota 2
Counter-Strike: Global Offensive
Street Fighter V
Super Smash Bros. Ultimate
League of Legends
Overwatch
Fortnite
StarCraft II
Call of Duty: Modern Warfare
Rainbow Six Siege
If you're a fan of the first four games on our list, why don't you check out the WePlay Compete app where you too can play your way into the big leagues.