Dec. 11, 2020
WePlay! Clutch Island: a new tournament to bring new opportunities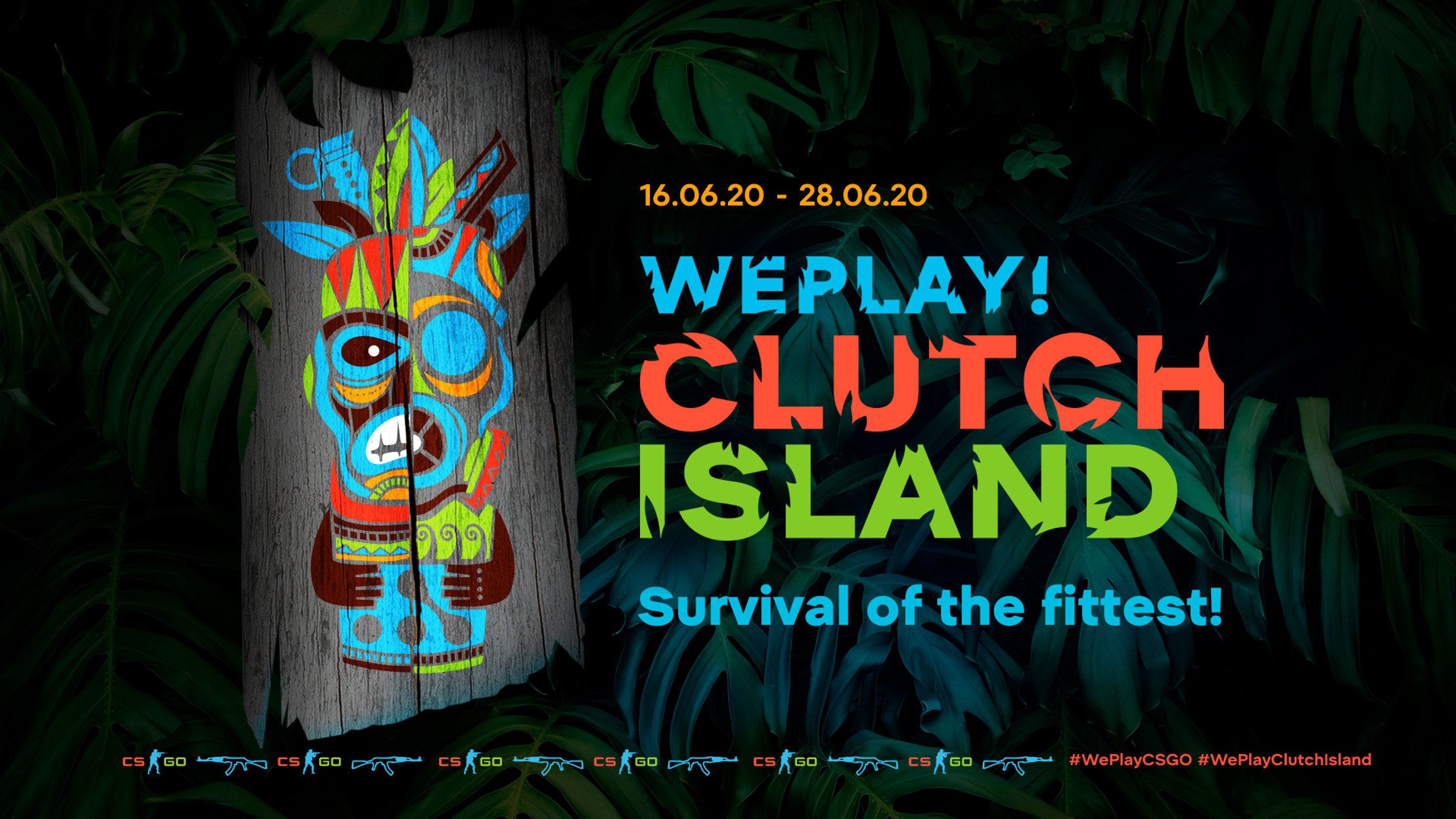 A complete tournament with a huge prize pool.
WePlay! Esports announced its new Counter-Strike: Global Offensive tournament, WePlay! Clutch Island. The competition was held from June 16 to June 28, 2020. Participants and winners of the qualifications would compete for a prize pool of $50,000 and the opportunity to get to the only Regional Major for CS:GO this year – ESL One: Rio 2020, through RMR points earned in the event; that ESL was unfortunatelly cancelled due to pandemic restrictions, but the prize pool from WePlay! Clutch Island was still spicy.
The tournament was held online. Broadcast for the CIS countries will be in Russian, and in English for other regions. A stellar team of commentors and analysts made WePlay! Clutch Island even more interesting and fun.
The studio concept of the tournament is based on well-known survival reality TV shows where teams are stranded on an island in the wild. Teams found themselves on a wild uninhabited island and will face each other in daily fights, and the losers would "leave the island."
The event theme of a desert island, with hot sand, palm trees, and the thrive for survival will provide unusual and exciting opportunities for creative brand integrations. This was the right moment for brands and advertisers to use the platform with benefit and pleasure.
"There is less than a month since the last event, and we have already prepared a new tournament. I'm sure, WePlay! Clutch Island will be organized at a high level, according to all WePlay! Esports standards. Our team is preparing hard. And, of course, the fittest will survive!" says Yevheniia Tymofieieva, Business Development Lead (EMEA region) at WePlay! Esports.
The esports audience is not only gamblers but also fans who watch competitive matches all the time without stopping, even for a meal. The esports audience is growing annually by an average of 15%; WePlay! Clutch island was a way to keep these numbers growing.
Investments in esports grow annually by an average of 20-30%. The number of brands that use esports broadcasts to communicate with consumers is growing too.
"Spectators will be especially interested in the tournament because its winners will take part in ESL One: Rio 2020. And, for some sponsors, this is a great chance to occupy a new niche, and for others, it is an opportunity to gain a foothold in the niche more firmly. We offer a creative approach in providing the integration of our sponsors. It will be bright, colorful, and native. The audience will like it, and the sponsors can increase loyalty among viewers of esports broadcasts," commented Anton Bogushev, Business Development Manager at WePlay! Esports.
During quarantine, the esports audience has been missing Counter-Strike. WePlay! Esports created an exciting spectacle for the audience, and gave the brands a chance to show themselves. The high prize pool was just another mixture of this successful formula.
Major of the year for Counter-Strike: Global Offensive
With pandemics striking, it's been hard to keep track of esports tournaments. Games like CS GO and League of Legends are readapting. Great teams such as Natus Vincere (NaVi), Team Spirit, Virtus.pro and Nemiga Gaming always move big audiences, but in this moment we're sticking together for every gaming organization. And WePlay! Clutch Island were a chance for them to rise! The tournament was held in a double-elimination style, and there was a lot of action. Everyone wanted those rating points!
A definitive result: Natus Vincere takes the crown
In 2020's Clutch Island edition, Natus Vincere took home the US$15,000 after winning the grand final by 2-0 against Team Spirit. They managed to win against Virtus.pro, who would end up in 3rd place, and Nemiga Gaming (4th place). 5th place was taken by ESPADA, after a huge domination in first (group) stage.
Tournament structure
Stage 1:
Two double-elimination format (GSL) Groups
Each group has 4 teams
All matches are Bo3
Top two teams from each group advance to the Stage 2
Group A was formed by ESPADA, Nemiga Gaming, HellRaisers and Moscow Five Academy;
Group B was formed by forZe, Gambit Youngsters, Syman Gaming and CR4ZY.
Eliminated teams: Moscow Five Academy and CR4ZY. HellRaisers and Syman Gaming were also eliminated in this round, but would play a 10th place grand final.
Stage 2:
Double-Elimination bracket
All matches are Bo3
Top three teams from the group advance to the Stage 3
First match was ESPADA 2 Gambit Youngsters 0, then forZe was beated by Nemiga Gaming (1-2). In the lower bracket, Gambit Youngsters devastated forZe with a clean 2-0 win, securing the 3rd spot in stage 3 and more RMR points.
Stage 3:
Two double-elimination format (GSL) Groups
Each group has 4 teams
All matches are Bo3
Top two teams from each group advance to the Playoffs
Big teams join the Clutch Island! Group A was formed by Nemiga Gaming, Team Spirit, ESPADA and Winstrike Team, whereas Group B was composed by Virtus.pro, Natus Vincere, Gambit Youngster and Hard Legion Esports.
Elimitated teams: Winstrike Team and a disappointing Hard Legion Esports; they were set for the 7th place grand final. ESPADA and Gambit Youngsters were also eliminated this roound, but would play a 5th place grand final.
Battle for the 7th place: Winstrike Team 2 1 Hard Legion Esports. In a weird series, Winstrike managed to secure 7th, a larger bite of the prize pool, and more RMR Points, and Hard Legion left the WePlay Clutch Island without winning a match.
Battle for the 5th place: A rematch from stage 2 with the same result: ESPADA 2 Gambit Youngsters 0. ESPADA managed to get a good result after dominating group A in first stage, while Gambit Youngsters also have nothing to be ashamed of given the bracket they had.
Playoffs:
Double-Elimination bracket
All matches are Bo3
Big action here! NaVi beat Nemiga Gaming 2-1 after a very clutch (!) series, while the match could really go to any side. Then they secured a place in the grand finals by taking down Virtus.pro in another 2-1 match series. They would face Team Spirit, who lost to Virtus.pro in the first match of the bracket, but redeemed themselves after a clean 2-0 win against the same team. Team Spirit managed also to beat Nemiga Gaming 2-0 when already in the lower bracket.
In the finals, Natus Vincere obliterated Team Spirit: 2-0, tournament victory, 15k of the prize pool and 2k RMR points guaranteed. The other match, the battle for 3rd place, ended up with Virtus.pro beating Nemiga Gaming.
WePlay! Clutch Island had it's exiting finish. The final classification were:
Broadcast talent, analysts and commentors: From Vince "Vince" Hill to Alex Hawkins, and a complete CIS countries team
In addition to all the great teams, WePlay Clutch Island had a stellar pool of commentarists and analysts, and CIS teams fans were pleased to have a broadcast in their language.
Stages 3-4:
Host: James Banks
Analysts: vENdetta (Halvor Gulestøl), Pimp (Jacob Winneche), Tombizz (Tom Bissmol) and Hawka (Alex Hawkins)
Commentors: Anders (Anders Blume), Semmler (Auguste Massonnat), Vince (Vince Hill) and Hugo Byron.
Stages 1-2:
Host: melonzz (Kyle Freedman)
Analysts: vENdetta (Halvor Gulestøl), Pimp (Jacob Winneche), Tombizz (Tom Bissmire) and Hawka (Alex Hawkins)
Commentators: Vince (Vince Hill), dusT (Dustin Mouret), Dinko (Adam Hawthorne) and MitchMan (Mitch McBride)
WePlay has its roots in Ukraine, therefore it couldn't be different with WePlay Clutch Island streams and desk: there was streams for people in CIS countries. Here is the team of casters:
Hosts: Vladyslava_Z (Vladyslava Zakhliebina) and Tonya (Antonina Predko)
Commentators: CrystalMay (Dmitry Korchevinin), Eiritel (Daria Morozova), PCH3LK1N (Alexey Pchelkin) and Gromjkeee (German Gromov).
Commentators & Analysts: yXo (Alexey Maletskiy), Enkanis (Alexander Polishchuk) and strike (Yuriy Tereshchenko).
Analysts: kane (Mykhailo Oleksiyovych Blagin), ami (Amiran Rekhviashvili) and lmbt (Sergey Bezhanov).
WePlay Clutch Island was a real success, the prize pool was sweet and everyone could appreciate a high level CS:GO tournament during the pandemics. WePlay is happy to held this tournament and congratulates Natus Vincere as the winner and Team Spirit as the runner-up. More than that, every team deserves our praise and all the good things, such is the lack of events during pandemics.
We're hoping for good news related to that - events and such - but for now, let's keep our spirit high and connect virtually!
Learn more about the event on our website weplay.tv and follow us in social media: Reddit, Instagram, and Twitter.