Oct. 24, 2023
Virtual YouTuber: The Virtual Revolution of the Streaming World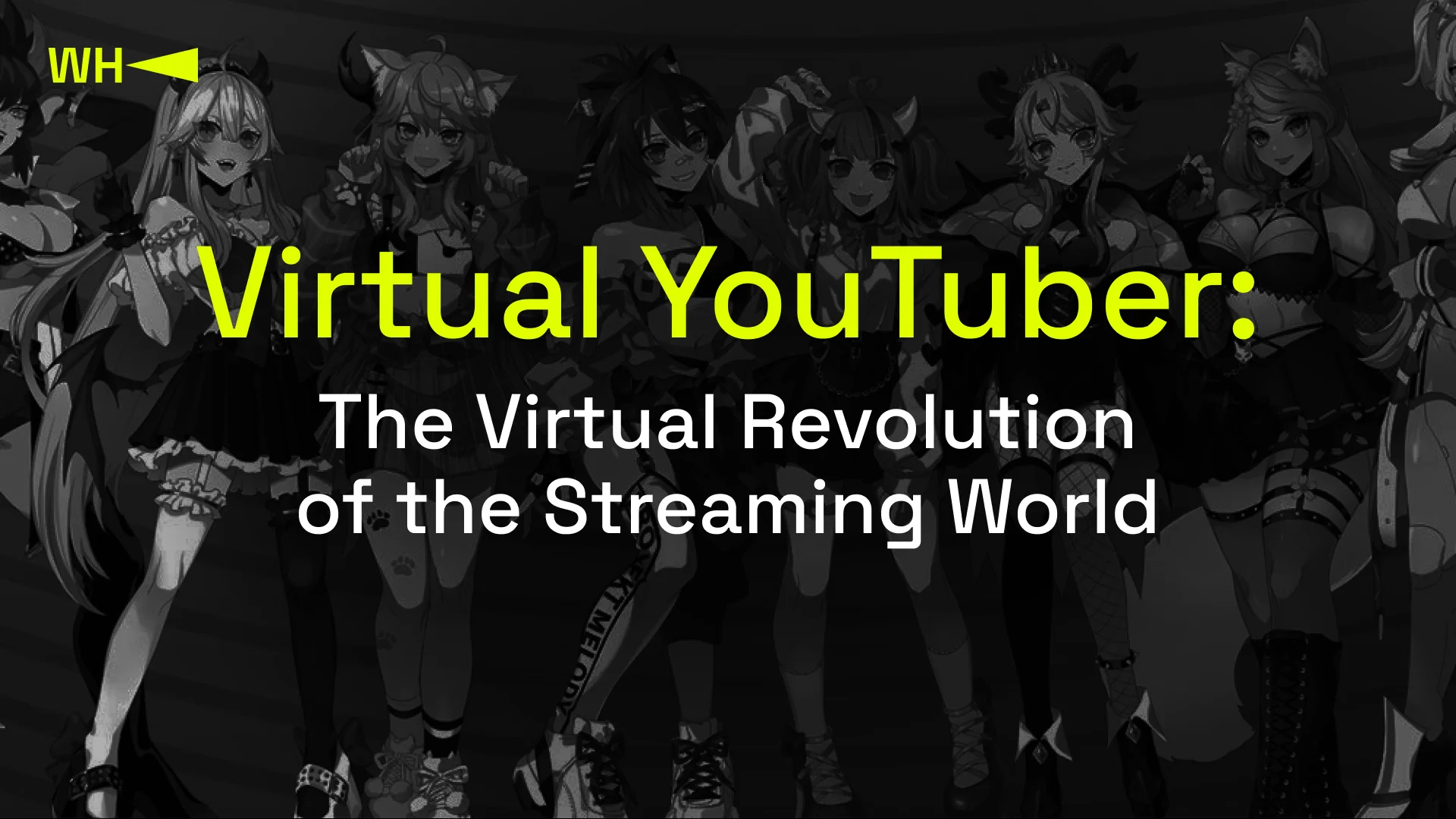 If, on your night off, you decide to watch a stream on YouTube or Twitch, you can end up on a channel led by a virtual avatar. They are bright, unusual, and attract the attention of more and more viewers. This trend has a name: VTubing. What is a VTuber? When did they appear? Why are they popular? Well, first things first, so let's figure out the term.
VTuber stands for Virtual YouTuber, an online creator that uses an animated avatar instead of their real-life image. Contrary to what the name might suggest, VTubers exist not only on YouTube but on many platforms sich as Twitch and the like. Virtual characters may look similar to real people, or they may be completely fictitious personalities with their own fictional backgrounds. However, regardless of whether a blogger uses their real look or an avatar, in the end, they do offer what fans expect — engaging content.

Then what is the difference? Why do some bloggers simply turn on the camera and start streaming while others develop a unique avatar and take time setting up software that supports real-time motion capture and mocap hardware such as tracking markers and mocap suits? Well, let's start with a little history crash course.
A Brief History of VTubing as a Trend
According to some sources, the term "Virtual YouTuber" was born thanks to the VTuber Kizuna AI in 2016. Although many consider this virtual character to be the world's first VTuber, this is not entirely true.
One of the first animated digital avatars appeared back in 2010. The character Super Sonico showed up on the YouTube channel of the company Nitroplus, a video game developer in the visual novel genre. This character did not communicate, and the animation software limited its functionality. Yet, a year later, blogger Ami Yamato uploaded pre-recorded videos to YouTube with an animated character who also spoke. She started making YouTube videos on different topics. At first, the videos were fully animated, but later, the virtual avatar began to walk against the backdrop of very real streets of London, etc.
Later, besides animated videos, VTubers began streaming, talking with fans, and moving their digital avatar in real time. VTubers provided weather forecasts, told life stories, became virtual celebrities, and even gave makeup lessons using virtual avatars. Although the avatar trend was further popularized in Japan, there weren't that many English-speaking avatar streamers.
However, the world of streaming began to change, and companies with a keen eye for trends started providing motion capture technology and computer-generated avatar software that make it easy to create your own avatar and use it in a livestream. A turning point in the history of VTubing came in 2016 with the advent of Kizuna AI, an incredibly successful VTuber. In less than a year, the Kizuna AI channel has reached more than two million subscribers.
As Covid-19 began to spread, people switched to spending time online in search of fresh content. In 2020, VTuber production company Hololive Production released the first five English-language VTubers: Gawr Gura, Mori Calliope, Ninomae Inanis, Takanashi Kiara, and Watson Amelia. In less than a year, Gawr Gura attracted more than three million subscribers, surpassing Kizuna AI. That was the start of the Japanese trend taking over the world.
After the unprecedented success of Kizuna AI and Gawr Gura, virtual YouTubers started getting to a wider global audience, English-speaking, Chinese-speaking, and so on. Some of them, like Shigure Ui, work as independent VTubers, while others, like Usada Pekora or Gawr Gura, work with agencies.
Why Choose a Virtual Character?
Although the VTuber trend became popular relatively recently, about 50,000 YouTubers have already created their own characters and conducted at least one stream. Why do content creators choose virtual reality? There are several reasons for that.
Anonymity
Many streamers face hate-filled comments from online viewers, and often, the insults get too personal. For example, haters can criticize not just stream content but also their appearance, threaten relatives, or even harass the streamer in real life. Some streamers, for example, hide their real names by using exclusively their nickname on all social networks and at popular offline events. However, the risk of de-anonymization for online entertainers still remains quite high. A virtual avatar helps cover the face, voice, and name of the streamer, giving the content creator a chance to keep their personal and professional life separate.
Originality
If we look at the numbers, the streaming industry market has grown, but when it comes to quality content, it's not so straightforward. There are a lot of streamers, but most subscribers follow less than 10% of the total number of channels. Beating the top streamers in their niche is quite difficult, almost impossible. And while some newbie bloggers look for original content and a way to promote it, others (a majority) are trying to follow the beaten path. Tired of the same type of content, viewers naturally become interested in the new VTubing trend.
Competition
Although popular VTubers are plenty, there are even more traditional streamers. Thus, competition in VTubing is less in comparison. However, you should not forget that most of the market belongs to agencies that create and produce new anime characters or recruit those who have achieved success on their own.

Why Are Virtual YouTubers So Popular?
It is always interesting to retroanalyze why this or that innovation became a trend. In the case of VTubing, it is easy to identify several main reasons that influenced its success.
Streaming market oversaturation
VTubers are breaking the pattern. They started making content that was not what some viewers expected when they joined a broadcast. Among cookie-cutter streamers, VTubers have become a breath of fresh air. Few could imagine an animated character who boldly holds a stream playing games, commenting on their actions, swearing when they lose, and performing a bunch of other actions.
Best of entertainment content creation
Initially, VTubing bundled idols and anime, appealing to an audience of two huge fan bases in Japan at once. As VTubing developed and new VTubers emerged, the trend started looking to other areas of the entertainment industry for inspiration. For example, for many viewers, VTubing is associated with gaming because viewers have the opportunity to interact with almost fictional characters. Also, some VTubers have their own lore, a world that is no less captivating than the plot of some fantasy stories.
Mystery factor
Who is hiding behind the animated facade? This question intrigues the fans of almost every VTuber. In an attempt to discover their idol's identity, fans never tire of looking for answers and comparing the voices and even facial expressions of famous personalities. Although most VTubers don't want to be uncovered, the mystery of their personality is another booster to their popularity and key to the target audience.
Virtual YouTubers: The Future of Content Creation?
VTubing, like the general trend toward virtual reality, will not fade away over time. Already, VTubers' channels accumulate about 5–6% of all hours watched on live-streaming platforms and keep gaining popularity. However, this does not mean that non-VTuber streamers will abandon their way of creating content — one model doesn't exclude the other. Some streamers even alternate their broadcasts, sometimes appearing on camera in person and other days using an avatar. Virtual avatars are yet another tool that can help captivate viewers and create content if used correctly.

VTubers and agencies earn in different ways: a few hundred dollars here, a thousand dollars or more there, and become a valuable part of the market. In response, technology companies will develop more user-friendly software for motion capture technology and avatar generation. So, it's safe to say there will be ever more popular VTubers who will create unique VTuber content, master multiple platforms, and answer the question "What is a VTuber?" with the full range of possibilities.