Sept. 28, 2021
Can esports be called a sport?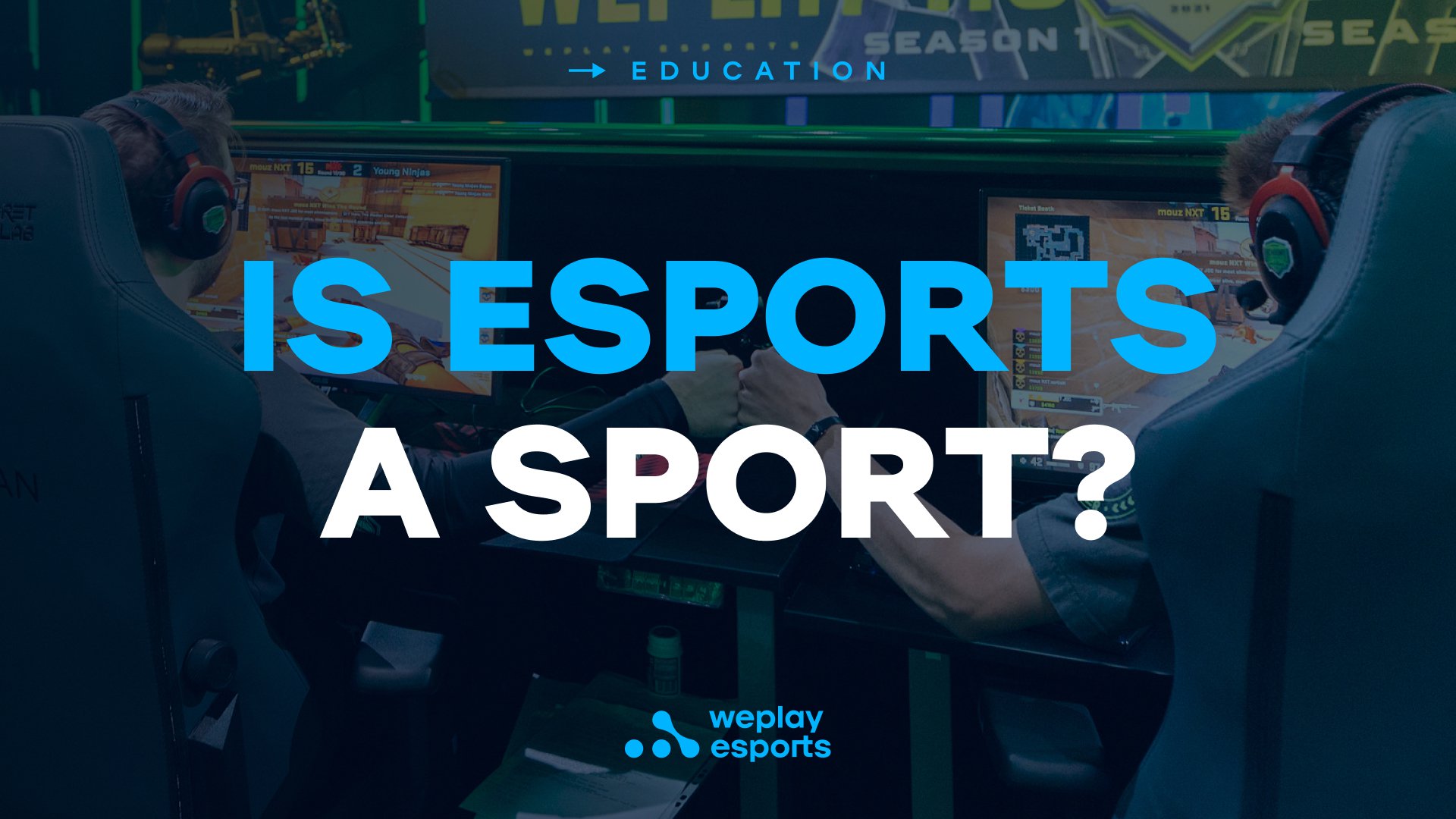 Whenever people talk about esports in the mainstream, there is almost always a debate about whether esports is actually a sport.
From "League of Legends" to "Call of Duty," professional esports athletes to casual players, the concept of video games as a sport is something the mainstream can't ignore. As the scene grows bigger with each coming year, fans and nay-sayers alike have to re-assess the "sportiness" of esports.
What is esports?
Esports is the professional scene for competitive gaming. In theory, any game that people can play competitively can be considered an esport. However, most of the time, people mean the big games where pro teams compete for a title. Think of the recent MSI tournament for "League of Legends" or the WUFL tournament from WePlay Esports.
Some top esports games are "League of Legends," "Dota 2," "CS:GO," "Fortnite," and "CoD."
Despite its popularity, though, many people don't consider esports a sport.
How Is Esports a Sport?
Generally, the debate about esports being a sport or not hinges on the concept of sport — is a sport about physical prowess in competition, or is it about fans watching players compete?
Technically, the Miriam Webster definition of a "sport" is a physical activity engaged in for pleasure. So, that leans towards the physicality-based definition that some people use against esports to disqualify them as a sport.
However, the rapid reflexes of esports professionals are vital to being able to play, so even though it might not get your cardiovascular system going, physicality is crucial to the game. After all, if you don't have the reflexes and reaction time with your fingers, no amount of game knowledge can make you a good player.
So, in many definitions, esports is a sport, but it is not as physical as traditional sports are, which is where the confusion comes from.
Esports Sporting Events
Even though the average person understands traditional sports better and is more likely to participate in them, esports events are not small in the slightest. Some of these events are large enough to be played in arenas that house 50,000+ fans, which is pretty impressive.
Also, esports events can wrack up alarming prize pools, giving them serious, high-profile status. Every year, "Dota 2" offers bigger and better winnings. This October, its 2021's The International prize pool was over $40 million (its largest yet).
The winning teams of esports events are also a massive deal since many of them come from large gaming organizations like Team Liquid, Cloud 9, and many others.
With all the different conglomerations, sponsorship deals, and humongous prizes, esports events can be just as big as traditional sports. So why not call them a sport?
Esports Viewership
Over the past few years, esports events have become absolutely explosive with all the different records they've been setting. The 2018 "League of Legends" MSI Invitational was a game-changer with 60 million unique viewers throughout the event.
For comparison, the most-watched baseball game was the New York Mets vs. Boston Red Sox in 1986, which had 55–60 million watchers. That means that, as far as the stats go, esports is just as popular (if not more popular) as baseball. In the US, the only sport that really beats esports out is classic American Football.
Esports Revenue
By the end of 2021, Newzoo's Global Esports and Live Streaming Report expects the esports industry to reach the $1 billion mark. The esports industry, as Newzoo predicts, will earn $833 million from media rights and sponsorships.
Esports Leagues
As esports has grown, so have the groups that sponsor multiple teams across many sports. A few examples are Team Liquid, Cloud 9, and FaZe Clan. They play "League of Legends," "Valorant," and other games, making up mighty gaming conglomerates. It's an impressive business model that makes them a powerful force on the esports scene. Team Liquid alone has won 1977 tournaments and earned $36 million.
These teams are also known for trying to help build up talent and community members with their Academy teams and other lower-tier esports endeavors.
Collegiate Esports: LoL, Dota 2, Fortnite, etc.
Esports is growing popular enough that there's now a burgeoning collegiate esports scene for it. In 2014, Robert Morris University put together the first fully sponsored professional "LoL" team. Since then, there have been dozens of official esports teams for colleges with their own sponsorships, paying from a few thousand dollars to full-tuition scholarships.
There also have been full-on collegiate-wide tournaments, with tuition payment as the prize. This year, the Maryland University team won the college "Overwatch" championship and earned $24,000.
Esports in the Mainstream
Despite esports' success in the gaming sphere, it has always struggled to break into the mainstream. However, there are a few places where esports have broken the geek ceiling.
For example, traditional sports team owners have started getting involved in esports. The Philadelphia Fusion is an "Overwatch" team owned by the same people that own the Philadelphia Flyers Hockey Team. They are even making their own esports arena for their team (Fusion Arena).
Similarly, ESPN, Disney+, Hulu, and other streaming services are now airing esports. Slowly but surely, the mainstream is starting to understand the popularity and opportunities that come with the unique world of video game sports.