Dec. 21, 2021
Promoting your product through esports: brands' use-cases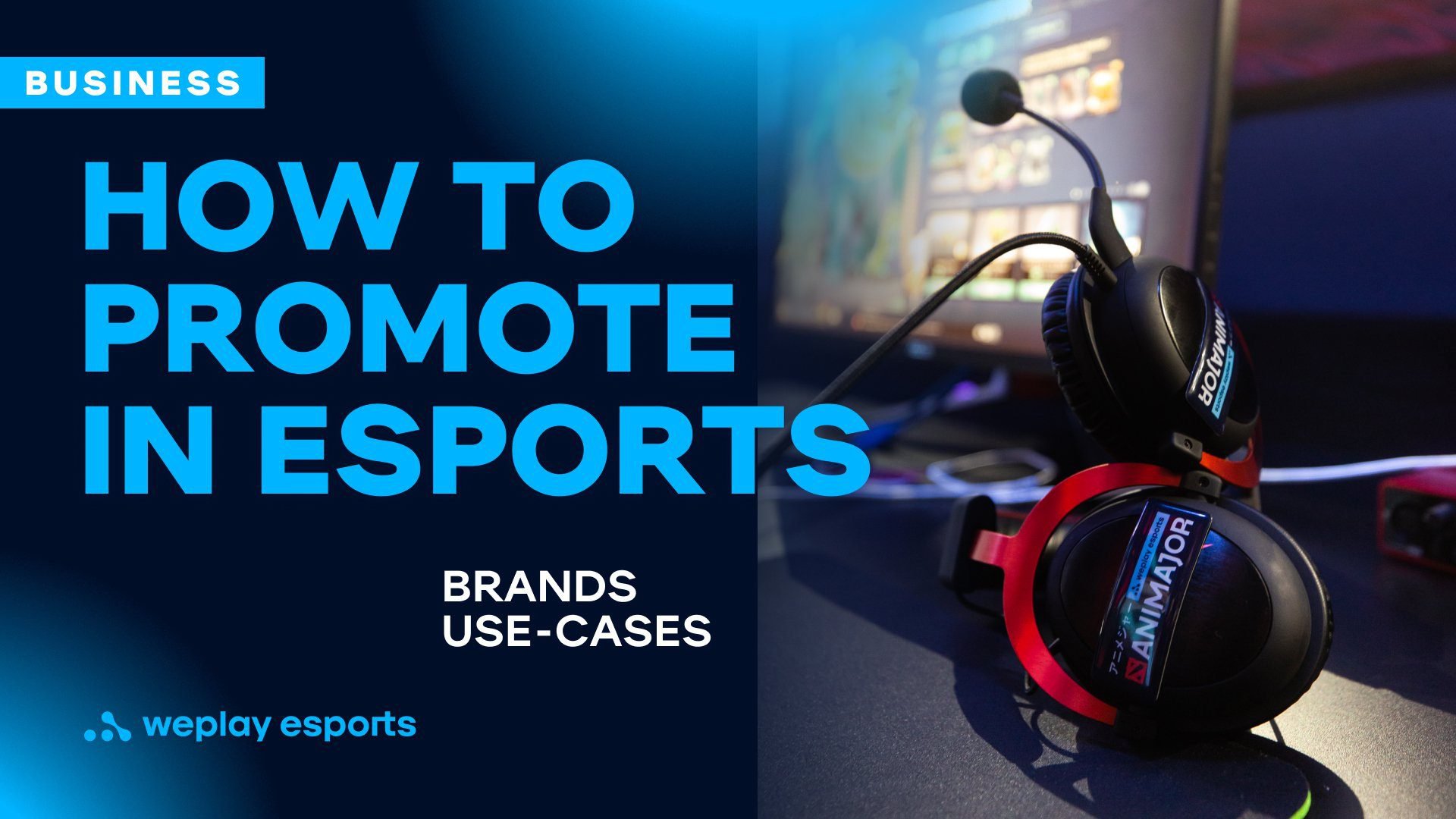 Today, esports as an advertising platform is lucrative for companies far removed from the esports business.
The esports industry has surpassed $1 billion in revenue, and the most significant part of it came from sponsorship and advertising. Back in the day, only esports brands would reach out to the esports audience promoting their services and products, such as gaming equipment. However, the range of esports fans' interests is not limited to computer monitors or headphones. This idea is as absurd as the assumption that hockey fans are only interested in skates and hockey sticks. Now, the esports world as an advertising platform is lucrative for companies far removed from the esports business.
"Esports and Twitch in particular are emerging media that, like YouTube, offer the most effective way to communicate with clients aged 18 to 35. Of course, integration into esports shouldn't be considered as one-off advertising that will immediately bring benefits. We are talking about a methodically built strategy that paves for companies the way to a valuable target audience. Brands that understand this, be they endemic or non-endemic, will always be on the edge of communication trends," says Valentyn Shevchenko, head of business development at WePlay Esports.
Esports is a dynamic field where almost every brand can find a key to the community's heart. To only scratch the surface, luxury French brand Louis Vuitton partnered up with Riot Games to create virtual clothes in League of Legends. Moreover, the fashion house chose the most successful time for the collaboration — the 2019 League of Legends World Championship in Paris. Obviously, this isn't an out-of-the-ordinary case. Games like Dota 2 and League of Legends have served as the plot for Netflix series; BMW has partnered with esports teams like OG, Cloud 9, Fnatic, FunPlus Phoenix, G2 Esports, and T1; Nissan became an official sponsor of both FaZe Clan and OpTic Gaming.
What attracts brands in esports?
First of all, brands want to reach an active audience.
Let's leave the myth that esports fans are nothing but teenagers and face the stats. According to Newzoo, the core esports audience is 18 to 35 years old with middle and high income. Many don't watch TV but prefer to get information and watch TV shows and movies online. In addition, they block regular ads or simply pass them over. For brands, the esports public is valuable and hard to get at the same time.
Mindshare explored the North American esports region to conduct research showing that roughly half of the esports community spend most of their spare time around esports. Plus, not all of them are gamers — some just like to watch tournaments and follow esports-related news. Therefore, the easiest way to catch their attention is to integrate with esports organizations: teams, publishers, and tournament operators, of course.
Esports influencers are… well, influential
Ninja, a famous streamer, especially in the Fortnite gaming community, mentioned an underwear brand on a stream, and it was enough for gamers to go on a buying spree. Ninja's support not only helped the company set a sales record: the site even went down for a while.
This gave a hint to another company from the apparel industry: Adidas released signature sneakers with Ninja and sold out the entire collection within the hour. To boost recall and sales in esports, sponsors just need to find influencers people trust.
Esports keeps growing in pandemic times
COVID-19 affected all industries. However, unlike traditional sports that had to cancel events and stop producing content for spectators, the esports industry merely suspended LAN (offline) tournaments and went entirely digital. According to NewZoo, neither the audience figures nor the number of organizers became smaller. By the way, as soon as it became possible, esports events got back to the offline format, albeit partially — without spectators. Riot Games held the League of Legends World Championship, and WePlay Holding held WePlay AniMajor.
Therefore, although the pandemic did put some sand into the machine, sponsors still relied on the strength of the esports business and kept integrating with esports companies in 2021.
According to Statista, esports market revenues from sponsorships and advertising in 2021 amounted to $641 million. Along with esports-native companies such as Logitech, Intel, Cougar gaming, non-endemic brands also built up sponsorship with esports organizations.
Apparel companies: FILA, Gucci, H&M, Ralph Lauren, Louis Vuitton, Nike, PUMA, Under Armour, and others.
Car manufacturers: Volkswagen, BMW, Nissan, Honda, Toyota, Aston Martin, Mitsubishi, Hyundai, Audi, and others.
Personal care: Gillette, Bad Lab, Head&Shoulders, L'Oréal Paris Men Expert, Old Spice, Nivea, and so on.
Beverage and energy drinks: Coca-Cola, PepsiCo, Red Bull, Mountain Dew, Monster Energy, and so forth.
Many other sponsors such as Mastercard, Geico, DHL, Vodafone, McDonald's are extensively exploring partnership opportunities using different games and methods.
WePlay Holding has worked with some of the above companies.
"You won't surprise anyone by placing a logo and a product, so we offer our partners tools that help them communicate with fans and be remembered, of course.

For Monster Energy, we've embedded a "Comeback" button into our broadcast. Viewers would press the button to show support to their favorite team. The CTR of this activation was over 15%. As a result, Monster Energy, in addition to a positive experience, received evidence that allows it to analyze how effective an esports platform can be," said Valentyn Shevchenko, head of business development at WePlay Esports.
League of Legends, Dota 2, or Counter-Strike: Global Offensive: Which game to choose for promotion
As with traditional sports, sponsors choose where they want to invest. Simply put, companies decide on a discipline (a game) they wish to associate with. MOBA is the most popular genre, which tends to be the leader in esports tournaments in terms of watch hours. Within the genre, partners have several options to select.
League of Legends
League of Legends, or LoL, is one of the most popular esports disciplines of 2021. The 2021 World Championship ended in November with a peak of 4,018,728 concurrent viewers and 174,826,794 hours watched. The prize pool for this event alone was over $2 million. According to Statista, the average number of LoL stream viewers is around 186,000 on Twitch.
Dota 2
Dota 2 is a MOBA developed by Valve. As a game, Dota 2 peaked at over 748,000 concurrent players in November 2021. As an esports discipline, Dota 2 is most known for the biggest prize pools. The International 10 had a prize pool of $40.02 million and over 2 741 514 peak viewers.
Next in terms of popularity come the shooters, which can also be helpful for sponsors as a platform for promotion.
Counter-Strike: Global Offensive
Counter-Strike: Global Offensive, or CS:GO, is a shooter by Valve. The nine-year-old game still attracts a mass of newcomers. In February 2020, the monthly active players' record was about 24 million. CS:GO doesn't have a structured championship system like LoL or Dota 2. Still, there are a lot of tournaments that keep setting records in the esports world. The recent PGL Major Stockholm with a prize pool of $2 million drew 2,748,434 concurrent viewers at its peak.
Overwatch League
The Overwatch League is another popular shooter. The hallmark of this discipline is its intense season schedule. This year, the season began in April and ended in August, with next to no breaks. In addition to the impressive prize pool of $3,200,000, the Overwatch League 2021 Playoffs had a peak at 134,320 concurrent viewers.
How to integrate brands in esports
Publishers and games
Esports disciplines depend on publishers. Valve manages Dota 2 and CS:GO, Riot Games owns LoL, and so on. The integration with a particular game allows brands to create in-game accessories. For instance, Marvel teamed up with Fortnite to release in-game outfits such as Ghost Rider, Daredevil, Mystique, and Harvesting Tools like Widow's Bite and Proto-Adamantium Shield.
Players and teams
Another way to integrate with esports is to sponsor a specific team, just like in traditional sports. In addition, companies can create their own esports team, like Red Bull, which started its own team for esports racing.
Tournaments operators
Tournament operators provide content for the community and sponsorship opportunities for brands. One tournament operator can be the key to different titles for a brand. By the way, WePlay Holding holds events for Dota 2, CS:GO, VALORANT, Rocket League, and other games. Brands can choose any title they want to be associated with. Plus, such a sponsorship offers a variety of ways to advertise.
The most eye-catching collaborations with brands in the esports industry in 2021
Naruto X Team Liquid
It has been a great year for the anime and esports fanbases. First, Netflix announced an anime series based on Dota 2, then an anime-themed Major from WePlay Holding, and, finally, Team Liquid collaborated with one of the most popular anime series, Naruto.
As part of the fashion integration, customers could purchase colorful clothing items featuring Naruto characters and the Team Liquid logo. It's worth mentioning that Team Liquid has 14 independent teams competing in different disciplines, so this collaboration sparked the interest of several game communities at once.
BMW X Fnatic
Undoubtedly, it's heartening to see brands in esports pursuing not only the goal of raising recall but also bringing up socially essential topics. This time around, BMW has teamed up with esports team Fnatic to point up the importance of prioritizing mental health in a competitive and dynamic environment.
Players are under permanent pressure to meet their public's expectations, and their stress level goes up during championships. Therefore, BMW has decided to arrange a relaxing weekend for Fnatic FIFA stars Tekkz and Shawrey. The campaign "Drive is the Difference" aimed to encourage both up-and-coming players and prominent esports personalities to set all deals aside and have a rest, at least for a day.
McDonald's X FaZe Clan
Besides FaZe Clan's esports teams for CS:GO, Call of Duty, and Fortnite, the esports organization is known as a gaming and entertainment content platform. Together with McDonald's, the platform launched "Spotlight" featuring FaZe gaming streamers Swagg and JSmooth.
Being FaZe Clan's official sponsor, McDonald's aims to elevate diverse voices and drive inclusion in the gaming industry. FaZe members hosted livestreaming events to support streamers of all races and encourage them to produce content. Plus, such collaborations help to shape and nurture the future generation of gamers, players, and streamers, combating the gaming environment's toxicity step by step.
Adidas X G2 Esports
Companies previously associated with only traditional sports also started looking at the esports business. For example, while Adidas has a long history of sponsoring global sports organizations such as Real Madrid, Manchester United, and Bayern Munich, the apparel brand has also signed an agreement with team G2 Esports.
As the brand claims, the collaboration means more than just G2 jerseys. This partnership may well surprise the public with new apparel collections or content made by players very soon.
The Smurfs X Cloud9
This is probably the most unexpected integration this year. The Smurfs entered into a partnership with North American esports organization Cloud9 to release a "smurfing" apparel collection. The selection of clothing includes jerseys, accessories, T-shirts, and more — all featuring Smurf characters and the Cloud9 logo.
While this partnership may look subtle, it resonates with the esports audience. The term "smurfing" in esports means that an experienced player creates a new account to play against newbies.
Although there are a lot of examples of successful partnerships to look at, some companies are still in no hurry to explore the esports market.
"Unlike endemic brands, non-endemic ones don't know all the ins and outs of the esports audience. Therefore, we're glad to hear sponsors out and help them solve their questions. Considering a particular company's product in detail and analyzing everything, we provide a strategy that will be relevant for the audience and brands", - said Valentyn Shevchenko, head of business development at WePlay Esports.