Dec. 23, 2021
Esports sponsors. Why are brands supporting esports?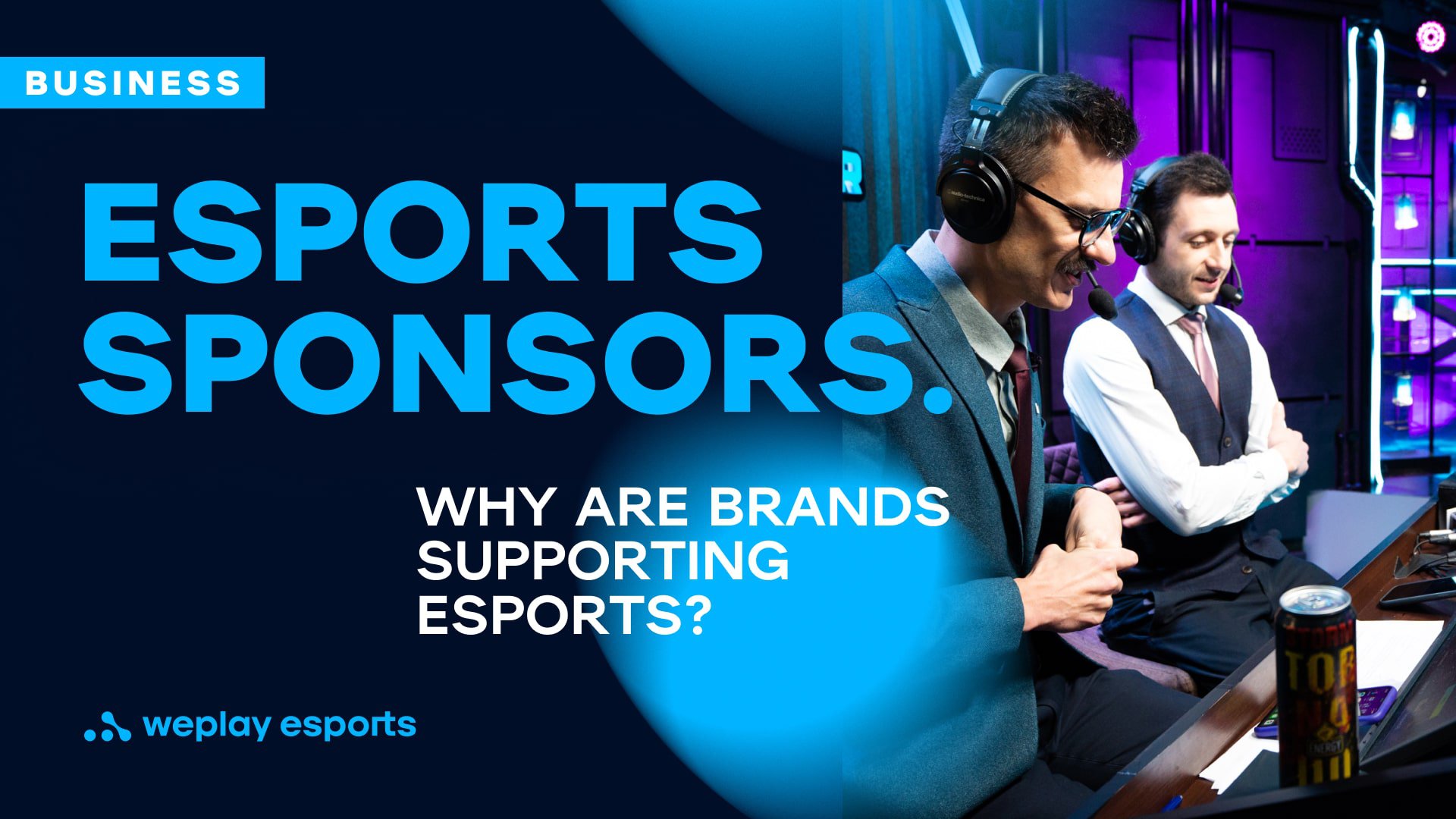 Let' break down the shapes and sizes esports sponsorship comes in all
Esports is a billion-dollar market that encompasses people from different regions. The industry's revenue comes from media rights sales, publishers' fees, merchandise, and tickets, mainly from sponsorship. In 2021, sponsorships brought in $644 million, which is more than half of all esports revenue as a whole.
Esports sponsorship comes in all shapes and sizes. Brands and companies show their affiliation with events or esports teams, just like Mercedes-Benz supporting the World Championships in League of Legends or RaidCall announcing a partnership with Evil Geniuses.
Whereas previously, the esports industry included partnerships only with endemic brands like Intel, now sponsorship is available to non-endemic brands such as energy drinks, the FMCG sector, car manufacturers, betting companies, and many others.
Is esports too dependent on sponsors?
To answer this question, let's look at the statistics of traditional sports. In 2020, the National Football League (NFL) revenue was $12.2 billion, while the sponsorship stream brought $1.42 billion (roughly 12%). At the same time, esports sponsorships from both endemic and non-endemic companies account for about 59%.
Without a doubt, this imbalance is likely to have a profound effect on esports. On the other hand, just as esports depends on sponsorship, sponsors depend on esports. Publishers have complete control over their video games. For example, Valve owns Dota 2 and Counter-Strike: Global Offensive, Riot Games manages League of Legends, and Blizzard influences Overwatch League. Each match depends on the publisher's decision. Therefore, when considering a partnership with an esports team, the sponsor needs to pay attention to the calendar: on the eve of a tournament, fans will be closely following the news.
How to become an esports sponsor
Entering a partnership, brands can choose a tournament, a discipline, a league, and so on. Thus, they select a group of fans they want to engage with. There are at least three options to bring esports sponsorships into life fast and efficiently.
Esports events. If you think about some significant event for the esports industry, you will most likely find out how many partners and sponsors, besides the organizers, took part in its creation. Just name it. BLAST Rising, an esports tournament in Counter-Strike: Global Offensive, entered in partnership with Coinbase, CS.MONEY, and Red Magic in 2021. League of Legends World Championship 2021 in terms of esports sponsorships got a dozen sponsors: AXE, Bose, Cisco, Master Card, Mercedes-Benz, OPPO, Red Bull, Secret Lab, Spotify, State Farm, and Verizon.
Such events, especially a well-ordered series of tournaments, have a fairly predictable audience reach. Companies can simply look at statistics from past years to roughly estimate how many people will see a brand's ad.
Esports teams. Teams, or esports organizations, are another option for sponsors wishing to hit esports. One organization can have many teams performing in different esports. For example, Evil Geniuses compete in eight disciplines. Plus, the team has its own creative collective. The organization has already partnered with Elysian Brewing,
Bud Light, Coinbase, Monster Energy, and other companies.
Tournaments operators. When a brand collaborates with a specific event, it is associated with only one discipline. When a brand sponsors a team, it is highly dependent on the team's success: the more the team wins, the more attention surrounds it and everything related to it. Partnerships with tournament operators are breaking down these boundaries.
A tournament operator can create events, cooperating with different publishers and esports organizations. For example, partnering with WePlay Holding, Monster Energy grabbed the attention of Russian-language BLAST Premier broadcast spectators.
Biggest esports sponsorships and partnerships
Team Liquid and Marvel
Esports organization Team Liquid and Marvel established one of the most ground-breaking crossovers. In July 2019, players revealed this partnership when they entered the Rift Rivals tournament scene wearing Avengers X Team Liquid crossover jerseys.
It was Marvel's first official partnership with the esports team and considering that the company decided to prolong sponsorship until 2022, it was worth taking a shot.
Mercedes-Benz and all global League of Legends esports events
Mercedes-Benz built up a strong rapport with Riot Games to become an official exclusive automotive partner for League of Legends tournaments in 2020. Instead of just being one of the sponsors, Mercedes-Benz created the World Championship Rings in 2021.
Every player of the winning team got their Championship Ring made of white gold and sapphire glass. The ring design combines the logos of the sponsor and League of Legends.
‌‌Overwatch‌‌ ‌League ‌and Coca-Cola
The massive multinational company joined Overwatch League as a sponsor. After signing a three-year agreement, Coca-Cola became a partner of the 20 franchises that have bought into the Overwatch League and other tournaments like the Overwatch World Cup.
Coca-Cola is already an experienced esports sponsor with several partnerships under its belt. In 2016, the brand concluded a sponsorship deal with League of Legends by Riot Games, and in 2017 it successfully integrated into EA Sports' FIFA competitions.
BMW and esports teams
Instead of focusing on just one team, BMW created an alliance that involved five top-level esports organizations around the world. Meaning, the partnership extends far beyond the borders of one region. BMW announced a partnership with Cloud9, an esports organization from the U.S., Fnatic from the U.K., FunPlus Phoenix from China, G2 Esports from Germany, and T1 from South Korea. The organizations' teams perform in League of Legends, Dota 2, FIFA, Fortnite, or Rocket League tournaments.
Thus, BMW is trying to win over as many esports fans as possible. To stay on the radar, the brand launches catching collaborations with esports teams from time to time, such as "Drive is Difference," which brings up the topic of mental health, or "Heroes Of Rivalry" manga.
Esports is an emerging industry that uses partnership and sponsorship deals as fuel. In return, this market offers companies the opportunity to reach out to valuable audiences. Plus, in 2020, esports kept producing content, while the sports industry couldn't switch to digital all that effortlessly. For business, it serves as yet another evidence that the market is stable even amidst a worldwide emergency.