Dec. 15, 2021
Nationwide event: How Esports Championship of Ukraine 2021 took place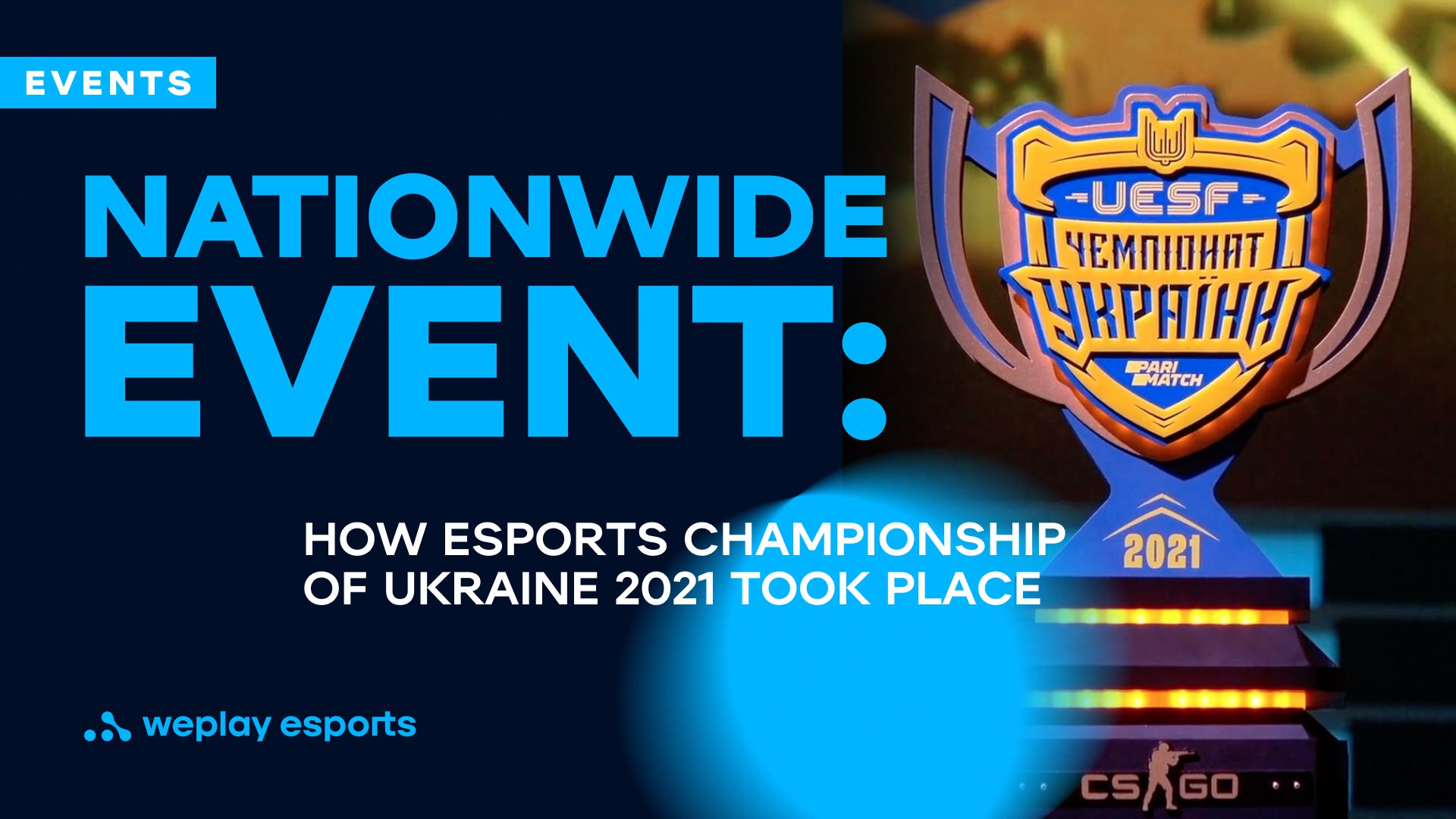 Esports Championship of Ukraine 2021 ended on November 20. The teams competed in CS:GO and Dota 2 for a total prize pool of UAH 1,500,000.
The Esports Championship of Ukraine was a CS:GO and Dota 2 competition in which beginners, amateurs, and professionals alike took part. This year, the tournament was held for the first time ever — the Ministry of Youth and Sports of Ukraine included it in the Unified Sports Event Calendar. The Championship of Ukraine was organized by the Ukrainian Esports Federation, with WePlay Esports as the technical partner.
How the competitions went
Between July and October, online group stages were held, which helped to determine the two best teams in each discipline, and on November 20, the grand final took place. That was when teams named "?" and SESTRI in CS:GO, and Burning Fire Squad and PayForWin in Dota 2 met at the WePlay Esports Arena Kyiv to compete for the main prize and make the viewers experience unforgettable emotions. This year, 1,195 players from all over Ukraine took part in the Esports Championship of Ukraine, playing a total of 1,681 maps and 70,000 game hours.
"I got a very dynamic and positive feeling from this grand final! Thanks to WePlay Esports' tournament platform and its world-class arena, the tournament turned out just great! I hope the stream viewers got the same feeling!" says Anton Markelov, CEO of the Ukrainian National Esports Federation.
Who the champions are
All finalists showed excellent game skills, but the winning teams of the first Ukrainian Esports Championship were "?" in CS:GO and Burning Fire Squad in Dota 2.
"For us, a team that hasn't played together for quite a while and no longer exists, it was good to meet again and win our last LAN tournament, feel a bit of nostalgia, and have some fun in the process. I got a nice aftertaste from this event, because the arena was very cool, and, of course, because our team won," says Sergey "Sergiz" Atamanchuk, player of team "?."
Ukrainian Esports Championship, a nationwide event
The Ukrainian Esports Championship has become an important event for all of Ukraine: not only do such competitions move the industry forward but they also contribute to the emergence of new Ukrainian teams, which may well represent our country in world CS:GO and Dota 2 competitions in the future.
"Holding such national tournaments is important because that's where people communicate with other players, make useful contacts, and gain experience. All this contributes to the professional growth and development of esports in Ukraine," says Sergey "Sergiz" Atamanchuk, a player of the "?" team.
The 2021 Esports Championship of Ukraine was the first official esports event that took place in Ukraine. It was not only an extremely enjoyable experience for spectators and players but also became a milestone event for our country.