Feb. 11, 2022
Esports online: Billion-dollar industry guide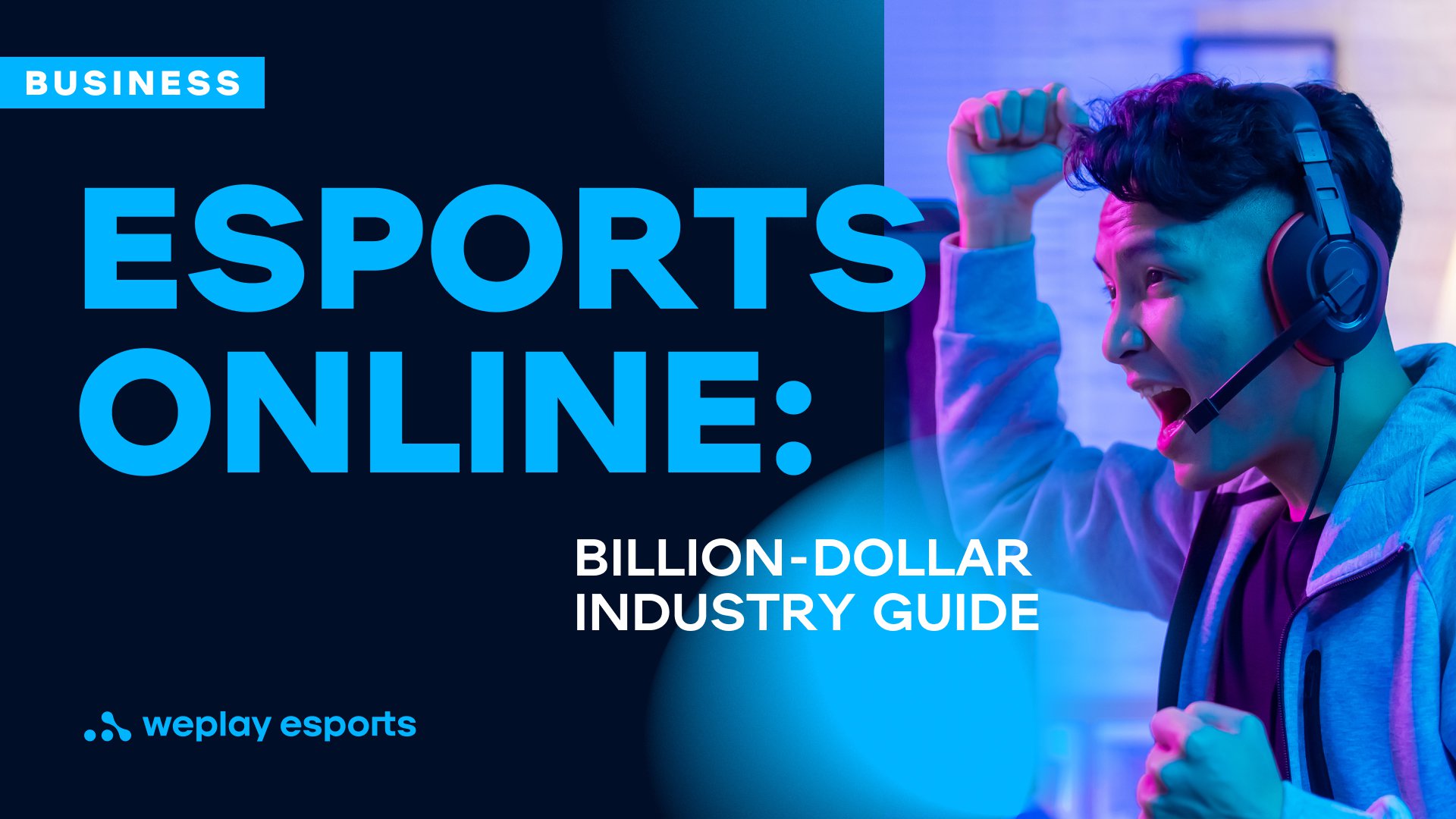 Find out how video games differ from esports games, what esports and sports have in common, and how developed the industry is in general.
For some, esports is considered an ordinary youth hobby. Because of this stubborn stigma, competitive gaming lives in the shadows. However, the facts and statistics prove that the industry is developing rapidly and can already compete with some traditional sports disciplines. For example, in 2021, the industry market size surpassed a billion dollars. According to Statista forecasts, by 2025, the industry will at least double this amount. Esports is not a community of 20-year-old college kids who have fun playing video games. The sector has a 474-million audience aged 18 to 34 years old.
The esports world has everything to help it develop: a solvent, adult esports audience, companies that publish game disciplines, tournaments where players can earn money and become globally recognized stars, and tournament organizers creating unique esports competitions. More so, as the pandemic has showcased, even during the lockdown, esports can run entirely online. For example, tournament operator WePlay Holding hosted WePlay AniMajor, which, even without a live audience, became the most viewed Major in the history of the Dota Pro Circuit (DPC), having amassed 37,351,630 hours watched.
What is esports?
Before diving into the industry, let's define the concept of esports.
Esports, or electronic sports, are video games competitions where individuals (esports players) or esports teams participate in global tournaments to prove their title. Therefore, not every game is an esports discipline, but every discipline is a video game. To become an esports discipline, a game has to be competitive, enable a multiplayer environment, and establish competition rules.
The most popular esports game genres for professional and amateur matches are:
Multiplayer online battle arena (MOBA)
First-person shooter (FPS)
Fighting games
Sports games
Mobile games
Real-time strategy (RTS)
History of esports games
Video games have made it possible for people to start competing with each other in virtual reality, earning points and challenging those who want to beat their record. However, Spacewar! is considered the first esports competition. Held at the Stanford University AI Laboratory in 1972, the event was attended by 24 players who competed for the title of champion and a prize pool of a year's subscription to Rolling Stone magazine.
In the '90s, computer clubs started holding local tournaments to attract new customers. Schoolkids, teenagers, and even college students got the opportunity to earn some extra money through their hobbies and prove they're top players, among other things.
A breakthrough for the esports industry was The International 2011 by Valve, with the total prize money of one million dollars. At that time, it was the largest prize among all esports events, so many associate the first International with the beginning of a new era in esports.
Competitive video gaming structure
Publishers
This is perhaps the main difference between traditional sports and esports. No single sport has a single owner, but in esports, there are publishers who release games. For instance, Valve owns Dota 2 and Counter-Strike: Global Offensive, Riot Games is in charge of the League of Legends Championship series, and so on. The publisher can sell the game or simply stop supporting it, meaning the whole esports discipline is terminated. All intellectual rights to the game belong to its publishers. It means that they dictate the rules regarding who, where, and when can play their game professionally. Therefore, publishers can establish leagues, like Valve has an esports league for Dota 2, the Dota Pro Circuit (DPC), and Blizzard Entertainment owns the Overwatch League.
Note that publishers can only influence a discipline, not the genre as a whole. For example, the shooter genre includes several disciplines like CS:GO or Valorant by different publishers. Each publisher has the right to dispose of their game as they see fit.
Tournament operators
Companies such as WePlay Holding organize tournaments in established games like Dota 2, Counter-Strike: Global Offensive, Rocket League, Valorant, and others. Moreover, tournaments can vary in terms of titles and the size of the prize pool. WePlay Holding was the official organizer of both WePlay AniMajor, a DPC Major tournament, and WePlay! Mad Moon, a non-DPC event. Follow the link to find more information about WePlay Holding events.
A tournament operator has more options for organizing the tournament. Instead of organizing events themselves, inviting teams, holding broadcasts, publishers assign these tasks to the organizers who sell media rights or get income from advertising. Find the entire list of services offered by WePlay Holding here.
Esports organizations
Like professional sports teams, esports teams involve managers, coaches, and other staff, besides esports players. Esports organizations usually encompass various rosters for different disciplines. For example, the world-famous esports organization Team Liquid has more than a dozen rosters, including the StarCraft II team. All disciplines in esports, just like in sports, are different. Therefore, just as a baseball player cannot compete in a football match, the top esports player in FIFA cannot perform as a sniper in CS:GO.
Players
Besides esports organizations and professional players, there are the ordinary gamers and streamers. They play the most popular games for their own pleasure and broadcast their gameplay via online platforms and services such as Twitch, YouTube Gaming, etc. Streamers are neither esports organizations nor publishers but act as a separate branch of the esports ecosystem. Unlike esports organization players, streamers don't receive salaries, and their income level directly depends on their popularity. Streamers often advertise esports gambling and betting. While the growing interest in live stream gaming is undoubted, streamers can earn a lot or not a single dollar for years.
Esports viewers
Esports fans or just spectators are the largest groups in esports. They watch matches, cheer for their favorite organizations and players, found fan clubs, and so on. Esports continues to develop thanks to the support of fans. For example, the main Dota 2 championship, The International 10, had a peak of 2,741,514 concurrent viewers, and the League of Legends tournament, World Championship 2021, peaked at 4,018,728.
Esports is not a craze that will pass but an industry that's only gaining momentum. Take a minute to consider this: esports, like any other industry, involves producers like publishers and game developers, facilitators like esports organizations and tournament operators, and consumers such as fans and players. Plus, the product — many games and tournaments interesting for youngsters and adults alike — makes it impossible for this industry to come to naught.