Nov. 14, 2023
How to Become a VTuber, and Can You Do It for Free?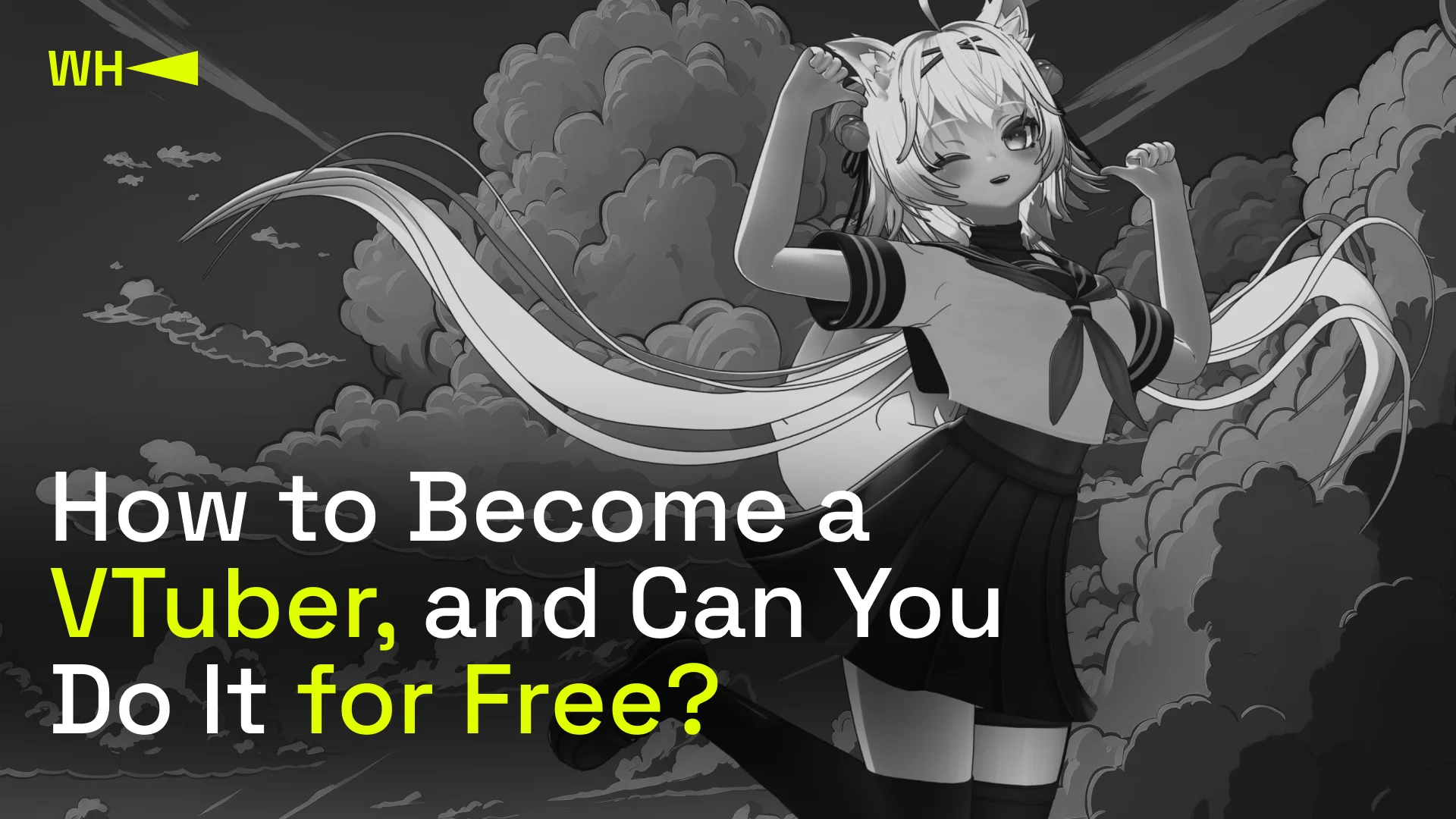 A new trend in streaming, VTubing is steadily gaining popularity, encouraging more and more content creators to express themselves through digital avatars. You can find out more about the VTuber trend in this article. And if you were looking for an opportunity to jump on the bandwagon, now is the best time — VTubing has found its fan base, but there are still many areas of niche content creation where no digital avatar is available.
The goal of this article is to explain how to become a VTuber, with an in-detail list of what you will need to start VTubing, from VTuber streaming setup to content creation, and an answer to the question: is it possible to become a VTuber for free and how to promote your channel?
The benefits of becoming a VTuber
Taking the leap into VTubing may not be easy for a regular streamer, but it offers benefits that traditional streaming can't provide. A digital avatar allows you to stay incognito online and experiment with different styles, themes, and promotion strategies. Plus, unlimited virtual tools help you unleash your creativity and stand out. Interacting with your viewers virtually, you can still express who you are.
Essential VTuber streaming setup
Becoming a VTuber can be a challenge — both technical and creative. Technical requirements include a computer, motion capture and tracking software, a motion-tracking webcam, a microphone, and other necessary equipment. Let's take a look at what you need to start your own VTuber channel and what to pay attention to when choosing equipment.
Computer requirements. How to spend less than a few hundred dollars?
PC, CPU, GPU, and RAM are all costly but highly necessary solutions. Please note that this article's goal is not to promote any particular component over all others but to discuss general tech features. If you already have a PC, you can skip this part. However, if you aren't satisfied with your equipment, you might get some insights from this section.
Let's start with the central processing unit or the CPU. When choosing one, the main thing you need to pay attention to is the cores, threads, and clock speed. Basically, the bigger the numbers, the better and faster information is processed and calculations are made. However, you needn't chase the highest numbers — they are usually directly proportional to the price of streaming software. For up to $100, you can choose a four- or six-core CPU with eight processing threads. In addition to the number of cores, quality is important, so check out the clock speed of the CPU — it should start from at least 3.5 GHz.

The graphics processing unit, or the GPU, will likely be the most expensive part of your VTuber streaming setup, but it's a necessary one for many VTubers, especially if you want to stream games or high-resolution videos. Here, you should pay attention to the RAM (it should be about eight GB) and GPU Clock Speed. The price for a high-quality new GPU starts from $300 — if you want to save money, you can take a closer look at secondhand components, but not all of them will be good quality.
Before you invest a few hundred or even thousand dollars, try streaming on your computer. You may find that your PC has enough power for it, and you can buy something better later — when you start monetizing your broadcasts.
Motion-tracking webcam. Do you need it?
Countless guides will tell you that a motion-tracking camera is totally, absolutely necessary for YouTubers. Indeed, the benefits that a motion-tracking webcam offers are usually simply amazing. For example, such web cameras always focus on the object, automatically zoom in and out, track and capture your facial movements and expressions, and guarantee the smooth transitions of your animation. All this, in addition to the simple fact that the resolution of this kind of webcam is unreal, will definitely delight your viewer. However, do not rush to add to cart — first, calculate the load that another device will create for your computer. Streaming is already quite a demanding process, and especially so for VTubers.
What alternative is there? Your phone, for starters. Of course, not just any smartphone model will work for streamers; the camera and other details are important. However, for a beginner VTuber, a phone with a decent camera will be more than enough — or at least until your channel starts bringing you money.
As you must have already guessed, you can stream with either expensive or budget-friendly equipment. Yes, with cheaper equipment, some highlights may not be that bright or soft enough. However, it's better to go step by step — until you are sure that your efforts allow you to recoup your investments, do not rush to shell out your hard-earned dollars for an over-budget tool. It's better to start creating content and streaming with what you have and analyze your needs, buying only what you feel you lack as you go.
Microphone
Since your audience won't be able to see your face, recording your voice is very important. Think about it like this: would you be comfortable talking to someone on the phone, listening to a lecture, or watching a video on YouTube if there was constant noise, echo, or sound changes in the background? The question is rhetorical — no one likes it when receiving information costs them extra effort, and your followers are no exception. So you definitely should spend money on a microphone. Plus, many VTubers use voice changers that work better with a quality mic. You don't have to buy the most expensive one, but it must record your voice clearly and cancel out background noise.
Motion capture and animation software
Without motion capture and animation software, your virtual avatar will remain just a still image. Motion capture software will help you record your facial expressions and "teach" your virtual avatar to mimic them. Both free and paid face capture programs are available for 2D and 3D models alike, and they can copy only facial expressions, or they can repeat the movements of the full body. Let's look at the most popular programs that VTubers use.
For 2D models, you can use VTube Studio, PrPrLive, VUP, Live2D, or Facerig. Many of these solutions are free. However, some software, although they offer a free version, impose some restrictions, such as watermarks, which can only be removed by purchasing a subscription.
For 3D models, use VRoid Studio, VSeeFace, or Luppet. Your choice depends entirely on your budget and level of skill when it comes to making animation look its best for viewers. Before choosing any of these solutions, watch YouTube guides and read articles from experienced VTubers. If you've never tried to create a mockup via VRoid Studio, for example, the interface may seem overly complicated to you.
Setting up your streaming software
In addition to VTuber's starter kit, you will need software for streaming. It will help you personalize your stream and add guests. OBS Studio essentially allows you to connect multiple sources of information: your microphone, your camera, your screen, etc. The most popular programs are Streamlabs OBS or OBS Projects, but feel free to explore other solutions because what suits most people may not be ideal for you.
Creating your unique VTuber persona
Now that we're done with the technical requirements, let's move on to the creative part. You need to develop your avatar. Remember that an avatar is not just a picture but a virtual personality. Therefore, think about its life story, hobbies, and habits. Perhaps you want to create a copy of yourself, a completely different person, or not even a person. Everything is important, from the name, age, and gender to origin, history, and accessories. Developing an avatar is your way to distinguish yourself: of course, you can be inspired by the style of other popular YouTubers, but refrain from copying.

Your avatar's accessories may vary depending on the video theme. First, it will make you more realistic for viewers, and second, it will help distinguish one stream from another. However, don't modify your appearance too much — think of it as a brand identity that may change slightly depending on the event but always sticks to the brand book.
Once you have figured out how you want to look in the virtual world, proceed to creating your virtual character avatar. This requires selecting from different 2D or 3D avatar styles with the help of various tools.
Choosing a VTuber avatar style: 2D vs. 3D
Both 3D and 2D avatar models are popular among VTubers. Subjectively, we can say that creating a 3D model of real people is somewhat more difficult. Plus, it will often be much more expensive if you turn to artists. However, the 3D options offer much greater detail and range of facial expressions.

Meanwhile, 2D avatars may look like cartoon characters, but they can be created much faster and easier. In addition, there are many programs where you can create your own avatar without special knowledge. Whatever option you choose, remember that your avatar should reflect the personality of your character.
Avatar creation tools and services
Many of the solutions that we discussed earlier for motion capture are also suitable for creating avatars in virtual worlds. Their only significant shortcoming is the lack of exclusivity. Prime avatars can be purchased by anyone, and this can have a significant impact on your fan base. However, most often, you can customize your character to make it a little different from the default version. Another way is to engage an artist. On platforms such as Fiverr or Upwork, you can easily find a professional who will help you create a virtual YouTuber personality for your budget.
How to create content as a VTuber
Like traditional streaming, VTubing values creativity and consistency. You must either be a professional in what you are talking about or honestly admit that you are a beginner and want to learn about the topic together with your viewers. It doesn't matter what exactly you are streaming, if you want to achieve success, you need to do it regularly, experimenting with creative ideas until you find what your audience likes.
But that's not all. It's not enough to create content to attract an audience — you must constantly interact with them on live broadcasts in the chat, in the comments under your videos, on Twitter, and everywhere. This way, you will earn the loyalty of your audience and perhaps get some insights on what topic to raise on the next broadcast.
Finding and expanding your VTuber audience
Success is not a brief moment of triumph but a long-term strategy. You've created your avatar, started streaming, and uploaded a couple of videos, so what next? You need to look for consumers for your content. To do this, you need to tell about yourself wherever people are interested. Feel free to write about your new video on Twitter, leave comments on other VTubers' pages, and promote your content across different outlets.
You can also look for other beginner VTubers with small fan bases and offer them a collaboration that will be beneficial to both. YouTube is already a community for online creators, you just need to search it to find a point of entry. Forums, events, and discussions on Reddit are where you can express yourself and connect with potential subscribers. However, don't forget what we talked about earlier: it's not enough to attract an audience, you need to hook it with something so that it continues coming to your streams and follows you on social media.
How to monetize your VTuber channel
If, at first, monetizing a VTuber avatar seemed unrealistic, more and more marketing cases with VTubers are appearing now. The very form of virtual avatars seems a less risky solution for many brands. During the pandemic, for example, advertising through an online persona has become the easiest opportunity to record a promotional video online without physically meeting.
Plus, if your channel is popular enough or has a loyal fan base, you can collaborate with different brands, run ads during streams, and collect donations. In addition, you can lead your own project, sell merchandise, or create an entire virtual concert, because the possibilities of the digital world are endless.
Summary
Starting your own VTubing channel is like going on an amazing digital journey. Yes, you may not succeed in everything right away, but as with any skill, practice is the key to success. Let's summarize everything we talked about today.
What does it take to become a VTuber?
You need a computer, camera or phone, microphone, and motion capture software. These are the minimum requirements. Other things like a green screen, motion-tracking cameras, and expensive VR software to track your whole body can be bought later if needed. In addition to the technical requirements, you need to pay attention to the creative part. Think your VTuber avatar through from A to Z, prepare lore content that will pique the viewer's interest, and experiment with formats.
Can I become a VTuber for free?
Assuming that you already have a PC and a camera, the answer is yes. A lot of motion capture software for virtual YouTubers is free. Remember that investing in equipment is better done wisely, so don't rush to buy a new microphone or software. Try to start VTubing with what you already have and see the result.
Best luck to you. Becoming a VTuber is a long process and not without its challenges, but if you decide this is your passion, you will most likely succeed.