Nov. 12, 2020
How Esports Will Become the Future of Entertainment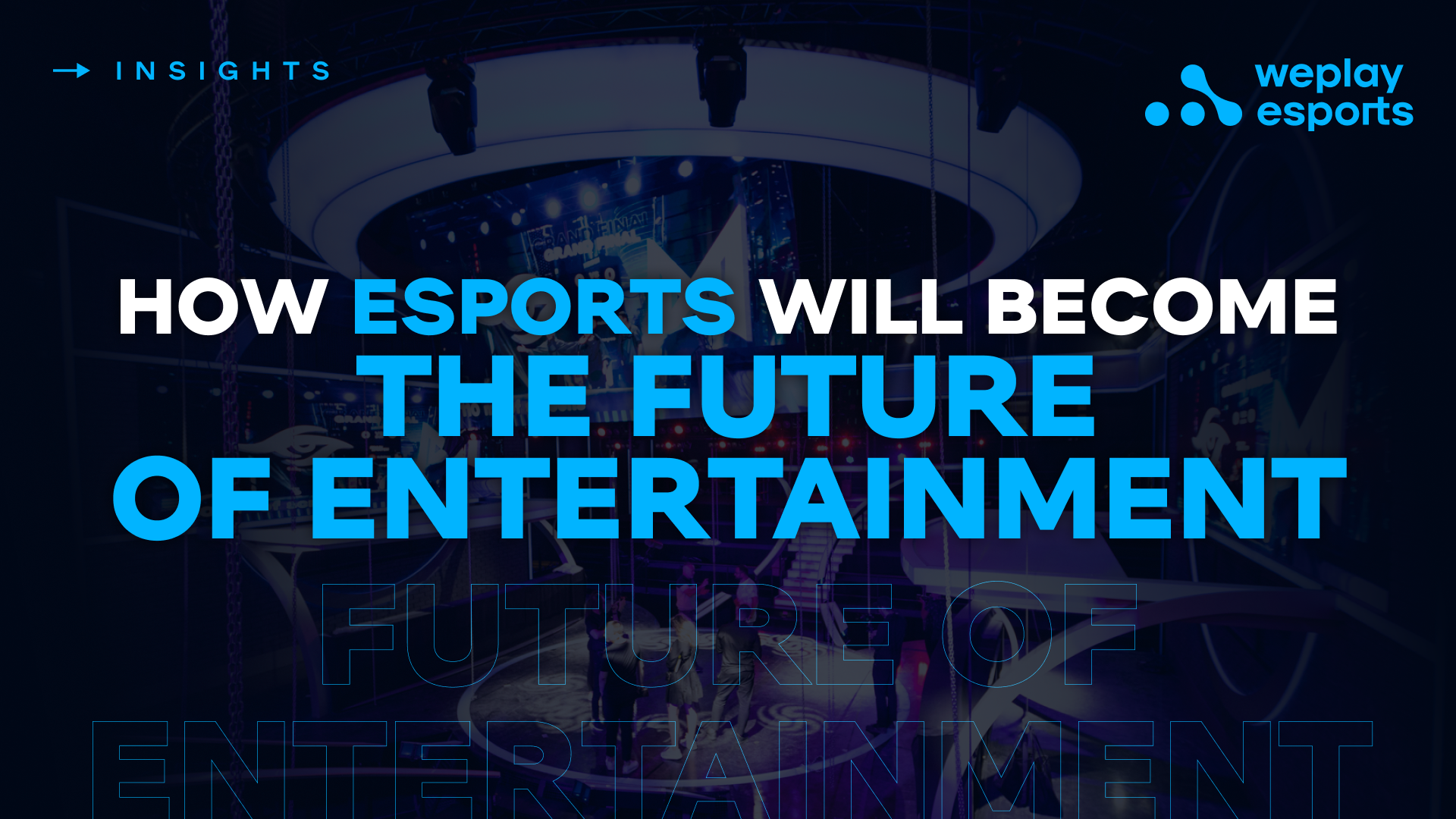 Or how entertainment will have to adapt in order to keep up.
The esports industry grows at a furious pace; it really is a phenomenon. Video gaming has become such a big entertainment industry in the last ten years that non-endemic brands, such as Coca-Cola and Red Bull, have been investing in this market for years. To give you a small idea of what happened, four years ago — I mean, in 2017 — the esports market has experienced a 38% growth (and remember: That was FOUR YEARS AGO!). In 2022, it's projected to grow by over 15%/year in the light of the last 4 years, even with 2020's pandemic. That means esports is really getting more and more exciting. Streaming platform Twitch is one of the most valuable companies in the world, just like a meteorite. Each year, the esports industry growth quickens, leading people to wonder what the limit is.
The esports scene is already a major feature with consolidated popularity. Games themselves had their slice of the pie even when offline, but with the advent of esports events, that became so much bigger. The general concept of gaming events means a product both played and watched, creating an interesting parallel between the gaming community and the audience. People who play video games at an average level can be amazed by what professional play is made of while trying to reach that same level themselves.
Esports leagues are a reality across virtually the whole globe; media partners can vary from dedicated gaming companies to non-endemic marketing, as mentioned before. Esports are the living future. But which path will its future take?
Are esports the future of traditional sports?
The answer to that seems to be "no". They're two different things in the entertainment business. While esports have their advantage of not needing physical contact, that's exactly what makes traditional sports fantastic. Gaming and esports can have their market shares without bothering each other; however, if we think about the entertainment industry, it's not unreasonable to think that esports revenue, fans, and platforms will eventually overcome the traditional sports — and media — status quo.
The esports ecosystem is fundamentally similar to traditional sports: fans cheering, people playing, and different layers of accessibility — to be a gamer, you have to have the required equipment; to become a traditional athlete, you need to overcome physical restrictions. The industry has those big popular games and the ones liked by fewer but nevertheless dedicated people (such as Heroes of the Storm). Teams and leagues are alike as well. What is fundamentally different here is the product, but both kinds of competition can have the same public. Esports is not a direct outcome of traditional sports' evolution, but a part of it.
Are esports the future of entertainment?
This is much more plausible. With a huge revenue, the esports market is attracting more and more fans, and they can turn off the television during an NBA match to watch their favorite teams play League of Legends. In fact, many are already doing it.
Esports fans can be very passionate — another similarity with traditional sports. However, they tend to be a more engaged audience, given the format the esports industry works: through broadcasts on Twitch and other streaming services, while spectators can chat and comment in real time.
More than that, esports viewers aren't limited by a country and even by language restrictions. You can watch a stream anywhere in the world, and while the same can be done with television, it's usually not; this fosters a more endemic media rights policy because not many people from abroad — who could directly benefit from a generic commercial — will actually watch it.
That same logic, however, can be applied to other entertainment businesses such as movie and music streaming. While the impact of esports and that kind of business is naturally reduced, we can admit that esports will be the future of live media — live broadcasts and shows. With over 2 billion total hours watched around the world, as of January 2020, Twitch alone carries a significant message about what will come next in the entertainment business. The scary thing, however, is this: the other platforms aren't irrelevant. Facebook Gaming, for instance, totaled 432 million hours in the same period. The revenue stream for a big figure is astronomical. Projects like WePlay Esports can help consolidate that unescapable future, being a platform that englobes gamers, audience, and media.
And what is the future of esports?
Given its own competition to adapt, esports will still have to improve in many ways in order to keep attracting teams, audiences, and gamers. A problem with games and leagues such as Dota 2, Counter-Strike: Global Offensive, Overwatch League, and League of Legends is that their professional circuit is often too repetitive, with the same professional players playing the same games. R&D must work hard in order to keep up with Gen Z's fast likes-and-hates, and therefore, games have to keep challenging themselves to change.
Another potential problem is keeping the prize pools big enough to motivate professional players to pursue them instead of just getting revenue from their streams. Playing a video game in front of a crowd can be challenging; when the viewers are gamers, most of them want to be in your place and the competition and pressure can be quite overwhelming. A good way to keep players motivated is by simply saying: well, games will now pay you more.
However, this second challenge seems doable, especially when COVID-19 fades away. From media rights to ticket sales, teams and companies will have access to those increased prize pools all around the world.
Maksym Bilonogov of WePlay Esports Talks About Esportainment
"We had to find a completely different and fresh solution to differentiate ourselves as a TO."
The original post can be found here.
WePlay Esports has carved out an identity as an esportainment company. It organizes esports tournaments with unique themes that draw on different aspects of the entertainment industry to create a coherent vision for its events.
Hotspawn had the pleasure of chatting with Maksym Bilonogov, chief visionary officer and general producer at WePlay Esports, to better understand how the company has distinguished itself from other organizers in the industry.
Hotspawn: I'm interested in the decision to give WePlay Esports' events such a distinct identity. The organization has captured a niche in the market for having themed events, online and off. Can you talk a little about why WePlay Esports has chosen to go in this direction, all in on themes?
Maksym Bilonogov: Well, if you look at esports globally, tournament operators and the events themselves don't really differ all that much from one another. Market players compete through prize pool size, tournament number, locations, their promo/advertising videos originality — but it all still relates to the same area.
We had to find a completely different and fresh solution to set ourselves apart from the rest.
Initially, we had no desire to compete in terms of our financial capabilities, the number of events we could host, or their scale — we wanted to follow a totally different path. The solution opened up in the form of a creative approach to studio broadcast concepts and themed LAN events.
HS: How does positioning yourself as an esportainment company affect the approach of a tournament organization?
MB: To be honest, the 'esportainment' term came to us after we'd already been doing tournaments in our original style for some time. First, we thought through the entire process of how we'd be bringing them to life: the team that does concept creation for the events seriously influenced the company's decision to develop in the creative direction. I think it's a breeding ground for a creative team since we all came from the world of movies and stage. For us, it just makes sense to have set decorations, a screenplay, and original costumes.
In the beginning, the most important thing was to put casters and analysts into a story with a certain vibe and then do our best to make the audience feel the vibe through the screens. After we figured out the general concept for how we'd be making our events, it occurred to us that 'esportainment' is a perfect fit to describe what usually happens on WePlay Esports' live broadcasts.
HS: What makes a good theme for a WePlay Esports event? How do you decide on one?
MB: Anything can make a good theme for our tournament. It might be some event, movie, holiday, time of the year, picture, a style of clothes, an entire historical epoch, and so on. But it's also important for the concept to be standalone, sustainable. You know, we want the audience to get the idea conveyed and feel the specific emotions evoked by it.
Ways to unleash the vibe of each event can be different: we use decorations, music tracks, filler stuff we record beforehand, the look and feel of the casters, their behavior on camera, communication style — slang and even the pace of their speech. Coloring and lighting design surely helps to set the tone, too, both in studio broadcasts and at LAN events. Depending on what we want to show our viewers and what emotions to bring out, of course.
At the Reshuffle Madness event in 2018, we used additional characters like a DJ, barmen, as well as extra props like cocktails, flamingos, things people usually use during summer/beach vacations in order to create the atmosphere. We are very meticulous when it comes to thinking these things through for each of our events, as they help to shape the vibe for the audience and help them get a sense of the theme.
HS: Are there certain esports that have been easier or harder to match to good themes?
MB: I feel like the esportainment format has no limits or barriers — everything's possible here, for any esports and concept. What's important is that you need to justify it properly. I mean, you need to have a clear set of goals. Some actions need to happen onscreen and happen for a reason, they should be definitely motivated. I'm sure that this approach lets you create and justify any needed concept or idea for any esports. When you link the idea with the key perception points, neither viewers nor talents will question why you do anything in one way or another. For our team, it's a challenge in its own way — finding a concept that does not seem fitting for a certain esports game and trying to blend it all together to make the audience love it.
HS: How does having a theme inform production leading up to the start of an event? Does it help to have that kind of direction informing decision-making or does it make each event more complicated?
MB: The concept of each tournament WePlay Esports does is born in the production department. The creative team usually only gets the dates and game of the event in the first place and after that, we start working on the theme. The event theme is a starting point of the entire production pipeline — only when we have the theme worked out can we move to the next steps. In general, we describe the whole story, costumes, stage design, visual image, filler content in detail. Plus, we need to determine the direction — whether it's going to be an educational or a purely entertaining event. That's also when we decide on the tone of voice — how we're going to communicate with the viewers during the event. When the process is done, the production team presents the tournament concept to other departments of the company — marketing, design, SMM, and they pick the idea up and develop it on their levels.
HS: Shifting gears a little bit here, how have talent/players responded to the theming? Are they cooperative about producing the themed content ahead of time? Do they enjoy the costumes?
MB: I think that during our first tournament in esportainment style, Reshuffle Madness in 2018, the invited talents felt a bit weird and awkward, as they'd never faced anything like this before.
But once they got used to the new roles, they felt more comfortable with them and the entourage which helped them relax. Sometime after, when we have hosted several events in various styles, everyone is now used to the fact WePlay Esports does everything in a brand-new, unorthodox, out-of-the-box manner. For instance, now, when talents hear about an upcoming event, their interest immediately skyrockets: "What will the concept be? What roles will I have? What costumes are we going to have? How will we communicate with the viewers?"
Our in-house talent participates in the development of the event theme together with the creative team. For example, while preparing for the first season of Forge of Masters WePlay! League for CS:GO, we involved them from the very start of the discussion: asked for their opinions, what they'd like to add or remove. Talents feel the audience very well and know what they want, and that synergy helped us to please the viewers. We got a lot of positive feedback about the nontrivial thrilling show, both during the live broadcast of Forge of Masters and LAN finals.
I remember when we were preparing for WePlay! Artifact Mighty Triad: Strength, the invited talent crew were very surprised because we brought them to a warehouse to make a promo video. We spent the entire shooting day there. First, they felt a bit odd but still liked the fun aspect of it. When the same guys came back for the second event of the series, Artifact Mighty Triad: Agility (where we had the circus theme), they were already familiar with our creative approach. Not only did they understand what was happening on the stage and in the studio, but they were also really interested in the event concept and wanted to actively participate in everything.
HS: In terms of the pre-produced filler content that isn't from the talent involved in the event — I'm thinking here of the Circus pieces during WePlay! Artifact Mighty Triad: Agility event — How do you go about producing that content? Did you happen to have connections to contortionists, etc.?
MB: First of all, many years of working and professional education in the industry gives you many possibilities for bringing your ideas to life. Besides, since I'm the chief visionary officer and general producer in the company, I have a lot of network ties in the creative area — movie, theater, circus, animation. For instance, one of my university friends comes from a circus family: his sister appeared in Cirque du Soleil. We asked her if she wanted to partake in the tournament broadcast, and she agreed as she really liked the concept.
Or, for example, the jazz band that we had playing during WePlay! CS:GO Lock and Load. Before the event started, they already split into several solo projects but after finding out what we had in mind for the event, they got inspired with the idea and decided to come and play for us together once again. And I'm infinitely happy that they, in particular, played at the event — it was wholesome and befitting music with proper delivery, which perfectly fit into the theme and added to the visuals.
Artistic people who we involve in WePlay Esports tournaments love the idea and creativity above all else — that's what drives them. Their desire to be a part of it draws them into the project.
HS: I want to ask about the upcoming Dota Underlords event. Does the game itself having a story and theme help? Any hints about what we might expect?
MB: As we developed the WePlay! Dota Underlords Open concept, our team dived deep into the game itself, the story of relationships between the characters. One of our screenwriters found a narrative showing confrontation of the gangs within the game: they battle, fight each other, and this entire action happens against a rather dark underground backdrop. We thought "Hm, it resembles a shady backstreet club" and decided to make a tournament in a syndicate theme, which was already slightly hinted at in key visual for the event. We'll add up some emotional atmosphere of a clash of gangs to the educational content of the new game. The confrontation theme perfectly resonates with the open qualifiers for the event — anyone could take part in the qualifiers and make the world take notice of them. I believe it's going to be a fun and perfect mix of education, entertainment, and competition.