March 3, 2023
Five stage design ideas WePlay Esports brought to reality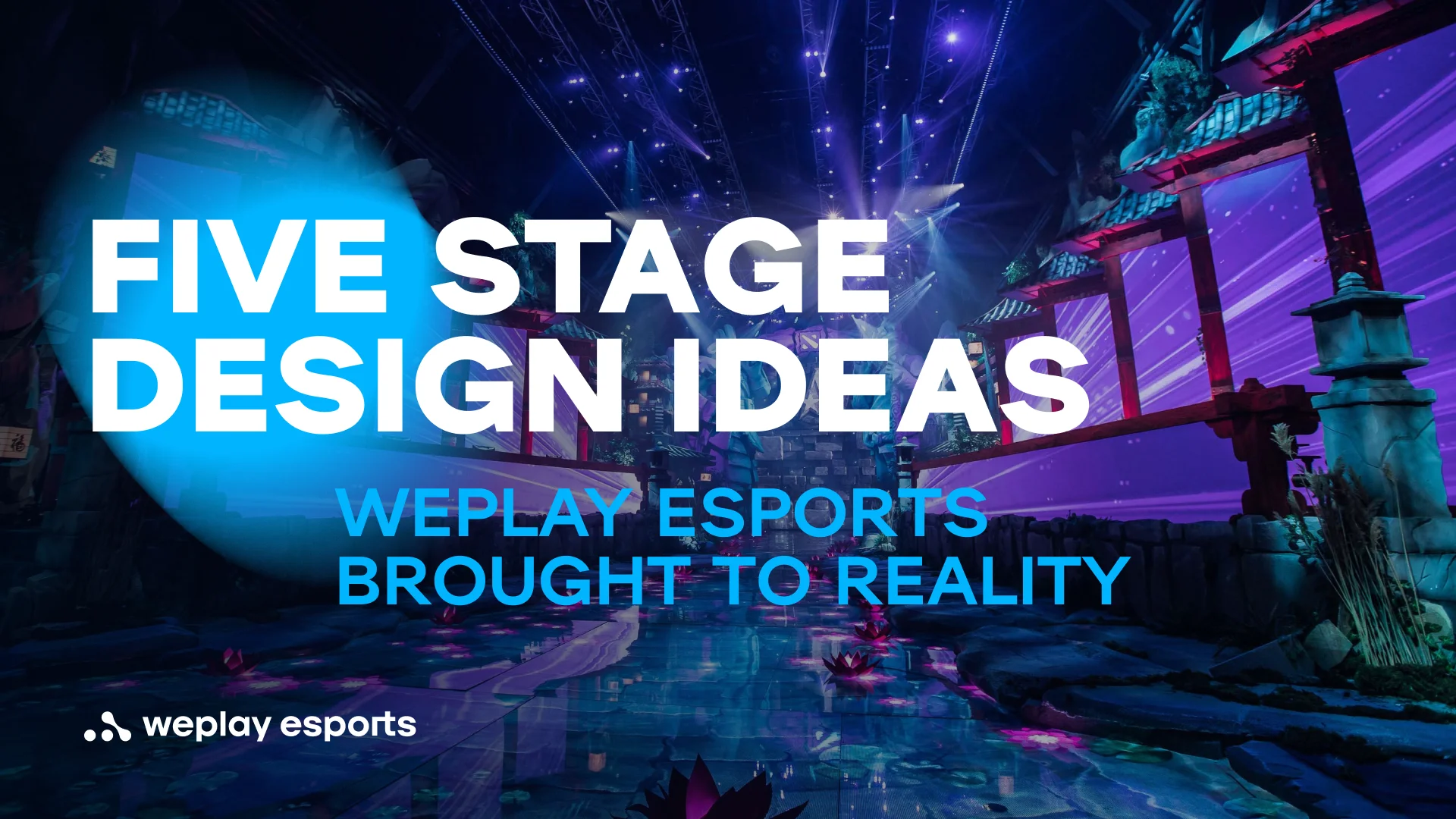 Stage design, including lighting effects, background, and other visual elements, sets the tone for events. Through creative stage designs and smart solutions, specialists can make viewers feel like they are part of something important and impressive. Not only can a good stage design beat "Zoom fatigue" — it can also make an event stand out from the crowd.
Overall, stage design plays an essential role in creating the atmosphere of an event, whether it be virtual or in-person. So here at WePlay Esports, we keep raising the bar so each event space we set up is one that attendees have never seen before.
This article presents five stage design ideas developed by WePlay Esports specialists. So, if you are looking for inspiration for your event stage, let's get straight to the point.
WePlay Dragon Temple: a custom-built arena
From December 10 to 13, 2020, the best fighting game players gathered at the WePlay Esports Arena Kyiv to test their might on the fiery stage, with a grand prize of $60,000 up for grabs. It was held in the custom-built arena, and the organizers were determined to make it a truly spectacular experience for both players and attendees.

To bring the event goal to life, the WePlay Esports team did its best to transform the arena into an evening Asian town, complete with pagodas, rooftop dragons, red and yellow paper lanterns, blooming trees, and a fighting ring in the center. The attention to detail was impressive, and the atmosphere was electric. Players and attendees alike were fully immersed into the venue, one where the only thing that mattered was the fight ahead.
WePlay AniMajor: event theme — anime
The event theme required careful consideration — there were concerns as to whether the theme would turn off viewers who aren't into anime. However, WePlay Esports managed to create a stage that appealed to both hardcore fans and those who were new to the genre. At the heart of the setup was a massive stage that was a whopping 45 meters long and over 11 meters high, decorated with dozens of LED screen panels and strobe lights that helped bring the anime theme to life. But it wasn't just the size and the lights that created the immersive atmosphere.
It took a staggering 4,500 work hours to set up the scene, with WePlay Esports incorporating a Dota 2 adaptation of a famous anime valley with two ten-meter Juggernaut and Monkey King statues into it. Special tech staff and climbers were involved in assembling the decorations, furniture, and scenery props such as stones and Japanese-style houses were painted using airless puttying tools. In total, WePlay Esports used 25 tons of metal, several kilometers of LED strip lights, and 600 m3 of foam plastic to create one of the most recognizable esports event settings. Even though the stage incorporated many elements, the team managed to avoid the feeling of mass chaos — on the contrary, the picture came across as holistic and sophisticated. WePlay Esports actually built several zones: a gaming zone in an anime-themed valley where the teams fought, an analytics studio in a ramen shop, and a separate studio for the English-language broadcast in a Japanese pagoda. Just about a month was all the team needed to develop and build it all.
Since WePlay AniMajor was held without attendees, the company's focus was to maximize engagement. To engage the audience, the organizers used cutting-edge tools such as augmented reality (AR). In-game characters would appear on the WePlay AniMajor stage, providing almost complete immersion for viewers at home. Plus, tech specialists developed an AR map for analytics where they could draw in real-time to demonstrate the statistics of matches easily. Stage designs, decor, and sound altogether provided a memorable event space where the audience feels completely engrossed in the mood of Dota 2 and anime.
WePlay Esports Invitational featuring Rocket League: car racing world
WePlay Esports is known for bringing a sense of excitement, and their WePlay Esports Invitational featuring Rocket League was yet another example. Inspired by a hi-tech car racing garage, the team behind the event designed a stage that captured the excitement and precision of racing action.
The event theme was transmitted through stage design, with racecar-inspired lighting and sleek, modern stage designs creating a futuristic feel that set the competition apart from others held in esports venues. The use of innovative stage designs helped engage attendees and create a memorable experience for both players and viewers.
Besides the high-tech props, the event featured two extraordinary masters of ceremonies — robots named Left and Right who would interact with each other and the audience, making jokes and expressing emotions of enthusiasm and amusement through their screens. This added a unique and entertaining component to the event. But the robotic hosts didn't take the jobs away from people. Analysts sat at a table that was mounted on a 360-degree rotating platform — a unique and intricate construction that found its place on the stage, too.
One standout moment of the competition was when the two robots assembled a car for a race. This pit-stop-style event was a technological marvel, with special effects and state-of-the-art technology used to create fun memories that captivated the audience.
WePlay Ultimate Fighting League: AR creates visual interest
The WePlay Ultimate Fighting League was a milestone event for WePlay Esports in the fighting game segment, combining three disciplines and aiming to set a new quality standard for a fighting game tournament.
The event stage design was carefully crafted to create a truly immersive experience for viewers, with the team working tirelessly to create a backdrop that would engage attendees and capture the emotion and spectacle inherent in fighting game disciplines. During the breaks between games, viewers could watch commentators conversing with augmented reality (AR) game characters chosen by the participants. These characters would actively move around the arena, gesticulate, and interact with people.
Partnering with professional cruiserweight boxing champion Oleksandr Usyk, the WePlay Esports team also held the Ultimate Boxing Night as part of the project. For this event, the WePlay Esports team transformed the arena into a boxing venue, using carefully elaborated stage design and lighting to create the atmosphere of a boxing event that's familiar to everyone. Every detail was crafted with great care to create an unforgettable experience for both the fighters and the audience. The results were great, the tournament gathered a peak 24,709 viewers with 670,390 hours watched.
NFL TNG: limitless event stage
In 2022, WePlay Esports became the official production partner of Enthusiast Gaming for NFL Tuesday Night Gaming, an exciting live-streaming show featuring NFL Legends, stars, and top gaming content creators competing in popular video games.
When designing the event stage for NFL TNG, WePlay Esports focused on using lighting to draw the viewer's attention to what was happening on the set. The team also developed a unique backdrop that was visually appealing to the show's audience.
To make the stage design more impressive, WePlay Esports implemented AR elements and used XR technology to expand the stage. The smaller stage space was transformed into a sprawling expanse through the use of advanced technologies, creating a seamless and impressive experience so viewers could feel like they were part of the project. Depending on the time of year and occasions, the studio design changed — for example, wintry decor marked the advent of Christmas, and so on.
Overall, WePlay Esports has demonstrated time and time again their ability to create innovative stage designs and backdrops and capture the emotion of esports and gaming events.

Stage design is an essential aspect of any event, be it the WePlay Esports Invitational featuring Rocket League, the Ultimate Fighting League, or NFL Tuesday Night Gaming. The event stage should both be engaging and provide an additional way to display content. Inspired by thousands of ideas, good stage design can bring its creators academy awards and the loyalty of fans.