Oct. 31, 2021
Esports Revenue: how much is the industry worth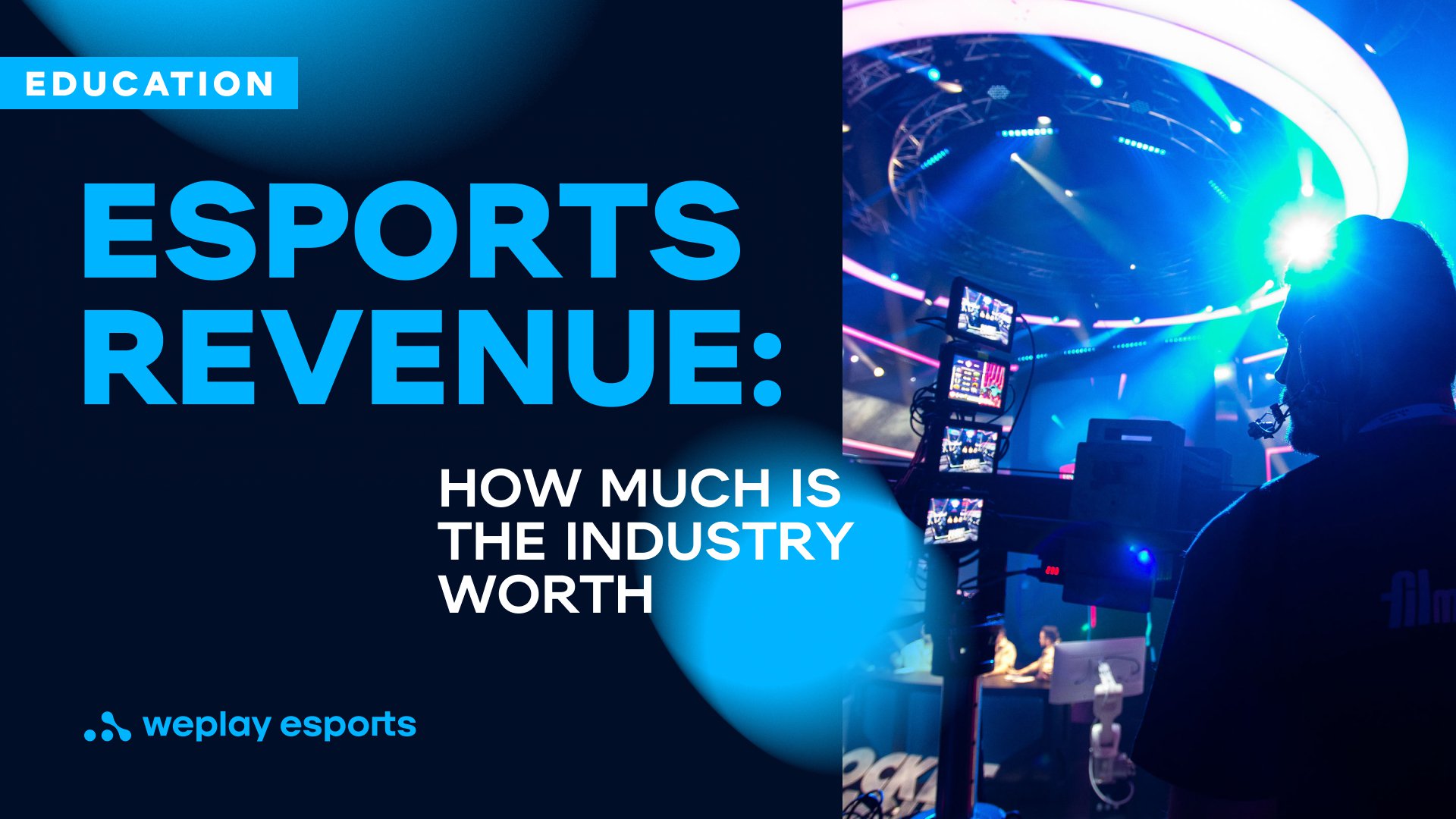 Newzoo expects the esports revenue to increase with esports and gaming being exponent all over the world.
Over the last few years, the esports scene has been truly booming. Between brand deals, growing viewership, the formation of esports organizations, and media rights, the industry has exponentially increased. In addition, industry professionals have done their best to maximize its revenue. If esports keeps this up, it has the potential to be just as profitable as any traditional esport, if not more so.
The esports audience in streaming platforms is worth noting. The annual growth rate between esports enthusiasts is increasing so much that revenue streams provide are an important number to keep our eyes on. On average, Newzoo expects the esports revenue to increase dramatically this year (2021), with esports and gaming being exponent all over the world, and relevant audience growth in places such as Latin America and Middle-East Asia.
High esports revenues mean better tournaments and more entertainment options, which increases esports revenues themselves. This endemic circle knows no borders, and it's difficult to predict how much more than the current $1.1 billion esports revenue we have now.
Esports Industry Revenue
Keeping track of an industry's revenue is an invaluable way to monitor growth, and the esports charts have always been particularly impressive. For an industry people don't take very seriously, esports have made some incredible leaps and bounds. In 2020, the entire esports scene generated $947.1 million in revenue. By the end of 2021, Newzoo Global Esports and Live Streaming Report expects the industry to reach $1.1 billion. That's an impressive 14% growth for the esports market.
Even with the COVID-19 pandemic setback, the global esports scene didn't shrink. Streaming platforms empowered their content creation and possibilities, and the esports audience keep breaking record after record. Many people had contact with the esports market recently, providing a myriad of advertising options with the increased viewers worldwide.
Esports Industry Growth
Speaking of revenue increases, the growth potential of the esports industry is absolutely astronomical. Economic professionals expect the global market to get as large as $1.62 billion by 2024.
If you compare this to traditional sports, too many people will have the audacity to say esports still doesn't matter. However, esports is keeping up with conventional sports growth, according to Statista, and have a lot more room for potential as the mainstream opens up to esports. After all, most money from traditional sports isn't precisely from attendance or prize money alone, and neither will esports as they grow.
For comparison, not only did MLB increase by a similar 14% from 2018-2019, but instead of increasing again from 2019-2020 like esports, their revenue dropped significantly from $10.37 billion to $3.66.
It simply proves the longevity of esports that a significant world event didn't negate its forward progress nearly as much as other traditional sports.
Esports vs. Sports Revenue
Currently, many of the top traditional sports revenues sit in the billions. Let's give a shortlist of the reality of those monetary situations:
National Football League (NFL) - $13 Billion
Major League Baseball (MLB) - $10 Billion
National Basketball Association (NBA) - $7.4 Billion
Indian Premier League (Cricket) - $6.3 Billion
English Premier League - $5.3 Billion
National Hockey League (NHL) - $4.43 Billion
Comparatively, the esports industry currently sits on the lower end of $1 billion. Granted, organizations like the MLB haven't been there since the 90s or early 2000s. However, baseball began in the 40s, and the MLB was organized in the 70s. So they've had a lot more time to figure out and grow their business. On the other hand, Esports only properly started organizing in the mid-2000s, giving them a much shorter timeline. So, considering that, their growth (compared to traditional sports) is even more impressive.
Global Esports Brand Deals
One of the most effective ways that esports earn their money is brand deals and sponsorships. Whether it's team-wide support, exclusive tech deals, or jerseys covered in Mountain Dew's logo, these brand deals have fueled esports organizations and made them stronger than ever before.
Brand deals break down into endemic and non-endemic. Endemic sponsors are related to the industry they're supporting (see some titanic sponsors like Intel or Alienware). Meanwhile, non-endemic brand deals are companies sponsoring esports teams despite not being related to the industry. This includes some top sponsors like Red Bull, Comcast, Honda, Marvel, and many more.
Broadcasting/Media Rights
As esports grow in popularity, so do the importance of broadcasting rights. At first, it mainly applied to Twitch and Youtube, the kind of streaming services where people expect esports to broadcast. For example, Twitch paid $90 million to stream the initial two seasons of Overwatch League. After that, YouTube bought exclusive media rights to Call of Duty and Overwatch from Activision Blizzard in 2020.
In the past few years, more mainstream services have started to turn their eye towards esports. For example, 2017 saw Hulu buying media rights from the ESL to air CSGO events and tournaments.
Similarly, CS:GO's ESL and DreamHack contracted with Blake Broadcasting to globally air their esports tournaments. This includes the US, Canada, and Asia (but excluding China).
Esports Organizations and the esports market
The esports industry is solid and structured because of the backbone professionals built it on: esports organizations. These organizations work throughout the industry, building teams for FPS, MOBA, fighter, and other competitive games.
These esports organizations have the top revenue in their leagues as of 2020:
TSM. Value: $410 million
Cloud9. Value: $350 million
Team Liquid. Value: $310 million
FaZe Clan. Value: $305 million
100 Thieves. Value: $190 million
Organizations make their money through a hybrid of brand deals, merchandising, and tournament winnings. As a result, they help sustain the world of esports and grow it over time.
Merchandising
While not as impressive as media rights or brand deals, merchandising is still a big part of any marketable sport or entertainment. Esports professionals know this, and they ensure that they capitalize on the unique two-pronged opportunity to merchandise their esports teams as well as the games themselves.
Take League of Legends. Fans not only can buy a 100 Thieves jersey, but they also can get a Poro plush, supporting their favorite esports games two different ways.
Merchandising matters to esports organizations because jerseys and fan-focused content like apparel and stickers help expand their audience. Also, it gives already existing fans an outlet to show their appreciation for the teams they love.