Oct. 29, 2021
WePlay Academy League: to esports future we contribute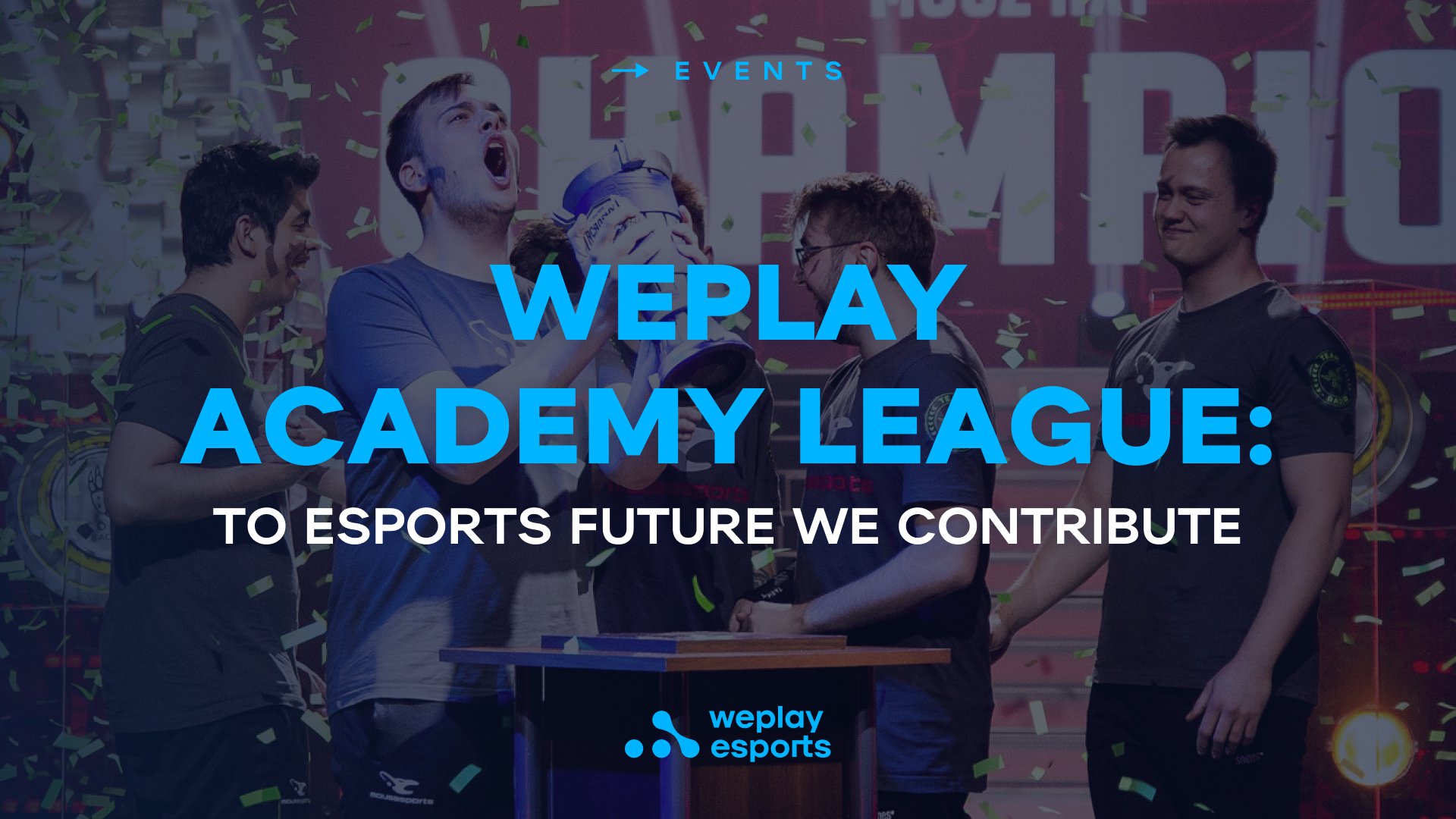 Why the tournament operator has created a junior CS:GO series of tournaments, what for, and what's next — let's figure that out.
In October 2021, esports organization Fnatic announced that 19-year-old player Iulian "regali" Harjău would play in the main CS:GO roster during the Elisa Invitational Fall 2021. Perhaps this news would not have attracted so much attention if this was not his first play in the main roster — and already in such a high-level tournament.
Ilya "m0NESY" Osipov (NAVI Junior) is also currently making a lot of noise on the esports scene. According to Esports Charts experts, the young man's transfer cost is already more than $300,000 — despite the fact that he has never faced Tier-1 CS:GO rosters.
They and several dozen young players are united by the fact that they are the first "graduates" of the WePlay Academy League, a CS:GO tournament circuit for youth rosters. The project was only founded a few months ago and has already revealed several rising stars of the discipline.
Everything starts with a gap
About 10 years ago, tournament prize pools were considered the main source of income in esports. Some players also made a profit from contracts concluded with individual esports organizations, however, the salaries were not very large. With the growing popularity of esports, increase in the number of sponsorship projects, and the support of game publishers, esports entered a new stage in its development: tournament organization have become more impressive and high-quality, prize pools have begun to grow, and teams have become more serious about recruiting and preparing their lineups.
Today, in esports, there is a full-fledged market for players and talent, which, even with an imperfect system of regulators, conducts multimillion-dollar transfers between organizations. However, with this leap in development being so powerful and fast, a new problem has emerged — the lack of experienced players.
Esports organizations are in no hurry to put "green" players in the main rosters due to the high risks associated with their inexperience. Tournament regulators do not allow to enter several squads from the same organization into a tournament, and therefore only a smaller number of players can prove themselves in the game against other teams. At major esports events, we mostly see the same faces.
In traditional sports, academic leagues are solving a similar problem: teams put up their junior squads so that they can boost their skills. In esports, such projects are mainly one-time initiatives of individual organizations, they are not a regular occurrence.
Why is the WePlay Academy League?
One of the first attempts to introduce academic leagues in a regular format happened in 2019. That year, WePlay Esports hosted a CS:GO league for Tier-2 teams, WePlay! Forge of Masters, within which players could compete with each other and gain knowledge. The project lasted two seasons and showed that such a format was also necessary for Tier-1 junior squads. The initiative to establish such a league came from esports organizations.
The pilot season was announced on July 7, 2021. The series of tournaments was launched by WePlay Esports in partnership with esports organizations to establish a regular platform for up-and-coming players where they could gain all the basic knowledge they needed to become the next CS:GO stars: from how to communicate with the opponent team to how the media days work.
To participate in a WePlay Academy League Season, a squad should consist of at least four players aged between 16 and 20. One player per team aged over 20 is allowed.
WePlay Academy League Season 1
The first game took place on July 19, 2021. Season 1 began with an online round-robin Group Stage, where the participating teams faced each other twice.
Participating organizations of Season 1:
NAVI Junior
Young Ninjas
MOUZ NXT
BIG. OMEN Academy
Astralis Talent
VP.Prodigy
Fnatic Rising
FURIA Academy
After the first stage, MOUZ NXT, BIG. OMEN Academy, and Young Ninjas advanced to the double-elimination Playoffs, while VP.Prodigy, NAVI Junior, and Fnatic Rising entered the Gauntlet stage to fight for the remaining slot in the Playoff Stage. FURIA Academy and Astralis Talent were eliminated.
The Gauntlet stage took place online on August 7–8. In total, three matches were played within the stage, as a result of which Fnatic Rising reached the Playoffs. VP.Prodigy and NAVI Junior took their respective fifth and sixth place in the competition.
The Playoff Stage was held in LAN format on August 27–29 at the WePlay Esports Arena Kyiv. All participating teams (Fnatic Rising, MOUZ NXT, Young Ninjas, and BIG. OMEN Academy) arrived in Kyiv, Ukraine, to take part in the Academy League Season 1. In the grand final, MOUZ NXT became the first champion of the WePlay Academy League, defeating Young Ninjas in the last round. The total prize pool for the season was $100,000.
WePlay Academy League Season 2
The second season of the league kicked off on September 28. With the same list of participants and a total prize pool of $100,000, the format had a significant change. This time, the Group Stage was held with two GSL groups.
As the result of this online stage, Young Ninjas and MOUZ NXT moved on to the double-elimination Playoff Stage, and FURIA Academy together with Astralis Talent got eliminated from Season 2. The remaining participants moved to the Last Chance Group, which took place on October 7–9. After five series of matches, NAVI Junior and BIG. OMEN Academy earned their spot in the Playoff stage.
From November 12 to 14, the WePlay Esports Arena Kyiv hosted the double-elimination playoffs. Team MOUZ NXT, the champions of the WePlay Academy League first season, won the second season too by defeating NAVI Junior. Young Ninjas took third place, beating BIG. OMEN Academy.
WePlay Academy League Season 3
The third season began on January 3, 2022. The pool of teams has increased from eight to ten, with Team Spirit Academy and Eternal Fire Academy joining the league. The group stage was played online, with the ten teams playing each other in a double group system. Based on the online stage results, teams BIG. OMEN Academy and MOUZ NXT qualified for the double-elimination playoffs.
Teams Fnatic Rising, Astralis Talent, FURIA Academy, VP.Prodigy, NAVI Junior, Eternal Fire Academy, Young Ninjas, and Spirit Academy moved on to the Gauntlet stage, which took place on January 14–16. After three days of competition, teams Astralis Talent and Spirit Academy won the last two available slots in the playoff stage bracket. The final will take place online from February 11 to 13, and the total prize pool, as in the league's previous two seasons, is $100,000. WePlay Esports has decided to hold the playoffs in the same online format as the WePlay Academy League Season 3 group stages, considering the situation on the Ukrainian borders and the complex epidemiological situation due to COVID-19. The decision was supported by the playoffs participants.
WePlay Esports is broadcasting the league in English and Russian on Twitch (EN, RU), YouTube (EN, RU) and Smart TV app.