March 8, 2022
Women in esports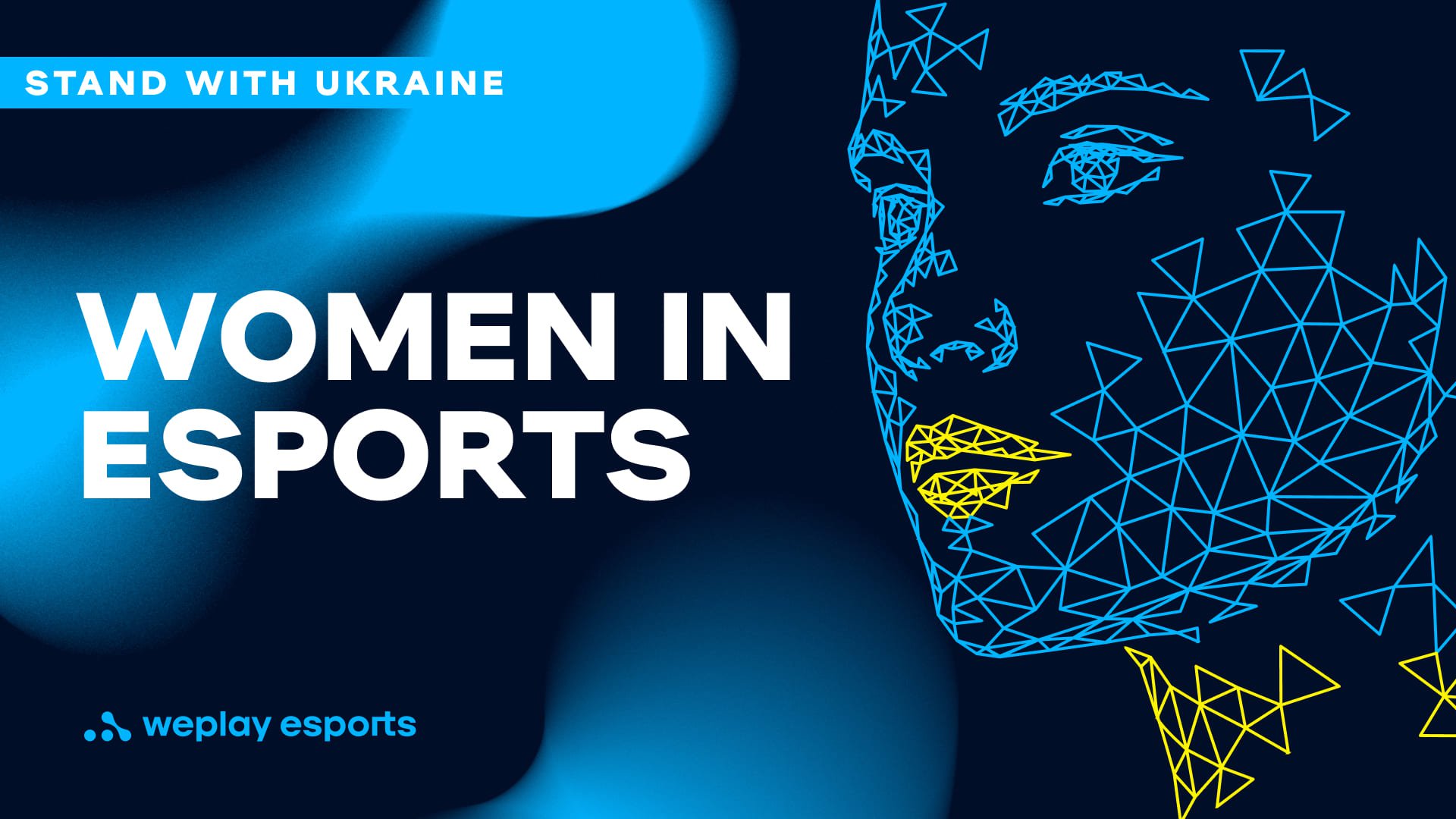 On esports without gender bias and the efforts of women in esports during the war.
From the editor: This should have been a feature highlighting the achievements of women in esports, an article on players, talent, managers, lawyers, and other professionals whose work proves that in esports, there is a place for everyone regardless of their gender. However, on February 24, a war broke out in our country, and we've had to make adjustments. Therefore, in addition to the problems, initiatives, and successes of women in global esports, this article highlights an equally important topic — the volunteer work girls from WePlay Holding are doing to bring Ukraine's victory closer every day.
International Women's Day is a good occasion to showcase the achievements of famous representatives of the esports industry, to list world tournaments where women can participate, and also to highlight the issues that still need to be addressed.
The dark side of women's esports
Over the last few years, the issue of women's esports is becoming increasingly relevant. In 2019, analytics provider Newzoo published a study that found that 46% of all gamers are women. However, society at large still believes that esports is a men's world. The gender barrier is most often encountered by players or streamers. Sometimes, female gamers pose as men, modify their profiles to look gender-neutral, and don't dare to say anything into their mikes during games. The main issues women's esports faces include:
objectification and sexism
lack of female role models women can identify with (girls who enjoy gaming often don't even consider professional esports as a platform to realize their potential)
insufficient coverage of industry problems in the media
"One of the stereotypes is that women are supposedly only interested in gaming because they can get something from it in the industry. Because of this, they are rarely seen as professional gamers and streamers. Thanks to the IT'S HER GAME platform, I was able to talk to many people of different gender. The bottom line is that women do not want initiatives catering exclusively to them — they value equality above all else and would like to be treated as an integral part of the entire gaming community," said Dominika Szot, GRID Esports manager and founder of IT'S HER GAME.
Initiatives supporting female esports athletes
It should be noted that esports organizations are indeed working to solve current problems. Every year, more and more initiatives intended to, in particular, change the situation with women being underrepresented in esports competitions are cropping up. Here are some examples.
In 2019, the Women's Esports League was launched. Here, women can compete, grow and develop professionally, and also communicate in a toxicity-free community.
Also in 2021, the organization Dota Valkyries was founded, which aims to support women on the professional Dota 2 scene. The developers have created a platform that will help women realize their potential and end gender segregation in esports.
Another example is the creation of women's teams by esports organization G2. Their goal is to support both men and women in esports so that they can eventually compete in mixed leagues.
Women's esports tournaments
In 2015, ESL with the support of Intel and AnyKey launched the Intel Challenge Katowice, a CS:GO tournament for women held during the Intel Extreme Masters Katowice. This initiative aims to develop and diversify esports making female esports players visible and supporting the best women's CS:GO teams. This platform also promotes the emergence of new leaders.
In 2020, the Woman Star League, supported by Moonton and Indonesia Gaming League, was founded. Both amateur and professional rosters can take part.
In 2022, the Mobile Legends: Bang Bang Women's Invitational tournament in the Mobile Legends: Bang Bang title was held for the first time. It is organized by Moonton and the Indonesia Gaming League. According to Esports Charts, the tournament broke the peak viewer record at 392,000. It was attended by teams from Southeast Asia, and the prize pool was $15,000. By the way, the fourth season of the Woman Star League was also a qualifier for the Mobile Legends: Bang Bang Women's Invitational.
"Women's mobile esports is growing rapidly. The growth of the computer and console gaming scene is not as fast but extremely balanced. Every year, girls' interest in computer games increases: many become interested in esports and try to develop in this direction. I'm sure time will pass and we will see more mixed rosters with men and women playing side by side," says Olesia "Olesami" Denysenko, WePlay Esports talent.
DreamHack Showdown is a tournament series for women's CS:GO teams, organized by tournament operator DreamHack. The competition was held for the first time in 2019 in Valencia.
The Electronic Sports World Cup (ESWC) is the annual world video game championship in various disciplines held in France. It is attended by women for whom separate tournaments are held in CS:GO, League of Legends, etc.
Esports organization ESL, recently acquired by the Saudi company Savvy Gaming Group along with the FACEIT platform, has announced a series of women's CS:GO tournaments, to be held in 2022. It is known that the total prize pool will be $500,000. A new event series will be dedicated to #GGFORALL. This initiative was created to combat discrimination. It will enhance the mental well-being and environmental sustainability in esports.
Some female esports athletes think that women's championships only make matters worse in terms of gender inequality in esports. After all, the emergence of such tournaments has created a pay gap between men and women. The prize money at large "men's" tournaments may reach several million dollars, while at women's competitions it's several hundred thousand at best.
"What Riot Games are doing with Valorant and VCT Game Changers deserves respect. They are offering a great example of how a publisher can support an esports ecosystem based on equality and diversity. Support for teams, leagues, and talents should be comprehensive. Publishers creating a variety of initiatives, major prize money tournaments and mentoring programs being set up — these are all great steps towards improving the women's esports scene," said Dominika Szot.
Top female e-athletes
Despite the fact that there are fewer women in esports than men, they are showing good results during games and have lots of fans.
Canadian pro gamer and streamer Sasha "Scarlett" Hostyn is one of the most famous women to be successful in esports. Scarlett plays StarCraft II and has been with team Shopify Rebellion since 2021.
Zainab "zAAz" Turkie is a Swedish e-athlete who is considered by many to be one of the best representatives of the women's scene in Counter-Strike: Global Offensive.
Katherine "Mystik" Gunn is an esports player from the U.S. and a cosplayer who hosts the weekly show Newegg on YouTube and participates in events like BlizzCon.
Li "Liooon" Xiaomeng is a Chinese professional Hearthstone player and a member of the Victoria Key team. She won the GrandMasters Global Finals 2019.
"Li "Liooon" Xiaomeng has a special place in my heart. She is the 2019 world champion in Hearthstone. I commentated on the tournament, and I saw her beat many of the world's strongest players with my own eyes. She was the first girl to win the title of champion at BlizzCon," says Olesia "Olesami" Denisenko.
The women from WePlay Holding helping during the war
We shouldn't forget that the esports industry is not just about players. If female talents and esports athletes are at the forefront of esports, then analysts, copywriters, PR people, and designers are providing back-end support. Each representative of the industry plays an important part in its development.
For more than a week now, the women of WePlay have been not only working every day for the benefit of esports but also making a titanic effort to bring Ukraine closer to victory. They are combining work with volunteering, fighting against Putin's propaganda in the information field, providing accommodation to evacuated Ukrainians, weaving camouflage nets.
Ksenia Zavodchikova, communications project manager
In the early days of the war, Ksenia moved to Lviv, where she started volunteering. She weaves nets and goes to warehouses with her family to unload, package, and load humanitarian aid.
"In our relatives' apartment, there is a room with two sofas that we are keeping free. We are hosting women and children going to Poland non-stop. We take these people to the border and to nearby villages where they have relatives. We tried to donate blood, but the blood bank is overcrowded, so we are waiting for next week. Meanwhile, my sister in the United States is holding rallies, speaking to local media, and mobilizing humanitarian aid (unmanned aircraft, body armor, food, clothing)," says Ksenia Zavodchikova.
Oksana Zhylka, SEO team lead
Oksana spends two hours a day checking news in real time, volunteering at some media company in Kharkiv. Her mission is to determine whether they are fake, contain incitement to violence or misinformation. She also makes sure that the media do not publish anything that could help the Russian army.
"I am a member of the cyber troops' club at the invisible front, where we combat propaganda and information leaks through social media. I also help people find accommodation in Poland (I have sisters there who are volunteers), in Italy, Canada, and Germany. I buy and deliver medicines in my district.Together with my sister we volunteer to help animals, too. I even tried to take in animals for a couple of days, but my cat Valerii was brought up to be selfish," says Oksana.
Darina Briukhovetska, head of DashFight
Darina left for Western Ukraine with her friends. During the evacuation, they came under an airstrike near the Starokostiantyniv airport in the Khmelnytsky region. They now live in a remote village, where everyone chops firewood to heat the house and actively helps online.
"My friends and I arranged a purchase of things from Europe that our defenders and civilians need. We try to find those who need help and connect them with those who can help. We also launch advertising on social media targeting Russia to show what is really happening in Ukraine."
Alesia Moroz, internal communications manager
Alesia volunteers at the Vostok-SOS charity. She mans the hotline, receiving calls from people from all over Ukraine.
"Requests vary: people need humanitarian aid, housing for refugees, transport. My task is to log the request and find volunteers who could help solve a specific issue. There are currently many more requests than resources. It is not always possible to help, because in some cities, such as Mariupol or Severodonetsk, there are no humanitarian corridors."
Nastassia Nasko, social media manager
Thanks to her large following on Twitter, Nastassia has the opportunity to help. She has helped six strangers and her best friend with her pets leave the hotspots, as well as raised UAH 300,000 for the army. The fundraising was managed in a rather unorthodox way.
"I invited my subscribers to transfer funds to the Ukrainian Armed Forces account and the charity fund "Come Back Alive." As a reward, I would send nudes: a pic for a receipt. However, some of my acquaintances did not support the idea and advised me to stop doing it. In addition to fundraising, I monitor requests for help from subscribers 24/7 and find options to help solve their problems. I also buy things and send them to the border as humanitarian aid," says Nastassia
Maryna Koba, PR manager
When the full-blown war started, Maryna was in central Ukraine with her family, and it was there that she became a volunteer. She says it's been relatively quiet in their region — they only had to hide in bomb shelters a few times.
"My day, like every typical Ukrainian away from the front lines, starts with checking my news feed and a quick breakfast. Then I go to the school, where women from all over the village weave balaclavas and camouflage nets for the Armed Forces and the Territorial Defense forces. I haven't been to my school for about eight years and seeing the solidarity of teachers and students brought me to tears. Everyone is trying to be of use, to make a contribution to peace in Ukraine, however small. The self-organization and unity of the Ukrainian people, especially in the most critical of times will probably always touch me to my very core," says Maryna.
P.S. Women's esports is evolving. This is evidenced by the emergence of new platforms supporting women in esports and the formation of women's rosters. Tournaments that have emerged over the past few years provide new training grounds where female esports athletes have the opportunity to hone their professional skills. However, no industry can thrive during wartime, and esports is no exception. We sincerely hope that peace will soon come to Ukraine and that WePlay Holding employees will be able to return to their usual tasks, contributing daily to the development of world esports.
Stand with Ukraine!