April 19, 2023
Why virtual events are a must-have now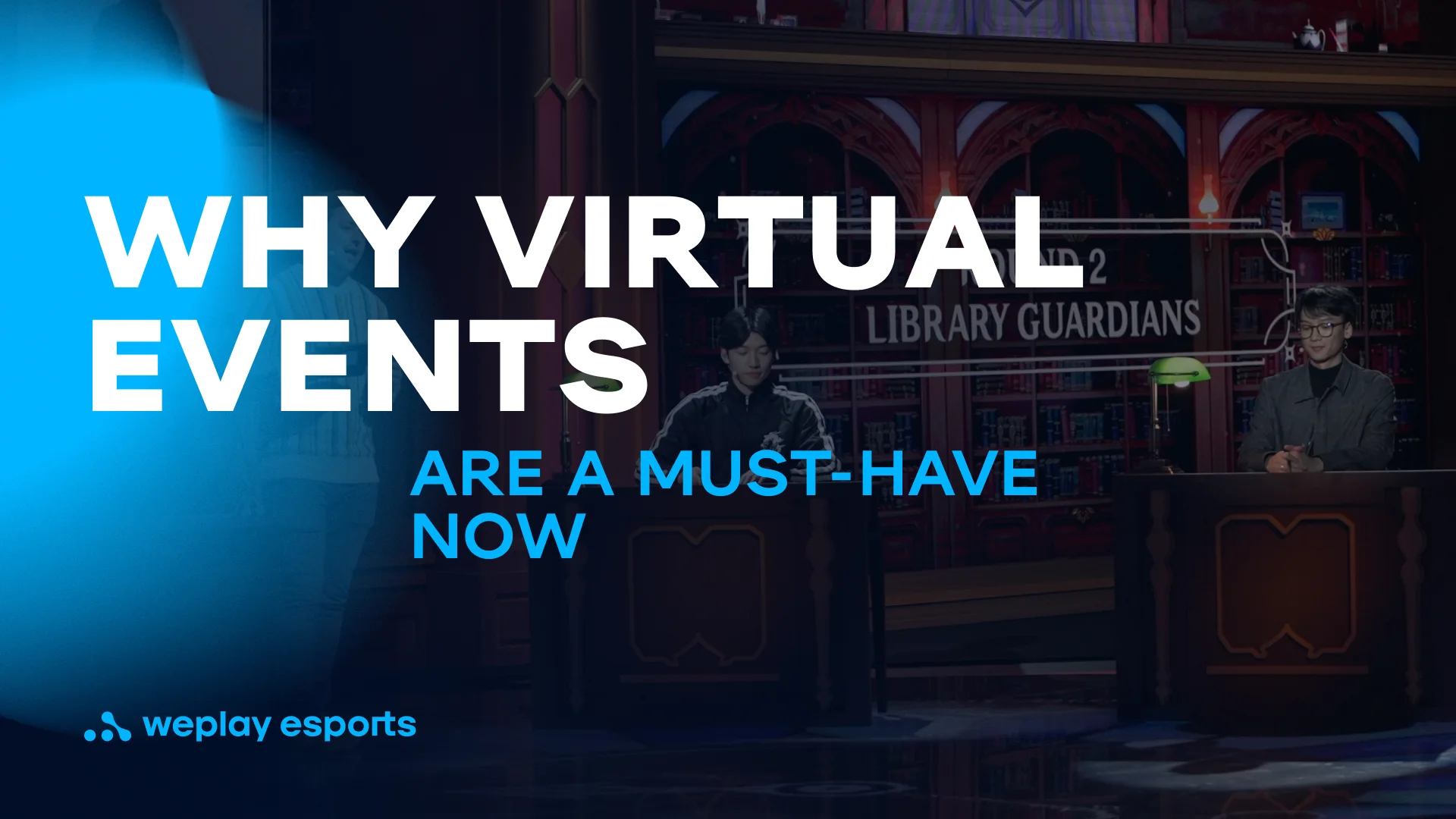 We don't aim to make hype out of thin air, so let's look at the facts. In 2021, a survey of 8,000 marketers conducted by Statista showed that in 2022, they planned to host 40% of their events in a virtual format, plus 35% in a hybrid format. WePlay has hosted a lot of esports tournaments, which are also one of the types of virtual events, and you might well have at the very least heard about its entertainment shows. Over the past year, the company has become a production partner of Enthusiast Gaming for the NFL's Tuesday Night Gaming show, and also produced a major Genshin Impact USA quiz show — One True Genshinologist. So WePlay is well aware of the value of virtual events and the benefits they can bring.
What are virtual and hybrid events?
A virtual event is a live event held online, while hybrid events are physical events that can also be accessed online. Basically, both virtual and hybrid events make it possible for remote event attendees to join a show, a conference, a concert, or a trade show. However, while hybrid events are slightly limited due to the traditional room-based format, where part of participants visit the event in person, a virtual one could be held anywhere and at different places at once, even in the metaverse.
Virtual meetings and events: the USP
Events are intended to benefit all participating parties, but virtual events are a way to step up and reap even more gains.
Event flexibility
Virtual events offer much more flexibility both to the organizers and participants than in-person events, meaning that you can easily scale up an event, stick to a schedule, and so on. Users can choose a particular time when they are going to attend an online event virtually. Unlike in-person events, which usually involve many restrictions, online events provide more freedom.
Pre-recorded content
It's worth mentioning that pre-recorded content is a feature that does get used in in-person events. However, in virtual events, pre-recorded content like video or animation looks way more interesting. Online virtual event platforms provide every tool to insert pre-recorded content as part of a coherent live event or broadcast. You don't have to ask your attendees to pay attention to a special device or a big screen like you would at in-person events, because live content and pre-recorded content make no visible difference.
Sponsorship opportunities
In-person events, whether it be conferences or seminars, offer attendees networking and many tools for brand promotion, such as branded panels, commercials on screens, and so on. Virtual events with live streaming can offer the same key features and even more networking opportunities. For example, during a live stream, you can insert a clickable banner that will immediately lead the viewer to a company's website or a specific landing page.
Another example is pre-recorded content, which was already mentioned above. Pre-recorded content can be part of a live broadcast, just like a brand can be an integral part of a broadcast. Such an abundance of promotion opportunities attracts the attention of sponsors.
Data collecting
Information is king. If you know who your audience is, then you know what they need and can theoretically offer it. However, you need to constantly analyze your audience, and a live event is a tool that helps you collect detailed information about your viewers: for example, where they first came to your virtual event from, which parts of the event are the most interesting for them, and which ones push them away. By collecting data from online events, you can increase your event ROI and collect solid leads to work in the future and do the next virtual event even better. In fact, according to a study, 66% of respondents prefer leads from webinars.
Interactive features
Interactive elements offer a better event experience because participants start feeling more engaged while they can provide feedback. Tools such as live chat, surveys, and polls make it possible to connect attendees with presenters and other attendees in real time, giving them the greater level of attendee engagement than they would have at an in person event. Not only do these features keep the public engaged, but they also provide the organizers with valuable insights into their audience's thoughts and opinions. By integrating these more interactive elements and tools into their virtual events, organizers can create a dynamic and engaging successful virtual event experience that keeps attendees coming back for more.
Automation features
You may often hear that it's easier to host a virtual event. While one could argue with this statement, it has a point. Virtual event platforms include automation features like sending automatic reminders to virtual attendees about upcoming breakout sessions or scheduled events. Moreover, using different AI APIs, you can automate chatbots to answer the most common questions quicker or just keep all attendees in the mood and ban violence or aggressive messages.
Why companies should hold virtual events
The increasing popularity of virtual events doesn't mean that in-person events are already a thing of the past. In-person events may still be a good choice when one has to be held on a local scale, for example, a new office opening or a local farmers' conference. However, they could mostly be replaced with hybrid events too.

Even without COVID-19 greatly changing the virtual event industry, there are a few reasons for companies and brands to dive deeper into event planning.

First, virtual events are channels that help draw the audience in. Stating the obvious, the internet outperformed TV long ago (to be exact, in 2019, according to Statista, and the gap only gets bigger), so we are by all means in the digital era. People look for information, interact with each other, order food, go shopping, and even work online, while companies look for more touchpoints to strengthen their connection with the audience and raise brand awareness.

Second, virtual events are interactions between customers and brands. Compared to social media, which are a great tool to build two-way communication too, virtual events encourage engagement. Studies show that 80% of viewers would rather watch a live video from a brand than read a blog, for example.

Lastly, virtual events are not just a way to attract people but also to retain a fanbase. In today's world, virtual events have emerged as a new form of entertainment. If you entertain your viewers, they'll come back — it's as easy as that. Provide them with the emotions they are looking for and they will surely ask for more content. Besides, virtual events have made entertainment more accessible to a wider audience, removing geographical barriers and making it easier for people to participate in events they may not have been able to attend otherwise.
The challenges of switching to virtual events
While many state that hosting virtual events is child's play, it obviously isn't true. Event planning is a complex process that involves ticking off a lot of tasks. To host a successful virtual event, you need at least a comprehensive virtual event platform, technical support, and a detailed script of the event. Moreover, when companies start dabbling in virtual events, they face a host of problems. So here you will find a few things that you need to keep in mind to host a virtual event.
Online audience engagement
With no physical interaction, there is a higher probability that viewers will lose interest or become distracted easily. Therefore, it's critical to make sure that your virtual event is interactive and engaging from start to finish. Even if you offer an entertainment show, you still need to think about how to increase virtual attendee engagement.
One of the most tried and true ways is to use live chats. Put several moderators on the task who will be able to actively communicate with all participants in live chats, joke, answer questions, and like the messages they like. There is a possibility that, having noticed the general trend, the participants themselves will begin to communicate more actively with each other.

Another good method to enhance engagement is for the event organizers and hosts to communicate with the audience. They can encourage participants to share their opinion in the chat, invite attendees to ask questions, comment on the answers, and maybe even give away a prize. For more good tips on managing audience engagement, read this.
Tell your audience about your virtual event
There are a lot of types of virtual events around. Many of them may run at the same time as yours. Therefore, the first task facing the event planners and organizers of all future virtual events and virtual meetings is to maximize attendance. Using digital marketing channels such as social media platforms and creating a visually appealing page with visible call-to-action buttons can also help increase conversions. Using influencer marketing and partnering with relevant industry organizations can also help spread the word about your virtual event.
Questions to ask before planning a virtual event
So you've read this long article up to this point and made up your mind about wanting to hold a successful virtual event. But before stepping into event planning and preparation, there are some details to clarify.
What is the purpose of your virtual event?
As mentioned earlier, events can serve different purposes, but they are all just tools. It is important that you define these goals specifically for your company. You may want to raise brand awareness, keep your fans, or grow your target audience. In general, you can try to solve business goals through holding events. By hosting an event without any expectations, you may find yourself in a situation where the it turns out to be a waste of time and you aren't able to measure its effectiveness and draw conclusions in order to hold the next event at a higher level.
Plus, the format of the event also depends on your goals. Perhaps you should host a virtual event or a series of hybrid events. But such a decision can only be made after you have decided on the goals of the event.
Have you ever hosted a virtual event?
If you have already organized a virtual conference or event, you can analyze the data already available. This way, instead of relying on guesswork, you can leverage the knowledge to provide what your customers need. If your previous virtual event ideas didn't appeal to the target audience at all, then this is also a result that you can work with.
Do you have a reliable technical partner?
If not, find one. Seriously, without technical assistance, it is almost impossible to have a successful event and deal with the preparation of the whole event virtually on your own. The technical partner will be responsible for the quality of the broadcast and manage all technical issues. For example, you will definitely be faced with tasks such as lighting adjustment, color correction, and sound adjustment. Moreover, the technical partner will supply all the necessary equipment and personnel to successfully bring the event to life.
Virtual event planners and production companies are event professionals who are not only involved in the technical side of things but also in the creative part of event planning. Production team specialists will help you create a script, select hosts and locations for future events, as well as design and install stage decor and host events.
Do you want to break the mold with your virtual event?
The virtual event industry is large and growing day by day. Therefore, in order to achieve results, you need to stand out. Don't limit your virtual event technology to cookie-cutter tricks. Instead, try innovative technologies that will help deliver immersive virtual event experience to your viewers. For example, add VR, XR, and AR to your virtual environment if necessary. These technologies are very popular because they help blur the line between the real and virtual worlds, which is especially valuable when it comes to online events.

In conclusion, virtual events have proven to be an efficient and cost-effective way for companies to connect with their audience. Plus, virtual events are accessible across a lot of platforms and even mobile event apps. They offer a wide range of benefits that make them a must for businesses that want to interact with their customers and employees seamlessly. With the growing trend of remote work, virtual events will continue to be relevant and popular. Therefore, it is important for businesses to embrace this whole virtual event technology, and explore how it can help them thrive in today's digital world. So, what are you waiting for? Start planning your next virtual event today and bring your fans an attendee experience they deserve!