April 24, 2023
Event production trends: five memorable AR experiences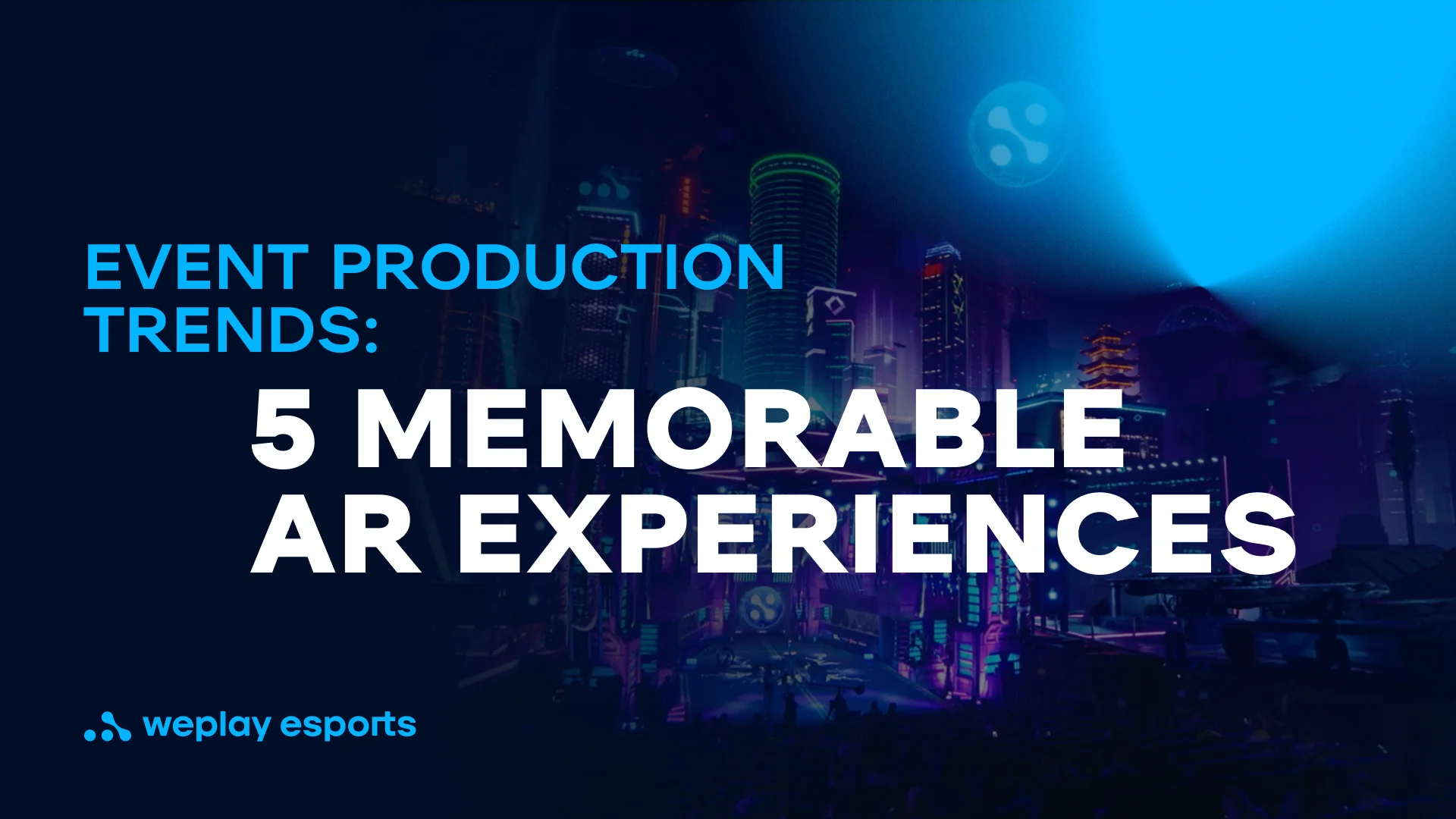 The AR trend has been a hot topic in a wide range of industries for a couple of years. Games, e-commerce, esports, and entertainment use AR technology in one way or another, especially at virtual events.
What is AR, and how can it enhance event production?
Before we dive deeper into how AR technology is changing the event industry, we need to define what AR actually is. Augmented reality (AR) is a technology that overlays digital data onto the real world. This means that you can add virtual objects, images, or videos to your real-world environment using your different devices and software.
The benefits of using AR in event production
Let's dive a little deeper and talk about three specific ways in which AR is making events better — improved event branding and experiences, enhanced engagement and interaction with audiences, and more efficient and cost-effective production processes.
Improved event branding
AR makes it possible to throw an event differently. It's essential to create a unique event and stand out from the crowd, and AR is a great way to do it. AR-powered branding can showcase elements from logos to comprehensive structures virtually through the use of 3D models, animations, and videos. Using AR to present an abstract concept or object to an audience is a great way to engage them in the event. It allows everyone to get an experience in an interactive and exciting way from the comfort of their own home.
Enhanced engagement
Attracting and retaining the attention of event attendees is no small feat, especially when it comes to virtual events. As was already mentioned, audiences can visualize elements in 3D rather than just through a 2D drawing. They can explore the concept or object from different angles and get a more immersive experience. Additionally, it can be more entertaining for the public. All of this creates a more enticing atmosphere that can help increase engagement and understanding of the concept.
Cost-effective production processes
AR is a cost-effective way to prepare an event because you can cut down on set production. You don't need to spend thousands of dollars on building extravagant sets anymore, as AR can create a virtual environment that looks just as real and impressive at a fraction of the cost. By utilizing AR technology, you can cut down production costs, enhance the attendees' experience, and increase engagement at your event, all while staying within your budget. AR is definitely worth considering as a cost-effective option for your next event.
WePlay! Mad Moon — Sci-fi city
A $300,000 prize pool was up for grabs at the WePlay! Dota 2 Tug of War: Mad Moon international esports tournament in Kyiv. The event was elevated with unique features like a cyberpunk sci-fi AR city constructed by specialists in the technology. The AR night city from the future was decorated with esports teams' logos and team roasters. The audience was so engaged that they continued watching even during breaks, for fear of missing out on the action-packed skits. One of the most impressive AR experiences was the WePlay-implemented AR dancing Drow Ranger that took place during a musical intermission.
WePlay! Mad Moon . Credit: WePlay Holding
WePlay Ultimate Fighting League — Characters crossing into the real world
In 2021, WePlay set in motion their first long-term project in the fighting game area with the WePlay Ultimate Fighting League, bringing together expertise from three different fighting disciplines. Amidst the COVID-19 pandemic that was sweeping across the globe, the tournament was held in the WePlay Esports Arena Kyiv located in Ukraine.
To provide an exceptional online experience, WePlay used advanced technologies such as AR. This allowed viewers to witness commentator dialogues and admire AR game characters selected by the participants. During breaks, the characters would interact with real people and roam the arena, creating a more dynamic and engaging atmosphere. The use of AR in the arena created an unforgettable experience for spectators that increased their enjoyment of the event and kept them coming back. Additionally, an AR scoreboard was displayed during breaks, in promotional material showcasing player stats, performance metrics, match predictions, and also partner integrations.
Sheeva and SonicFox | WUFL. Credit: WePlay Holding
WePlay AniMajor — The anime vibe
In the same year, WePlay earned the opportunity to host a Dota 2 Major. However, what set WePlay AniMajor apart was its unique anime theme. From the stage design to the props, SFM movies, talent costumes, outfits, and event graphics, everything followed the theme. The resounding success of WePlay AniMajor was evident by it becoming the most-watched Dota 2 Major, with an impressive 37,351,630 hours watched and a peak of 645,141 concurrent viewers, which made it the second most popular Dota 2 Major.
The WePlay AniMajor was made truly exhilarating by the AR team's incredible efforts. The Dota 2 heroes blended seamlessly into the physical world on the arena, adding to the overall thrill. The AR technology has even been extended to cover flying long shots, making it all the more captivating. The virtual match map developed by the analytics studio was also quite innovative. It provided real-time information on crucial aspects like spells, kills, and golds. Plus, analysts could use tablets to draw on the interactive map, making their job much easier.
One True Genshinologist — Magic library
WePlay team served as the production partner for a major contest called One True Genshinologist, which focused on the popular game Genshin Impact. The quiz show had US college students, recent graduates, and prominent Genshin Impact influencers competing in answering challenging questions on the game's past, characters, and artifacts.

AR was the power that greatly impacted the One True Genshinologist show. WePlay team expertly utilized advanced technology to create a captivating virtual reality library with a full immersion effect for its viewers. Participants sat among huge bookcases and soaring books, which was all just a digitally created illusion, with AR-generated characters supporting it. There are a lot of characters in Genshin Impact, each one with its own style and accessories. AR specialists recreated them in full — from the color of their eyes to the last detail of the costume — and put them on stage.
NFL Tuesday Night Gaming – A family fun evening
NFL Tuesday Night Gaming is a unique collaboration between Enthusiast Gaming and the National Football League. The pioneering show has combined the worlds of sports and gaming. As the production partner, WePlay has prepared NFL Tuesday Night Gaming and hosted the show at the WePlay Esports Arena Los Angeles in California.
In addition to NFL TNG, WePlay also hosted the NFL Family Game Night. The show's main feature was its friendly vibe, which is essential for any family evening. In general, people play to have fun. However, even so, it is worth noting how the use of AR enhanced the overall picture of the show. AR specialists not only implement details into reality but also create these details from scratch. For example, for one of the episodes of the NFL Family Game Night, AR specialists created a green slimy substance that would slowly drip from the ceiling. It was quite difficult because the slime had to look real and have all the properties recreated, like the glare of its surface and the effect of fluidity. Besides, it had to fit into the frame naturally, which AR specialists achieved swimmingly.

In conclusion, incorporating AR into virtual events is a game-changer in the world of event planning. WePlay has seen first-hand the benefits that AR can provide and is excited to continue pushing the boundaries with this technology. From interactive product demos to immersive experiences, the possibilities that AR offers are endless. So the next time you plan a virtual event, consider using AR to take it to the next level!