Dec. 28, 2021
Why Esports Conferences matter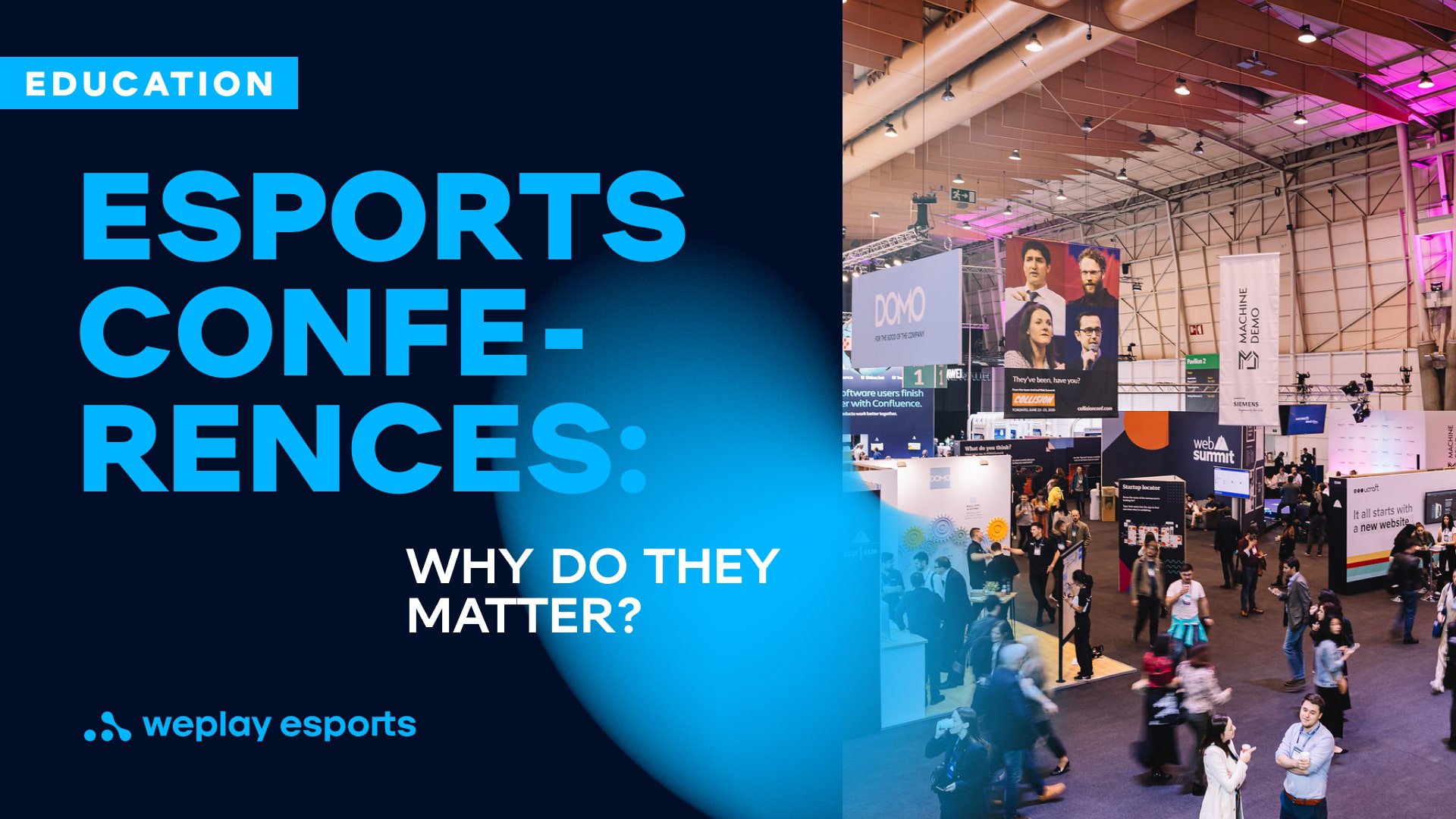 Esports events provide important industry news to help companies apply key takeaways into their practice.
If you were wondering where representatives of the esports industry can look for like-minded people, get inspiration and share insights, then the answer is simple - esports conferences. The esports industry is evolving, and it becomes difficult to keep track of all the latest news and trends. Esports events address this problem and provide only important industry news to help companies apply key takeaways into their practice.
By attending a global esports conference and summit, you can stay in the know and form valuable connections that help you grow your business in the esports industry. If you still think that an esports conference is an event that takes place once in a blue moon, then you are greatly mistaken, and this article will prove it.
What is an Esports Conference?
An esports conference is much like any business conference- a professional meetup to discuss the direction of the industry, network with peers, share new ideas, etc. However, the twist of video game and esports conferences is that they tend to be centered around the entertaining world of gaming. That means panels don't just include hard business but also pro players and esports teams themselves or up-and-coming video game developers. Think like PAX, but only for business professionals.
However, speaking of PAX, esports and video games are special because the industry also hosts fan-friendly conferences. Instead of lectures on internal industry progress and goings-on, this esports conference focus on keeping fans up to date, debuting hot new games, and hosting fun community events and panels.
Yes, esports and video games are so popular that they have business and fan-focused, hype conferences all year round.
Is Esports Profitable?
Despite all the mainstream speculation that esports and video games get, it's clear by now that both industries are highly profitable. The global esports business is nearing a billion dollars a year. Meanwhile, the worldwide video game industry is even more impressive, worth over $100 billion, between console, PC, and mobile gaming.
Looking at the conference aspect of these industries, they both run events throughout the year for a variety of audiences. The esports industry can also comfortably support dozens of multi-million dollar esports tournaments and many influential, well-known esports organizations.
Major Esports Events
The different kinds of gaming conferences are vital to the esports and video gaming world, but all for very different reasons. Professional gamers, business people, hardcore fans, and more benefit from these events, but their differences are essential to know about esports conferences.
Business
The most cut and dry version of these events is entirely business. It's just professionals joining together to share their knowledge and experiences. This is where you might find brand partners and teams, where you might make the Twitch deal of your dreams, where the leaders in esports show off their success and share their tips with their peers. The entire process is built on learning and networking, so if you want to be a serious esports businessperson, get yourself an invitation to one of these conferences.
Gamer
These kinds of conferences, the Blizzcons and E3s of the world, are the ones that the most mainstream people know. These are the places where fans get to come and try new games, watch tournaments, and enjoy the gaming scene. These kinds of conferences really are more about fans than anything else, and even if you don't go, trailers, highlight reels, and other event content are always available online later. After all, no one wants to miss the new Bethesda, Square Enix, or Ubisoft announcements.
Also, these events are popular enough to have online versions when in-person events are impossible. That's fan dedication for you.
Research
Considering video games are all based on science and coding, there also have to be unique conferences about the growing research in esports and gaming. This is a place for scientists and engineers, not business people, to collect and discuss everything they've learned about the industry and its future. These technological advancements can include anything from new graphics drivers to data analytics tools. It's a way to collect great minds and push esports forward. Who knows, your new favorite piece of esports technology might have been pitched at one of these very conferences.
Influence of Esports Conferences
Whether a business or fan event, esports conferences have a serious influence on the industry's future. For example, if fans reject a new type of game, that means fewer companies are likely to follow in the failed game's footsteps. Similarly, if one marketing team shares a really effective strategy, that becomes a new standard. Note that so many esports teams are involved in more casual streaming and pro-view experiences. Fans clearly want to see how pros, ex-pros, and their favorite streamers interact with esports.
Upcoming Conferences
There are tons of important esports and game conferences happening this year, but here are a few highlights across the fan, research, and business sects.
E3 Expo 2022 - TBD
E3 is one of the top video game expos that give big-name video game studios and indie developers the chance to show off their upcoming creations to fans and competitors. The global conference lasts 3 days and provides a stark experience in gaming, encompassing all the parts of this industry.
Game Development Global Summit Vol.1 May 17-18; Vol.2 November 15-16
Not all conventions are full-on fun and games, though (even if it's all about video games). At this summit, members of the industry come together to explore ideas about gaming from around the world.
Girls Make Games Fellowship 2022 - TBD
Over the years, the video game industry has desperately needed more diversity, and conventions like this help foster the professional careers of women, POC, and other minorities in the gaming sphere. Girls Make Games Fellowship is a camp event featuring female gaming and esports worlds personalities.
ICE London 2022 - Spring 2022
According to the official announcement, ICE London will take place in the spring instead of February. The esports conference will provide information about the latest industry's innovations, trends, and regulatory requirements. Representatives of industry-leading companies as CEOs, teams of entrepreneurs, sales and business development executives, technology specialists, and other leaders will discuss new opportunities that esports can bring.
CES 2022 - January 5-8
The following year kicks off with a tech event - CES 2022. The conference adopted a hybrid format; attendees can visit the exhibition in person or via the app. Over 2 thousand companies as Intel, Panasonic, TCL, Sony join the event to showcase cutting-edge devices, gadgets, and so on.
SXSW Gaming Expo - March 11-20
The all-in-one gaming event features the latest titles and allows visitors to play a variety of video games and tournaments. Besides, it's a place to get to know up-and-coming personalities in the gaming industry and stay in the loop of the vibrant trends.
An esports event or summit is a great opportunity to learn from the best of the industry, search insights, find all the ins and outs of Twitch platform and dive into a space of networking and inspiration. While the sports world is stable, esports changes from day to day. In order to keep up with all the trends and stay competitive, you need to attend such events, summits and conferences.