Dec. 27, 2021
Art Unleashed: The Best Esports Fonts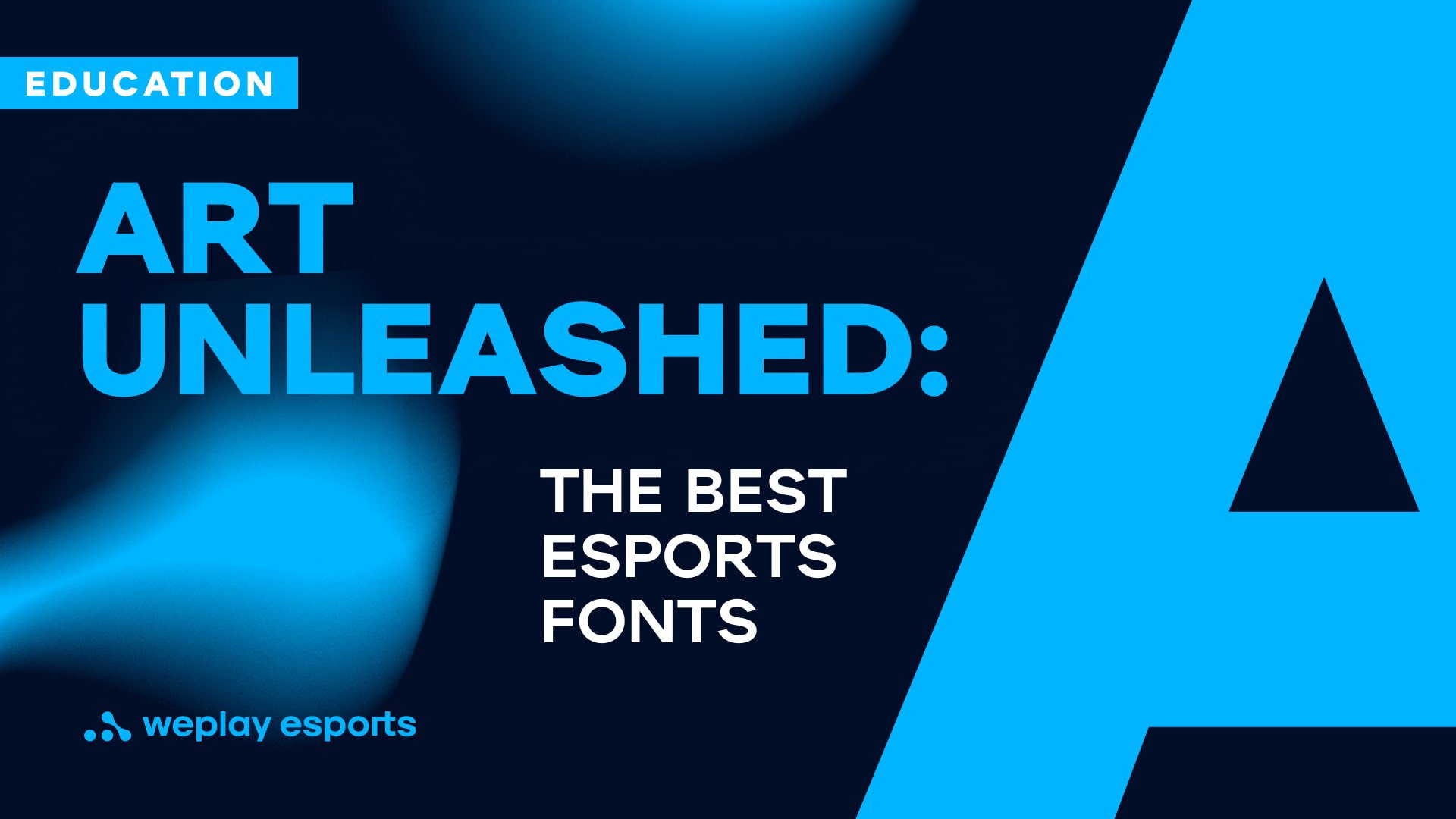 Top teams usually have visuals and particular fonts that define their marketing materials and team name.
Esports organizations have become some of the most potent and influential conglomerates in the esports world. They are the perfect place to grow fantastical pro gamers and create world-class support teams filled with coaches, data analysts, and expert managers.
Even though many of their strength comes from wins, esports organizations also rely on fame, fans, and brand deals to thrive. One vital part of that process is making an image for themselves. That includes team colors, a name, and of course, a gaming logo, with colors and fonts that make it unique and outstanding. When choosing an esports font, remember that it should settle for your passion. More than that, each esports font has an idea, something behind it. Are you ready to make your own gaming logo?
So, let's talk about the fonts that will make your esports logo shine.
The World of Esports Fonts
Esports teams rely on their logos and font choices to make their name and symbols easily identifiable. As a result, all top teams usually have visuals and particular fonts that define their marketing materials and team name.
Most popular esports teams don't make their logo and marketing materials themselves. Instead, they often have a skilled marketing professional on hand or hire a marketing firm to create a well-designed logo. For the design alone, a team can expect to pay roughly $40 for a single logo. However, some places add on a $100 yearly fee for popular esports teams that do multiple tournaments a year, basically ensuring they get kick-back for the leg-work that their logo does. If it goes on hundreds of jerseys and earns thousands of dollars, they deserve a bit more pay.
The cost of graphic design work can also increase if the team is interested in merchandising and social media materials. After all, apparel, stickers, and other branding tools will rack up design costs. Want a special new Twitter banner with your logo and name? That's a new graphic design you have to buy. Same with any event posters, stickers, and especially something like a well-designed website for your team.
However, these costs are necessary because this kind of uniformity signals to big companies that you're professional. You have a better shot at getting brand deals and sponsors if they feel they can take your team seriously.
All esports fonts don't have to be for colossal esports teams, though. They can also be helpful for smaller teams, the kind that want to look a little more professional just for fun because they love their esport. These fonts also can be handy for school projects and personal use, like for a streamer's overlay or an educational poster on sports/esports.
Free Font Options
The text that esports teams use is a valuable aspect of their brand. For new, burgeoning teams, here are several popular fonts to get you started on your esports logo and branding journey:
Touchdown
This is a blocky serif font (meaning that it has flourishes on the end of the letters, like Times new Romans, and isn't just straight, like Arial) is an excellent option for sporty designs. Touchdown is a heavy, blocky font that looks intense and serious and just like the NFL vibes you might want.
Varsity Team
Much like Touchdown, Varsity Team font is bold and blocky. It's the font you often see used at universities or for, aptly, varsity sports teams. It was initially made for high school reunions but could be the perfect font for you (especially if you're designing for a college team).
Esporte
Esporte is a stylized font with many diagonal and horizontal straight lines. It uses all caps to help give it that sporty intensity and is most often used in esports settings.
Neo Esports
A sans serif font (meaning it doesn't have end flourishes), Neo Esports still manages to be a stylized use of straight lines that really packs a punch whenever used. Unflea Studios made the font explicitly for esports and you can download it on their website.
SF Sport Night
As far as free fonts go, this is likely the closest you can get to the ESPN font. The font has eight different varieties and it is commonly used to give any logo, event poster, etc., a distinct sporty association. However, if you want your team to be unique, looking exactly like ESPN might not be the best. It might be better for posters or projects.
Friday Night Lights
Much like the show of the same name, this thick font with a distinguished border makes you think of sports. The font can come in all caps or not, depending on what you choose to download.
Drags
Much like SF Sport Night, Drags mimics the NASCAR font as closely as possible without getting a copyright claim. Seamless and recognizably slanted, this could be a good font for a fast-paced team. Also, the font's download does come with other styles of Drags and some stylized glyphs, so it's helpful for different design projects.
Font Collections and Simpler Fonts - Can I take Them For Personal Use?
For people who want a wider variety to start with, things like The College collection will give you multiple fonts to choose from with similar sporty vibes. You can also find some good options under "Sport Fonts" on Fontspace.com.
In a similar yet simpler vein, if you want to try your hand at more common free fonts, try out options like the Microsoft Word fonts or search for other free fonts on the internet. As we said earlier, Fontspace.com has thousands of options.
Be wary, though; not all fonts will give off the impression you want, and if you aren't a skilled designer, you might give yourself the wrong font choice by accident (note: please do not pick Comic Sans or Papyrus).
Making Your Own Logo/Branding : A Gaming Logo To Remember
As mentioned above, there is a wide variety of free fonts for you to use to try to create your dream logo or the best branding materials to make you look like a serious professional. However, not all of the fonts you want will be free.
If you want more options and are willing to pay, there are more premium services out there. For example, Envato Elements offers over 16,000 different fonts and 55 million visual assets. A subscription will give you unlimited downloads, but it does cost $16.50 per month.
Just make sure that whatever fonts you use, yours give you the rights to your own designs.
Once you figure out what name and fonts you're into, it's time to make a logo. There are dozens of free online tools to help you create them. For example, Canva, Tailorbrands, Logomaker, Wix, Free Logo Design, Looka, and GraphicSprings are excellent options.
If you're willing to pay more, Adobe Illustrator and similar products are the more professional options.
However, you can always go the full-cash route and hire a freelance designer or a marketing team to cover all of this for you. That's okay. If you know design just isn't your thing, it might be your best choice.
Esports and Merchandising
Even if you think professionalism isn't too important, there's another reason to care about logos, fonts, and the like: merchandising. Creating merch and a website for your esports team helps make it much more profitable. Think jerseys, stickers, posters, t-shirts, and so much more.
According to Statista, the esports ticket sales, concessions, and merchandise revenues were roughly $4.42 in 2017. Having a brand gives viewers an image to follow and adore, making them more hardcore fans. The same report estimated that these same subsets of the esports industry would boom to $63 million by 2023.
If you have an ugly logo or a cheap, unprofessional one, you won't get the same great sponsors and your merchandise won't sell. So, even if you don't care about it, branding matters, pick a font, logo, and other marketing materials that help you be the esports team of your dreams.