Feb. 4, 2022
Where the smart money is: The most profitable video game genres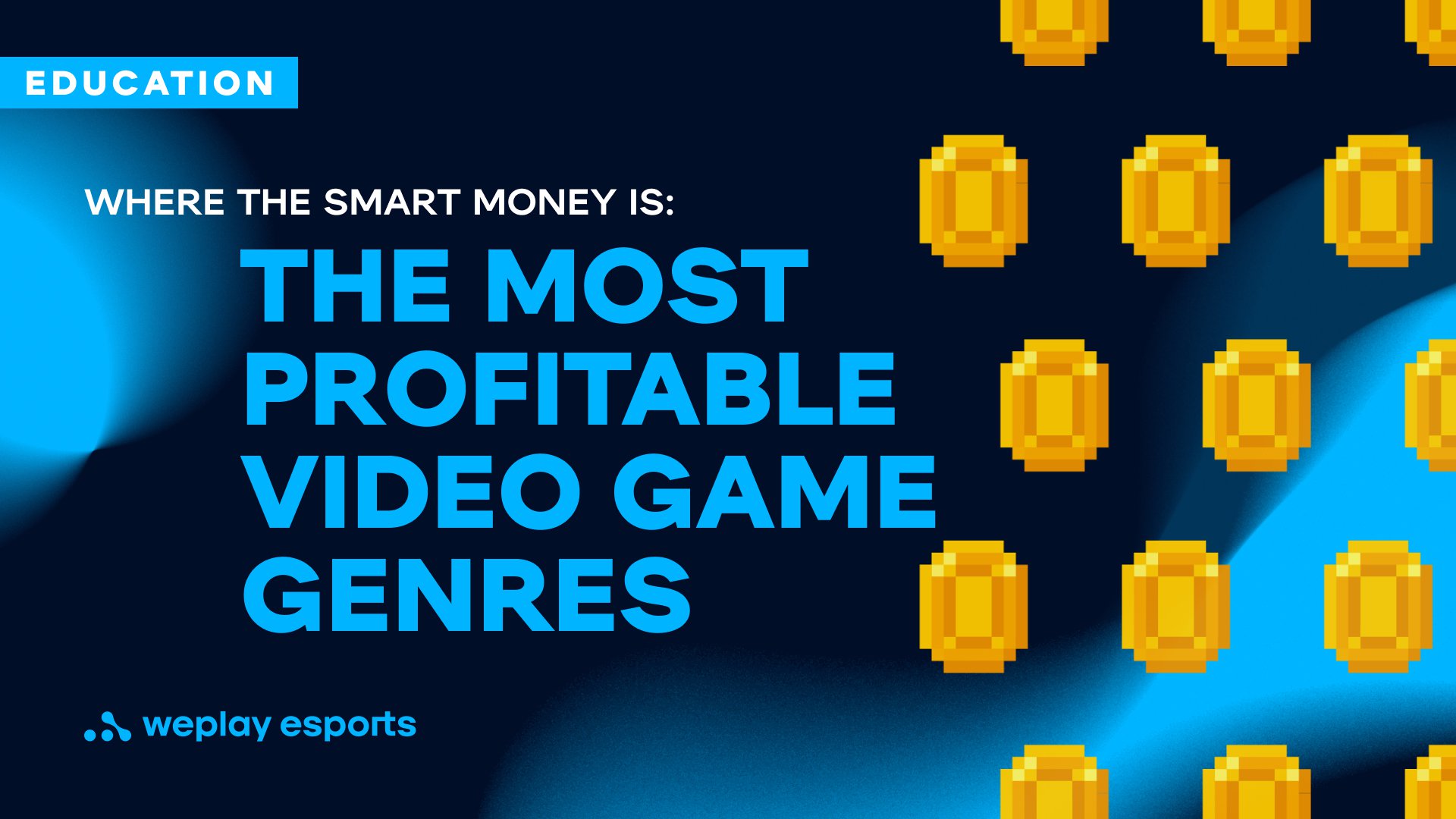 In 2021, the global video game market value exceeded $178 billion. Gaming keeps growing, delighting players with a new video game portfolio.
Video games emerged in the late '70s, but the industry looks underestimated overall. Some see video games as an opportunity to unwind, arrange a fun competition with friends, or escape their day-to-day routine and problems. For others, a computer game is a hobby that defines their whole life. In the inclusive world of video games, people of all ages can find entertainment. However, there are highest-grossing video games that attract more gamers than others.
Best-selling video games
Video games aren't just children's play. They're piquing the interest of an adult and solvent audience, too. Therefore, premium titles (paid games) are just as popular as free-to-play games. Video games are a lucrative industry, and many publishers have managed to win the hearts of gamers and released the world's best-selling video games. In this section, we will look at the most popular paid games.
Minecraft
In a world where the visuals of every new game make you forget that they are not the real world, it would seem the basic and, one might say, primitive style of Minecraft wouldn't attract anyone's attention. But this game has sold about 238 million copies.
The game was initially created for PC and was later ported over to consoles and handheld devices. Minecraft is about exploring creativity and creating something unique. Even though the game is over 10 years old, its popularity has not faded.
Grand Theft Auto V
A series of action-adventure games, Grand Theft Auto, or GTA series of adventure games, have been around since 1997. But the most popular release published by Rockstar Games is Grand Theft Auto V. Since its release, the game has been bought 155 million times.
The game is permeated with a unique vibe that resonates with the target audience. You can just ride your bike, drive down the highway listening to music, or rob a bank if you've had a rough day. The game developers understood that the life of an ordinary person is relatively routine, and they created a world similar to ours, but without oppressive boundaries.
Tetris (EA)
Surprisingly, Tetris by Electronic Arts is the leader among all mobile games. In 2005, EA Mobile released the game that would surpass 100 million paid downloads by 2010.
The mobile game looks precisely like the time-tested Tetris, except the publisher added a catchy soundtrack. There are also two modes: Marathon, a classic version of Tetris, and Magic, gameplay with different difficulty levels.
Wii Sports
Wii Sports is a five-game sports simulator released for the Nintendo Wii game console. In total, almost 83 million copies have been sold. Given that the games are only suitable for one type of console, the result is impressive.
Players can practice or compete in tennis, baseball, bowling, golf, and boxing using the Wii Remote. The character in the game mimics the player's movements: swinging a tennis racket or hitting the ball like in baseball. Many people use the game as a fitness tool or warm-up before the actual workout.
PlayerUnknown's Battlegrounds
The youngest game among the tops, PUBG was released in 2017. Within three years, the game has sold around 70 million copies.
The online multiplayer battle royale game holds a competition for up to 100 players simultaneously. Players must find weapons as quickly as possible to defeat other participants and stay alive. As the map is getting smaller, players cannot hide in a secluded place for a long time and must really fight.
Old but gold
Many games remain popular even decades later. For example, these games are more than 30 years old, but they are still in the top 25 best-selling games.
Pac-Man
The oldest game of the '80s, Pac-Man, has sold millions of copies, remaining in the best-selling game ratings. For many, the arcade game is associated with the decline that the gaming industry experienced in the '80s, but at the same time, it has left a strong legacy. The franchise includes many versions and reboots of the game, a movie, and other things that give fans a sense of nostalgia.
Super Mario Bros.
Super Mario Bros. was published back in 1985 by Nintendo. The legendary game has sold over 50 million copies.
The adventures of Mario and his brother Luigi in the Mushroom Kingdom have given millions of fans around the world an unforgettable experience. The characters have to overcome thousands of enemies and avoid countless pits to save Princess Toadstool, who is always in another tower.
The most profitable video game franchises in gaming history
In addition to games that break records, entire franchises bring millions of dollars to their owners.
Pokemon
The Pokemon franchise dominates the market, surpassing the vast majority of games like the Mario franchise and Star Wars. The franchise has earned about $92 billion from anime TV series, card games, plush toys, pins, etc. Its flagships are a role-playing video game series and one of the most popular mobile games, Pokemon Go, which together bring over $17 billion. The first release hit the market back in 1996 (25 years ago), so it can be said that Pokemon brought up a whole generation of gamers.
Mario
As of 2018, the Mario franchise generated over $30 billion in revenue. Mario is not only about the playable Italian plumber character of the famous video game. The franchise also included merchandise, a feature film, animated series, and even manga. As mentioned above, Super Mario Rush is one of the best-selling games, while in total, the franchise has sold over 620 million copies of its games.
How to make money from video games
Create video games
The most obvious way to create a game, but that takes tons of energy, time, and money. An easier option is to become a game developer and join a leading company. You will still have to spend time learning, but the risk is much less than if you decided to build the game from scratch.
Become a partner
If you have your own business, you can partner up with the gaming market leaders. A successful collaboration will increase your audience and boost sales. Integrations can be really creative and out of the ordinary, like The Super Mario Bros. x Sugarfina candy collection. In the case of WePlay Holding, the company hosts events and tournaments for well-known esports disciplines.
Collect game-related things
For those who are used to collecting different things since childhood, collecting can be beneficial. Who knows, maybe that game cartridge gathering dust in your closet is just what some ardent Mario fan is after.
Start your esports career
Not all video games are esports disciplines. But if you spend hours playing Dota 2, League of Legends, Rocket League, Mortal Kombat, etc., you can make good money off of this. Participate in tournaments and get your awards in case of victory. Although it's the Dota 2 events that offer the largest prize pools, participating in a Tekken 7 tournament by WePlay Holding with a prize pool of $50 thousand is a good shot. If you manage to get the attention of esports organizations, you have a chance to join this fast-growing industry. The esports industry is worth over $1 billion and needs up-and-coming prodigies like yourself.
Gaming is inclusive, meaning that if you want to join, you can do so. However, it's a competitive industry that requires a lot of effort in order to achieve any results. Dozens of games appear every year, but not all of them are destined to go down in history. Hundreds of esports players participate in tournaments, but even more stay on the bench waiting for their chance to shine. Therefore, if you believe that gaming is your calling, you will have to work hard to prove it.