July 22, 2021
Esports Industry Worth: can we translate into numbers the worth of the esports industry?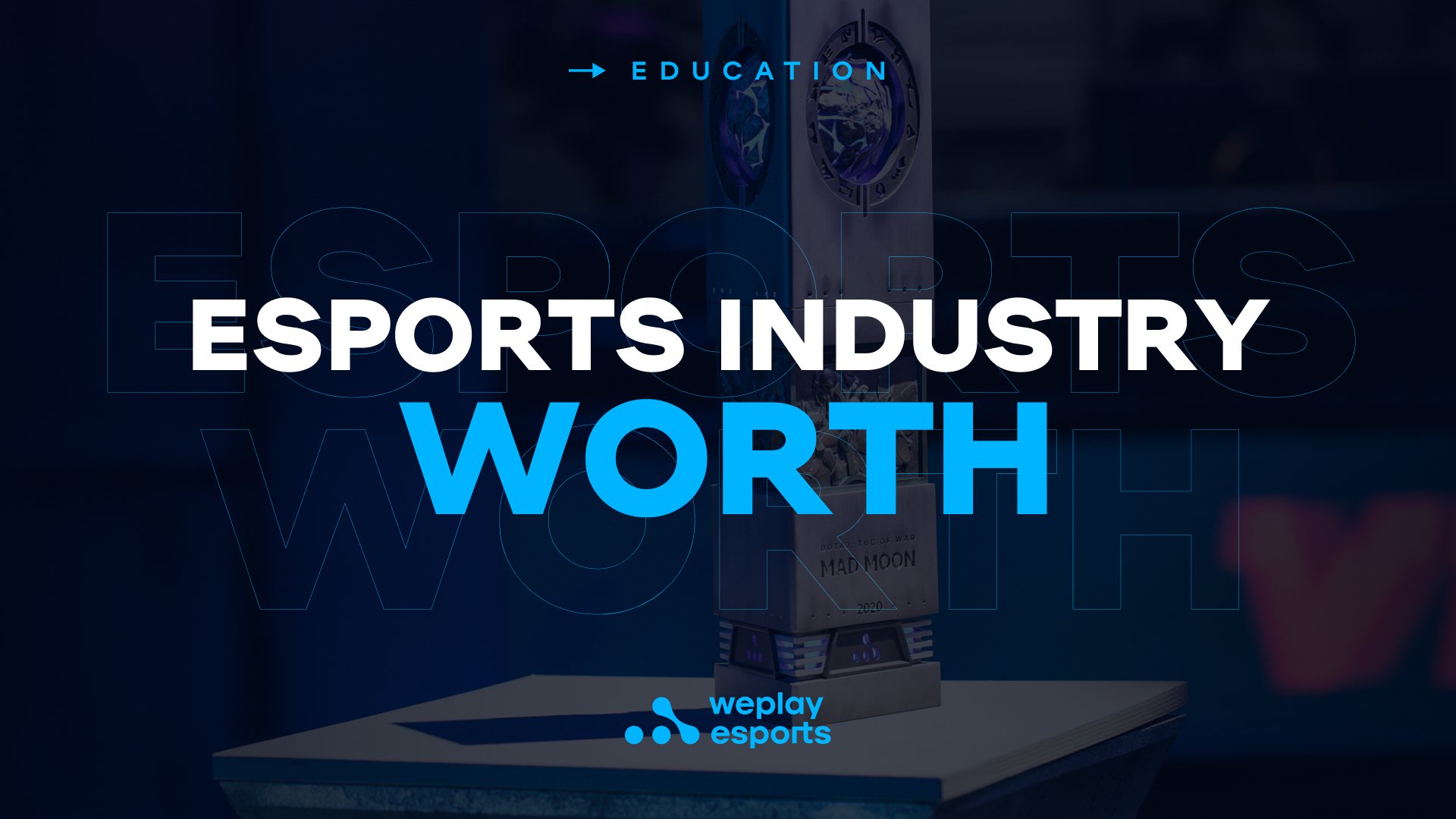 The esports industry has been a game-changer since its conception (and not just because it's built around video games).
Over the past few years, video games have become wildly influential, growing an entire enterprise of streaming platforms, professional teams, and technological innovations along with it. For example, Twitch, the top place for gaming streams, has become an absolutely explosive force across the internet.
But what is the esports industry really worth?
The Numbers
In 2018, experts clocked the esports industry as worth over $700k. Then, in 2019, the industry revenues expanded to roughly $1 billion. Almost every year in esports, the market has grown exponentially. There's only ever been a 7k dip in revenues in 2020 for pandemic reasons.
Several different market research agencies theorize that the industry's impressive growth won't be stopping anytime soon. By 2022, some project a $1.8 billion gross revenue for the year. Then, by 2027, there are statistical inferences that the esports market could grow by 400% and reach the heights of $4.28 billion (or more). That makes for one impressive compound annual growth rate.
For a traditional sports context, the NFL in North America earned $15 billion in revenues in 2018 and $16 billion in 2019. That means that esports' annual growth rate CAGR might have just as much potential (if not more) than the NFL itself.
Streaming Services
One of the most influential parts of esports is streaming. Twitch, YouTube Gaming, and Facebook Gaming have all changed the way people watch their favorite video game sports.
The fact that esports events have always been so accessible has helped make the industry so powerful. The situation works both ways, of course. Because esports are so popular, that contributes to their corresponding streaming services doing so well.
For example, in 2019, Twitch had $1.54 billion in revenues. A whopping 21% of that was exclusively esports streaming. Even then, some of the most popular "casual" streamers are ex esports pros.
While viewership numbers are a big deal for Twitch and other streaming services, advertising also influences the industry. After all, $300 million of Twitch's money was made through advertising.
Brands have the kind of impact that helps prove the staying power of esports.
Brand Contributions
Brands have built a strong symbiotic relationship with esports. For example, Rivalry, the betting site, almost immediately partnered with the new DOTA 2 team, B8, after their debut. Rivalry was betting on the DOTA 2 star power of Danil "Dendi" Ishutin to make the team amazing and give Rivalry their own edge in the market.
The appeal of esports brand deals is that corporations support the teams and fund advertising, and then they get their own dividends. Almost $1 billion was made in esports in 2019, and brands walked away with over $400 million.
So, sponsors are definitely getting their money's worth out of esports.
And the more people watch, the more money everyone involved gets.
Viewership
The number of esports views have only grown more and more impressive with each year. In 2018, the League of Legends mid-season round-robin Invitational had over 60 million unique viewers check in to watch the event. While esports tournaments don't always hit those kinds of numbers, popular esports tournaments like DOTA 2, League of Legends, CS:GO, and Call of Duty regularly pull in millions of viewers. If you look at the numbers for recent years, those viewership numbers have only increased with time.
Compare that to traditional sports (let's stick with the NFL). The average viewership for a game has been oscillating between 15 million to 16 million for the past few years. Traditional sports still pull big numbers, sure, but in some cases, their viewership isn't really growing at all.
The esports audience watches all the advertisements on each game, bets on who they think will win, supports the team they love, and helps make the global esports market as popular and profitable as it is. And right now? That growth shows no signs of stopping, making the esports industry easily worth that $1 billion (and then some).
Future Predictions
With the industry becoming so lucrative and having no signs of stopping, there are quite a few important factors to consider about esports' future.
As people start to realize how much fans are willing to pay to watch esports, ticket sales for events increase in price, and media rights will be fiercely contested. Esports lovers have already seen a bit of that with Overwatch League switching hands from ESPN to YouTube in the last year or so.
Many places will be creating their own streaming services, too. For example, WePlay Esports (known for their arena tournaments) launched their WePlay Esports App for SmartTVs, so that fans can watch their events from the comfort of their own homes.
Also, mobile esports has opened new avenues for esports. Over the past few years, they've started becoming more popular. With Clash Royale's prize money pool being $1 million this year, mobile gaming is clearly a new and growing part of esports that could make great waves across the industry.
However, the most-marketable notice is that sponsorships will likely only become a bigger deal the more esports grow. Esports teams are already getting brand deals that give teams serious gear and electronics. The more esports grows and starts getting more mainstream attention, the bigger those deals will get.
The esports and gaming scene is already making waves around the world, but who knows how much it could be worth in a decade?
Sources:
CNBC- Op-ed: Why esports is a multi-billion-dollar opportunity for forward-thinking investors
British Esports Association- Esports Will Be Worth Almost $2bil in 2022, Claims New Report
Statista- Esports Revenue Worldwide from 2018 to 2023
Influencer Marketing Hub- 40 Useful Twitch Stats for Marketing Managers
Aiken House- How Do Esports Organizations Make Money?