Sept. 29, 2023
What Scripting Can Do for Live Event Production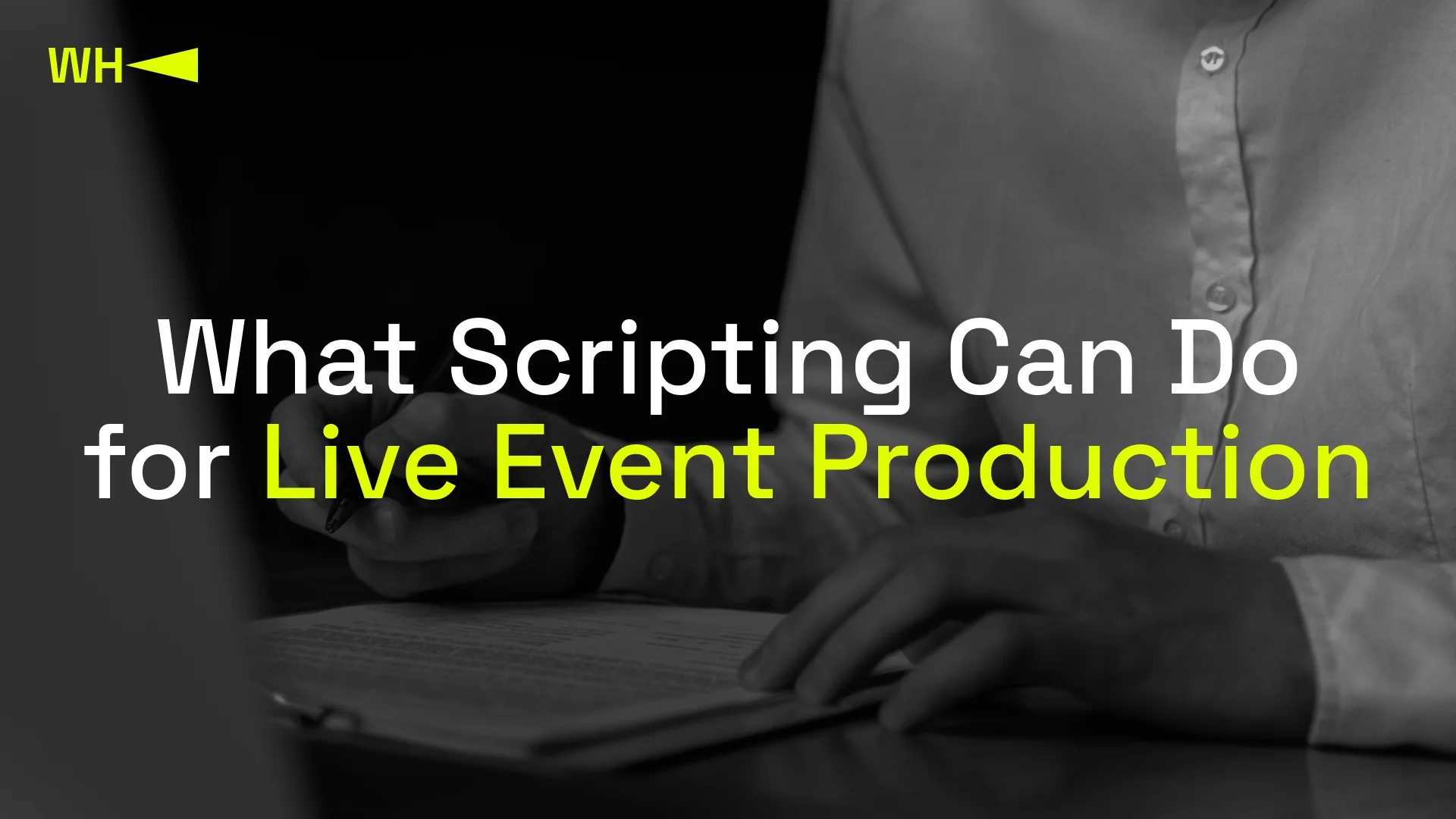 The pace of live performances is often fast and dynamic, and it may look like a complete improvisation turning into a success. While improvisation is an indispensable skill that all hosts need to master, the gripping plot of a show fully depends on a well-written script.
Unlike filmmaking, live event production means recording something that you have to get right on the first take, so a special event script is a means to ensure that the live show flows as planned and achieves the desired results. The script does not eliminate all issues that may arise on a live broadcast, for example, tech crashes or human factor mistakes, but it helps to mitigate them.
From Page to Stage
A production script is a prepared text document that lays out and describes your event, drawing attention to important details with color coding. For some live events, a script includes detailed text for each participant, while for others, it merely outlines the speakers' main talking points. For example, one simple scene, such as show participants entering the stage, may take less than a minute, but based on the event script, the teams have to prepare the musical score and plan the work of the lighting staff to grab the audience's attention. To put it simply, a script is your special event, but on paper (or in a Word doc).
Script structure may vary depending on the show format, but in general, like any piece of content, it will have an introduction or beginning, a main body, and a conclusion. Essentially, the script outlines the plot and storyline of events. Who are your speakers? Introduce them. What key messages does the show represent? Give your audience an explanation, then move on to the description of the stage. Without structure, a script can turn into a meaningless succession of scenes, and the show as a whole can descend into chaos.
Make Pauses
A live show can last several hours. Neither your viewers nor your participants will be able to handle this amount of content in one go. Therefore, if your show is set to last two or more hours, think about breaks. It could be a commercial break for a couple of minutes with voice over featuring the show sponsors or a room change. For example, in some tournaments, during breaks between team games, spectators are transported from the main stage to the analytics studio.
Stick to the Timeframes
It is impossible to time everything down to the minute, but it's worth laying out at least an approximate timeframe. Time limits help prevent scenes or participants' performances from dragging on. The script helps the rest of the production team fine-tune their work so that it matches every detail of the scene. In general, all production teams rely on a script schedule, so it's worth paying full attention to this issue.
Mind the Tone of Voice
You don't have to write down every word for the host or even prepare a whole emcee script, but the script should include talking points to help them feel confident onstage. When jotting down the points, it is important that a scriptwriter understands the values of their target audience and embodies the voice of the host. If the live performance has to do with high technology, the script should include terms and theme language, but if the topic is games and entertainment, there is no need to overcomplicate it. Think about your audience, what they find fun and engaging, and use what they want to hear.
Wrap Up With a Call to Action
Script structure should normally include a conclusion. In fact, there is a clear rule: do not leave the audience without a message after the event — give them a call to action. This could be anything from an offer to subscribe to a channel and social media to requests to share the video and sign up for your news, etc. If it's not a one-off show but a series of live broadcasts, remind viewers when to expect the next event.

The point is that a script is not just helpful but a part and parcel of a live show. Both teams and participants rely on it. Therefore, it is important to keep it as simple as possible and, of course, edit it as circumstances change. Event production is quite an expensive process, so don't let a bad script make your money go to waste. Neither the decorations nor the special effects will matter if the audience fails to get the message of the event, the speakers do not know their role, and the entire production company has no idea what the timeframe is. If you hope to turn a script into a successful show, working with a professional content production company will help ensure you reach the event purpose.
.