Jan. 20, 2021
Oleh Humeniuk on Emotional Intelligence, New Responsibilities, and Company's Plans for 2021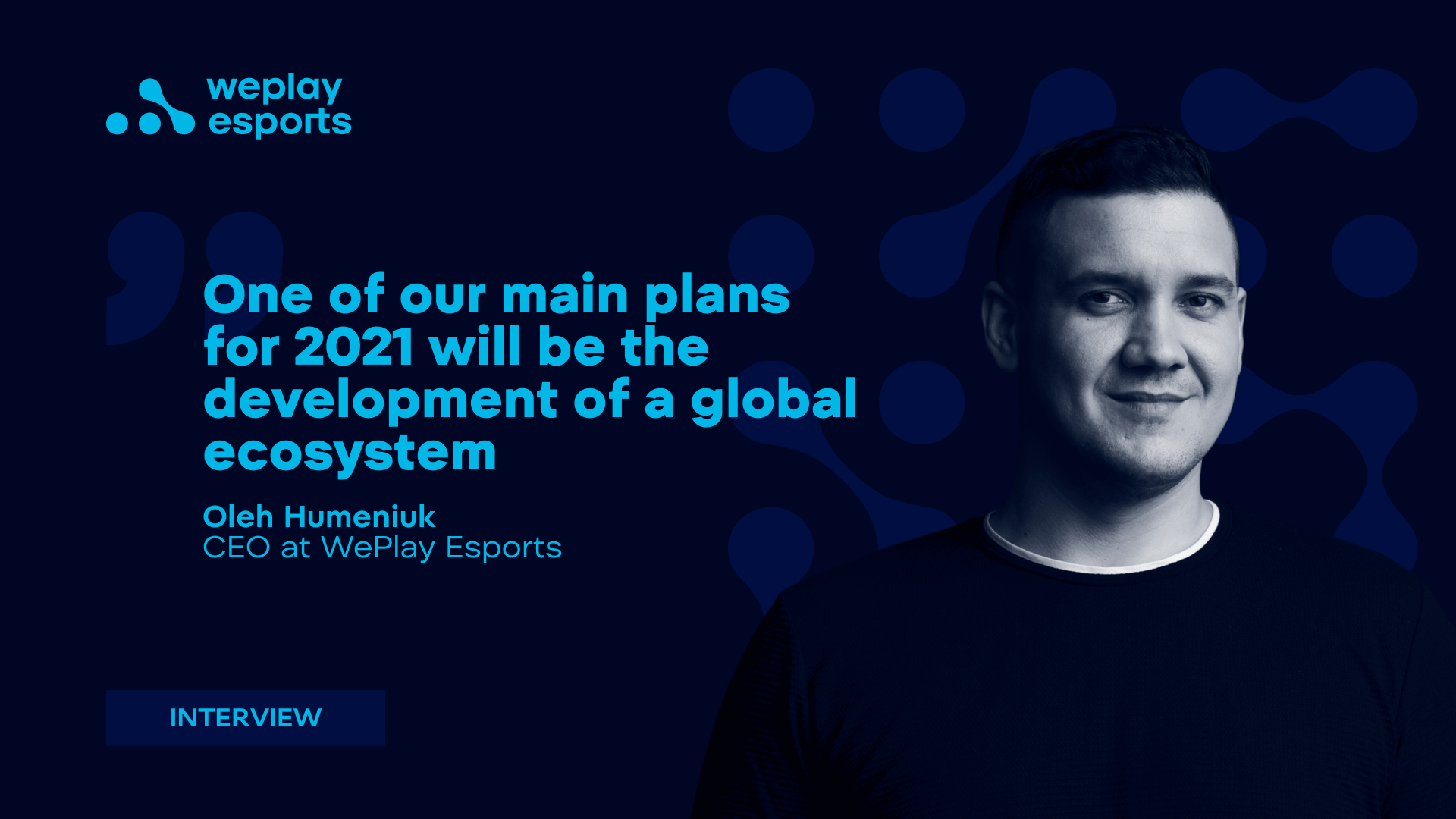 WePlay Esports CEO explains the specifics of his new role and talks about the company's goals.
In November, Oleh Humeniuk, former general manager, stepped into a new role as WePlay Esports CEO. We met with Oleh (virtually, from our respective home offices) to discuss the specifics of his new role, Oleh's priorities, and the holding company's plans for 2021. We also discussed what it takes to become a chief executive officer and how Oleh sees the company in five years.
Oleh, you have been working in project management for over ten years. Do you have any thoughts on what professional and personal qualities are needed to become a CEO?
First of all, you would need patience and a high level of emotional intelligence. I believe that these two qualities are key to your success both as a project manager and as the head of a company. And a project is the beginning of a long journey that any company makes. So, if you understand what a project is, how to lead it, what goal-setting is, and not just focus on the process, but on the goal, the number of tasks you have will increase. Then, over time, you will be able to take the post of a company CEO.
Could you tell us the difference between the responsibilities of a CEO and those of a general manager?
Basically, responsibilities only differ in terms of the scale of decisions you have to make and the extent of your leadership. A general manager is only responsible for a local unit of the company, a certain office. For example, I, Oleh Humeniuk, have been the general manager of the European office, Kyiv, while Anton Gribovskiy [General Manager Americas — Ed.] is in charge of the American branch.
The CEO, in contrast, is in charge of the brand and the company as a whole. So, the CEO of WePlay Esports is someone who is leading in both areas and shaping the entire company's strategy.
What are WePlay Esports' goals and plans for 2021? How do they correlate with our vision and mission to make esports popular, continue to develop our product ecosystem, and work on multiple fronts?
We are aiming high. We intend to develop as an esports holding company, bring esports to every corner of the world and of our country. And, of course, one of our main plans for 2021 will be the development of a global ecosystem. What it means: we want to give people the opportunity to participate in tournaments and enter the professional scene. Next year, we will work on it, will continue to develop Dota 2 which was our mainstream direction, and CS:GO. We also have plans to give special attention to fighting games, and we will consider other, newer disciplines.
What are your priority plans?
It all starts with a strategy. This means getting a roadmap from the company's founders, investors, and managing partners. They decide where I should take the company in 2021. I also intend to hold a strategic session with all the department heads. It will help us ensure that the global goals are broken down into specific items and communicated to all team members.
Where do you see WePlay Esports five years from now?
In five years, I see WePlay Esports as the esports industry leader. We are the largest media holding company with offices and arenas on all inhabited continents of our beautiful Earth. And also — with reliable esports products localized for each continent where we have a presence.