July 17, 2021
Most popular esports games - how they achieved such a popularity and what are their events?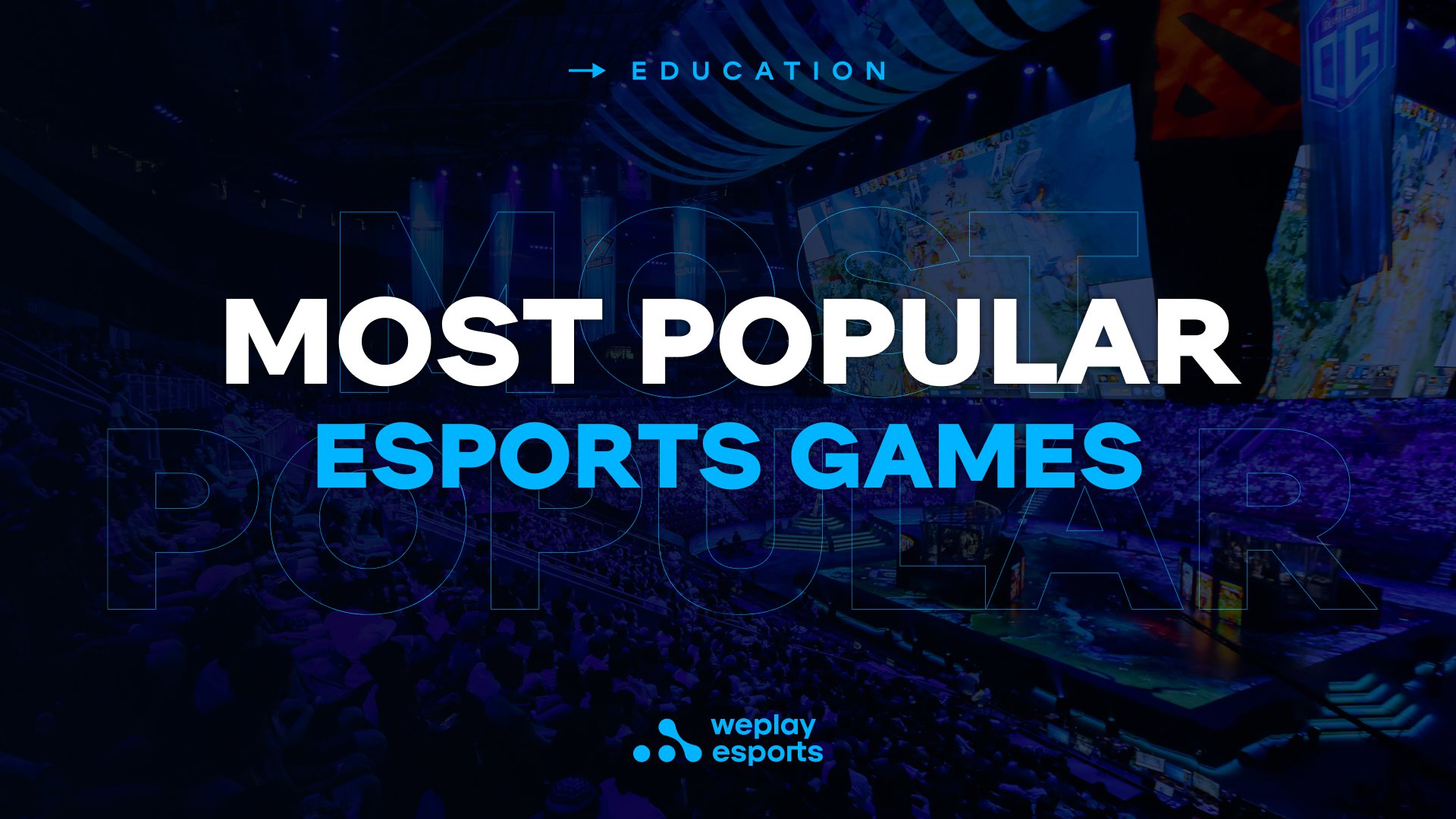 In modern day, games are one of the biggest branches of the entertainment industry. However, esports — or professional gaming — is taking it to another level, with huge prize pools and a lot of diversity.
In order to understand which games are featured in the biggest esports shows, we need to understand that not every game can be an esport. Single-player games, for instance, obviously aren't competitive, and they cannot ever become part of the esports scene, even if they fit into an esports category (e. g., first-person shooter). Just like traditional sports, it must be possible to create a competitive environment in order to be called esport; so, the game must have a multiplayer platform.
That being said, many games are worth mentioning due to the multitudes of players, spectators, and professionals they attract. Most of these games have been around for decades, such as Counter-Strike, but many are relatively recent and already have a very competitive environment. Esports are divided into many subcategories, and the most popular are:
Multiplayer Online Battle Arena (MOBA): MOBAs are very popular since the first DotA, which is originally a modification of Blizzard Entertainment's real-time strategy Warcraft 3. DotA, and especially its successor, Dota 2, are very popular and have a lot of tournaments dedicated to them, with crazy prize money. However, in 2011, Riot Games developed League of Legends and it has been a very successful game with both audience and critics since then; those two games rely on constantly upgraded mechanics, new heroes (or champions) available to play, and highly customizable characters. For many people, DotA or League of Legends is the first game that comes to mind when thinking about esports: two teams made up of 5 players competing against each other in order to achieve objectives and win the game through them. Other examples in this list would be Smite, a third-person MOBA, Heroes of the Storm, Blizzard's bet after Dota has been sold to Valve Corporation, and Mobile Legends — yes, you can play them on mobile!
First-Person Shooter (FPS): FPS games have been popular for a very long time. Unlike MOBAs, RTSs, and RPGs, first-person shooters are easier at first glance: you just have to pop your opponent's head. However, those games also require a lot of strategic thinking, as there are lots of factors to analyze in every game, even the apparently simple ones such as Counter-Strike: Global Offensive. Common first-person shooters include CS:GO — originally made from a mod, same as Dota 2, Fortnite — a game made by Epic Games that became a phenomenon by combining elements of survival games, guns, and cartoon-style graphics, PlayerUnknown's Battlegrounds (PUBG), which also combines elements of a battle royale but has a more realistic graphic style, Tom Clancy's Rainbow Six Siege — a game similar to Counter-Strike in general, Overwatch — a game developed by Blizzard Entertainment that spices up FPSs and MOBAs with lots of different abilities that have to be well-timed and well-chosen, Call of Duty —a more strategic battlefield (pun intended) with very realistic graphics and a war-oriented approach, and many others. On mobile, Free Fire has gained a lot of attention, and tournaments in it are becoming more and more popular among the esports community.
Collectible Card Game (CCG): unlike the other categories, these games are intended to be played individually, and the most well-known one isn't necessarily an esport: Magic: The Gathering has only recently created a more competition-oriented platform (Magic: Arena), having been a tabletop game for many years. However, with Blizzard's introduction of Hearthstone and the fair amount of success that games like The Witcher-based Gwent and Yu-Gi-Oh! Duel Links enjoyed, Magic became a more prominent esport with a remarkable prize pool. Hearthstone still has a bigger player and fan base (as of March 2021) and benefits from the fact that card games have accessible Tier-A tournaments, not requiring players to be part of an organization, and generally being mobile-friendly.
Fighting Games: these games have been around since the very early days of game design. Street Fighter is one of the most played games of all time, and with the somewhat recent possibility of being played online, it has become a niche favorite among fans. Same as with card games, fighting games are usually played individually, but unlike them, they're mostly played on consoles or with a controller, since using a keyboard isn't optimal. Popular names include Injustice: Gods Among Us, Mortal Kombat, and even older games such as The King of Fighters and Marvel vs. Capcom.
Role-Playing Games (RPGs): despite not being considered esports in their own right, some RPGs might have a Player vs. Player (PvP) competitive scenario, and that's the case with the most famous RPG of all time: World of Warcraft. Although it's a small scene if compared to some big-prize-pool games mentioned here, WoW still has its fans and a devoted audience, and many esports organizations have teams in it.
Sports Esports: games and tournaments such as NBA 2k League (which awarded a total of $1.4 million in prize money) and FIFA are very popular around the world, and they have their tournaments every year. If even they don't have the highest prize pools or the most-watched streams, those games have a dedicated player base and are fans' favorites in terms of sales and revenue.
There are many games not included in this list because it's hard to classify them, such as Rocket League, TeamFight Tactics, or Dota Underlords, and some games that had a very competitive past as strategy games but cannot compete with the mainstream scene right now, such as Starcraft II.
Which game has the biggest prize pool?
Nobody was ever able to top the total prize money from the 2020s The International in Dota 2. The strategy to supplement sponsor money through a crowdfunding initiative was a complete success and other games, such as League of Legends, also tried this tactic with a decent amount of success. With total prize money of stunning $34.3 million, The International Championship in Dota 2 reigns supreme for over 8 years, but the newest, 10th, edition of The International already has more than $40 million in its prize pool; it has been postponed from 2020 and will be played in October 2021 in Bucharest, Romania.
MOBAs usually have the biggest prize pools, and if we look directly at the top 10, we will see six Dota 2 The Internationals and three League of Legends world tournaments. However, second place goes to Fortnite, the game that surfed the wave of popularity and was a major hit in 2019. An impressive $30.4 million were shared between the winners and runners-up of the 2019 Fortnite World Cup Finals. League of Legends' biggest prize pool has made it the eighth place, with $6.4 million as total prize money awarded in the 2018's Worlds.
If we rank the top 10 tournaments without repeating the type of tournament, we would have an idea of how the esports industry is still growing despite the coronavirus pandemic. Both the fourth and fifth places, the Call of Duty League Championship and the Chinese Honor of Kings Champion Cup respectively, were played in 2020. The Call of Duty League had $4.6 million awarded as prize money, and the mobile Honor of Kings had $4.5 million. The list still has The 2019 PUBG Global Championship in sixth place with $4 million, the Fortnite Fall Skirmish Series in the seventh with $4 million, The Dota 2 Valve Majors in the eighth with $3 million, the Dota 2 Asia Championship in the ninth with $3 million, and finally, in the 10th place, the 2019 Overwatch League with $3 million.
With that in mind, we can conclude that the most popular esports games are FPS and MOBAs, at least if we consider the prize money. With a huge player base, those team-based games are a fan favorite and have been creative in improving their total prize pool figures. This list isn't definitive in calculating popularity, however, because big games such as Rainbow Six Siege and Counter-Strike: Global Offensive aren't there, despite their also hefty prize pools and huge viewership. So, may we also present...
Counter-Strike: Global Offensive
In 2020, IEM Katowice had more than 1 million views, being the most-watched FPS esports tournament in the year. In March of the same year, CS:GO drew in one million concurrent players, meaning that the ecosystem of the game is still healthy and growing. The game awarded more than $20 million in total prize pool during the pandemic, almost twice as much as League of Legends. The main CS:GO tournament is ESL, and according to Valve, its audience has grown by over 215% in 2020.
However, there's no escaping this: the most-watched game in the world is...
League of Legends
With many regular tournaments on every continent in the world (LCS in North America, LEC in Europe, LCK in South Korea, and LPL in China are a few examples) and a few World Championships, in this Multiplayer Online Battle Arena, five players form a team and two teams compete against each other to destroy enemy's base and outplay opponents. With this simple mix of mechanical micro-play and observatory macro-strategy, it's the most successful esports game of all time. While the prize money awarded isn't as high as in Dota 2, peak viewership was almost FOUR MILLION PEOPLE in 2020. League of Legends has another game mod called TeamFight Tactics, but the auto-battler isn't as relevant as the original game. Across the years, League of Legends holds first place, but Fortnite threatens to overturn that leadership year after year. The most-watched streamer on Twitch.tv is Ninja, who is a... Fortnite player. The battle royale still has a lot of interesting features and is a heavy contender as the most popular esports game.
Games to keep track of
It's important to mention that, although they don't have THE bigger audience or THE highest prize pool, esports games like Call of Duty, Rocket League, NBA 2K, Counter-Strike, Magic: The Gathering Arena, Street Fighter, Hearthstone, and Rainbow Six Siege are still huge, in terms of both spectators and active players. Rainbow Six pro league, for instance, had $3 million awarded in 2020 as prize money, which makes the game very relevant in the video games industry. Rocket League Championship Series is also a very fun and notable tournament where players compete in a soccer-with-cars-style game.
Conclusion: It's impossible to objectively call League of Legends the most popular esports game since it'll upset Counter-Strike: Global Offensive fans. There are simply too many noteworthy games in the esports ecosystem!
I'm pretty sure this article forgot to mention a few esports games or a specific game world championship, and this is just a small snapshot of the world of possibilities in the video game scene. Each esports event attracts even more players, audiences, and professionals, so every game developed for the esports scene can bounce in and shine. Although there are pretty huge audiences and relatively few game developer companies, it's still reasonable to note that there's room for improvement and the industry still has room to grow. To summarize, even the COVID-19 pandemic didn't shut esports down: it's still growing strong and producing more and more tournaments because of its adaptability.