July 16, 2021
How many people play esports? Checking numbers of audience and active players in the most popular titles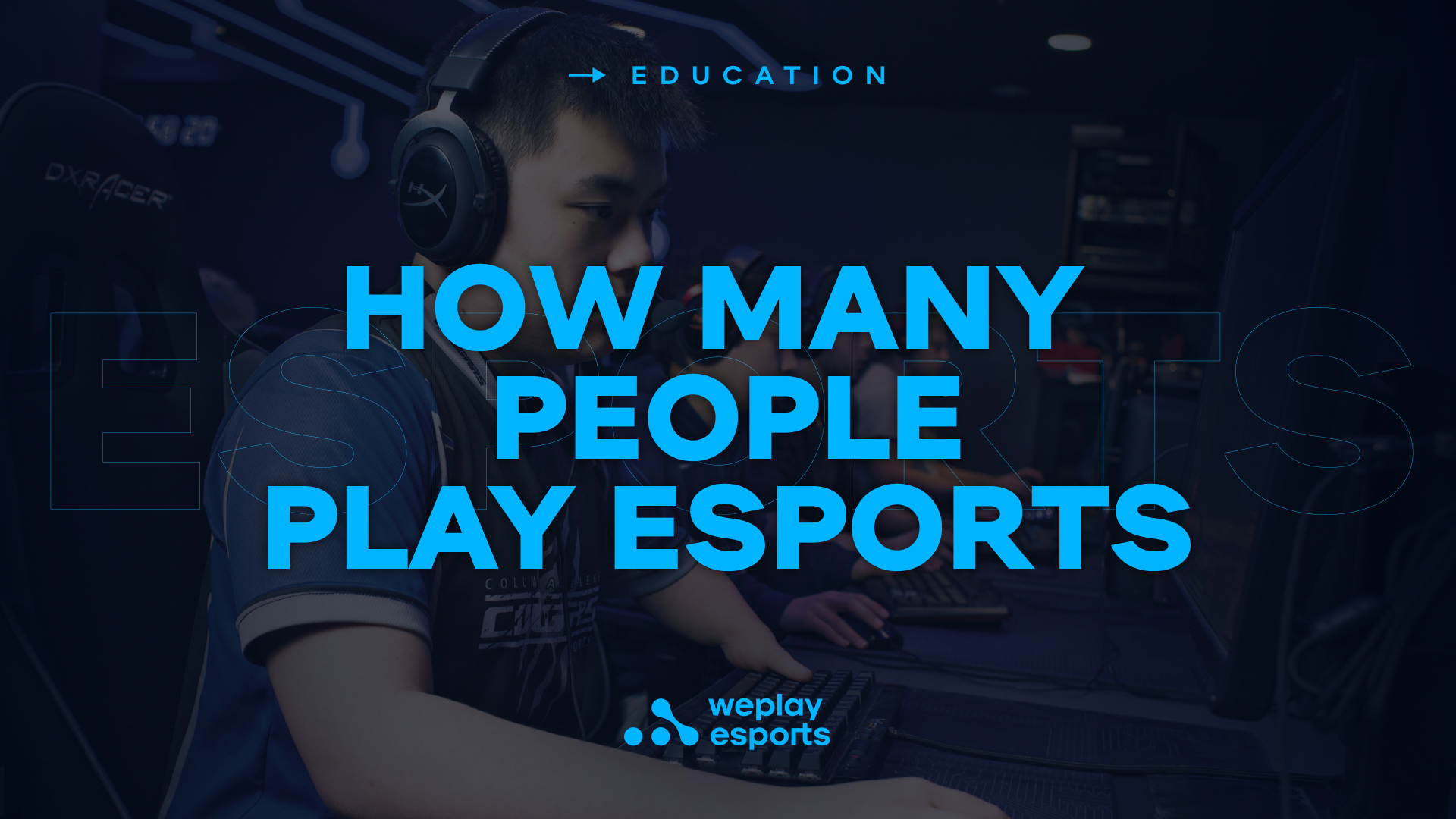 Today you are going to know how many people play esports and which disciplines are the most popular.
With the ever-increasing number of people playing, broadcasting, and watching esports, things like the player base of professional gamers in the market became hard to track. In major leagues, it's possible to simply add up the number of players (or take the number of teams and multiply by the size of the squad), but in grassroots esports, minor leagues, and Tier-2 tournaments, there's a lot of professional or amateur value that cannot be underestimated. The esports industry is often measured by high-end professional play, but that would mean ignoring a huge chunk of players. Like traditional sports, grassroots are important and esports tournaments that can't be held in professional leagues are part of it as well.
But it's possible to know what each game's active player base is — or its concurrent players. This can help us estimate how many people play games that are considered esports, even if at an amateur level. Esports statistics can be calculated this way as well. We will be dividing by each game in order to do a proper estimate. We'll also find out how many people watch esports to have a better idea of how the esports ecosystem is growing and changing society. The numbers are for 2021 unless indicated otherwise.
Keep in mind that a lot of people that watch esports also play them; that can encourage in-game purchases and advertising. The esports audience divides its attention between content created "for fun" by retired professional players and/or analytical commentators working towards creating hype, and professional leagues, but the esports market is oriented at any person playing online video games: they can be reached through in-game advertising or endemic marketing through brand integration.
How many people play League of Legends
Average monthly players: 115 million
Viewership peak in 2020: 3.9 million
Almost every gamer in the world has downloaded LoL, even if they don't like it. The game is the biggest esport in terms of player base and audience, with esports tournaments all around the world. To keep things in perspective, League of Legends had 11.5 million monthly players back in 2011.
The game's prize pools are huge, with more than $70,000,000.00 already spent over the years. The biggest tournament prize pool award so far took place at 2018's World Championship, with $6.4 million in total prize money. League of Legends is popular all around the world; the best player of all time is Korean (Faker), but teams from CEE such as Moscow Five were really fan favorites in their prime. Currently, European teams such as Fnatic and G2 Esports are heavy contestants of the world cups, while the United States is still trying to score its highest pro-level titles again.
League of Legends is one of the spiciest titles in the esports industry, with more hours watched overall than any other game. Its growth rate was astronomic, and this video game keeps attracting more fans.
How many people play Dota 2
Average monthly players: 12 million
Viewership peak in 2020: 3.9 million
Despite smaller numbers, if compared to League of Legends, Dota 2 is still a very popular game and its esports scene is still huge. Dota 2 has the highest prize pool among e-sporting events, and teams like Natus Vincere (NaVi) attract more than a million occasional viewers. The International series offers the public the biggest gaming events and in 2021, we can only expect more in terms of esports audience, viewers, and players.
One of the things that help explain why Dota 2 has a smaller player base if compared to League of Legends is the entry threshold. Dota 2 is not very "noob-friendly", and LoL is a simpler game to understand and play. Also, the system requirements are lower.
How many people play Counter-Strike: Global Offensive
Average monthly players: 11.5 million
Viewership peak in 2020: 3 million
Counter-Strike: Global Offensive, or simply CS:GO, is still a powerhouse when we talk about esports games. S1mple is often (together with LoL's Faker) considered the greatest esports player of all time, and it's not by accident that Valve's franchise is always mentioned when we talk about prize pools and concurrent viewership. Being really popular in Central and Eastern Europe and South America, especially Brazil, Counter-Strike is a rewarding game to play — the more you play, the better you get (most games are that way, but it's not as straightforward as CS). People who watch esports always make time to see how their favorite team is doing in ESL or the big IEM Katowice, and its apparent simplicity isn't a turn away for dedicated gamers. As an esport, Counter-Strike has been around for almost as much time as Dota.
All around the world, CS moves a big chunk of the esports industry. It's hard to find esports players who never played Counter-Strike. Actually, it's hard to find a person who has never played Counter-Strike. Even without consuming content, the brand name is very powerful and, alongside League of Legends, it's the most successful global esports.
How many people play Fortnite
Average monthly players: 22.5 million
Viewership peak in 2020: 12.3 million
Epic Games' battle royale, Fortnite mixes first-person shooting, survival, and humor. The game was a breathtaking success in 2019 and 2020, doing in-game events with real figures — such as Travis Scott's concert during the most-watched esports event in 2020. However, legal struggles between Epic and Apple have shrunk Fortnite's player base. It's one of the most controversial esports titles due to how Epic treats media, but it's an audience success for sure.
Fortnite holds the top spot for the most-watched gaming event of all time: it scored 42.8 million concurrent viewers in 2019. In terms of players, Fortnite reported that people spent 3.3 billion hours in-game in April 2020. A phenomenal game with both cultural and market relevance!
How many people play Call of Duty
Average daily players: 300,000 people (estimate)
Viewership peak in 2020: 184,000 people
Call of Duty numbers are hard to determine since there are so many games in the franchise. Most people play a specific one — such as Call of Duty: Warfare — and not every game, which makes settling them in their place as esports games a confusing task. However, if we consider all of the player base and prize pools, Activision has a very good title in its hands. What's difficult is uniting their audience and player base in order to make a bigger esports scene; esports viewership is usually attracted to what they play, but that doesn't mean other games from the same franchise can't reach over a million occasional viewers.
Call of Duty is one of the weirdest cases in the esports market. It's a very well-known franchise, but due to how it's managed by Activision — and cross-platform issues, as it's available not only for PC gaming! — we can't really figure how many million people played the game (all together) in total in 2020. It's estimated that there are over 50 million active players in CoD.
How many people play other games (fighting games, card games)
Highest average monthly players: 1.2 million (Hearthstone)
Viewership peak in 2020: 1.55 million (Overwatch League)
There are games that are harder to understand. Their player base is huge and the esports viewership is very engaged, but hard data is inaccessible. Games like Rocket League, Overwatch, Hearthstone, FIFA, and Street Fighter are huge in esports, but we can't really determine their market share percentage, only estimate it. Prize pools of these games are really high, with many holding a spot in the top 10 list by highest prize money in esports, such as 2020's Overwatch League.
Fighting games (Mortal Kombat, Street Fighter, Super Smash Bros. Brawl) and card games (Hearthstone, GWENT, Magic: The Gathering Arena) are niche video games with a very dedicated fan base. However, due to the fact that they're played individually, their esports representation is kinda compromised in terms of the number of players — for obvious reasons, there are fewer pros playing those games. Also, teams have a synergy effect on viewership, but here, only one player will be competing in each match-up both for the title and the viewers' attention.
Nevertheless, on Twitch and other streaming platforms, these games stand as strong as any. YouTube VODs from Street Fighter matches usually have over 100,000 views. The total prize money for Magic: The Gathering Arena was $1 million and the variety of esports tournaments in the other games can top that amount: a regular tournament prize pool in, let's say, Mortal Kombat can reach $100,000.
Rocket League had many viewers and its content creation was on fire in 2018 and '19. The game has been struggling to keep its active player base and esports audience, but it's still a big hit with many hours watched. Esports enthusiasts still play the game, but it doesn't get a billion hours like in its prime anymore. The same happens with autobattlers such as Dota Underlords and TeamFight Tactics.
Which is the percentage of people that are gamers?
Competitive gaming statistics are a bit fuzzy; grassroots and Tier-2 tournaments make it hard to say exactly how many professional esports players are there in the world. However, if we count single-player and non-esports video games, there are more than 2.6 billion people (as of 2020) that are gamers. The esports industry isn't limited to them, but game and console sales in 2020 generated over $220 billion. Therefore, over 37% of all human beings in the world play games! Esports and gaming are an industry that can already be compared with the sports industry on all counts (both by viewers and players), given the respective proportions. In 2013, a White Paper mentioned 700 million online players —- given how technology and accessibility have adapted, we can only imagine where this number has gone.
How do esports statistics compare to traditional sports?
Esportainment, as an industry, is in many aspects similar to traditional sports. Devoted fan bases, high viewership numbers, people playing and watching... Esports revenue is more volatile, though; gamers can easily jump from one title to another, while soccer players will still play soccer for a very long time. That said, esports viewers are very loyal; in the United States, the League Championship Series (LCS) is still being heavily watched, even though North America isn't considered one of the strongest regions judging by the level of teams and players.
The esports market is made by statistics; a game that was really popular a year ago may not be so right now. That happens to well-known titles such as PlayerUnknown's Battlegrounds (PUBG) and Heroes of the Storm, whose numbers are shrinking. They still have esports fans and esports events, but their share of the esports market tends to diminish drastically when there are simply fewer people playing the game.
In traditional sports, we're taught by our parents to cheer for their team; rarely do we contradict that rule. As esports is much more recent, cheering is different but still very passionate. Fans will watch a lot of different content from their favorite teams; it's fascinating to know that Team Liquid is such a powerhouse in Dota 2 (with The International), in Counter-Strike (ESL), and League of Legends (well... LCS) alike. That kind of attention shift also happens in traditional sports but is much less appreciated. Also, popular sports teams are into esports, like Schalke 04 and Flamengo.
In terms of market share and industry revenue, esports is the fastest-growing sport in the world, beating competitors such as mixed martial arts and padel. Being a pro gamer was the stuff of childhood dreams, which is perfectly understandable, given how much the hours people spend watching esports have grown over the past years — and how huge this curve of growth still is.
In pure numbers, esports is breathing down the neck of traditional sports. We've seen 1.1 billion people watch 2018's World Cup finals. So far, it's still 10 times more than the most-watched esports event, but it's only 10 times more — a feat that would be unthinkable 15 years ago. Esports have yet to find their spot on TV; traditional sports, however, are mentioned every day in this media.
What is the largest esports prize pool?
Dota 2 The International was postponed from 2020 due to the coronavirus pandemic. Esports enthusiasts contributed to the prize pool on a scale never seen before, making it surpass the $40 million mark. That's the highest prize pool in any esports tournament, and this overwhelming figure is more than many traditional sports events!
For the moment, it's 2019 The International that holds the highest prize money: $37 million. Many esports events had paid out more than $1 million, and esports fans can see their team competing for glory and a lot of money.
We cannot dismiss mobile games when we talk about esports. Chinese mobile events currently hold the record for the second-biggest prize pool in esports history, and given how recent this way of playing is, that's a massive deal. While PC gamers can have some sort of prejudice towards mobile, it's very important for the industry to engage more people offering them a more accessible way of playing, and this effect is being felt in esports and general culture.
Esports viewers can watch these events on streaming platforms, usually Twitch.tv or YouTube Gaming, which is like Twitch in many aspects. Tune in to watch what has become of gaming!