Dec. 7, 2021
How to Get into Esports: what are the opportunities in the industry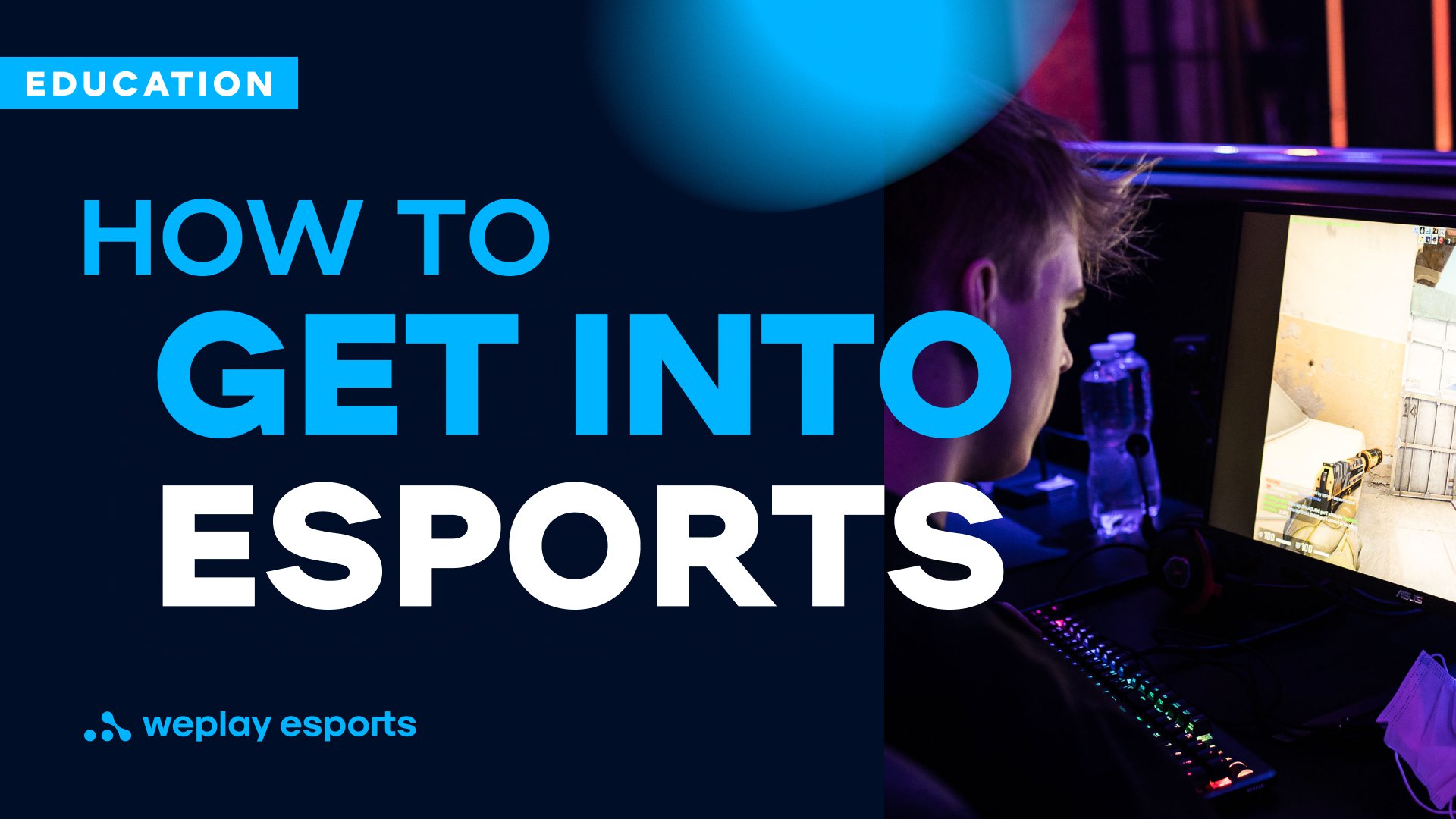 There are a wide variety of opportunities in that field. Whatever your skills may be, there could be a perfect job or volunteering opportunity out there for you.
One of the greatest aspirations for many hardcore video game fans is to join the esports industry themselves. Whether it's being a professional Dota 2 player or casting for games like League of Legends, there are opportunities worldwide in the esports industry, beyond even being a pro gamer. For instance, you can be a talented social media operator for first-person shooters! Not all opportunities are full-time jobs or exactly conventional, though, so let's walk you through how to get into esports.
Jobs in Esports
Because the esports industry is so booming, there are a wide variety of opportunities in that field. Whatever your skills may be, there could be a perfect job or volunteering opportunity out there for you. Are you a talented Call of Duty, League of Legends, or Counter-Strike: Global Offensive gamer? Practice up and try your hand at being a pro. Love writing? You could become a top-tier journalist, keeping everyone updated on the latest esports news. If you work better as an organizer or leader, management might be just right for you. Or, if you find yourself a funny, entertaining fan who loves community building, you could pick up streaming.
Esports events need organizers, social media accounts need administrators, esports organizations need marketing teams. No matter what you do, there's likely a career in esports somewhere for you. It's just your job to find it if you want it.
Esports Salaries
Esports salaries all depend on the kind of work that interests you. Here are some of the average salaries of common esports jobs:
Marketing- $42,000
Writer- $49,000
Social Media Manager- $54,000
Programmer- $70,000
Pro-Gamer- $74,000
Manager- $97,000
If you're just looking for money, pro-gamers, managers, and programmers get the largest pay stubs. But overall, it's best to pick what you like. Most people do better at their job when they're doing work that fulfills them or doesn't drain them too much. See also our article about esport salary.
How to Get into Competitive Gaming?
The way you get into competitive gaming all depends on what route you want to take. There are three ways to approach it: pro-gaming, esports organization, or streaming.
To get involved in pro-gaming, the answer is two-fold. First, you need to practice and get good, as well as find a professional esports team. Do you want to have fun with your community or make it a full-time job? You should figure that out before you dive too deep into practice hours. From there, find a team at your level. Finding a team might involve checking out the local competitive scene, using sites like Team-Seak, or being so good that you force scouts and pro-teams to pay attention to you (see prodigy players like GeneralSn1per). If you find a fitting team, your career only goes forward from there. It can mean having a hobby team that plays in some local tournaments or joining the top teams in the league. Your future depends on your skill and your interest levels.
If you want to run your own esports team your own way, you can always create one. Of course, this takes more behind-the-scenes work, like prepping organizational work and making a logo, but if you want to make an esports team all your own style, this is the way to go.
Finally, if professional or more organized team play doesn't interest you, streaming could be precisely what you want. You can earn money playing competitive games this way, but you could do it in solo-queue instead. That, or you could also join online tournaments like Twitch Rivals and have some fun with other streamer friends. It's all the competition of esports with a lot more focus on banter and fun.
How to Get into Esports Writing?
While the answer seems obvious, the easiest way to get into esports writing is, well, to write. Companies prefer writers that not only have experience, but also an extensive portfolio of work. Here are a few things that can help make you more attractive to esports sites:
Have a formal degree in a writing-related field. Having an education in writing, copywriting, technical writing, journalism, etc., is very helpful in proving that you can create content at a professional level.
Create a portfolio website. This helps show off all the hard work you've done over the years, whether that's volunteering, writing game reviews, or covering esports events on your own blog. You might think these small things don't matter, but until you get bigger jobs, taking all the small gigs you can will really help in building your portfolio.
Also, have skills in social media and marketing. Bonus points if you have a popular Twitter, TikTok, YouTube channel, etc. yourself. While these aren't necessary, they help prove you know how to build a platform on the internet to help the site you're applying to get the views they want.
Now, after all that hard work and writing, all that's left is applying to openings. It may take a lot of time, and you might have to settle by starting as a contract worker and freelancer, but if you work hard, you can make it into a career. Also, it's one of the easiest esports careers to do part-time if you so choose.
How to Get into Esports Management?
Esports management is a little more complicated than some of the jobs covered. The only way to get into esports management is either through a lot of hard work or a long career in esports preceding the job. After all, you either have to build a team from the ground, entice investors, find talent, and build a support staff all on your own, or you need to inherit a team. And with that, you probably need to know the ins and outs of esports and have spent years playing or coaching along with getting management training.
If you can't tell, the biggest key of esports management is having connections and the ability to use them to build your career in esports leadership.
Examples of Top Esports Professionals
If you want to look at specific people and career paths in your esports journey, there are a few unique and impressive esports professionals that you can see as role models. They also help prove how unique and personalized a career in esports can be.
Steven Cook
And esports manager and coach for Smite, who's worked with the game since launch, five years ago, Steven Cook is a dedicated esports veteran. He's worked with different levels of teams with a similar variety of success, but he's stuck with Smite and become a well-known member of its professional community.
Professor Andy Miah
A scientific professor at the University of Salford, Miah has worked with the IFA, IFF, and International Olympic Committee to strengthen the bond between traditional sports and esports. Also, he's done his best to position esports at the forefront of digital entertainment conversations.
Josh Williams
Williams founded the National University Esports League in 2010, which runs an inter-university esports tournament. Moreover, he's also a founding member of the University Esports Masters, which organizes European esports events. He's a champion of giving fresh talent and professionals opportunities in esports.
Freya Spiers
As a host, Spiers has become a face of digital presentation, working on media teams, assistant producing projects, and interviewing industry professionals. She's worked on FACEIT in London and the Global Summit, as well as the Esports Championship series. Making waves since 2018, she's now made it to desk host of the CS:GO BLAST Premier.
Bradley Thomas Stafford
Stafford is not only a tournament organizer but a Super Smash Bros. Melee fan himself. He's experienced in competition, from his own events to DreamHack's offerings. Stafford is a role model for fans who want to do more in the esports world. They, like Stafford, just have to find a way to do it.
Reece 'Sabrewolf' Dos-Santos
A jack of all trades, Dos-Santos is a competitive player, writer, analyst, and coach for League of Legends. He's deeply embroiled himself in the competitive gaming world. He even hosts his own discord server and community event, the "Pokken Tournament".
Zoe Summers
For people interested in the competitive scene and streaming, look no further than Summers. She's a full-time StarCraft pro and a Twitch streamer. Her competitive career involves multiple title wins and she's been a powerful, popular player in Korean StarCraft leagues. She's also dabbled in casting and coaching alongside her pro-gaming success.