Dec. 2, 2020
Grassroots & Esports: how to keep the esports ecosystem healthy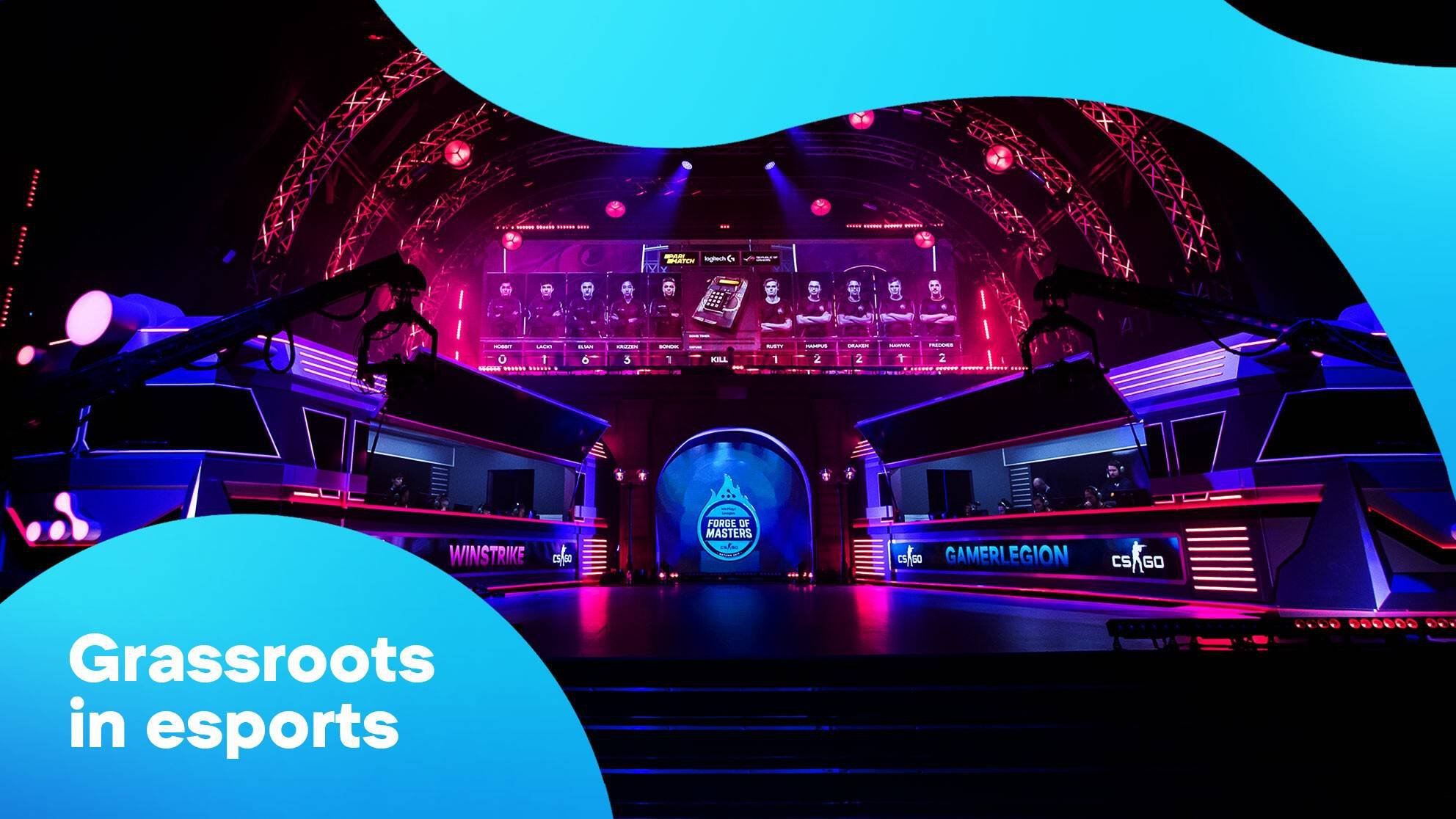 And why is it so important?
Compared to traditional sports, whose culture has been shaped over the centuries, esports is still a young industry that, however, has achieved enormous growth rates over the 20 years of its existence. Thus, in 2018, the esports audience amounted to 395 million people, and, according to Newzoo, by 2022, it will reach 645 million — this is 15% growth per year!
But this rapid development also poses challenges. The tier 1 scene is overwhelmed with the same teams appearing at professional tournaments, and the audience is getting tired of it. It wants to watch an exciting game, see new faces, and watch the growth of its favorites. And the solution to this problem may be to promote tier 2 teams. They can be a breath of fresh air for the esports industry and attract more new spectators. This approach is part of the grassroots phenomenon.
With esports tournament and prize pools increasing accordingly, the growth of the esports scene keeps attracting players. In order to that growth remain sustentable, it's important that games are accessible; a gaming platform might be expensive, and while players benefit from prize pools and such, a talent pool can only be filtered through accessibility.
Games such as League of Legends, CS GO and Dota 2 are already aware of this. System requirements to play those games aren't huge; League of Legends specifically can be played in a considered weak gaming platform. Other games, such as Call of Duty and Street Fighter, invested in cross-play services in order to mobilize a bigger gaming community. However, the discrepancy between playing in PC and console is still relevant, therefore we still have many challenges regarding to that.
Grassroots: what does the dictionary say?
But what is it? The Oxford dictionary gives a very simple definition for grassroots: it's ordinary people in society or in an organization. It is possible to understand what grassroots is for esports if you compare it with traditional sports. Let's take football as an example. There are sports schools and clubs where everyone can learn to play, and no matter what country you live in, the methodology will be the same everywhere. If necessary, the athlete always has a foundation for development; he or she can move from one club to another, grow and move on to the professional sport. This is a classic example of grassroots.
To a proper development of an esport professional, it's important to not forget the education sector. As esports leagues became more and more exigent, esport organizations may require their players to keep a good score in their studies. It can be hard to manage playing in a mega event with an enourmos prize pool and going to college in the next day, but like in traditional sports, it's something to be conciliated.
The goal of esports and the esports community has to be including more people, with development in physical, mental and competitive play helping each other. Money is a very important factor towards this goal, and esports organizations have to know the social reality of their player base; like traditional sports clubs do, try and help all of these factors is something good for the player, the community and the company itself, since it's becoming key to attract investors and sponsors around the world.
The boom of League of Legends: how they conciliate their huge prize pools with equal opportunities
Riot Games, and the esports teams that play their tournaments, managed to evolve their environment while still capitalizing on marketing and a lot of other benefits. To summarize, they have created a very healthy environment across the years; similar to sports clubs, the company cares about their teams in a humanized way. Other companies followed the example; Valve and Dota 2 are a good example, and Counter Strike's ESL One also cares about the gamers.
It's not easy for an young adult to understand he's able to cash in a very high amount of money. An esports organization has to have a project manager that understands the mentality; specially in poor countries, where opportunities are so few, the game company and the esports teams are investing exactly in those prospects. Creating academy leagues and tier 2 tournaments been working well to unify grassroots & esports.
Esports games have their very foundation in the desire of a players base to play a esports tournament and the viewers and gamers to watch that tournament. Understanding that many players can not centralize their lives in esports made teams think on how to prospect new players while keeping the money in control. That is the reason so many players have a beautiful story around the world. Keeping each round more interesting is a challenge, taking care with the players is a challenge; both can be answered with grassroots, changing the present and the future.
Making money through Esports: Is it viable?
There are a lot of successful stories, but after all, it's very hard. Just like traditional sports, it's viable to make a life playing esports, however very difficult. Very few of amateur players can earn a professional contract due to the previous mentioned restrictions; companies invest in stabilished players in a tier 1 tournament, and while the investment in grassroots is growing, the process isn't fast and it still cuts out most of people. That is not a reason to give up if you're very good in a game, though!
You can try to be a streamer, for instance. It's also not easy, but you can start to gather a community around you. It requires a lot of work. You have to play in minor events and be one of the most dedicated person in order to "exist", or simply be in the big press radar. There are many ways to obtain recognition and finally be selected by a team. Most of those ways require a lot of determination - and good will from the mentioned teams and their coach. Your income in that way of working will depend on how many people are willing to pay to watch you play a game, and after the initial struggle, sponsorships and affiliate links.
The estabilishment of minor events and more independant free agents, with the need for renovation in esports are factors that can help you. There is no such a thing as "the best esports team" when regarding to that. Prize pools and payments for players outside the radar are much smaller, but still a way to get into the esports scene, and that's all that matters.
Overall, the worst thing about esports is the enourmous competition due to a large amount of players trying to get a place in the Sun. It's possible. But not easy.
Grassroots & esports
There is no common methodology in esports. Some people think that you need to practice playing 10 hours a day; others believe that it's necessary to build relationships between players and improve team spirit, eat properly, play outdoor sports, and sleep according to your knowledge of sports medicine. At the moment, there is no answer which way is the most effective. Each professional or amateur team uses its experimental approach. rts, for example, in the U.S., NACE (National Association of Collegiate Esport
For those countries where traditional sports have long been strengthened, and athletes work their way up, it is possible and essential to use the same approach, as it is easy to explain and implement. These include, first of all, the USA, where for decades there has been an extensive sports industry, rooted in teams and competitions of schools and colleges. Grassroots has become an integral part of this system: more and more organizations are creating similar projects in espos) and CSL (Collegiate Starleague) declare that the league includes 900 teams and more than 30,000 players. This approach to grassroots is good because it is a kind of contribution to the future of esports, a foundation to develop the industry not only globally, but also locally, to cultivate talents for professional esports career. By doing these kind of work, the company is humanized, not ignoring that their players are people.
Another way to promote grassroots is to hold tier 2 tournaments and leagues. For example, Forge of Masters, the WePlay Esports league, aims to unlock talents. In the second season, the Hard Legion Esports team has proven itself. Previously, it had been a part of the DreamEaters in the first season of FoM, where players gained experience of participation in the LAN finals and became more recognizable and popular among viewers.
Such grassroots events are a chance for every gamer to gain experience of performing on the professional level or even be noticed by esports organizations and get into a new, more promising squad. This creates equal opportunities through esports tournaments, and players that usually would not be able to reach a professional level can benefit from such tournaments.
And finally, the third way of grassroots is the tournament platforms, where any player can get closer to professional esports, even if he or she is not a member of any team. For example, WePlay Holding develops its platform, where everyone can buy a subscription and play with talents, get methodological materials, and a foundation to improve themselves.
This proximity from professional esports and the everyday life is mutually beneficial. Each company prospects a large amount of players, while each player has the opportunity to prove himself. Good teams are the result of this union, and good teams make events better, which attracts investors and so on. It's a way to place some of the most important values esports has to offer together.
Unconventional approaches to grassroots
There are also such exceptional grassroots examples as Meltdown, the French chain of esports bars: at the moment it operates in large cities of seven countries, regularly holds local tournaments, attracting local funding. Thus ordinary gamers get the opportunity to try their hands in competitive esports.
Why is grassroots so important if there are so many tier 1 teams in the world now? Because the center of its system of values is the final player. In the esports field, as in traditional sports, there are "athletes," too, and they also retire. But in esports, this often happens by the age of 25. The industry needs new faces that can be found in abundance at amateur tournaments or "brought up". And the good news is that there are plenty of such talents — we just need to allow them to prove themselves.