Dec. 31, 2021
Esports viewership: how it grows and what the prospects are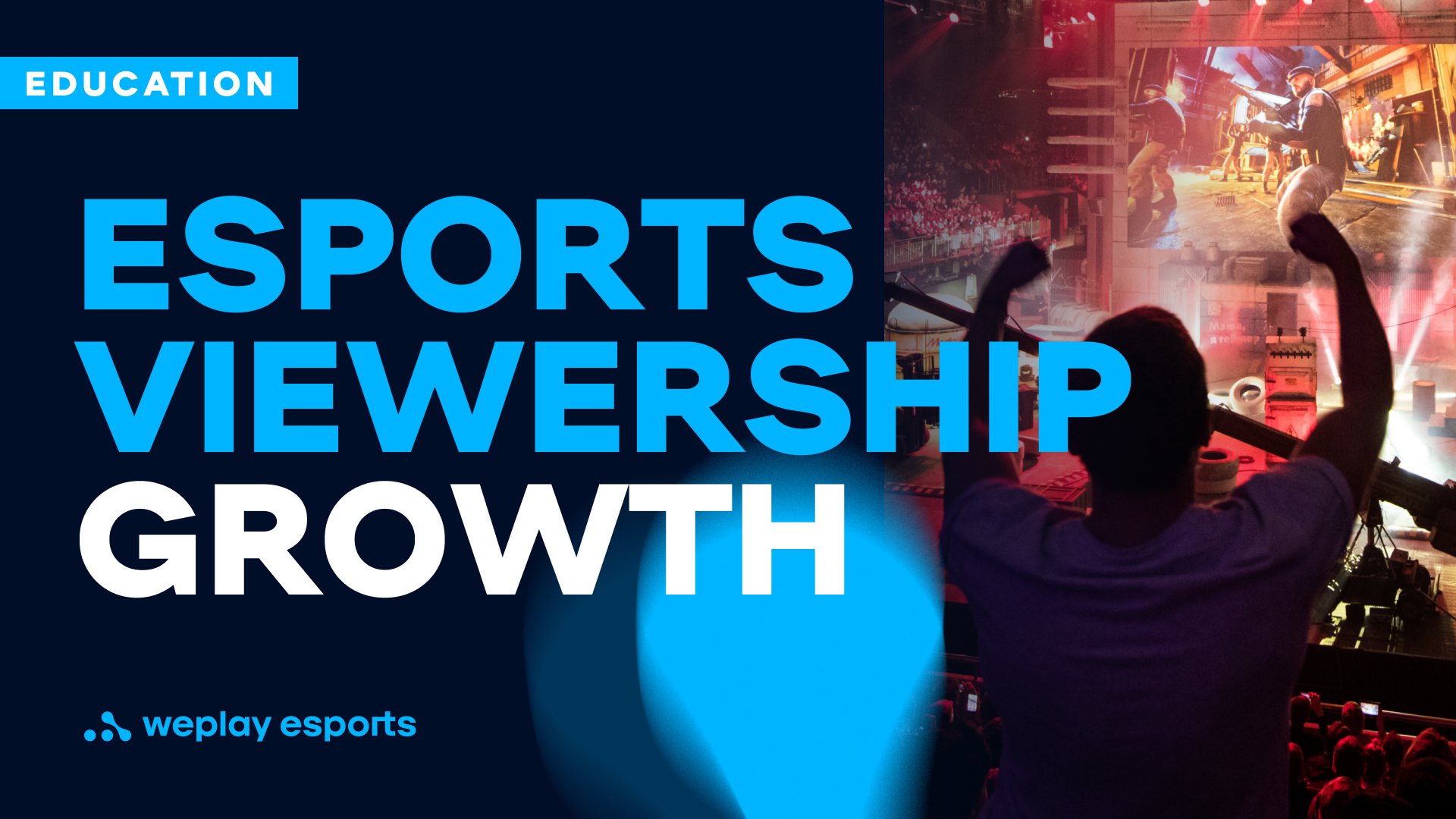 How did the pandemic impact the esports market, and when will esports be able to compete with traditional sports?
The esports audience is growing year in and year out. According to Newzoo, today, the global esports audience is 474 million viewers, and by 2024, it is set to reach 577.2 million. Nowadays, esports has everything it needs to compete with traditional sports: professional players, trophies, and viewers.
What are the reasons for this growth?
There are several factors influencing this process. The reasons for esports audience growth are the development of esports disciplines, the expansion of mobile esports, advances in technology, and the availability of a variety of devices. Esports is more popular among young people who play video games since childhood. Another factor is that esports games keep integrating into mainstream culture. For example, in 2020, WePlay Esports developed SFM movies with partners like McDonald's to be shown at the WePlay! Reshuffle Madness, WePlay! Bukovel Minor, WePlay! Dota 2 Tug of War: Mad Moon tournaments. In one of the videos, a donkey courier — a Dota 2 character — was delivering McDonald's burgers to another character.
"With the outbreak of the pandemic, people stopped going to public events, so they were looking for something to watch and entertain themselves. Digital entertainment content has led people to find out about esports, one way or another. Today, many non-endemic media publish news and articles about massive esports tournaments. All of this fuels interest in the esports industry and takes it to the national level," says Eugene Luchianenco, head of esports of WePlay Esports.
Esports market
According to Newzoo, nearly 50% of the world's esports viewers and enthusiasts are from Asia-Pacific, while North America is home to 12% and Europe and the other regions account for approximately 10% each.
"More than half of esports viewership is concentrated in the Asia-Pacific region, where titles such as Dota 2, League of Legends, and PUBG Mobile enjoy particular popularity. It should also be borne in mind that the largest telecommunications company Tencent is based in China. The company has even signed an agreement with Wuhu City Council to build the world's first esports city. That means esports has become a part of their culture," says Head of Business Development Valentyn Shevchenko.
One of the reasons why the most esports audience is concentrated in the Asia-Pacific region is the size of the population living in the area and their rapid adaptation to technological progress.
"We are more conservative, and it's hard for us to accept something new. Media outlets are still publishing news with headlines like '60-year-old man playing computer games,' when in Asia, this is commonplace and wouldn't surprise anyone. In our region, video games were long considered an activity for people who have no purpose in life or are socially awkward. Thankfully, things are changing now," says Eugene Luchianenco.
How the pandemic affected viewership
During the pandemic, a large number of tournaments were canceled or postponed. For example, fans were really looking forward to the PGL Major Stockholm 2021 for Counter-Strike: Global Offensive, since no competition of this level has been held for two years. This esports tournament broke the viewership records in several regions. Also in 2021, a number of competitions were held that broke their own records for hours watched. According to Esports Charts:
the total number of hours watched during the 2021 League of Legends World Championship was 174,826,794 hours (in 2019 — 136,980,921 hours)
Dota 2 The International 10 — 107,239,312 hours (in 2019 — 88,418,374 hours)
PGL Major Stockholm 2021 in Counter-Strike: Global Offensive — 71,266,120 hours (StarLadder Major Berlin 2019 — 44,977,615 hours)
"The latest figures show that the number of esports viewers and people interested in esports has increased. Back in the day, when football matches were being canceled, we realized that esports is the only sport that will remain standing in the event of a pandemic. All you need is a desk, two displays, a keyboard, and a mouse — and you have an esports tournament setting ready for two people. PGL Major, LEC tournaments, and other championships have shown that audience growth is associated with increased demand. People would sit around at home and get bored, while video games and esports tournaments had the power to distract them from their everyday life," says Valentyn Shevchenko.
Popular streaming platforms
Today, streaming platforms are the main channel where you can follow the games of your favorite esports teams or streamers in real time, chat, or even do some live streaming yourself. This is the main form of communication between spectators and players. The practice of streaming video games appeared in the 2010s on the Twitch website, then expanded to YouTube, Facebook, DouYu, etc. Twitch remains the most popular platform for streaming video games, and pandemic-related restrictions have further increased the number of people spending time on it. According to Statista, in the third quarter of 2021, people watched Twitch for more than 5.79 billion hours in total.
Esports vs Traditional sports
Sports TV programs remain popular on television and continue to attract lots of people. But there are a number of esports disciplines that can compete with them in terms of views.
"This year's League of Legends 2021 World Championship has set another record — 4,018,728 peak viewers according to Esports Charts. The International 10 in Dota 2 was watched by 2,741,514 spectators at its peak. These are big numbers — and not all traditional sports can boast as much. I would also like to mention mobile gaming. PUBG Mobile, Mobile Legends, Arena of Valor, Call of Duty Mobile are games with international championships that gather more than a million people at their peak. We must admit that esports is no longer an underground phenomenon, and such world events attract more and more viewers with each passing year," says Eugene Luchianenco.
Over the past few years, the esports audience has grown significantly. A huge number of new viewers have appeared, and despite the pandemic, large-scale tournaments in CS:GO, Dota 2, League of Legends, etc. are still being held. While esports is not yet ready to compete with traditional sports, broadcasts are breaking hours watched and viewership records, and events are being taken to a whole new level in terms of organization.