Jan. 5, 2022
Esports investors: how to attract them and who supports the gaming industry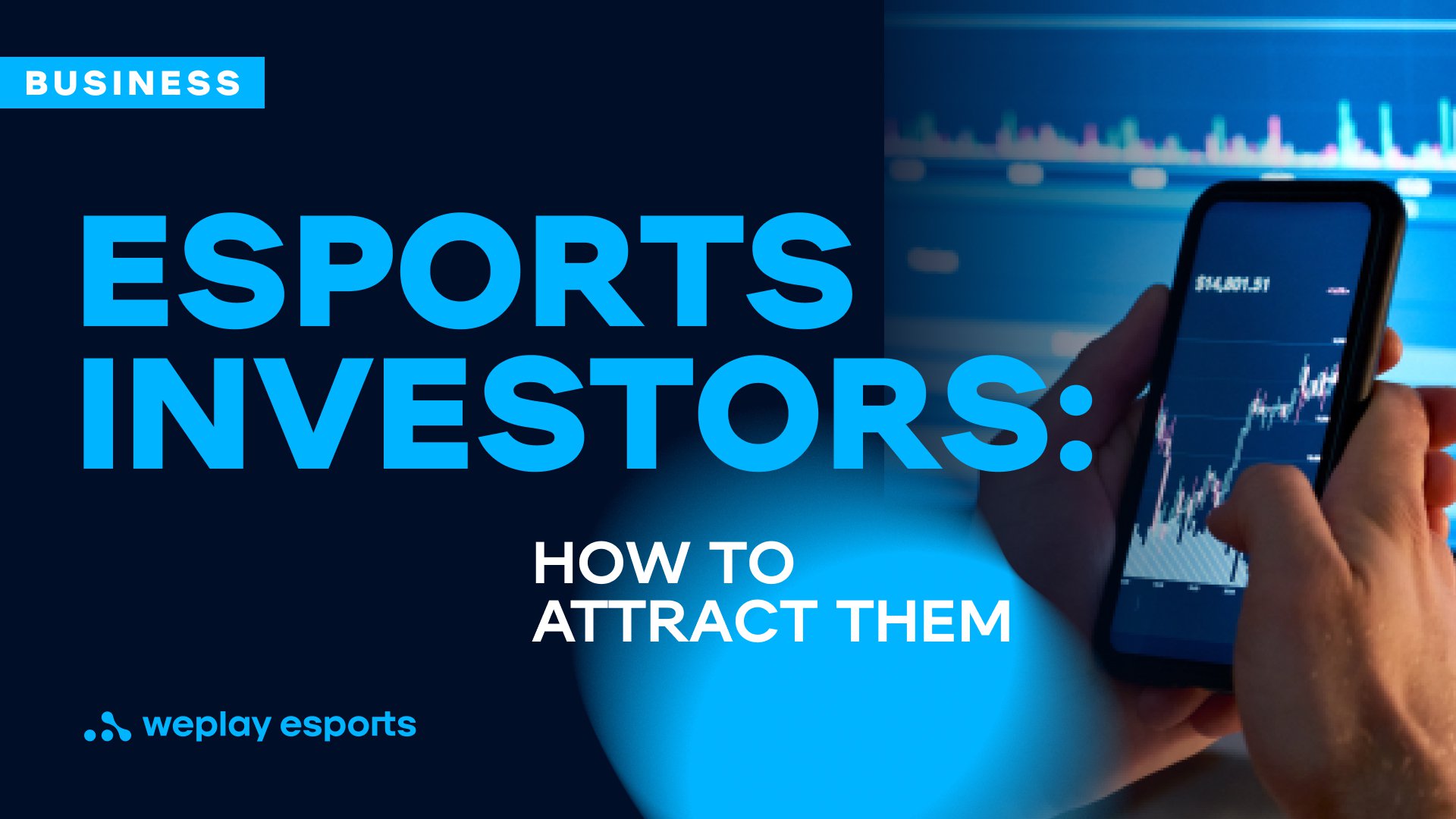 Why is the esports industry attractive to investors, where to invest in, and how the pandemic has impacted esports investments.
Esports is one of the fastest-growing industries and one of the most reliable sectors of entertainment: despite the pandemic, tournaments are being held and broadcast all over the world, and the number of esports viewers is growing. That's why the esports industry is getting more and more attention from investors.
According to Esports Charts:
The 2021 League of Legends World Championship set a world record in esports history for hours watched —174.8 million hours
The International 10, the main Dota 2 tournament, broke the record for the number of viewers — 2.7 million people watched the final game at its peak
at the PGL Major Stockholm 2021 in Counter-Strike: Global Offensive, a record number of viewers from our region was recorded — 865,000
All of this indicates that the esports industry is stable, and the audience is growing.
What can you invest in?
The esports ecosystems offer a wide range of investment opportunities. Investors may be interested in esports teams, game developers, gaming console manufacturers, tournament organizers.
"There are a lot of areas in esports that are promising to invest in. In fact, this is media business, just like television. Many people invest in media because they understand how benefits are measured and how the audience can grow. For example, one could create an analytic website like HLTV that gets traffic in the millions and where ads are expensive, all the while specializing in news and analytics. You should also look at Esports Charts — a very interesting product that builds analytics and has lots of services; it's like Nielsen, but for esports. A nice big company you can make investments in to get benefits later. We see some audience growth and interest in esports, the emergence of new disciplines, development of the market as a whole," says Valentyn Shevchenko, head of business development.
It should be noted that some companies sell their shares through brokers. This way, you can invest in Activision Blizzard (main intellectual property objects include esports games Call of Duty and Overwatch), and also in Tencent Holdings (the company owns a stake in Riot Games — the creator of League of Legends and Fortnite).
What are the nuances and risks of investing in esports?
As the esports industry grows and develops, so does the interest in investment. Esports companies are considering getting a financial boost while professional investors are thinking about high income and business expansion. A strong management team, a vision for further business growth, contracts with people of influence, good financial performance over several years, a company's reputation are what investors pay attention to first, and esports is no exception.
"As with any business, the risk is that the esports market is an emerging one. There are certain rules, but they change, as do trends and tendencies, and it's important to keep tabs on it all. For example, the price of a cryptocurrency can change over a tweet. The same is true in esports — all it takes is a tweet, a controversy, or the wrong thing said at the wrong time, and the team may lose their media advertising opportunity or the startup may be overlooked for Twitch Extensions. When making investments in esports, there are many caveats, so it is very important to understand who you are starting cooperation with, who will be your partner instead of just exploiting your money," says Valentyn Shevchenko.
Who invests in esports and why
A large number of investors seek to invest money in forward-looking areas. Esports is one of them. Pro athletes who have the financial capacity to do it invest in esports teams. For example, American basketball player, NBA legend Michael Jordan invests in Team Liquid (the team that won The International 2017).
"It has to do with using your money right. Everything that's associated with media advertising additionally attracts a particular type of investor. Athletes can invest, all the while understanding that it's more of a PR project than direct income. For example, the PSG football club invested in esports team LGD Gaming, after which it became known as PSG.LGD. This is a good example of intangible benefits. PSG is quite a wealthy club, and I doubt that investing in esports will bring them any income, but they have attracted an esports audience. If you ask about PSG, everyone will think of LGD as well," says Valentyn Shevchenko.
Soccer stars also find esports investments quite promising. David Beckham is a co-owner of esports company Guild Esports. According to Esports Insider, his Blue Star Capital invested £480,000 ($647,000) in the organization.
You can also invest in esports-related products. A prime example of that is Mark Cuban, owner of the Dallas Mavericks. He invested $7 million in Unikrn, an esports tournaments betting startup.
The Ohio Innovation Fund and a number of professional athletes have invested $6 million in eFuse, an esports social media startup. Investors include American football players: Odell Beckham Jr. and Denzel Ward of the Cleveland Browns, Seth Curry of the Philadelphia 76ers, Ezekiel Elliott of the Dallas Cowboys, and Chase Winovich of the New England Patriots.
How the pandemic affected the esports ecosystem
Despite the coronavirus pandemic, investors are still making deals in the rapidly growing esports industry. For example, the already mentioned Guild Esports, co-owned by David Beckham, successfully listed its securities on the London Stock Exchange in 2020 with a market capitalization of £41.2 million ($52.3 million). It was the first esports franchise to join the LSE. All the money was to be invested in the branding, team, and scaling up games such as Rocket League, Fortnite, CS:GO, and FIFA.
"According to my personal observations, the pandemic did not affect esports investments. Overall, nothing has happened that could lead to market changes. It may have affected the teams more as they now travel to tournaments less, but the point is that esports professionals still play online and are still making money. All this time, WePlay Esports has been holding tournaments — PGL Major Stockholm 2021 broadcast in CS:GO, WePlay AniMajor 2021 in Dota 2. During the pandemic, we have shown that we are a worthwhile investment, as we are always online," says Valentyn Shevchenko.
Esports is developing fast and has already carved a good reputation for itself: the esports audience is growing, and the industry has not been too affected by the pandemic because the largest tournaments are held online. Also, esports will be part of the official program of the Asian Games in 2022. All of this attracts new investors willing to contribute to the development of the industry.